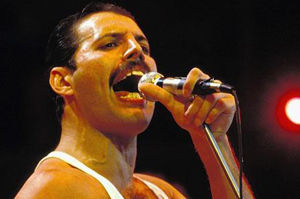 Freddie Mercury
Category : Entertain-Music-Vocalist-Pop,-Rock,-etc.
Type : PM
Profile : 1/3 - Investigating / Martyr
Definition : Single
Incarnation Cross : RAX Consciousness 3
Biography
Freddie Mercury (born Farrokh Bulsara; 5 September 1946 – 24 November 1991) was a British rock musician and songwriter, best known as the lead singer of the rock band Queen and often heralded as one of the best rock singers of all time.
He is remembered for his vocal abilities and charisma as a live performer. As a songwriter, he composed many international hits, including "Killer Queen", "Bohemian Rhapsody", "Somebody to Love", "We Are the Champions" and "Crazy Little Thing Called Love". In late 1991, Mercury died of Bronchopneumonia brought on by AIDS.
Freddie Mercury was born Farrokh Bulsara on the African island of Zanzibar, at the time a British colony, now part of Tanzania. His parents, Bomi and Jer Bulsara, were Parsi-Zoroastrians from India. The family had emigrated to Zanzibar from India in order for Bomi to continue his job as a middle-ranking cashier at the British Colonial Office. Mercury had one younger sister, Kashmira.

Mercury was sent back to India to attend St. Peter's boarding school at Panchgani near Bombay (now Mumbai). It was at St. Peter's where he learned to play the piano and joined his first band, The Hectics. He remained in India for most of his childhood, living with his grandmother and aunt. Later, he also attended the Cathedral and John Connon School. Mercury completed his education in India at St. Mary's High School in Mazagon before returning to Zanzibar. He was 17 when he and his family finally fled to England as a result of the 1964 Zanzibar Revolution.

Shortly after arriving in England, Mercury enrolled as a student at Isleworth Polytechnic (now called West Thames College) in West London where he studied art at foundation level. It was here that he also made his stage debut in England, performing in a play by Arnold Wesker called 'The Kitchen'. Fellow students remember him as a shy but friendly person who was, even then, musically inclined.

Mercury (third from right) at college with his friends in 1964.At this time he regularly went to gigs at Eel Pie Island with his friends to see artists such as Rod Stewart, Long John Baldry, The Downliners Sect, Brian Auger, The Artwoods and several black American blues artists, an experience which must have had an influence on him as a performer.

During the late 1960s, he could be found selling second-hand clothes in Kensington Market in London, where he and his closest associates would meet to plan gigs and parties (presumably while he was still at Ealing College).

Later, he earned a Diploma in Art and Graphic Design at Ealing Art College. He later used these skills in order to design the Queen crest.

Although he had a very close girlfriend named Mary Austin for many years, Freddie Mercury had always been fairly open about his bisexuality. Beginning in the mid 1970s, Mercury began a series of affairs with men, which ultimately resulted in the end of his relationship with Austin. However, the two remained close friends through the years, and Mercury often referred to Austin as his only true friend. In a 1985 interview, Mercury said of Austin, "All my lovers asked me why they couldn't replace Mary (Austin), but it's simply impossible. The only friend I've got is Mary, and I don't want anybody else. To me, she was my common-law wife. To me, it was a marriage. We believe in each other, that's enough for me. I couldn't fall in love with a man the same way as I have with Mary."

In 1983, Mercury found a new lover named Jim Hutton. Hutton lived with Mercury for the last six years of his life, cared for him when he was ill, and was at his bedside when he died. According to Hutton, Mercury referred to him as his husband, and died wearing a wedding band that Hutton had given him.

Mercury possessed a notable overbite of his teeth that he had wanted to fix for many years. Early in his career, he commented that he wished to have work done, but regretted that he did not have time to do it.

According to the January 2004 edition of Cat Fancy, Mercury possessed a great fondness for cats, at one point owning as many as ten. Mercury's personal assistant, Peter Freestone, wrote that his boss "put as much importance on them as any human life." The album Mr. Bad Guy and the song "Delilah" were dedicated to cats, and Mercury wore clothes featuring cats in videos and on album covers.

Mercury kept his Indian descent a secret from most of his fans, rarely mentioning his heritage in interviews. Many friends expressed their view that Mercury felt ashamed of his ethnic origins and feared racial backlash in a country that had long been troubled by race riots and violence against Indian immigrants. On the other hand, fellow band mate Roger Taylor suggested that Mercury downplayed his Indian heritage simply because he did not feel that it would fit well with his rock musician persona.

According to Hutton in his book "Mercury and Me", Mercury was diagnosed with AIDS in the spring of 1987. Mercury claimed to have tested negative in an interview published that year, and continued to deny that he had AIDS. Despite these denials, the British press continued to pursue the rampant rumours about his health, likely fuelled by Mercury's appearance during the final years of his life. His gaunt appearance in his last video, "These Are the Days of Our Lives", suggested serious illness.

On November 22, 1991, Mercury called Queen's manager Jim Beach over to his Kensington home, to discuss a public statement. The next day, November 23, the following announcement was made to the press:

" Following the enormous conjecture in the press over the last two weeks, I wish to confirm that I have been tested HIV positive and have AIDS. I felt it correct to keep this information private to date to protect the privacy of those around me. However, the time has come now for my friends and fans around the world to know the truth and I hope that everyone will join with my doctors and all those worldwide in the fight against this terrible disease. My privacy has always been very special to me and I am famous for my lack of interviews. Please understand this policy will continue. "

A little over 24 hours after issuing the statement, Freddie Mercury died at the age of 45. The official cause of death was bronchial pneumonia resulting from AIDS. Although he had not attended religious services in years, Mercury's funeral was conducted by a Zoroastrian priest. He was cremated at Kensal Green Cemetery, and the whereabouts of his ashes are unknown, although some believe them to have been dispersed into Lake Geneva. The remaining members of Queen (May, Taylor and Deacon) founded The Mercury Phoenix Trust and organised The Freddie Mercury Tribute Concert for AIDS Awareness. He left £500,000 to his chef, £500,000 to his personal assistant, £100,000 to his driver, and £500,000 to his partner, Jim Hutton. Mary Austin, his life-long friend, inherited the estate and now lives there with her family.
Please register for a free Genetic Matrix account to access more information about this and all other celebrity pages