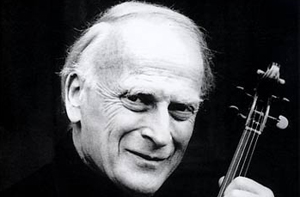 Yehudi Menuhin
Category : Musician - Classical
Type : PE
Profile : 1/3 - Investigating / Martyr
Definition : Split - Small (35)
Incarnation Cross : RAX Unexpected 1
Biography
Yehudi Menuhin, Baron Menuhin, OM, KBE (April 22, 1916 – March 12, 1999) was an American violinist and conductor who spent most of his performing career in the United Kingdom. Though born in New York City, New York, he later became a citizen of Switzerland in 1970, and in 1985, of the United Kingdom.

Early career
Born to Russian Jewish parents, Menuhin began violin instruction at age three under violinist Sigmund Anker. His first solo violin performance at age of seven was with the San Francisco Symphony in 1923. Menuhin later studied under the Romanian composer and violinist George Enescu, after which he made several recordings with his sister Hephzibah, who was a pianist. He was also a student of Louis Persinger and Adolf Busch.

World War II musician
Yehudi Menuhin performed for allied soldiers during World War II, and went with the composer Benjamin Britten to perform for inmates of Bergen-Belsen concentration camp, after its liberation in April 1945. He returned to Germany in 1947 to perform under the baton of conductor Wilhelm Furtwängler as an act of reconciliation, becoming the first Jewish musician to do so following the Holocaust. After building early success on richly romantic and tonally opulent performances, he experienced considerable physical and artistic difficulties caused by overwork during World War II as well as unfocused and unstructured early training. Careful practice and study combined with meditation and yoga helped him overcome many of these problems. Although many violinists are unimpressed with his technical mastery of the instrument (his bowing in particular), his profound and considered musical interpretations are nearly universally acclaimed. When he finally started recording, he was known for practicing by deconstructing music phrases one note at a time.

Menuhin continued to perform to an advanced age, becoming known for profound interpretations of an austere quality, as well as for his explorations of music outside the classical realm.

World interactions
Menuhin credited the German-Jewish philosopher Constantin Brunner with providing him with "a theoretical framework within which I could fit the events and experiences of life" (Conversations with Menuhin: 32-34).

In 1952, Menuhin met and befriended the influential yogi B.K.S. Iyengar before he had come to prominence outside India. Menuhin arranged for Iyengar to teach abroad in London, Switzerland, Paris and elsewhere. This was the first time that many Westerners had been exposed to yoga.

In 1962 he established the Yehudi Menuhin School in Stoke d'Abernon, Surrey. He also established the music program at the Nueva School in Hillsborough, California sometime around then. In 1965 he received an honorary knighthood.

Menuhin's pupils included Nigel Kennedy, Hungarian violist Csaba Erdelyi and violist Paul Coletti. Arguably the most famous of Menuhin's violins is the Lord Wilton Guarneri del Gesù made in 1742.

In the 1980s Menuhin wrote and oversaw the creation of a "Music Guides" series of books; each covered musical instruments with one on the human voice. Menuhin wrote some whilst others were edited by different authors.

Later career
Menuhin regularly returned to the San Francisco Bay Area, sometimes performing with the San Francisco Symphony Orchestra. One of the more memorable, later performances was of the violin concerto of Sir Edward Elgar, which Menuhin had recorded with the composer for HMV in London in 1932. He also hosted the PBS telecast of the gala opening concert of the orchestra from Davies Symphony Hall in September 1980. During the 1970s and '80s he made jazz recordings with Stéphane Grappelli and albums of Eastern music with the great sitarist Ravi Shankar. In 1983 he founded the Yehudi Menuhin International Competition for Young Violinists in Folkestone, Kent. In 1985 he was awarded British citizenship and was now entitled to the accolade "Sir Yehudi" as his knighthood was no longer honorary. In 1990 he was the first conductor for the Asian Youth Orchestra which toured around Asia, including Japan, Taiwan, Singapore and Hong Kong with Julian Lloyd Webber and a group of young talented musicians from all over Asia.

Personal life
Soon after his death, the Royal Academy of Music acquired the Yehudi Menuhin Archive, one of the most comprehensive collections ever assembled by an individual musician.

Yehudi Menuhin was married twice. He first married Nola Nicholas, daughter of an Australian industrialist, and sister of Hephzibah's first husband Lindsay Nicholas. They had two children, Krov and Zamira. Following their divorce, he married the British ballerina and actress Diana Gould, with whom he had two sons, Gerard and Jeremy, a pianist.

The name Yehudi means 'Jew' in Hebrew.

In October 2004, the New Internationalist magazine tells the story of Menuhin's name.

" Obliged to find an apartment of their own my parents searched the neighbourhood and chose one within walking distance of the park. Showing them out after they had viewed it, the landlady said: "And you'll be glad to know I don't take Jews." Her mistake made clear to her, the antisemitic landlady was renounced, and another apartment found. But her blunder left its mark. Back on the street my mother made a vow. Her unborn baby would have a label proclaiming his race to the world. He would be called "The Jew." "

Ironically, in November 2005 his son Gerard was dismissed from his post as chairman of the Yehudi-Menuhin-Stiftung for alleged neo-Nazi opinions.

A picture of Menuhin as a child is sometimes used as part of a Thematic Apperception Test.

Lord Menuhin died in Berlin, Germany following a brief illness, from complications of bronchitis.

Awards and Recognitions
Sonning Award (1972; Denmark)
In 1987 his recording of the Elgar: Cello Concerto in E Minor, Op. 85 with Julian Lloyd Webber won the BRIT Award for Best British Classical Recording. The recording was also chosen as the finest ever version by BBC Music Magazine. In 1990 he was awarded the Glenn Gould Prize in recognition of his lifetime of contributions. He received a Doctorate Honoris causa from the Vrije Universiteit Brussel. In 1993 he was created a life peer as Baron Menuhin, of Stoke d'Abernon in the County of Surrey.
Please register for a free Genetic Matrix account to access more information about this and all other celebrity pages