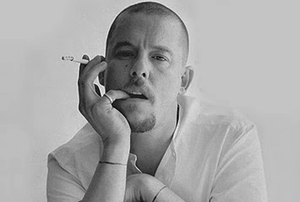 Alexander McQueen
Category : Designer - Fashion
Type : PSP
Profile : 5/1 - Heretical / Investigator
Definition : Split - Small (57)
Incarnation Cross : LAX The Plane 1
Biography
Lee Alexander McQueen, CBE (16 March 1969 – 11 February 2010) was an English fashion designer known for his unconventional designs and shock tactics. McQueen worked as the head designer at Givenchy for five years before founding the Alexander McQueen and McQ labels. McQueen's dramatic designs, worn by celebrities including Rihanna, Björk and Lady Gaga, met with critical acclaim and earned him the British Fashion Designer of the Year award four times.

Early life and education

Born in 1969 in Lewisham, London, to a taxi driver and Joyce, a social science teacher, McQueen was the youngest of six children. He grew up in a council house. He started making dresses for his three sisters at a young age and announced his intention to become a fashion designer. He said that one of his earliest memories was from around the age of three when he drew a picture of a dress on a piece of bare wall which had been exposed by peeling wallpaper in the council house where his family lived. McQueen jokingly called it his first design sketch.

McQueen attended Rokeby School and left with one O-level in art at 16, going on to serve an apprenticeship with Savile Row tailors Anderson & Sheppard, before joining Gieves & Hawkes and, later, the theatrical costumiers Angels and Bermans.

Career

While on Savile Row, McQueen's clients included Mikhail Gorbachev and Prince Charles; McQueen recounted in an interview that he once sewed 'I am a cunt' into the lining of a jacket he was working on for Prince Charles. At the age of 20, he spent a period of time working for Koji Tatsuno before travelling to Milan, Italy and working for Romeo Gigli.

McQueen returned to London in 1994 and applied to London's most prestigious fashion school, Central Saint Martins College of Art and Design, to work as a pattern cutter tutor. Because of the strength of his portfolio he was persuaded by the Head of the Masters course to enroll in the course as a student. He received his masters degree in fashion design and his graduation collection was bought in its entirety by influential fashion stylist Isabella Blow, who was said to have persuaded McQueen to change his name from Lee to Alexander (his middle name) when he subsequently launched his fashion career.

Icelandic singer Björk sought McQueen's work for the cover of her album Homogenic in 1997.

Design history

McQueen's early runway collections developed his reputation for controversy and shock tactics (earning the title "l'enfant terrible" and "the hooligan of English fashion"), with trousers aptly named "bumsters", and a collection entitled "Highland Rape". McQueen was known for his lavish, unconventional, runway shows, such as a recreation of a shipwreck for his spring 2003 collection, spring 2005's human chess game and his fall 2006 show, "Widows of Culloden", which featured a life-sized hologram of supermodel Kate Moss, dressed in yards of rippling fabric.

Givenchy appointment

The president of LVMH, Bernard Arnault caused a stir when he instated McQueen as head designer at Givenchy in 1996, succeeding John Galliano. Upon arrival at Givenchy, McQueen insulted the founder by calling him "irrelevant". Thus, his first couture collection with Givenchy was unsuccessful, with even McQueen telling Vogue in October 1997 that the collection was "crap". McQueen toned down his designs at Givenchy, but continued to indulge his rebellious streak, causing controversy in Autumn 1998 with a show which included car-robots spraying paint over white cotton dresses, and double amputee model Aimee Mullins striding down the catwalk on intricately carved wooden legs. McQueen stayed with Givenchy until March 2001, when the contract he said was "constraining his creativity" ended.

Accomplishments

Some of McQueen's accomplishments included being one of the youngest designers to achieve the title "British Designer of the Year", which he won four times between 1996 and 2003. He was also awarded the CBE and named International Designer of the Year at the Council of Fashion Designer Awards. December 2000 saw a new partnership for McQueen, with Gucci Group acquiring 51% of his company, and McQueen serving as Creative Director. Plans for expansion included the opening of stores in London, Milan, and New York, and the launch of his perfumes Kingdom, and more recently My Queen. In 2005, McQueen collaborated with Puma to create a special line of trainers for the shoe brand.

McQueen became the first designer to participate in MAC's newest promotion: cosmetic releases created by fashion designers. The collection, McQueen, was released on 11 October 2007 and reflects the looks used on the Autumn/Winter McQueen catwalk. The inspiration for the collection was the Elizabeth Taylor movie Cleopatra, and thus the models sported intense blue, green, and teal eyes with strong black liner extended Egyptian-style. McQueen handpicked the makeup.
Company

By the end of 2007, Alexander McQueen had boutiques in London, New York, Los Angeles, Milan, and Las Vegas. Celebrities such as Nicole Kidman, Penélope Cruz, Sarah Jessica Parker and Rihanna frequently wear Alexander McQueen clothing out to events. Lady Gaga often incorporates Alexander McQueen pieces in her music videos.

Personal life

McQueen was gay, and claimed he had realised his sexual orientation when he was six. He told his family when he was 18 and, after a rocky period, his family accepted his sexuality. He described coming out at a young age: "I was sure of myself and my sexuality and I've got nothing to hide. I went straight from my mother's womb onto the gay parade". In summer 2000, McQueen unofficially married his partner George Forsyth, 24, a documentary filmmaker, on a yacht in Ibiza. The relationship ended a few years later.

McQueen received press attention after the May 2007 suicide of his close friend, Isabella Blow. The two met early in McQueen's career, when Blow desperately wanted to meet the young designer, even resorting to calling his mother in order to arrange a meeting. Rumours were published that there was a rift between McQueen and Blow at the time of her death, rumours that focused on McQueen's under-appreciation of Blow. In response to these rumours, McQueen told an interviewer:
" It's so much bollocks. These people just don't know what they're talking about. They don't know me. They don't know my relationship with Isabella. It's complete bullshit. People can talk; you can ask her sisters ... That part of the industry, they should stay away from my life, or mine and Isabella's life. What I had with Isabella was completely disassociated from fashion, beyond fashion. "

McQueen was an accomplished scuba diver and used his passion as a source of inspiration in his designs. An undersea influence was seen in his October 2009 fashion show, "Plato's Atlantis". Much of his diving was done around the Maldives.

Death

McQueen's death came days before London Fashion Week, although McQueen was not scheduled to show. British tabloid The Sun reported that McQueen was found hanged. Police have stated that the death was not suspicious, but have not confirmed that the death was a suicide.
" On behalf of Lee McQueen's family, Alexander McQueen today announces the tragic news that Lee McQueen, the founder and designer of the Alexander McQueen brand has been found dead at his home. At this stage it is inappropriate to comment on this tragic news beyond saying that we are devastated and are sharing a sense of shock and grief with Lee's family.

Lee's family has asked for privacy in order to come to terms with this terrible news and we hope the media will respect this.
"

—Alexander McQueen Office, Official Website, 11 February 2010

McQueen's death was announced on 11 February 2010, shortly after he was found dead at his home on Green Street, London W1, where paramedics pronounced him dead at the scene.

On 3 February 2010, he wrote on his Twitter page that his mother had died the day before, adding: "RIP mumxxxxxxxxxxxxxxxxxxxxxxxxxxx." Four days later he wrote that he had had an "awful week" but said "friends have been great", adding: "now i have to some how pull myself together". His mother's funeral is due to take place on 12 February 2010.
Please register for a free Genetic Matrix account to access more information about this and all other celebrity pages