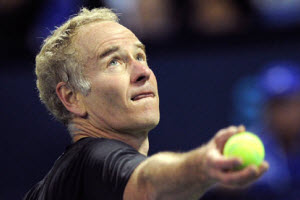 John McEnroe
Category : Tennis Player
Type : MGP
Profile : 4/6 - Opportunistic / Role Model
Definition : Single
Incarnation Cross : RAX Contagion 1
Biography
John Patrick McEnroe, Jr. (born February 16, 1959 in Wiesbaden, Germany) is a former World No. 1 professional tennis player from the United States.
Scott Riley, writing for The Sports Network, recognized him as one of the greatest tennis players of all time. During his career, he won seven Grand Slam singles titles – three at Wimbledon and four at the U.S. Open. He also won nine Grand Slam men's doubles titles and one Grand Slam mixed doubles title. He is remembered for his shot-making artistry and supreme volleying; for his matches against Björn Borg; for his fiery on-court temperament, which frequently landed him in trouble with umpires and tennis authorities; and for the catchphrase "You cannot be serious!" directed toward an umpire during a match at Wimbledon in 1981. He was inducted into the International Tennis Hall of Fame in 1999.
After a 12-year absence from the professional tour, McEnroe returned to top-level doubles competition in 2006 and became the oldest male player to win a top-level title in 30 years at San Jose.

Playing style
McEnroe's game combined shot-making artistry, deft volleys, and a fast, attacking style of play. His sharp reflexes enabled him to return the biggest serves and passing shots masterfully, and the variety, delicacy, and quickness of his play delighted crowds. But McEnroe also quickly became known for his competitive fire and volatile temper. Verbal outbursts seemed to be a key way in which he motivated himself to battle through tough situations during matches, but this frequently got him into trouble.

Early success
McEnroe was born in the U.S military base at Wiesbaden, where his father was stationed with the United States Air Force. He is of Irish descent. When he was less than a year old, his family moved to New York City. He grew up in Douglaston, Queens and learned tennis at the nearby Port Washington Tennis Academy, in Port Washington, on Long Island, NY.

McEnroe took the tennis world by storm as an 18-year-old in 1977, when he made it through the qualifying tournament into the main draw at Wimbledon, where he lost in four sets to Jimmy Connors in the semifinals. It was the best performance by a qualifier at a Grand Slam tournament and a record performance for an amateur in the open era.

Shortly after, McEnroe entered Stanford University and won the NCAA singles and team titles in 1978. After that, he joined the professional tour.

McEnroe signed one of the first professional endorsement deals in tennis with Sergio Tacchini in 1978.

McEnroe won his first Grand Slam singles title at the 1979 US Open. He defeated his good friend Vitas Gerulaitis in straight sets in the final to become the youngest winner of the championships since Pancho Gonzales, who was also 20, in 1948. (Pete Sampras eventually became the youngest US Open Champion at 19 years old.) McEnroe won 10 singles and 17 doubles titles that year (for a total of 27 titles, which marked an open-era record).

Pop-culture appearances
McEnroe's fiery temper has got him featured in fields other than tennis on more than one occasion. In 1982, on the tail of his final victory against Borg, British impressionist Roger Kitter made a record called Chalk Dust: The Umpire Strikes Back in which he played a parody of McEnroe losing his temper with an umpire during a match. The record was made under the nomenclature "The Brat" and reached the UK Top 20; by this time the British tabloids had dubbed him "SuperBrat". He is also sampled and referenced on Dionysos' album Western Sous La Neige which features multiple tracks that talk about writing in the blood of bad referees. His random bursts of rage were also parodied in the satirical British programme 'Spitting Image', where he and wife Tatum frequently screamed and threw things at each other.
In the House of Pain's 1992 hit single "Jump Around," lead rapper Everlast mentions John McEnroe in the second verse: I'll serve your ass like John McEnroe, if your girl steps up I'm smackin' the ho.
In the 2003 Halloween cartoon for Homestar Runner, 3 Times Halloween Funjob, Homestar dresses as John McEnroe. An Easter egg at the end of the cartoon shows a puppet version of Homestar doing an impresson of one of McEnroe's infamous displays of bad temper.
McEnroe has also been given roles in TV and film where he playfully acknowledges his well-known belligerence such as in his appearance in a 2005 car commercial for the SEAT Altea where he angrily shouts his trademark "Clearly inside the line" line at an officer who has ticketed him for parking incorrectly. He also portrays himself in the 2002 film Mr. Deeds where he lauds the title character for getting angry and assaulting an antagonist, and has a scene in the film Anger Management starring Jack Nicholson and Adam Sandler, most of which was cut- leaving only a short shot of him sleeping on the floor of the psychiatrist's office. The full scene is in the DVD special features.
McEnroe also has appeared in Nike's recent tennis commercials with his brother Patrick and tennis star Maria Sharapova. He appeared in another commercial where he taught Pete Sampras how to throw temper tantrums on the court.
McEnroe appeared on the December 16, 2006, episode of the UK talk show Parkinson.
McEnroe, alongside his brother Patrick, co-hosted the WFAN Morning Show (formerly Imus in the Morning on May 8 and 9, 2007.
On May 10, 2007, McEnroe appeared as a murder suspect on an episode of the American CBS television show CSI: NY, uttering a variation of his famous "You cannot be serious!" line.
According to the DVD movie interview, Tom Hulce studied McEnroe's mood swings for his portrayal of Mozart's unpredictable genius in Amadeus. Also, Ian McKellen once took some lessons from his behaviour on court for his interpretation of the megalomaniacal Coriolanus at Stratford.
Please register for a free Genetic Matrix account to access more information about this and all other celebrity pages