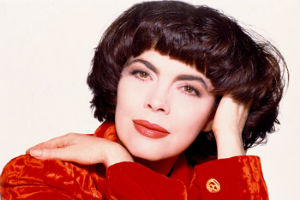 Mireille Mathieu
Category : Singer - Popular
Type : GP
Profile : 4/6 - Opportunistic / Role Model
Definition : Split - Small (27,34,54,58)
Incarnation Cross : RAX Laws 2
Biography
Mireille Mathieu (born 22 July 1946) is a French singer. She has recorded over 1200 songs in 11 languages, with more than 125 million albums and 55 million singles sold worldwide.
Early years
Mireille Mathieu was born and raised in Avignon, France, the eldest daughter of a family of fourteen children; the youngest brother was born after she moved to Paris. Her father Roger's family was from Avignon, and her mother Marcelle-Sophie née Poirier came to Avignon from Dunkirk in 1944 as a refugee from World War II, after her sister and mother died. Roger, with his father Arcade, ran a stonemason shop outside the Saint Véran Cemetery in Avignon. The family lived in poverty, and was dependent on government housing.
Roger once dreamed of becoming a singer, but his father Arcade disapproved, inspiring him to have one of his children learn to sing with him in church. Mireille included his operatic voice on her 1968 Christmas album, where it was mixed in with the Minuit Chrétiens song. Mireille's first paid performance before an audience, at age four, was rewarded with a lollipop. A defining moment was seeing Édith Piaf sing on television.
Mireille performed poorly in elementary school due to dyslexia, requiring an extra year to graduate. Born left handed, her teachers used a ruler to strike her hand each time she was caught writing with it. She became right handed, although her left hand remains quite animated while singing. She has a fantastic memory, and never uses a prompter on stage. Abandoning higher education, she began work in a local factory in Montfavet at age fourteen (1960), where she helped with the family income and paid for singing lessons. Popular at work, she often sang songs at lunch, or while working. Like her parents, she is a short woman at 1.52 m (5 feet) in height. Her sister Monique began work at the same factory a few months later, both given bicycles on credit to commute with, making for very long days, and many bad memories of riding against the Mistral winds. The factory went out of business, so Mireille and her two oldest sisters (Monique, and Christiane) became youth counselors for the summer before her rise to fame, a summer where she had her fortune told by Tarot cards by an old Gypsy woman, saying she would soon mingle with Kings and Queens.
Mireille is Roman Catholic, and her patron Saint is Saint Rita, the Saint for the Impossible. Mireille's paternal grandmother Germaine née Charreton, assured her that Saint Rita was the one to pray to for hopeless cases. Beyond religion, like many artists, she is unabashed about superstition and luck. She has stage fright, and can be seen making the sign of the cross before moving out on stage.
Debut (1962–65)
Mathieu began her career by participating in an annual singing contest in Avignon called On Chante dans mon Quartier (We sing in my Neighborhood). Photos depict the affair as rather drab with a cheap curtain and one projector light. The stage was only twenty feet square, and the singer having to share that with a large piano and musicians. You can't help but notice the huge audience who are mostly young and boisterous. The judges sat at a table in front of and below the elevated stage. Anyone who signed the contract in the weeks before the show is allowed to sing. Talent scouts making this a worthwhile event for singers within hundreds of kilometers to participate in.
Mireille's private singing lessons were by Madame Laure Collière, who was also a piano teacher in Avignon. Self-described as very stubborn in her autobiography, she wrote about singing love songs that the audience thought were inappropriate for a young girl. Thus, losing to Michèle Torr in 1962 when she sang "Les cloches de Lisbonne" at the first contest, and losing again in 1963 singing Édith Piaf's "L'Hymne à l'amour." In 1964, though, she won the event with another Piaf song: "La Vie en rose."
Her win was rewarded with a free trip to Paris, and a pre-audition for the televised talent show Jeu de la Chance (Game of Luck), where amateur singers competed for audience and telephone votes. Her participation and train fare, arranged by Raoul Colombe, the deputy mayor of Avignon. Accompanied by a pianist at the studio, and dressed in black like Piaf, she sang two Piaf songs to the audition judges and left dispirited. Non-French cannot hear it, but Parisians at the studio made fun of her Provençal accent, and her dyslexia scrambled words. For example, her sister and current manager Monique, is called "Matite" because Mireille couldn't pronounce "petite" as a child.
During a 1965 summer gala, added to the Enrico Macias concert by Raoul Colombe (her first manager), she met her future manager Johnny Stark. Mireille and her father both thought he was an American based on his mannerisms, and they nicknamed him l'Américain. Stark had worked with singers such as Yves Montand, and the relationship between him and Mathieu is often described as resembling that between Colonel Tom Parker and Elvis Presley. Stark is credited with making her a star and the successor to Piaf. By 1968, under his careful management, she was France's most popular singer.
Breakthrough (1965–67)
Mireille was invited to Paris by the impresario Régis Durcourt to sing on the "Song Parade" television program, Friday 19 November 1965. The truth has never been revealed how, but Mireille was suddenly moved-up to compete live on the Sunday 21 November 1965 episode of "Jeu de la Chance," a talent segment of the popular French program "Télé-Dimanche." She explained that "Song Parade" offered only one chance to sing, while "Jeu de la Chance" offered many chances to sing, but only if she won, and she intended to win. Both the studio audience and telephone voters gave her a slight lead over five-time winner Georgette Lemaire, so the producers called it a tie. Johnny Stark officially became her manager that night, and with his longtime assistant Nadine Joubert, helped prepare Mireille to win the contest the following week. In a short film called La guerre des Piaf, Mireille is surrounded by her sisters Monique and Christiane, with Johnny hovering in the background as she is interviewed for the first time on camera. She is very uncomfortable, staring at the floor during many of the questions, even dumbfounded once and looking like a deer in the headlights. Johnny finally comes to her rescue. She was fresh off the boat as they say. In a later interview, she underscored the importance of the event: "For me, Paris was the end of the world. I never took a train or saw a camera before. I did not know what the outcome of the adventure would be."
Mireille has all to learn. How to walk, how to breathe, how to enunciate properly. But no one should ever touch that voice
In the middle of her seven consecutive performances on Télé-Dimanche she performed a concert at the Paris Olympia, which propelled her to stardom. She signed with Bruno Coquatrix, the owner of the Olympia, on 20 December, and performed the only three Piaf songs she had memorized, two days later. She was hailed in the press, in France and abroad, as the "Sparrow from Avignon," in reference to Piaf's nickname "Sparrow of the Streets." The Olympia performance convinced a skeptical Paul Mauriat to work with Mireille, and song writer André Pascal joined forces to develop her into a successful act. Pascal wrote Mon crédo, Viens dans ma rue, La première étoile and many other hit songs for her. Her first album En Direct de L'Olympia – on the Barclay label – was released in 1966. Highly acclaimed, along with the singles and EP's from it, the album made her a star outside of France.
A regular early contributor of material was Francis Lai, who wrote two songs: C'est ton nom, and Un homme et une femme for her first album, and often accompanied her with his accordion on television. Her first record was recorded in the EMI studios, with Paul Mauriat's band. Mathieu's success led her record company, Barclay, to claim that they controlled 40% of the French pop disk market.
Mireille spent all of 1966 and 1967 touring. It was during a car ride to another concert that Stark advised Mireille that she was finally debt free, and worth more than a million francs ($200k USD in 1967). She had always prayed that she could get her family out of poverty, but the touring and singing were much more important at the time. In her autobiography, she said her first major purchases were a vehicle for her father's business and a large home for her parents and siblings. Most important, a telephone, so her parents no longer had to go to the pharmacy to talk to her in Paris. Her one regret, was that she was unable to see her grandmother Germaine in the hospital before she died during these tours.
Following her performance at the London Palladium, her French cover of Engelbert Humperdinck's "The Last Waltz" (La dernière valse) generated much publicity in Great Britain and was a hit even though the original had been number one only a few months previously. She also toured Canada and the United States where she appeared on The Ed Sullivan Show and the Danny Kaye Show. While on a visit to Hollywood, she met Elvis Presley, and in Las Vegas sang with Dean Martin and Frank Sinatra.
Career (1967–Present)
Although the popularity of her genre suffered, given the domination of Rock and Roll and the global lack of interest in non-English popular music during her most profitable years, she remained a popular artist in France and other countries. Many thousands of fans have met her before and after performances for autographs and well wishes over the years, and the common refrain is how well she treats her fans. She easily interacts with the public. While the Mathieu sisters are quite wealthy, they have also made their song writers extremely wealthy. Most of the record profits go to the authors, whereas Mireille had to tour and perform concerts live and on television.
While on tour in February 1968, Mireille was in a car accident in which she fractured one of her vertebrae; the injury sidelined her for three months. She writes in her book, that they received a note which said "we will get you next time" but it was not proved to be anything but an accident.
In 1971, Barclay was unable to meet the demands for records. Johnny Stark then made a contract for Philips Records to print all the Singles, and EPs, resulting in a US $1 Million lawsuit from Barclay for breach of contract. Barclay's contract was to run until 1972.
In 1972, Mireille toured Canada and produced a live album. Johnny Stark suffered his first heart attack while making arrangements for this concert.[16] In the 17 April 1972 issue of Charlie Hebdo (a left-wing paper) an unflattering caricature of Mireille was featured on the cover in an attack cartoon that was titled "Comme Mireille Mathieu Votez Débile" (Like Mireille Mathieu vote stupid) and a voice balloon saying "Areu Areu" or goo-goo baby talk. She was targeted mainly for her conservative image, rather than any political position.
In 1985, Mireille joined in a huge project by Placido Domingo, called The Tales of Cri-Cri. This television special used puppets along with fifty-years of traditional Mexican songs, producing popular versions in Spanish, French, and English. Mireille's father Roger died this same year.
In 1986, she performed a concert in Beijing, China. In her autobiography she states that she was the first Western performer to give a concert, but this was in error, as at least two other Western performances preceded hers.
In 1988, W. Kordes' Sons, a German rose breeding company introduced the Mireille Mathieu Rose to match her favorite lipstick color. Mathieu also published her autobiography with co-author Jacqueline Cartier. The title is Oui Je Crois "Yes, I believe" which is taken from the lyrics of Mon crédo, her first recording. The book was seen as a final chapter in her career. The French public had pretty much disowned her, as a conservative relic. She was considered a pre-revolution (1968) Gaullist figurehead, and hated by the left. Stark was also exhausted and overweight by this time. Pierre Delanoë wrote a passionate song about Joan of Arc in "La Demoiselle D'orléans" for Mireille. The final lyric: "When I think of all I have given France... and she has forgotten me" was truly how the singer felt as she was made a caricature by the Communists in power. She used her fists in punching the air while singing the song.
Mireille writes in her autobiography that she and Johnny Stark understood each other. She wanted to be a singer, and he was tired of people who just wanted to be famous. They were both hard workers, and he kept her schedule filled with lucrative contracts. She also writes that she was forbidden to read the press, and, having peeked at some of it, was content to follow that rule. Stark, of course, had a heavy hand in manipulating the press. Mireille writes that her mother was often surprised to read on the front page that she was engaged to a movie star, Prince, or Duke. Upon Stark's death, everyone said that no one could replace him, and it proved true, but by then the entertainment press had also matured.
Many photographs and films from the early years show the life around Johnny Stark's villa in Roquefort-la-Bédoule (south of France). The villa, also named "la Bédoule", allowed everyone to escape from Paris and relax. The home supported Johnny's telephone addiction with 28 telephones, with each car also having a phone. Mireille lived here with her aunt Irene, and brothers and sisters would often visit. The pool was designed to be shallow all around, and deep in the center, as Mireille has a fear of drowning, and never learned to swim. The property was sold after Johnny's divorce.
In 1989, President François Mitterrand invited Mathieu to sing a tribute to General Charles de Gaulle. Johnny Stark died the same year after his second heart attack. Divorced and estranged from his family, Johnny was entombed in the mausoleum Mathieu in Avignon.
Johnny Stark left behind a legal "bloody mess." It took Mireille and her lawyers years to close out and process the taxes. "I had a great depression, but I got out without needing analysis."
The most controversial event of Mathieu's career occurred when she took over Stark's office, and ended her business relationship with Nadine Joubert. She lost confidence in Nadine who tried to modernize her act. The L'Américain album failed miserably, along with the strain of Stark's legal affairs setting her back financially. She just needed to take control. Her sister Monique stepped in to become her business manager, and the two women have remained profitable in the industry ever since.
In December 1990, She gave a series of concerts at the Palais des Congrès in Paris.
My songs always speak of love, that's the way I like them.
In 1993, she released two albums devoted to her idol, Édith Piaf, essentially retracing her roots. One album was in French; the other, in German. Her unique vibrato since childhood has mostly faded by this stage, and her use of both alveolar and uvular trills popular with many Parisian singers, becomes dominant.
In January 1996, Vous lui Direz was released. She did not perform live in France to promote the album, preferring rather to go to Los Angeles, where she gave a tribute to Judy Garland. She was dressed by Christian Lacroix. In 1999, she released a German album Alles nur ein Spiel, with Francis Lai on accordion. In 2002, she released her thirty-seventh French album: De tes mains, followed by a series of concerts at the Paris Olympia in November.
Mathieu celebrated the fortieth anniversary of her career at the Paris Olympia in November 2005, and released her thirty-eighth French album: Mireille Mathieu 2005. The album reached number fourteen on the charts in France, and remained in the top 100 for several months. The performance, and interview, were recorded and released in wide-screen DVD format in 2006; however, the DVD was in European video format only. A publishing label Abilene Disc was created to produce the DVD and CD, along with a new website. Mathieu joined with Jean Claudric and his Orchestra for this concert, and has worked with him ever since. Even their latest concert to Siberia in 2012 has kept them paired and the music has always been rated excellent in reviews.
In 2007, she gave her support to Nicolas Sarkozy who was the mayor of Neuilly sur Seine (Neuilly), where she has resided since coming to Paris in 1965. Sarkozy was elected President of France, and Prince of Andorra. In 2012 she did not support any candidate publicly. On 1 November 2008, she was a guest of Prime Minister Vladimir Putin in Moscow, and performed a concert in his honor. The two visited the tent of visiting Libyan leader Muammar Gaddafi.
In November 2010, she was awarded the Russian Medal of Friendship by President Dmitry Medvedev at a State Dinner. She was in Russia and the Baltic States throughout November, returning to Paris after a concert in Warsaw, Poland on 28 November. In January 2011, Mireille was promoted from Chevalier (9 December 1999) to Officier of the Légion d'honneur.
In November 2011, Mathieu cancelled her concert in Israel for the second time in 2011. The promoter again failed to meet the required ticket sales. Mireille with Jean Claudric and his Orchestra were in Siberia, Russia in March 2012, visiting three cities: Perm (21 March), Tyumen (24 March), and Yekaterinburg (26 March). Yekaterinburg is where the Russian Tsar Nicholas II and his family were executed.
Mireille Mathieu was accompanied by her mother and sister Monique to Moscow, Russia from 31 August to 8 September 2012, for the Spasskaya Tower Military Festival in the Red Square. This was her fourth consecutive year singing at the event. She did a solo performance in the middle of Red Square, with Military bands backing her Pardonne-moi ce caprice d'enfant, and Non, Je Ne Regrette Rien songs. The later song not very popular by the audience, since the theme for 2012 was the 200th anniversary of the Patriotic War of 1812, or the Invasion of Russia by France under Napoleon.
During an interview in Moscow, she mentioned that the group Pussy Riot had committed a sacrilege in the church by having a political demonstration against President Putin. French television program "On n'est pas couché" edited out the second half of her statement, and called her a tool of President Putin. As of 26 September 2012 her lawyer André Schmidt has sued the station for defamation. The part that was edited out was "as a woman artist and a Christian, I beg the indulgence of these three girls." The group of three women were convicted and sentenced to jail for two years for being hooligans, and inciting religious hatred.
Mathieu has announced on her Web page that she is re-releasing her Chante Piaf album in October, with two new recordings added, in celebration of her 50th year as a singer, and 50th year of Piaf's death. In October 2012 Mireille Mathieu announced on her Web page that she had cancelled some of her shows in Russia (Rostov, Volgograd, Samara, and Ufa). She had contracted these shows through a Yekaterinburg company called Mix Art, through her agency Foresa Investment Ltd. She states: Mix Art "acted in a highly unprofessional and even fraudulent way." She was able to salvage the tours on 3 November 2012 in Moscow, 5 November 2012 in Saint Petersburg and 7 November 2012 in Krasnodar. She also performed the rescheduled concert in Ufa on 7 March 2013.
Personal
Mireille Mathieu has never been married and has no children. She has a very close circle of friends and family. Unlike other superstars, she does not have a publicist, or feel the need to expand on her private life. She is a devout Christian, and still participates in Catholic Mass with her family.
Siblings
Her siblings are Monique, Christiane, Marie-France, Réjane, Regis (twin), Guy (twin), Roger, Jean-Pierre, Rémi, Sophie-Simone, Phillipe, Béatrice, Vincent.
Please register for a free Genetic Matrix account to access more information about this and all other celebrity pages