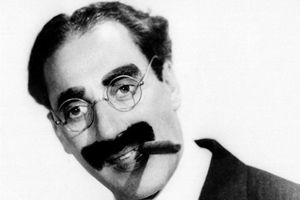 Groucho Marx
Category : Actor
Type : PSP
Profile : 6/2 - Role Model / Hermit
Definition : Single
Incarnation Cross : LAX Upheaval 2
Biography
Julius Henry "Groucho" Marx (October 2, 1890 – August 19, 1977), was an American comedian and film star. He is famed as a master of wit. He made 15 feature films with his siblings, the Marx Brothers. He had a distinctive image which included a heavy moustache, glasses and fake eyebrows.

Childhood & Pre-Hollywood Successes
The Marx family grew up on the Upper East Side (E 93rd Street) of New York City, in a small Jewish neighborhood sandwiched between Irish-German and Italian neighborhoods. Groucho's parents were Minnie Schoenberg Marx and Sam Marx (called "Frenchie" throughout his life).

Minnie's brother was Al Schoenberg, who shortened his name to Al Shean when he went into show business. He was half of Gallagher and Shean, a noted vaudeville act of the early 20th century. According to Groucho, when Shean visited he would throw the local waifs a few coins so that when he knocked at the door he would be surrounded by child like adoring fans. Marx and his brothers respected his opinions and asked him on several occasions to write some material for them.

Minnie Marx didn't have an entertainment industry career, but she had intense ambition for her sons to go on the stage like their uncle. While pushing her eldest son Leonard (Chico Marx) in piano lessons, she found that Julius had a pleasant soprano voice and the ability to remain on key. Even though Julius' early career goal was to become a doctor, the family's need for income forced Julius out of school at the age of twelve. By that time, Julius had become a voracious reader, particularly fond of Horatio Alger. Throughout the rest of his life, Marx would overcome his lack of formal education by becoming very well-read.

After a few comically unsuccessful stabs at entry-level office work and other jobs suitable for adolescents, Julius took to the stage as a boy singer in 1905. Though he reputedly claimed that in the world of vaudeville, he enjoyed only "modest success" but was "hopelessly average", it was merely a wisecrack. By 1909, Minnie Marx successfully managed to assemble her sons into a low-quality vaudeville singing group. They were billing themselves as 'The Four Nightingales', Julius, Milton (Gummo Marx), Adolph (Harpo Marx) (later changed to Arthur), and another boy singer, Lou Levy, traveled the U.S. vaudeville circuits to little fanfare. After exhausting their prospects in the East, the family moved to La Grange, Illinois to play the Midwest.

After a particularly dispiriting performance in Nacogdoches, Texas, Julius, Milton, and Arthur began cracking jokes onstage for their own amusement. Much to their surprise, the audience liked them better as comedians than singers. They modified the then-popular Gus Edwards comedy skit, "School Days", and renamed it "Fun In Hi Skule". The Marx Brothers would perform variations on this routine for the next seven years.

For a time in vaudeville, all the brothers performed in ethnic accents. Leonard Marx, the oldest Marx brother, developed the "Italian" accent he used as "Chico" to convince some roving bullies that he was Italian, not Jewish. Julius Marx's character from "Fun In Hi Skule" was an ethnic German, so Marx played him with a German accent. However, after the sinking of the RMS Lusitania in 1915, public anti-German sentiment was widespread, and Marx's "German" character was booed, so he quickly dropped the accent and developed the fast-talking wise guy character he would make famous.

The Marx Brothers became the biggest comedic stars of the Palace Theatre, which billed itself as the "Valhalla of Vaudeville". Brother Chico's deal-making skills resulted in three hit plays on Broadway. No comedy routine had ever infected the hallowed Broadway circuit. But reports are unanimous that the Broadway audiences were just as convulsed with laughter as had been the vaudeville ones. The Marx Brothers were now more than a vaudeville sensation, they were a Broadway sensation.

All of this predated their Hollywood career. By the time the Marxes made their first movie, they had already been stars with sharply honed skills, and when Marx was relaunched to stardom on You Bet Your Life, he had already been performing successfully for a half century.

Career highlights

Marx developed a routine as a wise-cracking hustler with a distinctive chicken-walking lope and an exaggerated greasepaint moustache and eyebrows, improvising insults to stuffy dowagers (often played by Margaret Dumont) and anyone else who stood in his way. He and his brothers starred in a series of extraordinarily popular stage shows and movies, often ad libbing. (See: Marx Brothers)

In the 1930s and 1940s Marx also worked as a radio comedian and show host. One of his earliest stints was a short lived series in 1932 entitled Flywheel, Shyster and Flywheel, co-starring Chico, who was the only one of his brothers willing to appear on the show. Most of the scripts and discs were subsequently destroyed (except the last shows) only turning up in 1988 in the Library of Congress. In 1947, Marx was chosen to host a radio quiz program entitled You Bet Your Life, which moved over to television in 1950 . The show consisted of Marx interviewing the contestants and ad libbing jokes. Then they would play a brief quiz. The show was responsible for the phrases "Say the secret woid and divide $100" (that is, each contestant would get $50); and "Who's buried in Grant's Tomb?" or "What color is the White House?" (asked when Marx felt sorry for a contestant who had not won anything). It would run 11 years on television.

One quip from Marx concerned his response to Sam Wood, the director of the classic film A Night at the Opera. Wood was furious with the Marx Brothers' ad-libs and antics on the set and yelled to all in disgust that he "cannot make actors out of clay." Without missing a beat, Marx responded, "Nor can you make a director out of Wood." A widely reported, but likely apocryphal, ad-lib is reportedly a response to a female contestant who had almost a dozen children. Marx asked why the contestant had so many children, to which the contestant replied "I love my husband." Marx responded, "Lady, I love my cigar, too, but I take it out once in a while." Hector Arce inserted the claim into Marx's memoir The Secret Word is Groucho but Marx himself denied that it ever happened.

Throughout his career he introduced a number of memorable songs in films, including "Hooray for Captain Spaulding", "Whatever It Is, I'm Against It", "Hello, I Must Be Going", "Everyone Says I Love You" and "Lydia the Tattooed Lady". Frank Sinatra, who once quipped that the only thing he could do better than Marx was sing, made a film with Marx and Jane Russell in 1951 entitled Double Dynamite.

The famous moustache and eyebrows
As much as Harpo and Chico were difficult to recognize without their wigs and costumes, it was almost impossible to recognize Marx without his trademark glasses, or fake eyebrows and moustache.

The use of greasepaint moustache and eyebrows originated spontaneously before a vaudeville performance when he did not have time to apply the pasted-on moustache he had been using (or, according to his autobiography, simply did not enjoy the removal of the moustache every night - imagine tearing an adhesive bandage off the same skin every night). After applying the greasepaint moustache, a quick glance in the mirror revealed his natural hair eyebrows were too undertoned and did not match the rest of his face, so Marx added the greasepaint to his eyebrows and headed for the stage. The absurdity of the greasepaint was never discussed on-screen, but in a famous scene in Duck Soup, where both Chico and Harpo are disguising themselves as Groucho, they are briefly seen applying the greasepaint, implicitly answering any question a viewer might have had about where he got his moustache and eyebrows.

Marx was asked to don the greasepaint moustache once more for "You Bet Your Life," but refused, opting instead to grow a real one, which he wore for the rest of his life.

He did paint the old character moustache over his real one on a few rare performing occasions, including a TV sketch with Jackie Gleason on the latter's variety show in the 1960s (in which they performed a variation on the song "Absolutely Mr. Gallagher, Positively Mr. Shean," written by Marx's uncle) and the 1968 Otto Preminger film Skidoo. In his 70s at the time, Marx remarked on his appearance: "I looked like I was embalmed." He played a mob boss called "God" and, according to Marx, "both my performance and the film were God-awful!".

Personal life
Marx was married and divorced three times. His first wife was chorus girl Ruth Johnson (married 4 February 1920, divorced 15 July 1942) with whom he had two children, Arthur and Miriam. He had a daughter, Melinda, by his second wife, Kay Marvis Gorcey (married 24 February 1945, divorced 12 May 1951), former wife of Leo Gorcey. His third wife was actress Eden Hartford (married 17 July 1954, divorced 4 December 1969). All three wives were alcoholics. Many of his detractors wondered if he was just attracted to future alcoholics or if he drove them to it. Unfortunately there is a shred of truth there; if anyone was "always on", it was Groucho Marx. Except for the rarest of occasions, such as parts of his interview with Edward R. Murrow, Groucho played Groucho everywhere he went and in everything he did.

Often was the case, for instance, when the Marxes would arrive at a restaurant and be greeted by an interminable wait. "Just tell the maître d' who we are," his wife would nag. (In his pre-moustache days, he was rarely recognized in public.) Groucho would say, "OK, OK. Good evening, sir. My name is Jones. This is Mrs. Jones, and here are all the little Joneses." Now his wife would be furious and insist that he tell the maître d' the truth. "Oh, all right," said Groucho. "My name is Smith. This is Mrs. Smith, and here are all the little Smiths."

Similar anecdotes are corroborated by Groucho's friends, not one of whom went without being publicly embarrassed by Groucho on at least one occasion. Once, at a restaurant (the most common location of Groucho's antics), a fan came up to him and said, "Excuse me, but aren't you Groucho Marx?" "Yes," Groucho answered annoyedly. "Oh, I'm your biggest fan! Could I ask you a favor?" the man asked. "Sure, what is it?" asked the even-more annoyed Groucho. "See my wife sitting over there? She's an even bigger fan of yours than I am! Would you be willing to insult her?" Groucho replied, "Sir, if my wife looked like that, I wouldn't need any help thinking of insults." Also, Groucho's son, Arthur, published a brief account of an incident that occurred when Arthur was a child. The family was going through airport customs and, while filling out a form, Groucho listed his name as "Julius Henry Marx" and his occupation as "smuggler". Thereafter, chaos ensued.

Off-stage, Groucho was a voracious reader. He unceasingly lamented the fact that he had only a grammar school education and he compensated by reading everything he got his hands on. His knowledge of literature from all eras was extraordinary. Typical of his achievements, this one was discussed only demurely by Groucho himself: "I think TV is very educational," he once said. "Every time someone turns on a TV, I go in the other room and read." His friend Dick Cavett, speaking of Groucho and referencing a certain philosopher's writing, said "I, with my college education, had merely heard of the book, but Groucho had actually read it." Cavett also remarked that Groucho could never end a letter; there was always at least one postscript. In one letter he recalls, Groucho wrote "P.S. Did you ever notice that Peter O'Toole has a double-phallic name?"

Despite this lack of formal education, he wrote many books, including his autobiography, Groucho and Me (1959) (Da Capo Press, 1995, ISBN 0-306-80666-5), and Memoirs of a Mangy Lover (1963) (Da Capo Press, 2002, ISBN 0-306-81104-9). And he was personal friends with literary figures as T. S. Eliot and Carl Sandburg. Much of his personal correspondence with those and other figures is featured in the book The Groucho Letters (1967) with an introduction and commentary on the letters written by Groucho, who donated his letters to the Library of Congress.

"You Bet Your Life"
Groucho's radio life hadn't been as successful as his life on stage and in film, though historians such as Gerald Nachman and Michael Barson suggest that, in the case of the single-season Flywheel, Shyster, and Flywheel (1932), the failure may have been a combination of a poor time slot and the Marx Brothers' returning to Hollywood to make another film.

In the mid 1940s, during a depressing lull in his career (his radio show Pabst Blue Ribbon Town had failed to hold on, and the Marx Brothers looked finished as film performers), Groucho was scheduled to appear on a radio show with Bob Hope. Annoyed that he was made to wait in the waiting room for 40 minutes, Groucho went on the air in a foul mood. Hope started by saying, "Why, it's Groucho Marx, ladies and gentlemen. (applause) Groucho, what brings you here from the hot desert?" Groucho retorted, "Hot desert my foot, I've been standing in the cold waiting room for 40 minutes." Groucho continued to ignore the script, and although Hope was a formidable ad-libber in his own right, he couldn't begin to keep up with Groucho, who lengthened the scene well beyond its allotted time slot with a veritable onslaught of improvised wisecracks.

Listening in on the show was producer John Guedel, who got a brainstorm. He approached Groucho about doing a quiz show. "A quiz show? Only actors who are completely washed up resort to a quiz show." Undeterred, Guedel explained that the quiz would be only a backdrop for Groucho's interviews of people, and the storm of ad-libbing that they would elicit. Groucho said, "Well, I've had no success in radio, and I can't hold on to a sponsor. At this point I'll try anything."

You Bet Your Life premiered in October 1947 on radio on ABC and then on CBS and finally NBC and ran until May 1961 -- on radio only 1947-1950, on both radio and television 1950-1956, and on television only 1956-1961. The show was an utter sensation, one of the most popular in the history of radio and television. With one of the best announcers and, as it turns out, straight men in the business, George Fenneman, as his faithful foil, Groucho slayed his audiences with extraordinary improvised conversation, usually with the most ordinary of guests.

Ad-libbing controversy: was it scripted or not?
Groucho's competitors became so livid by the comedian's unexpected and colossal success that they circulated rumors that You Bet Your Life was completely scripted and Groucho wasn't ad-libbing at all. They felt vindicated when a photo surfaced, taken from backstage, showing Groucho looking at a transparent screen.

The critical consensus is that while some of Groucho's jokes were either "planned" or semi-scripted, most were ad-libbed. Admittedly, the staff did contain two writers who would contribute a few jokes. Nonetheless, the truth is that the scripting was not only minimal, but also more for the contestants' benefit. Groucho never once had a contestant on the show that he'd met previously, except for the occasional celebrity guest. The staff thus fed Groucho the questions they thought he should ask these unfamiliar people, but Groucho himself never knew what the answers would be.

Later years
By the time that You Bet Your Life debuted on TV on 5 October 1950, Groucho had grown a real mustache (which he sported earlier, in the 1950 film Love Happy), the lack of which had earlier been an effective means of hiding himself from fans.

During a tour of Germany in 1958, Marx, accompanied by his then wife, Eden, his daughter, Judith and Robert Dwan, climbed a pile of rubble that marked the site of Adolf Hitler's bunker. Once he reached the top of the pile, Marx performed a two minute charleston.

Another TV show hosted by Groucho, Tell It To Groucho, premiered 11 January 1962 on CBS, but only lasted five months. On 1 October 1962, Groucho, after acting as occasional guest host of The Tonight Show during the six-month interval between Jack Paar and Johnny Carson, introduced Carson as the new host.

In 1965, Groucho did a weekly show for British TV titled Groucho which was poorly received and only lasted 11 weeks. He appeared as "God" in the movie Skidoo (1968), co-starring Jackie Gleason and Carol Channing and directed by Otto Preminger. The film got almost universally negative reviews. Skidoo proved to be Groucho's last theatrical film appearance. As a side note, writer Paul Krassner published a story in the February 1981 issue of High Times, relating how Groucho Marx "prepared" for his role in the LSD-related movie by taking a dose of the drug in Krassner's company, and had a moving, largely pleasant experience.

In the early 1970s, Groucho made a comeback of sorts doing a live one-man show, including one recorded at Carnegie Hall in 1972 and released as a double album, An Evening with Groucho, on A&M Records. He also made an uncredited cameo in the movie The Candidate in 1972 and an appearance on a short-lived variety show hosted by Bill Cosby, who idolized Groucho, in 1973. He also developed friendships with rock star Alice Cooper (the two were photographed together for Rolling Stone Magazine), and television host Dick Cavett, becoming a frequent guest on Cavett's late-night talk show. He met and befriended Elton John when the British singer was staying in California in 1972, insisting on calling him "John Elton" because "Elton John" was the wrong way around. According to writer Philip Norman, Groucho jokingly pointed his index fingers at Elton John as if holding a pair of six-shooters. Elton John put up his hands and said, "Don't shoot me, I'm only the piano player," so naming the album he had just completed. Elton John accompanied Groucho and the family hosting him in California to a performance of Jesus Christ Superstar, where Groucho offered two witticisms. As the lights went down in the theater, Groucho called out, "Does it have a happy ending?" During the Crucifixion scene, he declared, "This is sure to offend the Jews."

Groucho's previous works once again became popular and were accompanied by new books of interviews and other transcribed conversations by Richard J. Anobile and Charlotte Chandler. He had become quite frail by this time and his last few years were accompanied by descent into senility and a controversy over a companionship he had developed with Erin Fleming, which consequently raised disputes over his estate.

He also accepted an honorary Academy Award in 1974, his final major public appearance, at which he took a bow for all the Marx Brothers.

Death
Marx's children, particularly his son Arthur, felt strongly that Fleming was pushing his weak father beyond his physical and mental limits. Writer Mark Evanier concurs with this. Marx was hospitalized for pneumonia on June 22, 1977 and died on August 19, 1977 at Cedar Sinai Medical Center in Los Angeles.

He was cremated, and the ashes were interred in the Eden Memorial Park Cemetery in Mission Hills, Los Angeles, California. (He had jokingly expressed desire to be buried on top of Marilyn Monroe.) Aged 86 at death, Groucho was the longest-lived of all three Marx brother actors, although his younger brother Zeppo outlived him by two years. His death undoubtedly would have received more attention at the time had it not occurred three days after that of Elvis Presley. In an interview, he jokingly suggested his epitaph read "Excuse me, I can't stand up", but his mausoleum marker bears only his stage name, a Star of David, and the years of his birth and death.

Groucho's legacy
Various Groucho-like characters and Groucho references have appeared in popular culture, some long after Marx's death, a testament to the character's lasting appeal. Some of these references are listed below, although it is in no way an exhaustive list.

Actor Frank Ferrante has performed as Groucho Marx for several years under rights granted by the Marx family in a one-man show entitled "An Evening With Groucho" done in live theater throughout the United States. With piano accompaniment, Ferrante takes the audience from Marx' early years in Vaudeville to his final days, incorporating songs from several Marx Brothers movies. Gabe Kaplan has appeared in a filmed version.

Bugs Bunny has impersonated Groucho in multiple cartoons such as Slick Hare and Wideo Wabbit. In the Tiny Toon Adventures segment "A Night in Kokomo", Groucho and his brothers have been re-assembled (with Babs as Groucho), and Histeria! portrayed Karl Marx as being very Groucho-like. This is noteworthy because most of the target audience of the shows most likely never watched their movies. In addition, his semi-signature phrase "Of course you realize, this means war" was "borrowed" from the Marx Brothers.
In the films The Way We Were (1973) and Everyone Says I Love You, there are parties where everyone dresses as one of the Marx Brothers.
Alan Alda often vamped as Groucho on M*A*S*H and a minor semi-recurring character in the series (played by Loudon Wainwright III) was named Captain Calvin Spalding in a nod towards Groucho's character in Animal Crackers, Captain Geoffrey T. Spaulding.
Rob Zombie uses several Groucho Marx character names (Captain Spaulding from Animal Crackers, Otis Driftwood from A Night at the Opera, Rufus T. Firefly from Duck Soup, Hugo Z. Hackenbush from A Day at the Races, S. Quentin Quale from Go West, and Wolf J. Flywheel from The Big Store) for his movies, House of 1000 Corpses & The Devil's Rejects.
Two of Queen's albums, A Night at the Opera (1975) and A Day at the Races (1976) are named after two of the Marx Brothers' films.
The Vlasic Pickles stork mascot is clearly an homage to Groucho, holding the pickle like a cigar and having a very similar voice.

In a tribute to Groucho, the BBC remade the radio sitcom Flywheel, Shyster and Flywheel, with contemporary actors playing the parts of the original cast. The series is currently being repeated on digital radio station BBC7.
In the 1977 Best Picture-winning Woody Allen film, Annie Hall, Woody opens the movie with a famous quotation, which he, reservedly, attributed to Groucho: "I refuse to belong to any club that will accept me as a member." The quotation was the end of an anecdote in Groucho's autobiography, "Groucho and Me" (although in reality, the sentiment may have originated with John Galsworthy).
On the famous Hollywood Sign in California, one of the "O"s is dedicated to Groucho Marx. Alice Cooper contributed over $27,000 to remodel the sign, in memory of his friend Groucho Marx.
In a 2005 poll, The Comedian's Comedian, Groucho was voted the 5th greatest comedy act ever by fellow comedians and comedy insiders. His glasses, nose, and moustache have become icons of comedy—to this day, glasses with fake noses and moustaches (referred to as "Groucho glasses," "nose-glasses," and other names) resembling Groucho are still sold by novelty and costume shops, and worn by young people, some of whom may not understand their origin.

"Marx and Lennon"
The liberal political views of Groucho Marx and singer John Lennon were not lost on satirists, who capitalized on the coincidence of their surnames' similarity to Karl Marx and Vladimir Lenin:

A book called 'Marx & Lennon: The Parallel Sayings' was published in 2005. As the title implies, it recorded the parallel sayings between Groucho Marx and John Lennon.
In 1994 the Republic of Abkhazia (an unrecognized state that is officially part of Georgia) issued two postage stamps featuring John Lennon and Groucho Marx, spoofing Abkhazia's communist past.
The cover art for the Firesign Theatre's 1969 album How Can You Be in Two Places at Once When You're Not Anywhere at All featured a Communist icon banner with pictures of the two enjoining "All Hail Marx and Lennon" printed in pseudo-Cyrillic lettering.
In his book It All Started With Columbus, first printed in the mid-1950s, humorist Richard Armour discussed Karl Marx and referred to him as "the funniest of the Marx Brothers".
In the comedy role-playing game Paranoia, the Communist faction carries pictures of Groucho Marx and sing John Lennon songs because of a lack of knowledge of communism itself.
Fans of the Marx Brothers sometimes describe themselves as "Marxists of the Groucho kind".
Some members of the Parti Rhinocéros call themselves Marxist-Lennonist, (A parody of the Marxist-Leninist Party of Canada), in reference to Groucho Marx and John Lennon.

Witty remarks by Groucho Marx
A man's only as old as the woman he feels.
A woman is an occasional pleasure but a cigar is always a smoke.
Anyone who says he can see through women is missing a lot.
Behind every successful man is a woman, behind her is his wife.
From the moment I picked your book up until I laid it down, I convulsed with laughter. Someday I intend on reading it.
Go, and never darken my towels again.
I don't care to belong to a club that accepts people like me as members.
I find television very educational. Every time someone switches it on I go into another room and read a good book.
I have had a perfectly wonderful evening, but this wasn't it.
I never forget a face, but in your case I'll be glad to make an exception.
I remember the first time I had sex - I kept the receipt.
I was married by a judge. I should have asked for a jury.
In Hollywood, brides keep the bouquets and throw away the groom.
Marriage is a wonderful institution, but who wants to live in an institution?
Marry me and I'll never look at another horse!
Military intelligence is a contradiction in terms.
Next time I see you, remind me not to talk to you.
One morning I shot an elephant in my pajamas. How he got into my pajamas I'll never know.
Quote me as saying I was mis-quoted.
There is one way to find out if a man is honest; ask him! If he says yes you know he's crooked.
Those are my principles, and if you don't like them... well, I have others.
Whoever named it necking was a poor judge of anatomy.
Why, I'd horse-whip you if I had a horse.
Time flies like an arrow; fruit flies like a banana.

Quotations about Groucho Marx

Groucho Marx was the best comedian this country ever produced. He is simply unique in the same way that Picasso or Stravinsky are." —Woody Allen
A famous French witticism (often attributed to Jean-Luc Godard) was, "Je suis Marxiste, tendance Groucho," that is, "I'm a Marxist of the Groucho variety". This line was notably heard in the 1972 comedy by Claude Lelouch "L'aventure c'est l'aventure", (starring Lino Ventura, Aldo Maccione, Jacques Brel, Johnny Hallyday and Charles Denner) where the would-be heroes get involved with a Central American guerilla; it spread to other nations as well in the 1960s and 1970s. In the United States, the Youth International Party, a 1960s-1970s ad-hoc political group of Anarcho-Marxists known for street theatre and pranks, were denounced in a Communist newspaper editorial as "Groucho Marxists".
In Tom Robbins' novel Another Roadside Attraction, protagonist Marx Marvelous is asked by the police if he was named for Karl Marx. He replies that he was named for the Marx Brothers.
Please register for a free Genetic Matrix account to access more information about this and all other celebrity pages