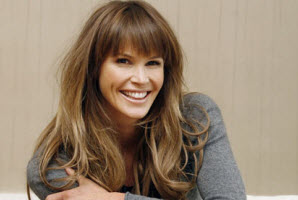 Elle MacPherson
Category : Model
Type : PE
Profile : 4/1 - Opportunistic / Investigator
Definition : Split - Small (51)
Incarnation Cross : JX Opinions
Biography
Elle Macpherson (born Eleanor Nancy Gow, 29 March 1963) is an Australian supermodel and actress. She is most famous worldwide for her five cover appearances on Sports Illustrated's swimsuit issue in the 1980s and 1990s. Nicknamed "The Body", she is 183cm tall.

Early life
Macpherson was born in Cronulla, New South Wales, and is the eldest of four children. Her parents divorced when she was fourteen, and her mother later married Neil Macpherson. Macpherson then changed her last name for her stepfather's.

She studied law for one year at the University of Sydney.

Rise to fame
While on holiday in Tasmania, Macpherson was discovered and signed to Click Model Management. Macpherson became an international star through her appearance in ELLE magazine. She appeared in every issue for six straight years. During this time she married (at age 21) ELLE creative manager Gilles Bensimon. Eventually she gained even more exposure through Sports Illustrated magazine's annual swimsuit issue. She appeared on the cover a record four times, including three years in a row. She also modelled for lingerie giant Victoria's Secret.

By 1986, her popularity had increased sufficiently for Time magazine to run a cover entitled "The Big Elle". The Australian government simultaneously offered her a post on the tourist commission as an unofficial ambassador.

Acting career
Macpherson made her movie debut playing an artist's model in the 1994 Sirens, which starred Hugh Grant, Sam Neill, Tara Fitzgerald and co-starred Portia de Rossi, as another model. Macpherson gained 9 kilograms (20 lb) and her breasts grew to a voluptuous 37D. She surprised fans and critics by appearing unabashedly in numerous nude scenes, earning her top billing for the film above more established actors (in fact, all the female characters in the movie appeared nude at least once in the film).

Soon after Sirens, Macpherson appeared completely nude in Playboy magazine. Elle chose for the pictures to be published in all countries except Australia, as she believed her Australian fans could be offended by the shoot. At the time she posed for Playboy, Australian magazines Women's Day and New Idea published shots from the shoot. They were also featured on current affairs programs A Current Affair and 60 Minutes. Macpherson also published two calendars in which she appeared in see-through tops.

In 1999, Macpherson appeared in five episodes of the hit United States sitcom Friends as Joey's roommate and girlfriend, Janine Lecroix.

Macpherson went on to film Jane Eyre with William Hurt and has also appeared alongside Ben Stiller and Sarah Jessica Parker in If Lucy Fell.

Extortion attempt
On July 12 and 23 of 1997, William Ryan Holt and Michael Mischler burgled Macpherson's Los Angeles home while she was away on business in Chicago. The pair stole an estimated $100,000 worth of jewelery, $6,000 in cash and 15 nude photographs.

Shortly after the burglaries, Macpherson was contacted by telephone and by mail from someone who threatened to release the photos on the Internet if she did not give them $60,000. Macpherson called the police, who set up a sting operation. After the pair realized that law enforcement had been called, they increased their demand by an additional $20,000. The duo was arrested on August 4, 1997.

Mischler, 29, was charged with two counts of burglary and six counts of extortion. He eventually pled guilty to one count of attempted extortion and one count of burglary. He received a six year, eight month sentence.

Holt, 26, a former Air Force service member and a military inmate on parole, was charged with two counts of extortion. He eventually pled guilty to one count of extortion and was sentenced to one year in jail. After completing his sentence in the Macpherson case, he was returned to military custody where he served out the remainder of his military sentence at the United States Disciplinary Barracks at Fort Leavenworth, Kansas.

Personal life
Macpherson married Gilles Bensimon in 1985, but the couple divorced as Macpherson's career escalated in 1989. She was then rumoured to be dating comedian Norm MacDonald, around the time he was promoting the movie Dirty Work.

Macpherson has two sons, Arpad Flynn Alexander Busson and Aurelius Cy Andrea Busson; known as Flynn and Cy respectively; with long term boyfriend Arpad Busson, a wealthy self-made Swiss/French financier worth roughly $100,000,000 (USD). The couple got engaged on the announcement of Macpherson's second pregnancy in August 2002. But Aurelius Cy's birth in February 2003 led to tensions, with Macpherson booking herself into Arizona's exclusive Meadows Institute, where she was treated for exhaustion and post natal depression. The couple parted in July 2005 as, according to Macpherson, Busson was so devout a Catholic he decided he could not marry a divorcée, despite having two children with her out of wedlock and in spite of Macpherson herself being Catholic.

Macpherson is currently dating British actor Ray Fearon. She is rumoured to have dated Australian restaurateur David Evans and real-estate developer John Hitchcox.

Name
Macpherson's last name is often printed as "MacPherson" and sometimes as "McPherson", but these appear to be incorrect. Sources which can be expected to be reliable, such as Playboy magazine (vol. 41, no. 5, May 1994), and the website for Macpherson's official lingerie line , consistently print the name as "Macpherson".

She is named in a Seinfeld episode in which Kramer goes to the Cayman Islands and allegedly meets Elle, attends a nudist beach, and plays "naked backgammon" with her.
Please register for a free Genetic Matrix account to access more information about this and all other celebrity pages