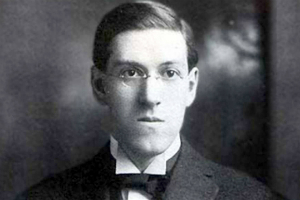 HP Lovecraft
Category : Writers-Fiction
Type : PE
Profile : 4/6 - Opportunistic / Role Model
Definition : Split - Small (22,36,54)
Incarnation Cross : RAX Contagion 3
Biography
American weird-story and fantasy writer with high literary standards.
Living most of his life on the coast, he was reclusive and in poor health. He supported himself by ghost-writing and revising works of other authors. In 1908 his first book was published, "The Alchemist," followed by his first two novels, "At the Mountains of Madness," and "The Shadow Out of Time." He built a devoted following of fans as his work began to appear regularly in sci-fi magazines.
Lovecraft was the son of a traveling salesman and a mother whose ancestors were original settlers of Massachusetts in 1630. When the boy was three, his dad had a nervous breakdown in a hotel room and was brought home to the local hospital, where he remained for five years before dying on 7/19/1898. He was not taken to visit his dad but told that he was in a coma. Howard was raised by his mom, aunts and grandfather.
He was a bright youngster, reading when he was three and writing by the time he was six and seven. He was entranced by Greek mythology at six, reading Bulfinch's Fables and a children's edition of Ulysses. He discovered weird fiction by the time he was seven, when he was already writing his own stories. Granddad had an additional influence, telling the child Gothic bedtime stories.
Howard tended to be a sickly child, missing school and not inclined to boyish sports or explorations. His adventures were in his mind through reading and then chemistry and astronomy. Nonetheless, he made enduring friendships while in high school. He began writing columns and articles for the local papers while he was in his teens.
Grandfather died in 1904, and the family moved into a bewildering confusion of financial mismanagement and loss. They moved from their lavish Victorian home into a little house, a loss that Howard felt deeply. Prior to high school graduation, he suffered a nervous breakdown which not only prevented him from continuing his education, but shamed him. From 1908 to 1913, Howard was a virtual hermit, doing little outside of astronomical studies and writing poetry. When he should have been focused on his growth as a young virile male, he was thrown more deeply into a pathological love-hate relationship with his mother.
In 1913, Lovecraft began an impassioned series of letters to The Argosy magazine. The controversy aroused him to action and he began to write voluminously to express his public voice in earnest. After the recent years of apathy, he was aroused to creative involvement.
In 1919 Lovecraft's mom deteriorated to where she was admitted to the same mental hospital where her husband had died, and she too died there on 5/24/1921.
Still in mourning, Lovecraft kept a scheduled trip to a convention on 7/04/1921, where he met Sonia Green, a Russian Jew seven years his senior. They married on 3/03/1924 and Howard moved into Sonia's apartment in Brooklyn before even notifying his aunts. Howard was selling stories to weird fiction magazines and Sonia had a successful hat shop.
Unfortunately, the halcyon period was brief. Sonia began having severe health problems that put her into a sanitarium and she lost her shop. She was able to return to work by the beginning of 1925, taking a job in Cleveland while Lovecraft stayed in a seedy single in Brooklyn. He became increasingly depressed and his fiction turned bleak. On 4/17/1926, he returned to Providence but the separation with Sonia was not reversed. They divorced in 1929.
Lovecraft moved into the most fruitful decade of his life. He traveled around the eastern seaboard and wrote prodigiously. He had interesting literary and social contacts and was involved in political issues.
The two beloved aunts of his childhood died in 1932 and 1933, and he was left further saddened by the suicide of a close correspondent in 1936. By then, he himself was being consumed by cancer of the intestines. He entered the hospital on 3/10/1937 where he died five days later.
Eventually Lovecraft's work became available in paperback and was translated into a dozen languages. At the centennial of his birth, his stories are available in textually corrected editions, his essays, poems, and letters are widely available, and many scholars have probed the depths and complexities of his work and thought. More than a sci-fi writer, Lovecraft has gained a small but unassailable niche in the canon of American and world literature.
Please register for a free Genetic Matrix account to access more information about this and all other celebrity pages