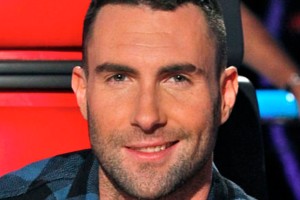 Adam Levine
Category : Singer - Popular
Type : PSP
Profile : 6/2 - Role Model / Hermit
Definition : Split - Small (11,23,62)
Incarnation Cross : LAX The Plane 1
Biography
Adam Noah Levi (born March 18, 1979) is an American singer-songwriter, musician and occasional actor, best known as the front man and lead singer of American pop rock band Maroon 5. He is also a coach on the American talent show The Voice.
Early life
Levine was born in Los Angeles to Fred and Patsy (née Noah) Levine. He has two uncles, journalist and author Timothy Noah. and Peter Noah, a television producer and writer. He has two siblings, Michael and Julia, and two half-siblings, Eliza and Sam. Levine's parents split when he was seven. Growing up, he spent weekdays with his mother and weekends with this father.
Levine attended French Woods Festival of the Performing Arts Camp (Hancock, NY) with best friend Jesse Carmichael, guitar player of the band known at that time as Kara's Flowers.
Levine has Jewish heritage on both sides of his family (his father and maternal grandfather were Jewish) and considers himself Jewish, though, according to The Jewish Chronicle, who interviewed Levine, he "has rejected formal religious practice for a more generalized, spiritual way of life". He chose not to have a Bar Mitzvah as a child.
In September 1995, Levine along with fellow Brentwood School student Jesse Carmichael, Mickey Madden and Ryan Dusick formed garage band Kara's Flowers. The band released their first album titled The Fourth World in 1997 as high school seniors. That same year the band appeared on an episode of Beverly Hills, 90210. The album had little success, and its only single, "Soap Disco", failed commercially. Disappointed with the results of their album, the band members went their separate ways.
Levine and Carmichael left Los Angeles for New York, exposing them to different music scenes. On MTV News, in 2002, Levine said, "That's when I started waking up to the whole hip hop, R&B thing. We had friends named Chaos and shit. It was not Brentwood High."
Maroon 5 and mainstream success
Levine worked a two-week stint as a waiter at Johnny Rockets. After dropping out of Five Towns College, Levine and Jesse reunited with Mickey and Ryan, but added former Square guitarist, James Valentine in 2001. Renaming the band Maroon 5, Levine and his friends began to compile all of their newfound musical influences into their music. While Levine was working as a writer's assistant on the television show "Judging Amy", he spent time writing the lyrics about his ex-girlfriend, Jane. Those lyrics became the album Songs About Jane, which became a sleeper hit. The band has since gone on to achieve mainstream success and release three further albums, It Won't Be Soon Before Long on May 2007. Hands All Over on September 2010 and Overexposed on June 2012.
Other work
Musical collaborations
Levine has collaborated with various musical acts. In 2005, Levine was featured on the Ying Yang Twins song "Live Again". He appeared on Kanye West's Late Registration album, on the third single, "Heard 'Em Say". He is also featured in the song "Wild Horses" on Alicia Keys' third album Alicia Keys: MTV Unplugged. Over the next year, he co-wrote the track "Say It Again" on Natasha Bedingfield's album N.B. and also performed the background vocals on the song. In 2009, he recorded "Gotten", a song for Slash's first solo album Slash released in April 2010. In February 2010, he was among approximately 80 musicians who sang on the charity-single remake of "We Are the World" called "We Are the World 25 for Haiti". In 2011, Levine offered his vocals on the Gym Class Heroes song, "Stereo Hearts". Levine is also featured as a singer for his band's song "She Will Be Loved" in the music rhythm game Band Hero.
TV and film
Levine has made four notable comic appearances on television. During 2007, he appeared in the 33rd season premiere of Saturday Night Live in an SNL Digital Short called Iran So Far with Andy Samberg, Fred Armisen and Jake Gyllenhaal. Levine played himself while singing a humorous bridge to a "love song" for Mahmoud Ahmadinejad. In 2008, he appeared on Comedy Central's "Night of Too Many Stars". Levine also had a cameo on Jimmy Kimmel Live! for the night of stars and endorsed Barack Obama in the 2008 Presidential Election. In 2013, he hosted Saturday Night Live and featured on Lonely Island's digital short "YOLO".
"I always felt kind of misinterpreted in the world. I felt like people only knew me as a singer who dated pretty girls. A little bit of a bimbo. Maybe I was kind of a bimbo. I was the music dude that was naked all the time with the girls, and that's fine, no problem with that. But I wanted to create a little balance. When the show came around, I thought, 'People now know that I have a brain.'"
Levine is one of the contestant judges and coach mentors on the singing TV show, The Voice. The winner of the first season, Javier Colon, was on Levine's team. Levine also returned as a coach for season 2 of The Voice. His team consisted of Mathai, Pip, Tony Lucca, Katrina Parker, Karla Davis, and Kim Yarbrough. In season 3, his team at the Top 12 level consisted of Bryan Keith, Amanda Brown and Melanie Martinez. The latter two finished in the Top 6 of the season. Levine will appear as Leo, a recurring character, in American Horror Story: Asylum, the second season of the anthology series. He was elected TV's Most Crushworthy Male Reality Host/Judge in a poll held by Zap2it] He will return for season 4 of The Voice.
In June 2012, Levine was cast in the film Can a Song Save Your Life? starring Keira Knightley and Mark Ruffalo.
Other ventures
In October 2008, Levine collaborated with First Act to create the First Act 222 Guitar, fashioned to Levine's specifications. The guitar was made available for purchase at Target retail stores.
In 2012, Levine launched his own record label, 222 Records. Artists Matthew Morrison, Diego Boneta and Tony Lucca were subsequently signed to it
Levine will be launching his debut scent, "222" through Macy's in February 2013. The bottle will reportedly be microphone-shaped.
Personal life
Levine resides in the Hollywood Hills with his close friend Gene Hong, a Korean American writer, actor and producer.
In September 2010, Levine said on the radio program The Howard Stern Show he had been dating Russian Sports Illustrated swimsuit and Victoria's Secret model Anne Vyalitsyna seriously for about eight months. The couple met when Maroon 5 performed at the 2010 Sports Illustrated Swimsuit Issue release party in Las Vegas. In April 2012, Levine and Vyalitsyna announced that they had split. Levine stripped naked for testicular cancer awareness for a centerfold in Cosmopolitan UK's February 2011 issue.
Levine practices yoga under yoga instructor Chad Dennis and has stated that it helps "physically relax" him. His yoga regime is a mixture of Ashtanga, Viny?sa, Jivamukti, Iyengar and Anusara yoga.
During Levine's teenage years, he was diagnosed with Attention Deficit Hyperactivity Disorder. In 2011, he launched an educational campaign to raise awareness of ADHD, titled "Own It".
Levine, whose brother openly identifies as gay, is an outspoken supporter of same-sex marriage and LGBT rights. In 2011, he made a video on Maroon 5's official YouTube account in support of the It Gets Better Project. In January 2012, he announced that Maroon 5 had changed the location of their post-Grammy Awards show because of the "unnamed Los Angeles restaurant's backing of Proposition 8".
Please register for a free Genetic Matrix account to access more information about this and all other celebrity pages