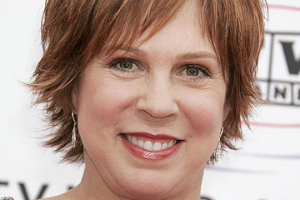 Vicki Lawrence
Category : Actress
Type : ME
Profile : 3/5 - Martyr / Heretic
Definition : Split - Small (16)
Incarnation Cross : RAX Service 1
Biography
Victoria Ann "Vicki" Lawrence (born March 26, 1949) is an American actress, comedienne, and singer. She is best known for her co-starring role on The Carol Burnett Show, alongside Carol Burnett, from 1967 to 1978, and as the explosively quick-tempered, abrasive-mannered, and smart-aleck Thelma Harper/Mama (the elderly supporting character first on The Carol Burnett Show's The Family sketches, followed by the main character on its spin-off television series Mama's Family, airing from 1983 to 1990).
As a singer she recorded "The Night the Lights Went Out in Georgia" that made #1 on the US chart as well as in Canada. She is credited with co-authoring two books.
Lawrence has made numerous post-Mama's Family guest TV show appearances in her famed Thelma Harper/Mama role. On February 5, 2013, Lawrence appeared as the character in a special sketch for "Betty White's 2nd Annual 90th Birthday." In addition, Lawrence regularly hosts a non-televised stage show titled "Vicki Lawrence & Mama: A Two-Woman Show."
Lawrence was born Victoria Ann Axelrad in Inglewood, California, the daughter of Anne Alene (née Loyd) and Howard Axelrad, a certified public accountant. She is a graduate of Morningside High School in Inglewood. She was valedictorian of her class of 1967.
Career
Acting
She was discovered by actress Carol Burnett at the age of 17 and became her protégée. The two have a very close friendship.
As a comedienne and actress, Lawrence is known for her work on The Carol Burnett Show, of which she was a part from 1967 to 1978. She was the only cast member, except for Burnett herself, who stayed on the show for the entire eleven seasons. Lawrence was hired for the show on the basis of a letter she sent to Burnett, with a photograph of Lawrence that showed her resemblance to Burnett and a letter telling her she was in a contest. Burnett then found Vicki Lawrence's father's telephone number, called Lawrence and went to the contest where Burnett chose Lawrence the winner. Afterwards, they talked and Ms. Burnett told her to keep in touch.
After The Carol Burnett Show ended in 1978, Lawrence and her husband Al moved with their children to Maui, Hawaii, but after a couple of years, returned to Los Angeles where they have remained.
Her portrayal of the "Mama" character on The Carol Burnett Show's The Family sketches was so popular that NBC subsequently created the sitcom, Mama's Family, elaborating on the Mama character. (Burnett reprised the Eunice Higgins character for the sitcom from time to time.) The series ran from 1983 to 1985 on NBC; after its cancellation from NBC, it was renewed from 1986 to 1990 in first-run syndication. The show was more successful in the renewed version. She also reprised the "Mama" character on stage for Vicki Lawrence & Mama: A Two-Woman Show.
Lawrence has made appearances on other programs, such as the sitcoms Laverne & Shirley (as the girls' drill sergeant, Alvinia T. Plout), Major Dad, Roseanne, Hannah Montana and Yes, Dear. In between the NBC and syndication runs of Mama's Family, Lawrence starred in the 1985 comedy pilot Anything for Love, which aired as a special on CBS that summer and co-starred Lauren Tewes and Rebeca Arthur. Lawrence has also appeared with Burnett, Harvey Korman, and Tim Conway in the Burnett show retrospectives that were broadcast in 1993, 2001 and 2004. Lawrence played 'Sister Mary Paul aka Sister Amnesia' in the TV special based on Nunsense Jamboree which originally aired on TNN in 1998.
Lawrence played "Mamaw Stewart" (the mother of Robby Ray Stewart and grandmother of Jackson and Miley Stewart) in the hit Disney series Hannah Montana, alongside Billy Ray Cyrus, and his daughter Miley Cyrus.
Lawrence recently played as "Mama" on an Ohio commercial, promoting a constitutional amendment that would permit casino gambling in Ohio. Lawrence played Dan's old high school flame, Phyllis, in an episode of Roseanne. She also appeared on a special celebrity edition episode of the Anne Robinson version of The Weakest Link. Playing for a charity, she made it to the final two, but ended up losing to Ed Begley, Jr..
Music
As a singer, Lawrence got her start as one of the scores of hopefuls on the syndicated Johnny Mann's Stand Up And Cheer program. But she is most known for her #1 hit, "The Night the Lights Went Out in Georgia", a song written by her first husband Bobby Russell, which was released on Bell Records in November 1972. It sold over two million copies, and was awarded a gold disc by the R.I.A.A. in April 1973. (Cher was offered the song first but, unbeknownst to her, her then-husband Sonny Bono had turned it down.) Her first LP, "The Night The Lights Went Out In Georgia" was issued soon after the single went gold in April, 1973.
"He Did With Me," Lawrence's follow-up to "The Night the Lights Went Out in Georgia," reached #75 in the United States, although it became her biggest hit in Australia, peaking at #1 there in November 1973. She followed it up there with "Ships In The Night" (1974). A year later, in the fall of 1975, Lawrence managed one last minor US chart entry on the Private Stock label with "The Other Woman" (#81).
In 1974 she recorded her second LP for Bell Records, "Ships in the Night." The label was in the process of being bought out by ARISTA and the LP was not released in the US. The LP was, however, released in Australia where she continued to have chart success.
She released a disco album entitled Newborn Woman late in 1979. The album produced the minor disco hit "Don't Stop the Music".
Hosting and other work
As an emcee, she hosted the daytime NBC version of the game show Win, Lose or Draw, as well as an unsold pilot for Mark Goodson Productions, Body Talk, and has also appeared often as a popular panelist on such game shows as Match Game, Password, Password Plus, Super Password, various incarnations of the Pyramid game show, as well as Hollywood Squares, where she appeared both as herself and in character as Thelma "Mama" Harper. Lawrence was nominated for a Daytime Emmy Award for Best Talk Show in 1993 for the eponymous Vicki! (1992-1994), but the show was canceled after two seasons.
She tours the country with her "two-woman" show with the first half as herself and the second half done as Thelma "Mama" Harper. She also currently can be seen on TV in an infomercial for the "Big Boss Grill". She is also known for her voice over work as "Flo" on the animation series Hermie and Friends.
Criticism
In January 2011, Lawrence elicited criticism from advocates for and members of the homeless community, for a video she created as a parody of Ted Williams, a homeless man and a former radio announcer who gathered media attention after another video of his vocal talents became viral on YouTube. The video, in which Lawrence played her noted crude and wisecracking "Mama" character, and made several jokes about "overnight celebrities", came under fire by the National Coalition for the Homeless (NCH). The NCH director, Neil Donovan, was quoted as saying, "This is a woman who has made children's videos with a Christian message and now she's saying some of the most un-Christian things imaginable."
Personal life
Lawrence had been previously married to Robert "Bobby" Russell from 1972 to 1974. Lawrence's second, and present, husband is the make-up artist, Al Schultz, whom she has been married to since November 16, 1974. They have one daughter, Courtney Allison Schultz (born May 5, 1975), and one son, Garrett Lawrence Schultz (born July 3, 1977). Her young cousin Ali Axelrad is an up and coming stage and screen actress.
Please register for a free Genetic Matrix account to access more information about this and all other celebrity pages