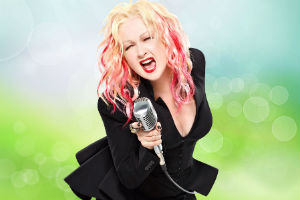 Cyndi Lauper
Category : Singer - Popular
Type : PSP
Profile : 4/6 - Opportunistic / Role Model
Definition : Single
Incarnation Cross : RAX The Vessel of Love 2
Biography
Cynthia Ann Stephanie Lauper (born June 22, 1953), known professionally as Cyndi Lauper, is an American singer, songwriter, actress and LGBT rights activist. She first achieved success in the early 1980s with the release of her debut solo album She's So Unusual in 1983, which was an instant commercial success. It spawned four top five hits on the Billboard Hot 100—"Girls Just Want to Have Fun", "Time After Time", "She Bop", and "All Through the Night". It became the first album in history recorded by a female artist to achieve this, and earned Lauper the Best New Artist award at the 27th Grammy Awards in 1985. Her success continued with True Colors in 1986, which included two Billboard Hot 100 top ten hits: the number one "True Colors" and "Change of Heart", and earned two nominations at the 29th Grammy Awards.
Since 1989, she has released nine studio albums to varying critical acclaim, her most recent being 2010's Grammy nominated album, Memphis Blues which became Billboard's most successful blues album of the year, remaining at number one for 13 consecutive weeks on the Billboard Blue's Charts. Lauper has also written the music for the new Broadway musical Kinky Boots.
Over the course of her career Cyndi Lauper has released over 40 singles and, as of 2011, had sold more than 50 million albums and 1 million DVDs and 20 million singles, She has won numerous awards, including Grammy, Emmy, MTV VMA, Billboard and AMA. In 1999, Lauper ranked No. 58 of the 100 Greatest Women of Rock & Roll by VH1.
Life and career
1953–79: Early life
Cyndi Lauper was born and raised in Ozone Park, in the borough of Queens in New York City. Her family is Roman Catholic. Her mother uses the stage name "Catrine Dominique" for the music videos in which she has appeared. Her father was of German and Swiss descent and her mother is Italian American (from Sicily). She has an older sister, Elen, and a younger brother, Fred (nicknamed Butch).
After Lauper's parents divorced, her mother remarried, divorced again, and went to work as a waitress. It was during this time that Lauper began listening to artists such as Judy Garland, Billie Holiday, Ella Fitzgerald and the Beatles. Her mother encouraged her independence and creativity. At the age of twelve, Lauper learned how to play an acoustic guitar which her sister had given to her, and she started to write her own lyrics. She had a great love of art and music and tried to find ways to express herself. Even at this early age, Lauper started dyeing her hair different colors and wearing radical fashions. Lauper was accepted in a special public high school for students with talent in the visual arts, but she was held back and eventually dropped out, earning her GED sometime later. At the age of seventeen, she left home, planning to study art. Her journey would take her to Canada, where she spent two weeks in the woods with her dog, Sparkle, trying to find herself. She eventually wound up in Vermont, where she took art classes at Johnson State College. She supported herself by working at various odd jobs.
In the mid-1970s, Lauper performed as a vocalist with various cover bands (such as Doc West and Flyer, who still perform under the names Gap Wilson Band and Red, White and Blues Band) in the New York metropolitan area, singing hits by bands such as Jefferson Airplane, Led Zeppelin and Bad Company. Even though Lauper was now performing on stage, she was not happy singing cover songs. In 1977, Lauper damaged her vocal cords and took a year off. She was told by three doctors that she would never sing again. Vocal coach Katie Agresta helped Lauper regain her voice by teaching her proper vocal exercises.
Musician and Actress Cyndi Lauper took classes at Robert Fiance Beauty Schools to prepare for her role in the 1980s film Vibes.
1980–82: Blue Angel
In 1978, after regaining her voice, Lauper met saxophone player John Turi through her manager Ted Rosenblatt. Turi and Lauper became writing partners and formed a band called Blue Angel. They decided to put everything they had into making an album of original material. A few demos were recorded and the tape found its way over to Steve Massarsky, who was managing The Allman Brothers Band. Massarsky said the tape was horrible, but he was attracted to Lauper's voice. He saw them play live and eventually started managing the band after buying their contract out for $5,000. Many people wanted to sign Lauper only if she would sign on as a solo artist. Lauper held out, wanting the band to be included in any deal she made. Polydor Records eventually signed them as a band. In 1980, they released a self-titled album on Polydor Records. Rolling Stone magazine later included it as one of the 100 best new wave album covers (2003). Lauper hated the cover, often saying they made her look like Big Bird. Despite critical acclaim, the album sold poorly (or "went lead", as Lauper says) and the band broke up. Polydor Records had a regime change, and the label would not let the band back into the studio unless they had a hit. The members of Blue Angel had a falling out with Massarsky and fired him as their manager. He later filed an $80,000 suit against them. This suit forced Lauper into bankruptcy.
Lauper started working in retail stores such as the New York high-end thrift store Screaming Mimi's to make ends meet, and she still sang in local clubs. Her most frequent gigs were at El Sombrero. Music critics that saw Lauper perform with Blue Angel thought that she had star potential since she had a wide singing range (four octaves), perfect pitch, and a vocal style all her own. In 1981, while singing in a local New York bar, Lauper met David Wolff, who took over as her manager (and at some point became romantically involved with her) and got her signed with Portrait Records, a subsidiary of Epic Records. Wolff had been working with a band called Arc Angel.
1983–85: She's So Unusual era
On October 14, 1983, She's So Unusual was released and peaked at No. 4 in the US, becoming a worldwide hit. With help from Rick Chertoff, Eric Bazilian and Rob Hyman (of The Hooters) as her primary studio musicians, She's So Unusual's popularity spread like wildfire. At the time, Lauper became popular with teenagers and critics, in part due to her hybrid punk image, crafted by stylist Patrick Lucas.
Lauper knew she could write songs, but the record company had a lot of material they wanted her to record. She altered a lot of the songs that were thrown her way, often changing the lyrics to suit her. An example is her Platinum-certified "Girls Just Want to Have Fun"; Lauper says the original lyrics of the song dealt more with a girl pleasing a man, and therefore she changed the lyrics, wanting the song to be more of an anthem as she felt the original song seemed misogynistic.
The album's second single was the ballad "Time After Time". Lauper co-wrote "Time After Time" with Rob Hyman when her producer, Rick Chertoff, suggested to the band that the album could use one more song. The record label did not have much faith in Lauper as a songwriter, but they gave her the chance to prove herself. "Time After Time" hit No. 1 on both Billboard's Hot 100 and Adult Contemporary charts. It earned Lauper Gold certification with sales of 500,000 from the RIAA and was one of the biggest hits of 1984. It has been covered by more than 100 artists. Lauper came up with the title for "Time After Time" while reading TV Guide—Time After Time was a 1979 science fiction movie starring Malcolm McDowell as H. G. Wells, portraying him inventing and then traveling in a time machine. "She Bop" was the album's third single release. It reached No. 3 on the Hot 100 and earned Lauper another Gold certification of 500,000 from the RIAA. This was followed by "All Through the Night" which was written by Jules Shear and reached No. 5 on the Billboard Hot 100 charts.[citation needed] Jules Shear and Cyndi Lauper went on to co-write the song "Steady", which reached No. 57 on the Billboard Hot 100 in 1985.
The album also includes a cover of The Brains' New Wave track "Money Changes Everything" which reached number 27 on the Billboard Hot 100 charts. In some countries, "When You Were Mine", a cover of a Prince song found on his 1980 album "Dirty Mind", was released as a promotional single in 1985. Lauper spent 1984 touring and promoting She's So Unusual. By the end of the year, she was the first female to have four consecutive Billboard Hot 100 Top Five hits from one album. The LP itself stayed in the Top 200 charts for more than 65 weeks and has since sold 16 million copies worldwide. In 1985, The Women in Crystal Film Awards awarded her with the New Directions Award, given to those who are known for their creativity and originality.
She's So Unusual led Lauper to win an award at the 1985 Grammy Awards: Best New Artist; the album also won the Grammy for Best Album Package, which went to the art director, Janet Perr. Additionally, it received four nominations: Album of the Year, Record of the Year, Best Female Pop Vocal Performance for "Girls Just Want To Have Fun", and Song of the Year for "Time After Time". Lauper became the first female solo artist winner since Sheena Easton to win the Grammy for Best New Artist.
The video for "Girls Just Want to Have Fun" made Lauper an MTV staple. The video featured professional wrestling manager "Captain" Lou Albano as Lauper's father, and her real-life mother, Catrine, as her mother. Also in the video are her attorney; her manager; her brother, Butch; and her dog, Sparkle. It won the inaugural award for Best Female Video at the 1984 MTV Video Music Awards. All three of Lauper's first videos — "Girls Just Want to Have Fun", "Time After Time" and "She Bop — were directed by Edd Griles. Lauper was on the cover of Rolling Stone magazine in May 1984. She also appeared on the cover of Time and Newsweek with the headline "Women In Rock". Lauper was voted by Ms. magazine one of its women of the year.[citation needed] During this time period, Lauper appeared on the cover of People magazine twice. The video for "Money Changes Everything" was shot during a concert at the Summit in Houston, Texas. The concert was broadcast over the radio and HBO, and fans were told to show up wearing white T-shirts. The video featured 14-year-old-fan Jennifer Payson hugging Lauper onstage.
She started 1985 by participating on USA for Africa's famine-relief fund-raising single "We Are the World", singing the climactic soprano part of the bridge. During the taping of the song, the audio engineers were having problems discovering what was causing a clicking noise in the recording. It was discovered to be coming from Lauper's jewelry. At the event, she appeared with professional wrestler Hulk Hogan, who played her "bodyguard". Lauper, in return, made many appearances as herself in a number of the World Wrestling Federation's "Rock 'n' Wrestling Connection" events, including the inaugural WrestleMania event, where she was the manager of Wendi Richter. Their entrance music was "Girls Just Want to Have Fun." Dave Wolff, Lauper's boyfriend and manager at the time, was a wrestling fan as a boy and engineered the rock and wrestling connection.
1986–88: True Colors
In 1986, We are the World won four awards at the 1986 Grammy Awards: Record of the Year, Song of the Year, Best Pop Performance by a Duo or Group with Vocals and Best Music Video, Short Form. However, none of these awards went to Lauper. Quincy Jones, the producer, won three, while Song of the Year went to the composers of the song, Michael Jackson and Lionel Richie. Lauper did receive two nominations; Best Female Rock Vocal Performance for "What A Thrill" and Best Long Form Music Video for "Cyndi: Live in Paris". In the same year, Lauper released her second album, True Colors, on September 15, 1986. It reached No. 4 on the Billboard 200. For this album, she increased her involvement both in production and songwriting. Guests on the album included Angela Clemons-Patrick, Nile Rodgers, Aimee Mann, Billy Joel, Adrian Belew, The Bangles, Ellie Greenwich and Rick Derringer. Lauper co-wrote most of the album with Essra Mohawk, John Turi, Billy Steinberg and Tom Kelly. Although the album was not as commercially successful as its predecessor was, it contained three high-charting singles, including the title track, "True Colors" which became Lauper's second song to hit No. 1 on Billboard's Hot 100, "Change of Heart" (No. 3) and a cover of Marvin Gaye's "What's Going On" (No. 12) followed. The album also featured an older song called "Maybe He'll Know", which was on the Blue Angel album. The album covers for both She's So Unusual and True Colors were composed by photographer Annie Leibovitz. "True Colors" was licensed to Kodak for use in its commercials. Lauper had no control over the song, which was written by Billy Steinberg and Tom Kelly. The fourth single from the album, "Boy Blue", became Lauper's first solo non-top-40 single. The proceeds of the song were donated to AIDS research. The album sold 2 million copies in the United States.
In 1986, Lauper appeared on the Billy Joel album The Bridge on a song called "Code of Silence". Lauper also sang the theme song for the series "Pee-wee's Playhouse" the same year, though she was credited as "Ellen Shaw". Playhouse star Paul Reubens appeared on the True Colors album track "911" as an emergency operator. In 1987, David Wolff produced a concert film for Lauper called Cyndi: Live in Paris. The concert was broadcast on HBO.
True Colors led Lauper to win two awards at the 1985 Grammy Awards: Best New Artist and Best Album Package for She's So Unusual; Additionally, it received four nominations; Album of the Year, Record of the Year and Best Female Pop Vocal Performance for "Girls Just Want To Have Fun", and Song of the Year for "Time After Time". Cyndi became the first female solo artist winner since Sheena Easton to win the Grammy Best New Artist. The next awards ceremony, Lauper to win four awards at the 1985 Grammy Awards: Record of the Year, Song of the Year, Best Pop Performance by a Duo or Group with Vocals and Best Music Video, Short Form for collaboration We Are the World; Additionally, it received one nomination; Best Female Rock Vocal Performance for "What A Thrill".
Lauper made her film debut in August 1988 in the quirky comedy Vibes, alongside Jeff Goldblum, Julian Sands, Elizabeth Peña and Peter Falk. Lauper played a psychic in search of a city of gold in South America. The film was produced by Ron Howard and David Wolff acted as the film's associate producer.
To prepare for the role, Lauper took a few classes in finger waving and hair setting at the Robert Fiance School of Beauty in New York and studied with a few Manhattan psychics. The film was poorly received by critics and commercially flopped. Lauper contributed a track called "Hole in My Heart (All the Way to China)" but the song was not included on the soundtrack. A video was released, which was a high energy, comic action/adventure romp through a Chinese laundry. The song stalled at a disappointing No. 54 on the US charts, but fared better in Australia, peaking at No. 8 and becoming her fifth and final Top 10 single in Australia. It was performed as the opening song on her 2008 Australian tour.
She joined many other artists to collaborate with Russian songwriters in Russia for a project named Music Speaks Louder Than Words.
1989–92: A Night to Remember
A Night to Remember – Lauper's third album – was released in the spring of 1989. The album spawned only one big hit, the No. 6 single "I Drove All Night", as well as another Gold certification of 500,000 from the RIAA in January 1990. The song was originally penned for and sung by Roy Orbison, although his version was not released until 1992, three years after Lauper's version and four years after his death. She also wrote and produced most of the album. Contributing writers were Desmond Child, Christina Amphlett of Divinyls, Billy Steinberg and Tom Kelly, Diane Warren, and Frank Previte. Guest musicians include Bootsy Collins, Larry Blackmon, Batkini Khumalo, Eric Clapton and Nile Rodgers. The video for "My First Night Without You", released in 1989, was one of the first to be closed-captioned for the hearing impaired.
The disappointing sales of the album "A Night To Remember", a canceled United States tour due to low ticket sales and the pressures of celebrity led Lauper to retire from singing. She toured South America and Japan successfully into the early stages of 1990 and then concentrated on acting.
On July 21, 1990, Lauper joined many other guests for Roger Waters' massive performance of The Wall in Berlin, performing "Another Brick in the Wall, Part II". She also performed on the song, "The Tide Is Turning" with Waters, Joni Mitchell, Bryan Adams, Paul Carrack and Van Morrison. Lauper wore a school girl outfit, performing to over 300,000 people. The concert was watched live by over five million people worldwide. A Night to Remember led Lauper it received one nomination awards at the 1990 Grammy Awards: Best Female Rock Vocal Performance for "I Drove All Night".
Lauper had become close friends with Yoko Ono. In 1990 she took part in a John Lennon tribute concert in Liverpool, performing the Beatles song "Hey Bulldog" and the John Lennon song "Working Class Hero". The concert was aired on the Disney Channel. She also took part in a project Ono and Lennon developed called "The Peace Choir". They performed a new version of Lennon's "Give Peace a Chance". The reworked "Give Peace a Chance" was written by Sean Lennon. In 1990, Lauper co-wrote the song "Paper Heart" (a song about drug addiction) with Go-Go's alumna Jane Wiedlin. The song appeared on Wiedlin's CD Tangled.
Lauper worked on[vague] the movie originally titled Moon Over Miami, which later became Off and Running.
In 1992, Lauper contributed two tracks to the European musical Tycoon, an English version of the hit French-Canadian stage show Starmania. She scored another Top 20 hit in Europe (it went to No. 2 in France, earning a 2x platinum certification there) with "The World Is Stone", penned by Tim Rice, Michel Berger, and Luc Plamondon. She also recorded "You Have To Learn To Live Alone". The two tracks were included on a compilation released in the U.S. in 2000. Lauper recorded "Santa Claus is Coming to Town", a duet with Frank Sinatra, which was released on the album A Very Special Christmas 2. Sinatra's vocals were taken from his original recording and mixed with Lauper's in the studio.
1993–95: Hat Full of Stars/Twelve Deadly Cyns
In June 1993, Lauper released her fourth album, Hat Full of Stars, which tackled such topics as homophobia, spousal abuse, racism and abortion. Despite significant accolades – and decent sales in France and Japan – it was a sales failure (moving less than 120,000 copies) in the United States. The album peaked at No. 112 on the Billboard charts, largely because the album suffered from a lack of promotion. Lauper appeared on the Howard Stern Show to promote the album. The video for "Who Let in the Rain" features a picture of David Wolff in a frame. "A Part Hate" was written collaboratively by Lauper and husband David Thornton. The video for "Sally's Pigeons" features the then-unknown Julia Stiles as the young Cyndi.
Tommy Mottola, president of Sony Music, told Lauper to go out and make her own Graceland (referring to Paul Simon's album). Lauper wanted to write her own material and stop doing cover songs. She wrote some songs on the album with other people, including Mary Chapin Carpenter, Ailee Willis, Nicky Holland, Tom Gray, Hugh Masekela and The Hooters. The same year, Lauper recorded "Boys Will Be Boys" with The Hooters. The song "Private Emotion" was dedicated to her by The Hooters. Both songs appeared on the Hooter's CD Out of Body. Lauper also returned to acting, playing Michael J. Fox's ditzy secretary in 1993's Life with Mikey.
Twelve Deadly Cyns...and Then Some, was released worldwide in 1994 (except in the U.S., where it was held back until the summer of 1995). The album was a greatest hits compilation that included two re-recorded tracks, "I'm Gonna be Strong", first recorded with her band Blue Angel, and a reworking of her first hit, newly christened "Hey Now (Girls Just Want To Have Fun)". The Japanese edition of the CD includes the single "Hole In My Heart (All The Way To China)" as the final track. The album was released under a number of different titles, and had different packaging and track listings for certain countries. Twelve Deadly Cyns sold over five million copies worldwide and Lauper began a world tour to promote the album. A compilation of the album's music video was released.
Lauper won an Emmy Award for her role as Marianne on the sitcom Mad About You.
1997–2000: Sisters of Avalon
In 1997, Lauper announced that she was expecting a child. Declyn Wallace Thornton Lauper was born on November 17 of that year; he was named after Elvis Costello (whose first name is Declan) and William Wallace.
Her fifth album, Sisters of Avalon (released in Japan in 1996 and everywhere else in 1997) failed in America – spending a single week on the Billboard album chart at No. 188. The album was written and produced with the help of Jan Pulsford (Lauper's keyboard player) and producer Mark Saunders. Guest musicians include, Bush lead guitarist Nigel Pulsford on "You Don't Know" and "Love to Hate". The album was written and recorded in Tennessee and Connecticut and finished in an old mansion in Tuxedo Park, New York, where she lived and worked at that time.
The song "Ballad of Cleo and Joe" addressed the complications of a drag queen's double life. Lauper started writing the song around 1994. The song "Say a Prayer" was written for a friend of hers who had died from AIDS. The song "Searching'" was used in a Baywatch episode. "Unhook the Stars" was used in the movie of the same name.
Lauper's sister Ellen had come out as a lesbian and Lauper considered her to be a role model. Ellen was doing a lot of charity work for the gay community, and was working out of a clinic, helping people who were suffering from AIDS. Lauper began performing as a featured artist at gay pride events around the world (as early as 1994, she had performed at the closing ceremonies for Gay Games IV in New York City). She also served as the opening act for Tina Turner's summer tour.[citation needed] Lauper took up the Appalachian dulcimer, taking lessons from David Schnauffer.
Lauper released her last album for Epic in late 1998. Merry Christmas...Have A Nice Life was a Christmas collection of original material and standards. Her version of "Silent Night" was used in a Pampers commercial. Producer William Wittman, who had worked with Lauper since her debut album, was once again in a co-producing and mixing role. The album was recorded at Lauper's home in Connecticut.
On January 17, 1999, Lauper appeared on the "Wild Barts Can't Be Broken" episode of the animated television series The Simpsons as an animated version of herself singing the National Anthem to the melody of Girls Just Wanna Have Fun. The same year, Lauper opened for Cher's Do You Believe? Tour alongside Wild Orchid. She also appeared in the films Mrs. Parker and the Vicious Circle and The Opportunists.
Lauper contributed a cover version of The Trammps's "Disco Inferno" to the soundtrack for the film A Night at the Roxbury. The remixed version became a club hit.[citation needed] Lauper received one nomination awards at the 1999 Grammy Awards: Best Dance Recording for "Disco Inferno". The single was released as an EP featuring several remixes. In 2000, Lauper contributed the song "I Want a Mom That Will Last Forever" to the children's movie Rugrats in Paris. The song was written with Mark Mothersbaugh. Also in 2000, Lauper co-wrote a song, "If You Believe", with Faye Tozer of the British pop group Steps. It appeared on the band's third studio album, "Buzz", and was subsequently released in the US in July 2001.
2001–03: Shine/At Last
Lauper prepared her sixth studio album in 2001, Shine, which saw her returning to her early pop/rock sound. It featured Japanese pop superstar Ryuichi Sakamoto, and George Fullan of Train. Just weeks before the album's scheduled release on September 11, 2001, her label, Edel America Records, folded, and the tracks were leaked to the public. Although a five-song EP of the same name was made available in June 2002 through her website and at Tower Records, the full-length album concept was scrapped. An album of Shine remixes was eventually released through Tower Records. The complete Shine album was released on April 21, 2004, exclusively in Japan.
On October 12, 2000, Lauper took part in the television show Women in Rock, Girls With Guitars. Lauper performed Paul McCartney's "Maybe I'm Amazed" with Ann Wilson of Heart. She also sang the R&B classic "Ooh Child" with the girl group, Destiny's Child, and a new song, "Water's Edge", with Wilson. A CD was issued that contained the studio versions of some songs performed during the concert. The CD was exclusively released to Sears stores from September 30 to October 31, 2001, and $1.00 of each sold went to breast cancer research.
Lauper's former label Sony issued a new best-of CD entitled The Essential Cyndi Lauper. She re-signed with Sony/Epic Records and a cover album entitled At Last (formerly Naked City), was released in 2003. Lauper took part in VH1 Divas Live with Patti LaBelle, Jessica Simpson, Debbie Harry, Ashanti, Sheila E., and the Pussycat Dolls. In 2003, the album She's So Unusual was ranked number 494 on Rolling Stone magazine's list of the 500 greatest albums of all time.
At Last received one nomination awards at the 2005 Grammy Awards: Best Instrumental Arrangement Accompanying Vocalists for "Unchained Melody".
2005–07: The Body Acoustic
Under a new contract with Sony Music, Lauper released The Body Acoustic, an album that featured acoustic reinterpretations of tracks from her back catalog. Two new tracks were also written and recorded, one of which is "Above the Clouds". Guests on the album included Shaggy, Ani DiFranco, Adam Lazzara of Taking Back Sunday, Jeff Beck, Puffy AmiYumi, Sarah McLachlan,and Vivian Green. "Time After Time" with Sarah McLachlan charted on Billboard's Adult Contemporary chart.
Though she had not released an album of new material since 1997's Sisters of Avalon, Lauper remained busy through the years. She made appearances on Showtime's hit show Queer As Folk in 2005, directed a commercial for Totally 80s edition of the board game Trivial Pursuit in 2006, and made her Broadway debut in The Threepenny Opera as Jenny. She and the Threepenny Opera cast later performed at the 60th Tony Awards, and received nomination; Best Revival of a Musical. Lauper appeared on a VH1 Classics special called Decades Rock Live. The show featured Lauper performing with many artists such as Shaggy, Scott Weiland of Velvet Revolver/Stone Temple Pilots, Pat Monahan of Train, Ani DiFranco, and The Hooters.
On October 16, 2006, she was inducted into the Long Island Music Hall of Fame. In 2007, she sang "Beecharmer" with Nellie McKay on McKay's Pretty Little Head album, and "Letters To Michael" with Dionne Warwick.
Lauper headlined the True Colors Tour for Human Rights through the United States and Canada, in June 2007. The tour also included Deborah Harry, Erasure, The Dresden Dolls and Gossip, with Margaret Cho as MC and special guests in different cities. The tour, sponsored by Logo, the MTV Networks channel targeting gay audiences, provided information to fans who attended, as well as purple wristbands with the slogan "Erase Hate" from The Matthew Shepard Foundation. A dollar from every ticket sold was earmarked for the Human Rights Campaign, which advocates equal rights for gay, lesbian, bisexual and transgender people.
Lauper was also a judge for the 6th annual Independent Music Awards to support independent artists' careers.
2008–09: Bring Ya to the Brink
Lauper took a role and wrote a song for the Serbian movie Here and There, which stars her husband, David Thornton, in one of the main roles.
Lauper recorded an album of all new material during 2007. The working title given to the project was Savoir-faire, but she announced at her Perth, Australia concert in February 2008 that the name of the album was Bring Ya to the Brink and that it would be released in the spring. In preparation for the album, Lauper visited England and France during summer 2007 to write for the album and wrote songs with dance artists like Axwell, The Scumfrog, Basement Jaxx, Digital Dog, Dragonette, Kleerup and others. She described it as a mainly dance album with good rhythm. Most of the album was recorded in Sweden. The first single released in Japan was "Set Your Heart" which gained significant airplay there and was used in the advertising campaign for the 2008 Toyota Car Model (Mark X ZIO) starring actor and singer Takeshi Kaneshiro. Lauper embarked on an Australian tour playing at the Kings Park Botanic Gardens in Perth, supported by Katie Noonan and Kate Miller-Heidke on February 22, 2008, and she was the headline and final act at the Sydney Gay and Lesbian Mardi Gras Party, on March 2, 2008. She sang "Same Ol' Story" followed by a newly remixed version of "Girls Just Want to Have Fun". "Same Ol' Story" was released as the album's first worldwide single and was released as a download only on May 6, 2008. Several remixes of the track were released to DJs. The album was released on May 27, 2008, in the United States.
The True Colors Tour 2008 debuted on May 31, 2008. Joining Lauper at various venues were Rosie O'Donnell, The B-52's, Joan Jett and the Blackhearts, The Cliks, Indigo Girls, Kat Deluna, Joan Armatrading, Regina Spektor, Tegan and Sara, Nona Hendryx, Deborah Cox, Wanda Sykes, among others. The MC was Carson Kressley from Queer Eye for the Straight Guy. Sarah McLachlan was also featured at the Burnaby, British Columbia show.
In August 2008, Lauper contributed an article titled "Hope" to The Huffington Post which encouraged Americans to vote for Barack Obama in the upcoming United States presidential election. Lauper also performed alongside Thelma Houston, Melissa Etheridge and Rufus Wainwright at the 2008 Democratic National Convention.
David Byrne stated in his blog that he has collaborated with Lauper on a track for his upcoming Here Lies Love. He described her performance as "amazingly fine-tuned" and "very impressive." Lauper recorded a special Christmas duet with Swedish band The Hives, entitled "A Christmas Duel", on CDsingle and 7" vinyl, in Sweden only, on November 19, 2008. It reached number 4 in the Swedish charts.
Lauper also signed a book deal for an autobiography that is scheduled to come out at the end of 2009 or early 2010. Lauper also performed on the "Girls Night Out", headlining it with Rosie O'Donnell in the US.
She appeared on many TV shows in 2009 including the American soap opera As the World Turns supporting gay rights, and promoting her True Colors tour and album, Bring Ya to the Brink. She performed "Into the Nightlife" and dedicated a rendition of "True Colors" to one of the show's characters, Luke Snyder. She appeared on the live finale of the eighth season of American Idol on May 20, 2009, performing a duet of "Time After Time" with top-13 finalist Allison Iraheta, accompanying the song on Appalachian dulcimer. She appeared on the 2009 TV Land Awards on April 19 dressed as the "Empress of Evil" to perform the theme song for Electra Woman and Dyna Girl as part of a musical tribute to Sid Krofft and Marty Krofft. Lauper performed a duet with Leona Lewis on VH1 Divas on September 19, 2009, singing "True Colors" and also appeared alongside hip hop artist Eminem for a comedy skit at the MTV VMA's in September 2009. In addition, Lauper played herself alongside Elvis Costello, Sheryl Crow, Michael McDonald, and Mary J. Blige on 30 Rock's third season finale. She also played Avalon Harmonia, a psychic on the Season 5 premiere of Bones. Bring Ya To The Brink led Lauper it received one nomination awards at the 2009 Grammy Awards: Best Electronic/Dance Album for Bring Ya To The Brink, being the first time that it indicates the award in four years.
Lauper was also one of the celebrities who designed a T-shirt for the second Fashion Against Aids campaign in 2009, a collaboration between H&M and Designers Against Aids to raise HIV/AIDS awareness worldwide, particularly amongst youngsters.
On November 17, 2009, Lauper performed a collaborative work with Wyclef Jean called "Slumdog Millionaire" and performed it live on the Late Show with David Letterman. The collaborative effort stems from Jean's latest album: Toussaint St. Jean: From the Hut, To the Projects, To the Mansion.
2010–present: The Celebrity Apprentice, Memphis Blues, and Memoir
In January 2010, American toy company Mattel released a Cyndi Lauper Barbie doll as part of their "Ladies of the 80s" series. In March 2010, NBC began airing the ninth season of The Celebrity Apprentice featuring Lauper and other celebrities such as Sharon Osbourne and Bret Michaels. The show had been filmed from October 19, 2009 to November 12, 2009. Donald Trump fired her on the May 9, 2010, episode, leaving her in sixth place. Lauper donated her winnings to her own True Colors Fund. In the season finale, she performed her upcoming album Memphis Blues in front of the boardroom live.
In April 2010, Lauper launched the Give a Damn campaign to bring a wider awareness of discrimination of the LGBT community as part of her True Colors Fund. The campaign is to bring straight people to stand up with the gay, lesbian, bisexual, transgender community and stop the discrimination. Other names included in the campaign are Whoopi Goldberg, Jason Mraz, Elton John, Judith Light, Cynthia Nixon, Kim Kardashian, Clay Aiken, Ricky Martin, Sharon Osbourne, Kelly Osbourne, and Anna Paquin.
Lauper appears on the 22-track, 2-disc collaboration, Here Lies Love, by Talking Heads' David Byrne and Fatboy Slim. On the album, she sings the song Eleven Days, as well as the duet Why Don't You Love Me with Tori Amos.
On June 22, 2010, Memphis Blues was released. It debuted on the Billboard Blues Album Chart at No. 1, and it debuted on Billboard's Top 200 Albums Chart at No. 26. The album remained No. 1 on the Billboard Blues Album Chart for 14 consecutive weeks; Memphis Blues fell to No. 2 on October 16, 2010 and then to No. 3 on October 23, 2010. Memphis Blues is Lauper's eleventh album.
In August 2010, she licensed her song and performance of It's Hard to Be Me, from her album Shine, to be used as the theme song for the new TV Pilot, and potentially the series, Hard to Be Me.
In July 2010, she signed a deal with Mark Burnett to produce a reality show that will focus on her career and her life with her husband David Thornton and their son Declyn. In December 2010, Memphis Blues was ranked Billboard's No. 1 Blues Album of The Year. Memphis Blues received a nomination award at the 2011 Grammy Awards: Best Traditional Blues Album
Lauper made international news in March 2011 while waiting for a delayed flight at Aeroparque Jorge Newbery in Buenos Aires. There, she gave an impromptu performance of Girls Just Want to Have Fun, as other passengers joined in and sang along with her. A video of the performance was later posted on YouTube.
On October 24, 2011, she released the DVD, To Memphis, With Love. The DVD came with a bonus live CD of the concert, making it the first ever official live CD of music to be released by Lauper. In November 2011, she released two Christmas singles exclusive to iTunes. The first, a Blues-inspired cover of the Elvis Presley classic, Blue Christmas, and a new version of ""Home for the holidays", a duet with Norah Jones. Lauper did a lot of radio promotion in November and December for all three releases, including a live performance of "Blue Christmas" on Good Morning America in December. Later that month, Lauper headlined at the Beacon Theatre for the event "Cyndi Lauper & Friends: Home for the Holidays". In June 2012, Lauper made her first appearance for WWE in 27 years, to promote both WWE Raw's 1000th episode and her song "Echo" and in memory of "Captain" Lou Albano, being presented with a framed gold record in the ring.
On June 24, 2012, Lauper appeared as a Grand Marshall for the annual Gay Pride Parade in New York City. She also discussed the contributions of her organization the "True Colors fund" to the LGBT community, and later performed that evening for a Pride event as well.
Lauper has co-written a musical with Harvey Fierstein, based on the 2006 independent film Kinky Boots. The musical opened in Chicago in October 2012 and will open on Broadway at the Al Hirschfeld Theatre on April 4, 2013.
Personal life
Lauper has been married to David Thornton since 1991. They have one son, Declyn Wallace Thornton (born 1997). Lauper was raised Roman Catholic and attended Catholic school. She refers to herself as a "Recovering Catholic".
Please register for a free Genetic Matrix account to access more information about this and all other celebrity pages