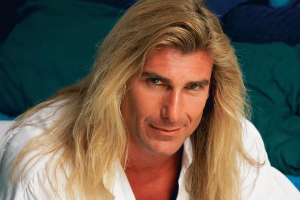 Fabio Lanzoni
Category : Model
Type : MGE
Profile : 3/5 - Martyr / Heretic
Definition : Single
Incarnation Cross : RAX Eden 1
Biography
Fabio Lanzoni; born March 15, 1959, widely known simply as Fabio, is an Italian fashion model, spokesperson, author, actor, who appeared on the covers of hundreds of romance novels throughout the 1980s and 1990s.
Career
Television and media
Fabio starred in the syndicated TV series Acapulco H.E.A.T. as the role of Claudio. He was also featured in calendars, led a fragrance campaign for Mediterraneum by Versace, and landed a role in commercials for "I Can't Believe It's Not Butter!". He appeared in "The Bold and the Beautiful" a number of times, as a close friend of the character Sally Spectra (Fabio and Darlene Conley, who played Sally, were close friends in real life). He appeared in one episode of Step by Step called "Absolutely Fabio". Fabio has also appeared on the two Nickelodeon television series Ned's Declassified and Big Time Rush. In 2010, he played the character Captain Hawk in an episode of The Suite Life on Deck called "Senior Ditch Day". He has also cameoed in the films Dude, Where's My Car?, Spy Hard and Zoolander.
In 1994, Fabio released an album titled Fabio After Dark, which included soliloquies on his philosophy of love.
Fabio can also be seen posing as the hero Kuros on the cover of the 1989 video game Ironsword: Wizards & Warriors II for the Nintendo Entertainment System. Fabio hosted the American reality television series Mr. Romance in 2005. The series featured a dozen male contestants competing for the title of "Mr. Romance" and the opportunity to appear as a romance novel cover model.
In 1992, Robert Gottlieb became Fabio's literary agent. Fabio became the first best-selling male romance writer who did not use a pseudonym. In collaboration with Eugena Riley, Fabio's first few books were titled Pirate, Rogue, Comanche, Viking and Champion. The genre of his first books were historical romance. He wrote three more books in collaboration with Wendy Corsi Staub titled Dangerous, Wild, and Mysterious.
Spokesperson
One of Fabio's most memorable advertising campaigns was for I Can't Believe It's Not Butter!. He was the spokesperson for the company since 1994. He was also the spokesperson for the Geek Squad in 2007, Oral-B's Sensitive Advantage Toothbrush in 2006 (whose ad was featured in Times Square), and one of his most popular ads to date is for Nationwide Insurance. In 2006, the commercial for Nationwide aired during the Super Bowl and was the most viewed commercial for the game, garnering over 1 million views within two weeks. Other endorsements included Wickes Furniture, Ames Hardware, Old Spice, and the American Cancer Society.
On July 26, 2011, Old Spice launched a new campaign on YouTube in which Fabio challenges Isaiah Mustafa to try to replace him as the New Old Spice Guy. The online challenge was entitled Mano a Mano in el Baño (hand-to-hand in the bathroom). Mustafa emerged as the winner, though Fabio's Old Spice YouTube Channel received more than 9 million views in the week after its debut, rising to Number 4 on YouTube for the week.
Once a spokesperson for the American Cancer Society, Lanzoni has recently spoken for the controversial Burzynski Clinic, where his sister is said to be receiving treatment for ovarian cancer. Lanzoni stated in a recent interview "…He is a genius. He definitely, I believe, he has the cure for cancer… They have to let him get his office back and let him do his work…" A response made by David Gorski, MD, PhD at his Respectful Insolence blog reads "No one knows how he or she will react to a loved one dying of cancer. However,… does not entirely excuse the spouting of pure nonsense in the service of an unproven cancer cure that could endanger other patients by enticing them to go to the Burzynski Clinic too."
Business ventures
In 2003, Fabio launched a clothing line at Sam's Club Division of WalMart. The line was casual wear for women. Prior to his clothing line, he wrote a fitness book and created a work-out video called Fabio Fitness.
Other
His business manager sued him for breach of contract (settled out of court) and a Canadian actress sued when his Great Dane jumped up as she was leaning over, knocking out her front teeth.
On March 27, 1999, Fabio was involved in an accident in Busch Gardens Williamsburg, located in James City County, Virginia. Fabio rode in the first car of Apollo's Chariot, a roller coaster, during its maiden ride. During the rapid descent on the 210-foot drop after the lift hill, a goose collided with Fabio, leaving his nose covered in blood. He received a one-inch cut on his nose but no one else on the roller coaster was hurt. The goose was never found.
Personal life
Hobbies
Fabio Lanzoni's hobbies include a passion for off-roading and motorcycles. He owns an extensive collection of 200 motorcycles including dirt bikes, racing bikes and a championship Ducati.
Please register for a free Genetic Matrix account to access more information about this and all other celebrity pages