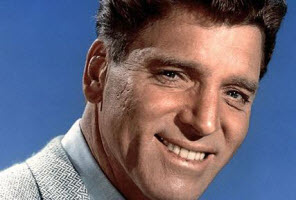 Burt Lancaster
Category : Actor
Type : MGE
Profile : 3/5 - Martyr / Heretic
Definition : Single
Incarnation Cross : RAX The Four Ways 3
Biography
Burt Lancaster (November 2, 1913 – October 20, 1994) was an Oscar-winning American film actor, noted for his athletic physique (a rare thing for leading men of that time), distinct smile (which he called "The Grin") and, later, his willingness to play roles that went against his initial "tough guy" image. Initially dismissed as "Mr Muscles and Teeth", in the late 1950s Lancaster would abandon his all-American image and gradually he would be regarded as one of the best actors of his generation.
Early life
Lancaster was born Burton Stephen Lancaster in New York City to James Henry Lancaster, a postman, and Elizabeth Roberts. His parents were both Protestants of working-class Northern Irish origin, with Lancaster's grandparents having been immigrants to the U.S. from Belfast and descendants of English immigrants to Ireland. Lancaster's family believed themselves to be related to Frederick Roberts, 1st Earl Roberts; their surname originates from 11th century French immigrants to England with the surname "de Lancastre". Lancaster grew up in East Harlem and spent much of his time on the streets, where he developed great interest and skill in gymnastics. Later, he worked as a circus acrobat until an injury forced him to give up the profession. During World War II, Lancaster joined the United States Army and performed with the USO.

Career
Though initially unenthusiastic about acting, he returned from service, auditioned for a Broadway play and was offered a role. Though the play was not successful, Lancaster's performance drew the attention of a Hollywood agent who had him cast in the 1946 motion picture The Killers. The tall, muscular actor (his exact height has been disputed, with some sources claiming he was 6'1" and others 6'2") won significant acclaim and appeared in two more films the following year. Subsequently, he played in a variety of movies, especially in dramas, thrillers, military and adventure films. In two, The Flame and the Arrow and The Crimson Pirate, a friend from his circus years, Nick Cravat, played a leading role, and both actors impressed audiences with their acrobatic prowess. In 1953, he played one of his most famous roles with Deborah Kerr in From Here to Eternity. The American Film Institute acknowledged the iconic status of the scene from that film in which he and Deborah Kerr make love on a Hawaii beach amidst the crashing waves. The organization named it one of "AFI's top 100 Most Romantic Films" of all time.

Burt Lancaster with Deborah Kerr in the famous beach kiss scene in From Here to EternityIn the mid '50s, Lancaster went on challenging himself with varied cinematic roles, and satisfied longtime aspirations by moving into film producing as well. In most of his roles, whether in drama, circus, western or other genres, the self-taught actor was successful; he evolved into a solid and versatile performer and eventually a star. His work was recognized in 1960 when he won the Academy Award for Best Actor, a Golden Globe Award, and the New York Film Critics Award for his performance in Elmer Gantry.

During the latter part of his career, Lancaster left adventure and acrobatic movies behind and portrayed distinguished characters. This period brought him work on several European productions, with directors such as Luchino Visconti and Bernardo Bertolucci. Lancaster sought demanding roles and, if he liked a part or a director, was prepared to work for much lower pay than he might have earned elsewhere; he even helped to finance movies in whose artistic value he believed. He produced a number of films himself and also mentored such new directors as Sydney Pollack and John Frankenheimer, thus adding to his numerous acting achievements a pioneering role in the development of independent cinema. He also appeared in several TV films.

For his contribution to the motion picture industry, Lancaster has a star on the Hollywood Walk of Fame at 6801 Hollywood Blvd.

Personal life
Lancaster was also an unabashed liberal activist and spoke out many times in support of minorities and forming liberal groups. He was a vocal opponent of the Vietnam War and McCarthyism. In 1985 Lancaster, a longtime supporter of gay rights, joined the fight against AIDS after Rock Hudson became ill. Biographer Kate Buford believes Lancaster was bisexual.

As famous for his prickly, temperamental personality as much as he was for his willingness and skills at taking on different characterizations, Lancaster vigorously guarded his private life. He was married three times and had five children. His first spouse, from 1935 to 1946, was June Ernst, whom he divorced. His second marriage was with Norma Anderson from 1946 to 1969 and also ended in divorce, reportedly because Norma couldn't tolerate his "ladies man" behavior. From Norma, he had Billy, James, Susan, and Shelia; 4 of his children. His third wife was Susan Martin, whom he married in September 1990. His son Jimmy was diagnosed as schizophrenic.

Health problems and death
As Lancaster aged, heart trouble brought on by a lifetime of smoking increasingly hindered him from working as intensely as his passion and determination demanded. Following two minor heart attacks he had to undergo an emergency quadruple heart bypass in 1983, after which he was in frail health. His last significant role was in Field of Dreams (1989). A massive cerebral stroke in 1990 left him in a wheelchair, partly paralyzed and unable to speak properly. Burt Lancaster died of a heart attack at the age of 80, at home in Los Angeles on October 20, 1994. He was cremated; his ashes were interred at Westwood Village Memorial Park Cemetery.

Quotations
"Most people seem to think I'm the kind of guy who shaves with a blowtorch. Actually, I'm bookish and worrisome."

"Brave, vigorous, handsome, and an actor of great range, Lancaster never yielded in his immaculate splendor, proud to be a movie actor. He was one of the great stars. Perhaps the last." — David Thomson

Academy Nominations for Best Actor
For successful Academy Awards, see the Infobox.
Please register for a free Genetic Matrix account to access more information about this and all other celebrity pages