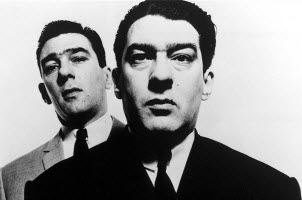 Ronald Kray
Category : Criminal
Type : PE
Profile : 5/2 - Heretical / Hermit
Definition : Triple Split
Incarnation Cross : LAX Wishes 2
Biography
Reginald "Reggie" Kray (24 October 1933 – 1 October 2000) and Ronald "Ronnie" Kray (24 October 1933 – 17 March 1995) were identical twin brothers, and the foremost organised crime leaders dominating London's East End during the 1950s and 1960s. Ronald, commonly referred to as Ron or Ronnie,suffered from paranoid schizophrenia. The Krays were involved in armed robberies, arson, protection rackets, violent assaults including torture and the murders of Jack "The Hat" McVitie and George Cornell. As West End nightclub owners they mixed with well-known names such as Diana Dors, Frank Sinatra, Judy Garland as well as politicians. This gave them a perceived respectability and in the 1960s became celebrities in their own right being photographed by the likes of David Bailey and appearing in interviews on television.

They were eventually arrested on May 9, 1968 and convicted in 1969 by the efforts of a dedicated squad of detectives led by Detective Superintendent Leonard ("Nipper") Read, and were both sentenced to life imprisonment.

Early life
Ronnie and Reggie Kray were born on 24 October 1933 in Hoxton, East London, to Charles David "Charlie" Kray, Sr., (born 1906 - March 1983), a scrap gold dealer, and Violet Lee (5 August 1909 - 4 August 1982). Reggie was born 10 minutes before Ronnie. Charlie and Violet already had a six-year old son, also called Charlie, who was born 9 July 1927. A sister, Violet, born 1929, died in infancy. When the twins were three years old they were struck down with diphtheria and recovered.

Until 1939, having previously lived in Stene Street, Hoxton, the Kray family moved to 178 Vallance Road, Bethnal Green. At the start of the Second World War, Charlie Kray Senior was called up into the army, but deserted.

The twins first attended Wood Close School in Brick Lane and then Daniel Street School. There they were said to have shown none of their future criminal tendencies. A teacher said of them: "Salt of the earth, the twins; never the slightest trouble to anyone who knew how to handle them." "If there was anything to be done in school, they'd be utterly co-operative… they'd always be the first to help. Nothing was too much trouble."

The influence of their grandfather, Jimmy "Cannonball" Lee, led both boys into amateur boxing, which was at that time a popular pursuit for working-class boys in the East End. An element of rivalry between them spurred them on, and they achieved some success. They are said never to have lost a bout before turning professional at the age 19.


National service
The Kray twins became famous locally for their gang and the mayhem they caused. They narrowly avoided prison several times and in early 1952 they were called up for National Service. They deserted several times, each time being recaptured.

While absent without leave, the twins assaulted a police officer who had spotted them and was trying to arrest them. They were initially held at the Tower of London (they were among the very last prisoners ever kept there) before being sent to Shepton Mallet military prison in Somerset and jailed for a month awaiting court-martial. Their behaviour in prison was allegedly so bad that in the end they were given a dishonourable discharge from the service; for the last few weeks of their imprisonment, when their fate was a certainty anyway, they ruled the holding room they were in. They threw tantrums, upended their latrine bucket over a sergeant, handcuffed a guard to the prison bars with a pair of stolen cuffs, and burned their bedding. Eventually they were discharged, but not before escaping from the guardhouse and being recaptured by the army one last time.

It was during this period that Ron started to show the first signs of mental illness. He would refuse to eat, shave only one side of his face and suffer wild mood swings, sitting still for hours before erupting into a violent frenzy. It is not clear whether at this stage it was another prank to annoy their guards, or if Ron had become unbalanced.


Criminal careers

Nightclub owners
Their criminal record and dishonourable discharge having ended their boxing careers, the twins turned to crime. They bought a local run-down snooker club in Bethnal Green, which was where they started several protection rackets. By the end of the 1950s, the Krays were involved in hijacking, armed robbery and arson, through which they acquired a small empire of clubs and other properties. In 1960 Reggie Kray was incarcerated for 18 months on charges of running a protection racket and related threats, and while he was in prison, Peter Rachman, the head of a violent landlord operation, gave Ronnie the Esmeralda's Barn, a nightclub in Knightsbridge. This increased the Krays' influence in the West End of London, and with celebrities and famous people, rather than East End criminals. They were assisted by banker Alan Cooper who wanted protection from the Krays' rivals, the Richardsons, who were based in South London.

Celebrity status
In the 1960s, they were widely seen as prosperous and charming celebrity nightclub owners and were part of the 'swinging' London scene. A large part of their fame was due to their non-criminal activities as popular figures on the celebrity circuit, being photographed by David Bailey on more than one occasion; and socialised with lords, MPs, socialites and show business characters such as the actors George Raft, Judy Garland, Diana Dors, Barbara Windsor and singer Frank Sinatra.

Ronnie Kray: "They were the best years of our lives. They called them the swinging sixties. The Beatles and the Rolling Stones were rulers of pop music, Carnaby Street ruled the fashion world...and me and my brother ruled London. We were fucking untouchable". From Ronnie Kray's autobiographical book My Story

Lord Boothby
The Krays also came into the public eye when Ron's alleged homosexual relationship with Lord Boothby, a UK Conservative Party politician, was alluded to in an exposé in the tabloid newspaper Sunday Mirror. Although no names were printed, Boothby threatened to sue, the newspaper backed down, sacked its editor, apologised, and paid Boothby £40,000 in an out-of-court settlement. As a result, other newspapers were less willing to uncover the Krays' connections and misdeeds.

The criminal activities of the twins came to the attention of the police several times, but the Kray name had such a fearsome reputation for violence that witnesses were scared to come forward to testify. There was also a political problem. It was not in the governing Conservative Party's interests to press the police to end the Krays' power lest the Boothby connection were again publicised and was proved true. It was equally not in the opposition Labour Party's interests to press for action on the Krays, because Labour Party MP Tom Driberg was also rumoured to have had a relationship with Ronnie. The result was that the police were under no pressure to arrest them.

Frank Mitchell

On December 12, 1966 the Krays assisted Frank Mitchell (nicknamed "The Mad Axeman") in escaping from Dartmoor Prison. Ronnie Kray had befriended Mitchell when they served time together in Wandsworth prison. Mitchell felt the authorities should review his case for parole, so Ronnie felt he would be doing him a favour by getting him out of Dartmoor, highlighting his case in the media and forcing the authorities to act. Once Mitchell was out of Dartmoor, the Krays held him at a friend's flat in Barking Road. However as a large man with a mental disorder, he was difficult to deal with and the only course of action was to get rid of him. His body has never been found and the Krays were acquitted of his murder. Freddie Foreman, a former member of The Firm, in his autobiography Respect claimed that Mitchell was shot and the body disposed of in the sea. Although it is said the Kray twins did not actually kill Mitchell, they were accessories.

George Cornell
Ronnie Kray shot and killed George Cornell in the Blind Beggar in Whitechapel on 9 March 1966. There had been a confrontation at Christmas 1965 between the Krays and the Richardsons at the Astor Club when an associate of the Richardsons, George Cornell, referred to Ronnie Kray as a "fat poof". The result was a gang war between the two, and Kray associate Richard Hart was murdered at Mr Smith's Club in Catford on March 8, 1966. Ronnie Kray avenged Hart's death by shooting George Cornell in the Blind Beggar pub in Whitechapel Road. Due to intimidation, witnesses would not co-operate with the police.

Jack "the Hat" McVitie
The Krays' criminal activities continued hidden behind their celebrity status and "legitimate" businesses. In October 1967, four months after the suicide of his wife Frances, Reg was alleged to have been encouraged by his brother to kill Jack "the Hat" McVitie, a minor member of the Kray gang who had failed to fulfil a £1,500 contract paid to him in advance by the Krays to kill Leslie Payne. McVitie was lured to a basement flat in Evering Road, Hackney on the pretence of a party. As he entered, Reg Kray pointed a handgun at his head and pulled the trigger twice, but the gun failed to discharge. Ronnie Kray then held McVitie in a bearhug and Reg Kray was handed a carving knife. He stabbed McVitie in the face and stomach, driving it deep into his neck, twisting the blade, continuing as McVitie lay on the floor dying. Several other members of The Firm including the Lambrianou brothers (Tony and Chris) were convicted of this. McVitie's body has never been found to this day.

Arrest and trial
When Inspector Leonard "Nipper" Read of Scotland Yard was promoted to the Murder Squad, his first assignment was to bring down the Kray twins. It was not his first involvement with Reg and Ron; during the first half of 1964 Read had been investigating their activities, but publicity and official denials surrounding allegations of Ron's relationship with Boothby had made the evidence he collected useless. Read tackled the problem of convicting the twins with renewed activity in 1967, but frequently came up against the East End "wall of silence", which discouraged anyone from providing information to the police.

Nevertheless, by the end of 1967 Read had built up evidence against the Krays. There were witness statements incriminating them, as well as other evidence, but none added up to a convincing case on any one charge. Most of the statements were given on the condition that they were not used until the Krays were in detention, making a warrant almost impossible to obtain.

Early in 1968 the twins had sent a man named Elvey to Glasgow to buy explosives for rigging a car bomb. Police detained him in Scotland and he confessed he had been involved in three botched murder attempts. However, this evidence was weakened by the involvement of a man named Cooper, who claimed to be an agent for the United States Treasury Department investigating links between the American mafia and the Kray gang. The botched murders were his work, in an attempt to pin something on the Krays. Read tried using Cooper as a trap for Ron and Reg, but they stayed away from him.

Conviction and imprisonment
Eventually, a Scotland Yard conference decided to arrest the Krays on the evidence already collected, in the hope that other witnesses would be forthcoming once the Krays were in custody. On 8 May 1968 , the Krays and 16 other members of their "firm" were arrested. Their reign of intimidation over, many witnesses came forward, and it was relatively easy to gain a conviction. The twins did not have a defence, other than flat denials of all charges and discrediting witnesses by pointing out their criminal past. the judge, Mr Justice Melford Stevenson said: "In my view, society has earned a rest from your activities." Both were sentenced to life imprisonment, with a non-parole period of 30 years, for the murders of Cornell and McVitie. Their brother Charlie was jailed for 10 years for his part in the murders.

Imprisonment
On August 11, 1982 under tight security, Ronnie and Reggie Kray were allowed to attend the funeral of their mother Violet, who had died of cancer the week before, but they were not allowed to attend the graveside service at Chingford Mount cemetery in East London where their mother was interred in the Kray family plot. The service was attended by celebrities including Diana Dors and underworld figures known to the Krays. Both Ronnie and Reggie did not request to attend their father's funeral when he died seven months later in March 1983. This was to avoid the publicity that had surrounded their mother's funeral.

Ronnie was bisexual; however, he married a woman while at Broadmoor. Before his marriage, Ronnie had frequently berated Reggie for his relationships with women.

Ronnie was eventually once more certified insane and lived the remainder of his life in Broadmoor Hospital, Crowthorne, dying on 17 March 1995 of a massive heart attack, aged 61. His funeral on 29 March 1995 was a huge event with people lining the streets.

Reggie Kray was a Category A prisoner, denied almost all liberties and not allowed to mix with other prisoners. However, in his later years, he was downgraded to Category C and transferred to Norfolk's Wayland Prison.

During incarceration, he became a born again Christian. After serving more than the recommended 30 years he was sentenced to in March 1969, he was finally freed from Wayland on 26 August 2000, at the age of almost 67. He was released on compassionate grounds as a result of having inoperable cancer. The final weeks of his life were spent with his wife Roberta, whom he had married while in Maidstone prison in July 1997, in a suite at the Townhouse Hotel at Norwich, having left Norwich hospital on 22 September 2000. On 1 October 2000, Reggie Kray died in his sleep. Ten days later, he was buried alongside his brother Ronnie.

Elder brother Charlie Kray was released in 1975 after serving seven years, but returned to prison in 1997 for conspiracy to smuggle cocaine worth £39m in an undercover drugs sting. He died of natural causes on 4 April 2000, just six months before Reggie's death.

Controversies
Many believe the Krays' sentences were harsher than deserved and that they were being made an example. The Kray twins were tried as separate, responsible adults, although it was argued that Ronnie dominated his brother. He was also a paranoid schizophrenic.

There was a long-running campaign, with celebrity support, to have the twins released from prison, but successive Home Secretaries vetoed the idea. The campaign gathered momentum after the release of a film based on their lives called The Krays in 1990 starring ex-members of Spandau Ballet brothers Martin Kemp, who played the role of Reggie, and Gary Kemp, who played Ronnie.

Many times, Reg Kray expressed a desire to "go straight", but each time was prevented by persuasion from Ron or by the knowledge that Ron could not cope on his own. Reg's several attempted murders, and the murder of Jack McVitie, were done at Ron's prompting, to show he was equal to Ron's earlier murders. Reg was also regarded as the quieter and less volatile, less likely to react with violence or aggression, and perhaps steering the organisation away from additional trouble over the years. Reggie wrote: "I seem to have walked a double path most of my life. Perhaps an extra step in one of those directions might have seen me celebrated rather than notorious."

Reg's marriage to Frances Shea in 1965 lasted eight weeks, although the marriage was never formally ended. An inquest came to the conclusion that she committed suicide in 1967, but in 2002 an ex-lover of Reggie Kray came forward to allege that Frances was actually murdered by a jealous Ronnie. Bradley Allardyce spent three years in Maidstone prison with Reggie and explained, "I was sitting in my cell with Reg and it was one of those nights where we turned the lights down low and put some nice music on and sometimes he would reminisce. He would get really deep and open up to me. He suddenly broke down and said 'I'm going to tell you something I've only ever told two people and something I've carried around with me' - something that had been a black hole since the day he found out. He put his head on my shoulder and told me Ron killed Frances. He told Reg what he had done two days after."

When Ron spent three years in prison, Reg is said to have turned the "firm" around, putting it on a sound financial footing, and removing many of the more violent and less appealing aspects, if not actually turning it legal. Some speculate that without Ron, Reg could have turned the "firm" into one of the largest and most successful criminal organisations in Europe; however, the Kray business was always built on their reputation for savage violence, and it was Ron who was principally responsible. The twins were never able to cope well apart.

In popular culture

In film
Villain (1971), a gangster film directed by Michael Tuchner and starring Richard Burton, Ian McShane, T.P. McKenna and Donald Sinden (What about it???).
The Krays (1989), written by the Bethnal Green-born artist and dramatist Philip Ridley, starred brothers Gary and Martin Kemp of the band Spandau Ballet as the Krays.
The Long Good Friday (1980) used the Kray Twins as inspiration for the protagonist Harold Shand. Bob Hoskins, who played Shand, reportedly received a letter from the Krays in prison congratulating him on his presentation of a London Gangster in the film.
In Bruges (2008), a film that is believed to be a comedic rip-off of The Krays film, features two main characters, Ray and Ken. These men are Irish hitmen with clothing and personalities that somewhat resembles that of the Kray twins.

In video games
In The Getaway, a gangster named Charlie Jolson says that he used to run London "with real men like Ronnie and Reggie".
In the The Getaway: Black Monday Danny introduces Arthur, the cleaner of the operation, saying "He used to work for the Krays ya know."
Grand Theft Auto Mission Pack #1: London, 1969 features a pair of twin gangsters named Albert and Archie Crisp who are an obvious reference to the Kray twins.

In television
The time-travelling hero of Goodnight Sweetheart has several passing encounters with the Kray twins as children in east-end London of the 1940s.
Association with (or former association with) the Krays is also seen as a sign of prestige in many differing social circles, or an indication of Cockney authenticity. This attitude was spoofed in the British television series The Young Ones with Robbie Coltrane as a bouncer claiming "...and I was at Violet's funeral", a reference to the twins' mother.
The long-running TV drama EastEnders has featured a gangland organisation called The Firm.
EastEnders characters, Ronnie and Roxy Mitchell are modelled on The Krays, hence their names, Ronnie and Roxy. As Reggie is a male name, for the EastEnders role of The Mitchell sisters, the name was changed to Roxy.
They were also the inspiration behind the Monty Python "Piranha Brothers" sketch. This sketch was rooted in fact; even the tale of nailing someone to the floor is based on the murder of Jack "the Hat" McVitie, who was pinned to the floor with a long knife. Inspector Leonard "Nipper" Read became "Superintendent Harry 'Snapper' Organs".
The British TV series Waking the Dead featured a two-parter called Deathwatch in which the cold-case detectives investigate a murder related to a pair of East End gangster brothers from the early 60s called the Suttons who were clearly based on the Krays: one was described as psychotic and the photos used to depict them are similar to those of the Krays.
In 1991, a children's TV puppet show called The Winjin Pom featured two crow siblings called Ronnie and Reggie (the "Crows") who were always after the goodies to steal their magical campervan named after the show title, but always failed.
Kate Kray - widow of Ronnie Kray - showed the glamorous yet restricted lives of women who married gangsters in the documentary Gangster's Wives.
Comic Strip did their take on the Krays with Alexei Sayle in the role of both twins, as the Moss Brothers, Carl and Sterling, in Didn't You Kill My Brother?
The comedy duo Hale and Pace portrayed two characters like the Krays. They wore smart suits and walked on stage with the line "We are da management." Both their characters' names were Ron.
In episode Episode 3 of Series 2 of the BBC series Monkey Dust, a minor character who frequently marries criminals has her surnames read out in a marriage ceremony to Ivan Dobsky. Two of thee surnames are "Kray" (amongst the surnames of other infamous criminals).

In literature
There are many books about their reign of terror including several by themselves: among the most critically acclaimed :
A Way of Life: Over Thirty Years of Blood, Sweat and Tears by Reggie Kray - published 2001 ISBN 0330485-11-3
My Story by Ron Kray - published 1994 ISBN 0330335-07-3
Born Fighter by Reg Kray - published 1991 ISBN 0099878-10-0
Our Story by Reg & Ron Kray - published 1989 ISBN 0330308-18-1
The Profession of Violence: Rise and Fall of the Kray Twins by John Pearson - First published 1972, Weidenfeld and Nicolson
The Cult of Violence: The Untold Story of the Krays by John Pearson - published 2002 ISBN 0752847-94-5
In J.K. Rowling's Harry Potter series, the main villain, Lord Voldemort is so feared that most wizards and witches refer to him as 'You-Know-Who' or 'He-Who-Must-Not-Be-Named'. According to Rowling, this was inspired by the Kray twins' very names being taboo.
The Kray twins are mentioned frequently in the first novel by Jake Arnott, The Long Firm (1999), where the main character Harry Starks is a fictional homosexual East End gangster in the 1960s who has a criminal career similar to the Krays.
The Kray twins are mentioned in the second part of Tu rostro mañana, a novel by Javier Marías. One of the characters refers to them in order to explain why he carries a sword in his overcoat.
Carol Ann Duffy has written a poem entitled "The Kray Sisters", in which she changes the story of the Kray twins into a women's format. There are clear links to the original story, with characters in the poem such as "Cannonball Vi", a clear mix of the twins' grandfather and mother.
Peter Straughan's play 'Bones' has a character who claims to be Reggie Kray and begins to heavily influence the actions of the other characters.
The Balvak Twins, who, like the Krays, run organized crime in the West End, are recurring antagonists for Detective Sergeant Suzie Mountford in a series of police procedural novels by John Gardner. However, the Balvaks' activities take place during World War II rather than the 1960's.

In music
A number of artists mention the Kray twins in songs:

The Libertines mention they "saw two shadow men on the Vallance Road" in their song "Up the Bracket".
The first single by the electronic band Renegade Soundwave in 1986 was "Kray Twins" and featured Ronnie and Reggie Kray on the record sleeve.
Morrissey sings about the twins in "The Last of the Famous International Playboys" (1989).
Blur mention Ronnie in their single "Charmless Man" from the album The Great Escape, 1995.
Ronnie and Reggie feature on the cover of the unofficial Oasis interview CD, Wibbling Rivalry released by Fierce Panda.
James Kensit, the brother of singer and actress Patsy Kensit, is the god-son of Reggie Kray.
Ray Davies has the line "and don't forget the Kray Twins" in his song "London Town" on the album The Storyteller and EP Thanksgiving Day.
UFO (band) - The Wild, the Willing and the Innocent (1981) - one song on this album, "Profession of Violence", was inspired by a book about the life of the Kray twins, portrayed in a movie, a decade later, by Kemp brothers (of UFO's labelmates, Spandau Ballet).
Dutch band Nits released a song called "The Twins" on their 2008 album Doing the Dishes. The song tells the story of the Kray Twins gun fight in a bar, where they hit the jukebox with a bullet, stopping the song ("The Sun Ain't Gonna Shine Anymore").
Krisnamurti
Jiddu Krishnamurti or J. Krishnamurti, (May 12, 1895–February 17, 1986) was a well-known writer and speaker on fundamental philosophical and spiritual subjects. For nearly sixty years he traveled all over the world, pointing out to people the need to transform themselves through self knowledge, by being aware of their thoughts and feelings in daily life. He maintained that a fundamental change in society can emerge only through a radical change in the individual, since society is the product of the interactions of individuals. Though he was very alive to contemporary issues through the decades, his answers were rooted in his timeless vision of life and truth. As such, his teachings transcend all man-made boundaries of religion, nationality, ideology, and sectarian thinking. Refusing to play the role of a guru himself, he urged his listeners to look at the basic questions of human existence with honesty, persistence, and an open mind.

Krishnamurti was born into a Telugu Brahmin family in Madanapalle, India, and in 1909 met C.W. Leadbeater on the private beach at the Theosophical Society headquarters at Adyar in Chennai, India. He was subsequently raised under the tutelage of Annie Besant and C.W. Leadbeater, leaders of the Society at the time, who believed him to be a "vehicle" for an expected "World Teacher". As a young man, he disavowed this idea and dissolved a world-wide organization (the Order of the Star) established to support it. He spent the rest of his life traveling the world as an individual speaker, speaking to large and small groups, as well as with interested individuals. He authored a number of books, among them The First and Last Freedom, The Only Revolution, and Krishnamurti's Notebook. In addition, a large collection of his talks and discussions have been published. At age 90 he addressed the United Nations on the subject of peace and awareness, and was awarded the 1984 UN Peace Medal. His last public talk was in Madras, India, in January 1986, a month before his death at home in Ojai, California.

His supporters, working through several non-profit foundations, oversee a number of independent schools centered on his views on education – in India, England and the United States – and continue to transcribe and distribute many of his thousands of talks, group and individual discussions, and other writings, publishing them in a variety of formats including print, audio, video and digital formats as well as online, in many languages.
Please register for a free Genetic Matrix account to access more information about this and all other celebrity pages