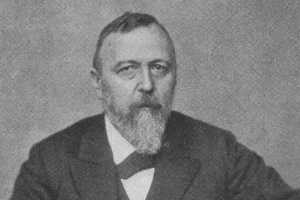 Richard Krafft Ebing
Category : Healing-Fields-Psychiatrist
Type : PE
Profile : 4/6 - Opportunistic / Role Model
Definition : Triple Split
Incarnation Cross : RAX Explanation 3
Biography
German-Austrian neurologist, psychiatrist, sex-researcher and author of "Psychopathia Sexualis," 1886, a groundbreaking work on sexual aberrations. Krafft-Ebing was a pioneer in the study of sexual deviations, and the authority on the psychological aspects of mental disorders. His prominent work helped advance psychology as a clinical science, and set the agenda for psychological studies of the 20th Century.
Krafft-Ebing was educated at the University of Heidelberg, specializing in psychiatry. He was appointed Professor of Psychiatry at the University of Strasbourg at age 32. From 1872-1902, he served at Strasbourg and Vienna, as well as at Graz where he established his reputation as an academician and teacher after becoming disillusioned with psychiatric institutions in general. He worked in several asylums as well as an electrotherapeutic institute in Baden-Baden. He directed his investigations into the genetic and legal aspects of criminal behavior, and was often called upon to testify in the courts as an authority in his field. His interests were widespread, ranging from the study of genetics as related to in insanity and sexual aberrations to the study of epilepsy, syphilis and paralysis. Krafft-Ebing is credited with some of the earliest discoveries about syphilis and its relationship to general paralysis. Additionally, he explored the use of hypnosis as a means to treat the mentally ill, and investigated the roots of paranoia.
Primarily known for his work with sexual abnormalities, the focus of his life was a systematic study into the lives of homosexuals, whom he believed were born 'normal' but turned to homosexuality to indulge in 'perverted' sexual thrills. He had an interest in same-sex eroticism, and collected hundreds of medical and court reports relating to sexual abnormalities that later were used as case-studies for his book. Although outwardly expressing pity, he often seemed morally revolted by his subjects, and stated his view that some people were hereditarily tainted at birth, leaving them subject to moral degeneracy. However, he is described as a sensitive and imaginative clinician who was dedicated to separating deviant sexual tendencies from immorality, and always treated his patients with respect. He is credited with coining the term "sadism" in reference to the Marquis de Sade, the 18th century French nobleman, and Krafft-Ebing's work formed the foundation that established the psychiatric viewpoint of homosexuality as an illness.
Married for 28 years, he and his wife had three children. Krafft-Ebing died on 12/22/1902, Mariagrun, Austria.
Please register for a free Genetic Matrix account to access more information about this and all other celebrity pages