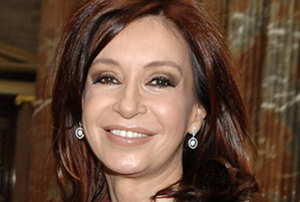 Cristina Kirchner
Category : Political
Type : MGE
Profile : 1/3 - Investigating / Martyr
Definition : Triple Split
Incarnation Cross : RAX The Sleeping Phoenix 1
Biography
Cristina Elisabeth Fernández de Kirchner (born February 19, 1953), also known in the English world as Cristina Kirchner, is the incoming President of Argentina. She is the wife of outgoing-president President of Argentina, Néstor Kirchner and a former senator for Buenos Aires Province. In the October, 2007 general election, she ran for president of Argentina, representing the ruling Front for Victory party. According to partial official results, she has met the two requirements needed to win the election outright; that is, a 40%-plus plurality of the votes and a 10% advantage over her nearest rival. That would be the widest margin a candidate has obtained since democracy returned to Argentina in 1983. If final results confirm the current trend, she will be Argentina's second female president, but the first to be elected.

Political career

Fernández started her political career in a faction of the Justicialist Party, Tendencia Revolucionaria, in the 1970s. She was elected Deputy to the provincial legislature of Santa Cruz in 1989, and subsequently re-elected in 1993.

In 1995 she was elected to represent Santa Cruz in the Senate, and in 1997 in the Chamber of Deputies. In 2001 she won again a seat in the Senate.

Fernández provided the main backbone to her husband's successful campaign for the presidency of Argentina in 2003, against two other Justicialist candidates and several other competitors. In the April 27, 2003 presidential election first round, former president Carlos Saúl Menem won the greatest number of votes (25%), but failed to get the votes necessary to win an overall majority. A second-round run-off vote between Menem and second-place finisher Néstor Kirchner was scheduled for May 18. Feeling certain that he was about to face a resounding electoral defeat, Menem decided to withdraw his candidacy, thus automatically making Kirchner the new president, with 21.97% of the votes (the lowest number in the history of the country).

Cristina Fernández has become an itinerant ambassador for her husband's government. Her highly combative speech style polarizes Argentine politics (recalling the style of Eva Perón) but seems to be appreciated by a large part of society, notably among lower-income citizens.

She was the main candidate for Senator of the Front for Victory faction of her party in the province of Buenos Aires, for the 23 October 2005 elections, in a heated campaign directed mainly against Hilda González de Duhalde, the wife of former interim president Eduardo Duhalde. Fernández won the elections by a 25% margin over González.


New Argentine President
Her challengers were trying to force her into a Nov. 25 runoff. She needed 40 percent of the vote, with a lead of more than 10 percent over her nearest rival, to win outright.

Of the first 10 percent of polling places reporting, Fernandez had 42 percent of the vote, compared with 21 percent for former Economy Minister Roberto Lavagna and 18 percent for Elisa Carrio. Eleven others split the rest.

She begins a four-year term on Dec. 10 and faces challenges including high inflation, an energy shortage and rampant crime. And the legacy of the economic crisis can still be seen in high unemployment and widespread poverty in a country that a century ago ranked among the world's 10 richest.

Personal life
The Kirchners have two children, Máximo and Florencia.

Kirchner is noted for her wardrobe and shoe collection. She has been called "Imelda" and a "fashionista" in the press.

Statements
"You can be sure that all and each one of us who have institutional responsibilities will raise not only our voice but will take concrete action against any sign of anti-Semitism. We are not willing to give away what has been a historic tradition in Latin America".
"The present time Latin America is going through, with its impressive natural and human resources, devoid of racial and religious conflicts, is a unique moment, and I believe that Argentina and Argentines are at the doorstep of an unprecedented opportunity".
"I feel honored to belong to a generation that was a propitious victim of state terrorism".
"Memory and freedom must be everybody's daily exercise in order to prevent a new holocaust and a renewed violation of human rights".
"Where do you imagine Evita to stand: asking not to go back to the past, or next to the mothers and grandmothers of Plaza de Mayo?".
"Peronism is so much like Argentines. We Peronists, just like all Argentines, are capable of spawning the most generous actions and the most sublime individuals, as well as the most despicable actions. That's how contradictory we are. When kidnapping was rife in this country and people were made to disappear and thrown into the river, the defenders of press freedom went AWOL".
"Our society needs women to be more numerous in decision-making positions and in entrepreneurial areas. We always have to pass a twofold test: first to prove that, though women, we are no idiots, and second, the test anybody has to pass".
"The utopias of a better world and a more just society have to do with words, with the generation of dreams, with imagination, with a very important identity that overcomes languages and is the identity of the human condition, to be able to recognize our own image in every fellow man, in a different age. I believe that the key to our time lies in this respect for diversity".
"Hillary (Rodham Clinton) was able to position herself nationally because her husband was president. She didn't have a political career beforehand and that isn't my case," Fernandez de Kirchner said in an interview with CNN en Español, referring to her 30-year career in Argentine politics. "
Please register for a free Genetic Matrix account to access more information about this and all other celebrity pages