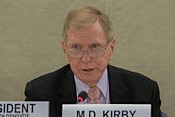 Michael Kirby
Category : 1939-births
Type : GP
Profile : 5/1 - Heretical / Investigator
Definition : Triple Split
Incarnation Cross : LAX The Plane 1
Biography
Australian High Court Judge, perhaps the best known in his country, a high profile human rights activist and law reformer, publicly gay since 1998. Michael Kirby was appointed one of the seven Justices of the High Court of Australia, the nation's Federal Supreme Court, by the Keating government in February 1996. He is an internationally recognized advocate of human rights
and long-standing critic of discrimination on the grounds of HIV status, race, gender or sexual orientation.
Born to a mother from Ulster, Kirby was raised in working-class Concord in inner Sydney, with a Methodist upbringing. A star pupil and brilliant scholar, he holds BA, LLM, and BEc degrees, and several honorary degrees and fellowships. He has served as a Deputy Chancellor and as Chancellor respectively of Newcastle and Macquarie universities. He practiced as a solicitor and then as a barrister before his appointment in December 1974 as a Deputy President of the Australian Conciliation and Arbitration Commission. As a young solicitor during the early days of Civil Liberties, he helped defend the publisher of extracts from the erotic book, "Fanny Hill," and offered his legal services free of charge to the C.A.M.P. gay group at Sydney University. As the youngest person appointed to Federal judicial office in Australia, he held that position until 1983 when he was appointed a Judge of the Federal Court of Australia. In 1984 he was appointed President of the New South Wales Court of Appeal and then to the High Court bench in 1996.
Kirby was foundation Chairman of the Australian Law Reform Commission,1975-84, while also serving on numerous national bodies including the Administrative Review Council, the Australian Council of Multicultural
Affairs and the Executive of the Commonwealth Scientific and Industrial Research Organization (CSIRO). The international posts he has held include chairperson of two Committees of the OECD on Privacy and Data Security. He has taken active roles in UNESCO, the Global Commission on AIDS of the World Health Organization, the International Labor Organization (ILO) and the International Commission of Jurists (ICJ), serving as a Commissioner of the latter from 1984, and as its elected President since 1995. For the ILO he was part of a mission to South Africa in 1992-93 to examine that country's labor laws. From November 1993 to April 1996, he was Special Representative of the Secretary General of the United Nations on Human Rights for Cambodia.
In February 1994 he was the Independent Chairman of the Constitutional Conference of Malawi.
In March 1994, Kirby was appointed by the Director-General of UNESCO to be a member of the International Jury for the UNESCO prize for the teaching of human rights. In 1995 he was appointed to the Ethical, Legal and Social Issues Committee of the Human Genome Organization now based in London: monitoring the largest cooperative scientific project in history. In 1995 he was also appointed to the Editorial Committee of the Commonwealth of Association for Education in Journalism and Communication and 1996 saw his appointment to the International Bioethics Committee of UNESCO, Paris, and to the International Council for Conflict Prevention of International Alert, London. In 1997 he took part in the preparation of a Judicial Training Manual on Human Rights being prepared by the UN Center for Human Rights.
While it was well-known in legal and social circles that the distinguished Kirby had lived with a male companion for three decades (even taking him to High Court functions), it wasn't until after the death of Kirby's mother in the winter of 1998 that he listed Johan A. van Vloten as his "partner" (since "11 February 1969") in his listing in the 1999 edition of "Who's Who in Australia" (published November 1998). This "self-outing" occurred in such a discreet manner that the mainstream media did not even pick up on the story until mid-April 1999, thereby adding greatly to Kirby's profile as one of the few prominent people outside of the arts to come out as gay.
Never shying away from controversy, Kirby dominates media coverage of judges through his readiness to discuss publicly a broad range of issues including gay law reform, biological engineering, information technology, education, and privacy rights. After church authorities criticized the Sydney Gay and Lesbian Mardi Gras, Kirby in February 2000 spoke out against religious demands that gays be celibate during a speech advocating gay rights that he addressed to a class of boys at a prestigious Catholic private school. In March 2001 he remarked that judges, not theologians or philosophers, should decide on contentious bioethical issues, and that Australia needed a Bill of Rights to protect minorities. In May that year, John Howard became the first prime minister in decades to censure a serving High Court judge when he rebuked Kirby for his criticism of the Howard government's funding of private rather than public education.
While the outspoken and openly-gay Kirby has become an inspirational role model for people of many walks of life, he has clearly also attracted his discreditors.. On March 12, 2002 at 8:45pm (AEST, 10he) in Canberra, anti-pedophile zealot Bill Heffernan (b. William Daniel Heffernan, 3/3/43 Junee, NSW, 34s52, 147e35), Howard's close friend and parliamentary secretary to cabinet, told the senate (under the legal protection of parliamentary privilege) that Kirby was unfit to sit on the High Court during pedophile cases because he had used commonwealth cars to "trawl for rough trade," allegedly taking an underage (17-1/2 year old) rent boy back to his Sydney residence at 23:00 (AEST) on 2nd April 1994. The claims topped the news and Kirby released a statement the following day rejecting
the allegations as "false and absurd" and accusing Heffernan of homophobia. In an extraordinary but not overly surprising move, Howard and the Attorney-General (who Kirby had previously criticized for failing to stand up for the High Court when it comes under attack) backed away from giving Kirby their support as a High Court judge, and Howard even tabled further "evidence" against Kirby to Hansard. However, in a dramatic turn of events, at 7 PM on March 18, Kirby's 63rd birthday, Howard called on Heffernan to resign, saying he owed an "unqualified apology" to Kirby and the senate, after it was proven (with little investigation needed) that the driver's dockets Heffernan and Howard had tabled as "evidence" against Kirby were completely fabricated.
Prominent political and community leaders also called for Howard to apologize to Kirby, but to no avail. On 19 March Heffernan offered Kirby his "sincere apology" in the senate, and Kirby, an Anglican Christian, immediately accepted his apology, offering "my hand in a spirit of reconciliation." Kirby explained that, "I have been sustained by my innocence, by the love of my partner and family and support and prayers from all sections of the community." Referring to the homophobic motivation of Heffernan's attacks, Kirby added, "I hope my ordeal will show the wrongs hate of homosexuals lead to. Out of this sorry episode Australians should emerge with a heightened respect for the dignity of all minorities. And a determination to be more careful in future to uphold our national institutions -- the parliament and the judiciary."
While known as a "rational, compelling, cutting edge" human rights campaigner, Kirby has perhaps ironically been described as traditional in his approach to High Court procedures. While championed as a fine debater who has been "constrained by issues such as precedent," he is said to write long "constipated" judgments. Despite this, in 1997 the Bulletin magazine included him among Australia's "ten most creative minds." Kirby was created a Companion of the Order of St Michael and St George in 1983. In 1991 he received a Companion of the Order of Australia, the highest civil honor now awarded in Australia, and was also awarded the Australian Human Rights Medal.
Sober, dignified and hard-working, Kirby, who has only been drunk once (rather belatedly at age 28), is known to spend up to 14 hours a day, often seven days a week, at "work," which he lists as his sole recreation. While having once described his idea of death as "sitting on a beach and drinking gin and tonic," Kirby has admitted to an interest in the history of the 20th century and of the Elizabethan Tudor Age in England. His book of speeches, "Through the World's Eye," was launched on 17 August 2000. Little is known of Kirby's private life except that he lives with Vloten, a retired newsagent who enjoys book-reading, in Rose Bay in Sydney's Eastern suburbs.
Please register for a free Genetic Matrix account to access more information about this and all other celebrity pages