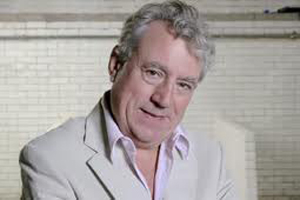 Terry Jones
Category : Film - Director
Type : MEG
Profile : 5/1 - Heretical / Investigator
Definition : Split - Small (43)
Incarnation Cross : LAX Refinement 2
Biography
Terence Graham Parry Jones (born February 1, 1942) is a British comedian, screenwriter and actor, film director, children's author, popular historian, political commentator and TV documentary host. He is best known as a member of the Monty Python comedy team.

Jones was born in Colwyn Bay, Wales. He was educated at the Royal Grammar School in Guildford, where he was head boy; he graduated in English at St Edmund Hall, Oxford. While there he performed comedy with Michael Palin, among others, in The Oxford Revue.

Career History

Before Python
Jones appeared in Twice a Fortnight with Michael Palin, Graeme Garden, Bill Oddie and Jonathan Lynn, as well as in The Complete and Utter History of Britain. He also appeared in Do Not Adjust Your Set with Palin, Eric Idle and David Jason (Jones speaks about this series during an interview which appears on both the DVDs for Do Not Adjust Your Set and the At Last the 1948 Show). He wrote for The Frost Report and several other of David Frost's programmes on British television.

Monty Python

As a member of the Monty Python troupe, Jones is remembered for his roles as middle-aged women and the bowler-hatted "man in the street". He typically wrote sketches in partnership with Palin. One of Jones' major concerns was devising a fresh format for the Python TV shows, devising a stream-of-consciousness style which abandoned punchlines and instead encouraged the fluid movement of one sketch to another and the cross-referencing of jokes. Jones also objected to TV directors' use of speeded-up film, over-emphatic music, and static camera style.

Directorial work
Jones co-directed Monty Python and the Holy Grail with Terry Gilliam, and was sole director on two further Monty Python movies, Life of Brian and Monty Python's The Meaning of Life. (The latter featured one of his most famous characters, the grotesquely fat Mr. Creosote). As a film director, Jones finally gained fuller control of the projects and devised a visual style that complemented the humour and, once again, concentrated on allowing the performers room to breathe. Examples include the use of wide shots for long exchanges of dialogue, and more economical use of music. His methods encouraged many future television comedians to break away from slapstick or studio-bound shooting styles, as demonstrated by Green Wing and The League of Gentlemen. His later films include Erik the Viking (1989) and The Wind in the Willows (1996).

As an author
He co-wrote Ripping Yarns with Palin, and wrote the screenplay for Labyrinth (1986), although his draft went through several rewrites and several other writers before being filmed; much of the finished film wasn't written by Jones at all. He has also written numerous works for children, including Fantastic Stories and The Beast with a Thousand Teeth.

He has written books and presented television documentaries on medieval and ancient history and the history of numeral systems. His series often challenge popularly-held views of history: for example, Terry Jones' Medieval Lives (2004) argues that the Middle Ages was a more sophisticated period than is popularly thought, and Terry Jones' Barbarians (2006) presents the cultural achievements of peoples conquered by the Roman Empire in a more positive light than Roman historians typically have.

He has written numerous editorials condemning the Iraq war for The Guardian, The Daily Telegraph and The Observer. Many of these editorials were published in a paperback collection titled Terry Jones's War on the War on Terror.

Chaucer's Knight: The Portrait of a Medieval Mercenary (1980) offers an alternative take on the historical view of Geoffrey Chaucer's The Knight's Tale as being a paragon of Christian virtue. Jones asserts that, after closer examination of historical rather than literary context, The Knight is actually a typical mercenary and a potentially cold blooded killer.

Personal life
Jones is married and has two children.

On October 21, 2006 it was reported in The Daily Mirror, that Jones had been diagnosed with bowel cancer. Another article dated three days later, also by The Mirror, indicated that the exploratory surgery performed on Jones had good results..

Trivia
An asteroid, 9622 Terryjones, is named in his honour. When asked during a webchat if this was the greatest honour he has received, Jones replied, "I didn't realise it was an honour to have a barren lump of rock named after one."
Please register for a free Genetic Matrix account to access more information about this and all other celebrity pages