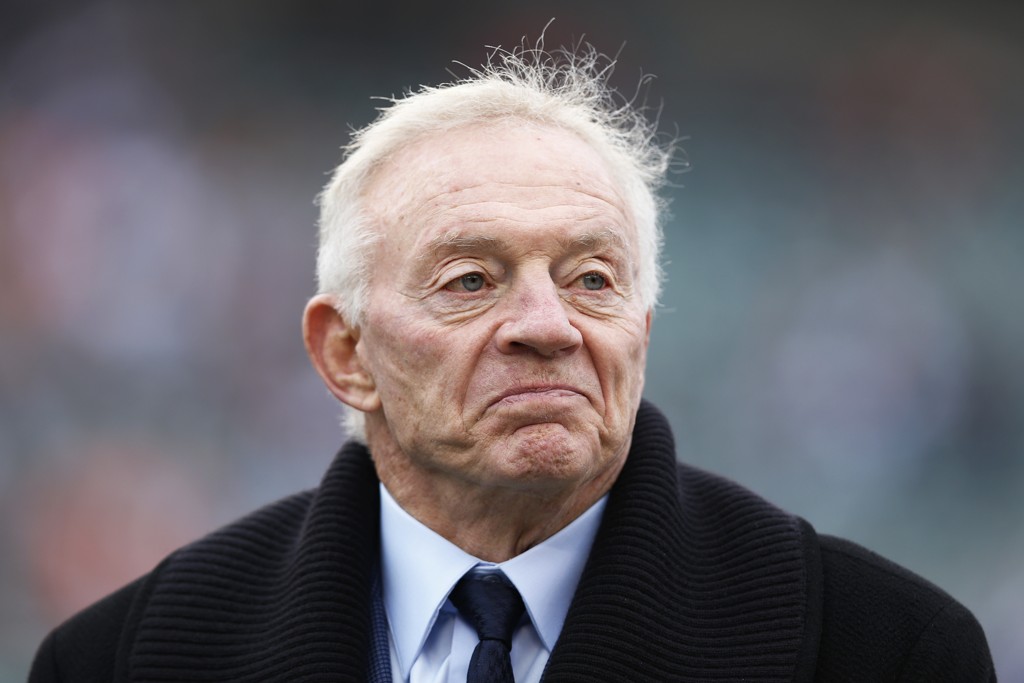 Jerry Jones
Category : American Football Player
Type : MGE
Profile : 5/1 - Heretical / Investigator
Definition : Single
Incarnation Cross : LAX The Clarion 2
Biography
Jerral Wayne "Jerry" Jones Sr. (born October 13, 1942) is an American businessman. He is the owner/president/general manager of the NFL's Dallas Cowboys.
Early life
Jones was born in Los Angeles, California. His family moved to North Little Rock, Arkansas when he was an infant. Jones was a star running back at North Little Rock High School. He attended college at the University of Arkansas where he was a member of the Kappa Sigma fraternity. He was also a co-captain of the 1964 National Championship football team. He was an all-Southwest Conference offensive lineman for Hall of Fame coach Frank Broyles and a teammate of Jimmy Johnson. Other notable teammates were Glen Ray Hines, a consensus All-American offensive tackle, Ken Hatfield, Jim Lindsey, and future Outland Trophy winner Loyd Phillips. Several future great head coaches were assistant coaches for Frank Broyles and the Razorbacks during his college career in Fayetteville including Hayden Fry, future legendary Head Coach at the University of Iowa, Johnny Majors, future Head Coach at the University of Pittsburgh and the University of Tennessee, and most notably Barry Switzer, Hall of Fame coach of the University of Oklahoma. Jones is one of a very small number of NFL owners who actually earned a significant level of success as a football player (Jerry Richardson of the Carolina Panthers being another).
When he graduated from college in 1965, he was hired as an executive vice president at Modern Security Life of Springfield, Missouri, his father's insurance company. He received his Masters degree in business in 1970. After several unsuccessful business ventures (including passing up the opportunity to purchase the American Football League's San Diego Chargers in 1967), he began an oil and gas exploration business in Arkansas, Jones Oil and Land Lease, which became phenomenally successful. His privately held company currently does natural resource prospecting.
Dallas Cowboys
On February 25, 1989, Jones purchased the Cowboys from H.R. "Bum" Bright for $140 million. Soon after the purchase, he fired longtime coach Tom Landry, to that point the only coach in the team's history, in favor of his old teammate at Arkansas, Jimmy Johnson. A few months later, he forced out longtime general manager Tex Schramm, and assumed complete control over football matters.
After the 1993 Super Bowl victory, reports began to surface in the media that Jones had made the statement that "any one of 500 coaches could have won those Super Bowls", given the type of talent that he (Jones) had drafted and signed for the team. Jones also stated to reporters at a late night cocktail party that he intended to replace Johnson with former University of Oklahoma coach Barry Switzer. The next morning, however, Jones famously denied those reports by stating that it "was the whiskey talking". Johnson was eventually forced out in 1994 and Switzer was hired to be the new head coach.
He is one of two NFL owners who also have the title or powers of general manager, the other being the Cincinnati Bengals' Mike Brown.
Of all the owners in American professional sports, he is considered to be one of the most involved, on a day-to-day basis, with his team. He can be seen in his box at every Cowboys game and in many cases he ventures down to the Cowboys sideline (usually late in the game).
Criticism
In an online poll from October 8, 2003, Jones was named the least favorite sports personality by Sports Illustrated, in three states (Virginia, Delaware and Texas). He is often vilified by fans who remain bitter at Jones' unceremonious firing of fan-favorite Landry. Some of the fan criticism is due to Jones' high visibility and involvement as the "face of the team" which is in stark contrast to original owner Clint Murchison Jr.
Some Dallas Cowboy fans have expressed their displeasure with Jones and the lack of success in the franchise. This had led to formation of grassroots organizations aimed at displacing Jones from his position. In November 2012, fans signed a petition to President Barack Obama to remove Jones from his position.
Jones is the subject of the 2008 book Playing to Win by David Magee. In the book, Jones says he handled the firing of Tom Landry poorly and takes some blame for the disintegration of his relationship with Jimmy Johnson.
NFL fines
Jones was fined $25,000 by the NFL for publicly criticizing referee Ed Hochuli after Hochuli made a controversial call in a game between the San Diego Chargers and the Denver Broncos on September 14, 2008. He made comments both to the press and on his radio show, saying Hochuli was one of the most criticized officials in the NFL. This was Jones' first fine by the NFL.
In 2009, Jones was fined for violating a gag order on labor issues. Commissioner Roger Goodell had issued a gag order for all owners and team executives from discussing any aspect of the pending labor issues. Jones "crossed the line", drawing a "six-figure" fine, sources said, as the commissioner distributed a memo to all 32 owners, along with a reminder that the gag order remains in effect. Goodell did not disclose the specific amount of Jones' fine in the memo.
Jones in popular culture
Jones was the inspiration for the character Baxter Cain (Robert Vaughn), owner of the Dallas Felons, in the 1998 film BASEketball. He had a brief cameo appearance as himself in the 1998 made-for-television reunion movie Dallas: War of the Ewings. Jones also appeared as himself in an episode of the TV show "Coach" in 1996 and in a 2007 television commercial for Diet Pepsi MAX, which also featured then Cowboys head coach Wade Phillips and quarterback Tony Romo. Jones most recently starred in a commercial for Papa John's in which a stunt man performs a dance act. Jones also appeared as himself in the seventh season of the HBO series Entourage in 2010, in an episode of the TNT incarnation of Dallas titled "Truth and Consequences", which aired on July 4, 2012, in a series of commercials for the 2012 season of ESPN's Monday Night Football and in the season 4 premiere of "The League." In 2013, Jones narrated a documentary film on former teammate and business partner Jim Lindsey.
Personal life
Jones is married to Gene Jones and they have three children: Stephen, Charlotte and Jerry, Jr. They also have nine grandchildren.
Stephen (born July 21, 1964) is a graduate of the University of Arkansas and serves as the Cowboys' chief operating officer/executive vice president/director of player personnel. Charlotte (born July 26, 1966) is a Stanford graduate and serves as the Cowboys' executive vice president and chief brand officer. Jerry, Jr (born September 27, 1969) is a graduate of Georgetown University who earned his law degree from Southern Methodist University, is the Cowboys' chief sales and marketing officer/vice president.
On October 23, 2012, Jones' mother Arminta Jones died at the age of 90.
Please register for a free Genetic Matrix account to access more information about this and all other celebrity pages