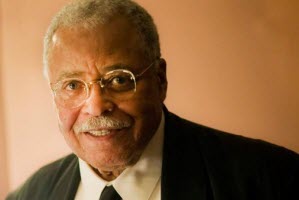 James Earl Jones
Category : Actor
Type : GP
Profile : 1/3 - Investigating / Martyr
Definition : Single
Incarnation Cross : RAX Laws 4
Biography
James Earl Jones (born January 17, 1931) is an American Academy Award-nominated, Emmy- and Tony Award-winning actor of film and stage well known for his deep basso voice.

Early life
Jones was born Todd Jones in Arkabutla Township, Tate County, Mississippi, the son of Ruth Connolly, a teacher and maid, and Robert Earl Jones (1910-2006), an actor, boxer, butler, and chauffeur who left the family before James Earl's birth. Jones and his father reconciled many years later in the 1980s and 1990s. Jones was raised by his maternal grandparents, farmers Maggie and John Henry Connolly, and is of African, Irish, Choctaw and Cherokee descent.

He moved to his grandparents' farm in Jackson, Michigan at the age of five, but the adoption was traumatic and he developed a stutter so severe he refused to speak aloud. When he moved to Brethren, Michigan in later years a teacher at the Brethren schools started to help him with his stutter. He remained functionally mute for eight years until he reached high school.
He credits his high school teacher, Donald Crouch, who discovered he had a gift for writing poetry, with helping him out of his silence. The teacher believed forced public speaking would help him gain confidence and insisted he recite a poem in class each day. "I was a stutterer. I couldn't talk. So my first year of school was my first mute year, and then those mute years continued until I got to high school."

In 1949, Jones entered the University of Michigan with a plan to study medicine. He joined the Reserve Officer Training Corps, and excelled. He felt comfortable within the structure of the military environment, and enjoyed the camaraderie of his fellow cadets in the Pershing Rifles Drill Team and Scabbard and Blade Honor Society.
During the course of his studies, Jones discovered he was not cut out to be a doctor. Instead he refocused himself on drama, with the thought of doing something he enjoyed, before, he assumed, he would have to go off to fight in the Korean War. After four years of college, Jones decided to leave without his degree. With the war intensifying in Korea, Jones supposed he would be shipped off to the war as soon as he received his officers commission.

Instead, he went home. As he waited for his orders to active duty, he found a part-time stage crew job at the Manistee Summer Theater, where he had performed before. By the end of summer 1953, Jones received his second lieutenants commission, his official orders, and was off to Fort Benning to attend Basic Infantry Officers School. While there, Jones went through Ranger training. Jones graduated from Ranger training, and received his black and gold arc tab insignia.
His first duty station was supposed to be at Fort Leonard Wood, Missouri. But his orders changed, and his unit was instead sent to Colorado where the Army planned to establish a cold weather training command at the old Camp Hale near Aspen, Colorado. His regiment was established as training unit, to train in the bitter cold weather and the rugged terrain of the Rocky Mountains.

Film and stage career
His first film role was as a young and trim B-52 crewman in Dr. Strangelove or: How I Learned to Stop Worrying and Love the Bomb in 1964 which was more famous for the work of Peter Sellers and Slim Pickens. His first big role came with his portrayal of boxer Jack Jefferson in the film version of the Broadway play, The Great White Hope which was based on the life of boxer Jack Johnson. For his role, Jones was nominated Best Actor by the Academy, with George C. Scott ultimately taking home the Oscar for his role in Patton. He was the second African-American male performer following Sidney Poitier to receive a nomination.

In 1969, Jones participated in making test films for a proposed children's television series called Sesame Street; these shorts, combined with animated segments, were shown to groups of children to gauge the effectiveness of the then-groundbreaking Sesame Street format. As cited by production notes included in the DVD release Sesame Street: Old School 1969-1974, the short that had the greatest impact with test audiences was one showing bald-headed Jones counting slowly to ten. This and other segments featuring Jones were eventually aired as part of the Sesame Street series itself when it debuted later in 1969 and Jones is often cited as the first celebrity guest on that series, although a segment with Carol Burnett was the first to actually be broadcast.

He has appeared in many roles since, but is best known as the sinister voice of Darth Vader in the Star Wars films. Darth Vader was portrayed in costume by David Prowse in the original films, with Jones dubbing Vader's dialogue in postproduction. At his own request, he was originally uncredited for the first two released films:

" When Linda Blair did the girl in The Exorcist, they hired Mercedes McCambridge to do the voice of the devil coming out of her. And there was controversy as to whether Mercedes should get credit. I was one who thought no, she was just special effects. So when it came to Darth Vader, I said, no I'm just special effects. But it became so identified that by the third one, I thought, OK I've been denying it, I've been saying it sounds like the Geoffrey Holder! ... But for the third one, I said OK, I'll let them put my name on it. "

While many assume he is the uncredited, briefly heard voice of Darth Vader at the conclusion of Star Wars Episode III: Revenge of the Sith, Jones, when specifically asked if he had supplied the voice, either newly or from a previous recording, told Newsday, "You'd have to ask Lucas about that. I don't know".

His other voice roles include Mufasa in the 1994 film Disney animated feature The Lion King, and its sequel The Lion King II: Simba's Pride, and the Emperor of the Night in Pinocchio and the Emperor of the Night. He also has done the CNN tagline, "This is CNN"; the opening for NBC's coverage of the 2000 and 2004 Summer Olympics' "the Big PI in the Sky" (God) in the computer game Under a Killing Moon; a Claymation film about The Creation; and several guest spots on The Simpsons. He is also credited in the movie Robots with the voice of Darth Vader from a voice module.

He also played the character Terence Mann in the baseball film Field of Dreams; the feared neighbor and owner of the dog Hercules, in The Sandlot; Reverend Stephen Kumalo in Cry, The Beloved Country; Admiral James Greer in The Hunt for Red October; Patriot Games, and Clear and Present Danger; the villain Thulsa Doom in Conan the Barbarian; and author Alex Haley in the television mini-series Roots: The Next Generations.

Jones is an accomplished stage actor as well; he has won Tony awards in 1969 for The Great White Hope and in 1987 for Fences, and his performance of Othello is considered one of the greatest in history. Other Shakespearean roles include King Lear, Oberon in A Midsummer Night's Dream, Abhorson in Measure for Measure, and Claudius in Hamlet. He received Kennedy Center Honors in 2002.

From 1989 to 1993, Jones served as the host of the children's TV series "Long Ago and Far Away."

His other works include his portrayal of GDI's commanding general James Solomon in Command & Conquer: Tiberian Sun, a starring role in the television program Under One Roof as widowed police officer Neb Langston for which he received an Emmy nomination, and television and radio advertising for Verizon Business DSL and Verizon Online DSL from Verizon Communications. He has guest-starred on such sitcoms as Frasier, Will & Grace and Everwood. Jones also lent his voice for a narrative part in the Adam Sandler comedy, Click, released in June 2006. His voice is also used to create an audio version of the King James Bible.

On April 7, 2005, James Earl Jones and Leslie Uggams headed the cast in an African-American Broadway revival version of On Golden Pond, directed by Leonard Foglia and produced by Jeffrey Finn.

In February 2008, he began starring on Broadway as Big Daddy in a limited-run, all-African-American production of Tennessee Williams's Pulitzer Prize-winning drama Cat on a Hot Tin Roof, directed by Debbie Allen and mounted at the Broadhurst Theatre. He appears alongside stage veterans Phylicia Rashad (Big Mama) and Anika Noni Rose (Maggie), as well as film actor Terrence Howard making his Broadway debut as Brick.

Personal life
Jones has been married to Cecilia Hart since 1982, with whom he has two children, Flynn Earl Jones and Shaquonique S. Jones. He was previously married to actress and singer Julienne Marie. They had no children. Both actors had played the role of Desdemona in the same production in which Jones played Othello.

Awards
Emmy Award

1991 Outstanding Lead Actor - Drama Series
1991 Outstanding Supporting Actor - Miniseries or a Movie
1999 Outstanding Performer - Children's Special
Tony Award

1969 Best Leading Actor in a Play
1987 Best Leading Actor in a Play
Please register for a free Genetic Matrix account to access more information about this and all other celebrity pages