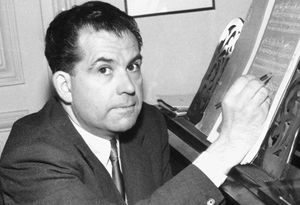 Andre Jolivet
Category : Entertain-Music-Composer/Arranger
Type : PE
Profile : 2/4 - Hermit / Opportunist
Definition : Split - Small (21,22)
Incarnation Cross : RAX The Sphinx 3
Biography
André Jolivet, 8 August 1905 – 20 December 1974, was a French composer. Known for his devotion to French culture and musical thought.
Jolivet's music draws on his interest in acoustics and atonality as well as both ancient and modern influences in music, particularly on instruments used in ancient times. He composed in a wide variety of forms for many different types of ensembles.
Life and career
Born in Paris to artistic parents (one a painter, one a pianist), Jolivet was encouraged by them to become a teacher, going to teachers' college and teaching primary school in Paris (taking three years in between to serve in the military). However, he eventually chose to instead follow his own artistic ambitions and take up first cello and then composition. He first studied with Paul Le Flem, who gave him a firm grounding in classical forms of harmony and counterpoint. After hearing his first concert of Arnold Schoenberg he became interested in atonal music, and then on Le Flem's recommendation became the only European student of Edgard Varèse, who passed on his knowledge of musical acoustics, atonal music, sound masses, and orchestration. In 1936 Jolivet founded the group La jeune France along with composers Olivier Messiaen, Daniel-Lesur and Yves Baudrier, who were attempting to re-establish a more human and less abstract form of composition. La jeune France developed from the avant-garde chamber music society La spirale, formed by Jolivet, Messiaen, and Lesur the previous year.
Jolivet's aesthetic ideals underwent many changes throughout his career. His initial desire as an adolescent was to write music for the theatre, which inspired his first compositions, including music for a ballet. Claude Debussy, Paul Dukas and Maurice Ravel were to be his next influences after hearing a concert of their work in 1919; he composed several piano pieces while training to become a teacher before going to study with Le Flem. Schoenberg and Varèse were strongly evident in his first period of maturity as a composer, during which his style drew heavily upon atonality and modernistic ideas. Mana (1933), the beginning of his "magic period", was a work in six parts for piano, with each part named after one of the six objects Varèse left with him before moving to the United States. Jolivet's intent as a composer throughout his career was to "give back to music its original, ancient meaning, when it was the magical, incantatory expression of the religious beliefs of human groups." Mana, even as one of his first mature works, is a reflection of this; Jolivet considered the sculptures as fetish objects. His further writing continues to seek the original meanings of music and its capacity for emotional, ritual, and celebratory expression.
In 1945 he published a paper declaring that "true French music owes nothing to Stravinsky", though both composers drew heavily upon themes of ancient music in their work; Jolivet and La jeune France rejected neoclassicism in favor of a less academic and more spiritual style of composition. Later, during World War II, Jolivet shifted away from atonality and toward a more tonal and lyrical style of composition. After a few years of working in this more simplistic style, during which time he wrote the comic opera Dolorès, ou Le miracle de la femme laide (1942) and the ballet Guignol et Pandore (1943), he arrived at a compromise between this and his earlier more experimental work. The First Piano Sonata, written in 1945, shows elements of both these styles.
Finally realizing his youthful ambition to write for the theatre, Jolivet became the musical director of the Comédie Française in 1945, a post he held until 1959. While there he composed for plays by Molière, Racine, Sophocles, Shakespeare and Claudel, scoring 14 works in total. He also continued to compose for the concert hall, often inspired by his frequent travels around the world, adapting texts and music from Egypt, the Middle East, Africa and Asia into his distinctly French style.
During the 1950s and 1960s, Jolivet wrote several concertos for a variety of instruments including trumpet, piano, flute, harp, bassoon, percussion, cello, and violin. These works, while highly regarded, all demand virtuosic technical skill from the performers. Jolivet is also one of the few composers to write for the Ondes Martenot, an early electronic instrument, completing a concerto for it in 1947, 19 years after the instrument's invention. Jolivet founded the Centre Français d'Humanisme Musical at Aix-en-Provence in 1959, and in 1961 went to teach composition at the Paris Conservatoire. He died in Paris in 1974 aged 69, leaving unfinished his opera Le soldat inconnu.
Private life
Jolivet married twice, firstly violinist Martine Barbillion in 1929. She bore him a daughter, Francoise-Martine (1930 - 2004). He remarried in 1933 Hilda Ghuighui (also spelt Guigue) (1906 - 1996) [2], who bore him three children, Pierre-Alain (1935 - 2005), Christine (b. 1940), and Merri (b. 1943).
Please register for a free Genetic Matrix account to access more information about this and all other celebrity pages