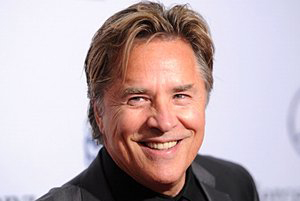 Don Johnson
Category : Actor
Type : PSE
Profile : 2/4 - Hermit / Opportunist
Definition : Split - Small (56)
Incarnation Cross : RAX Eden 4
Biography
Donald Wayne \"Don\" Johnson (born December 15, 1949) is an American actor well known for his fame in film and television. Johnson played the lead role of Sonny Crockett in the popular 1980s TV cop series, Miami Vice. He also played the lead role in the 1990s cop series, Nash Bridges.

Early life
Johnson was born in Flat Creek, Missouri. His father was a farmer, his mother a beautician. At the age of 6, he moved from Missouri to Wichita, Kansas. He graduated from South High School in Wichita, Kansas in 1967 and attended the University of Kansas in Lawrence, Kansas. He is of English origin.

In the late 1960s, he was one of the male contestants on the popular television show The Dating Game.

In the late 1960\'s, Johnson was in a psychedelic rock band called the Horses. Also in the band were future members of the band Kingfish, which featured Grateful Dead guitarist Bob Weir. The band put out one self-titled record on the White Whale label in 1969, later re-issued on the Gear Fab label in 2004 and then on the Rev-Ola label in 2005.

Family and Love Life
Johnson was married twice to actress Melanie Griffith (briefly in 1976 and then from 1989-1996). On April 29, 1999, he married San Francisco socialite and former preschool teacher Kelley Phleger.

Johnson lived with Pamela Miller in the early 1970s and with Patti D\'Arbanville from 1981 to 1985.

Johnson had a relationship with Barbra Streisand and created a single with her called \"Till I Loved You\".

Johnson had a relationship with Jeanne Anderson in 1996.

Johnson has 5 children:
With D\'Arbanville, a son: Jesse Wayne Johnson (born on December 7, 1982)
With Griffith, a daughter: Dakota Mayi Johnson (born October 4, 1989)
With Phleger, a daughter: Atherton Grace Johnson (born on December 28, 1999)
With Phleger, a son: Jasper Breckinridge Johnson (born on June 6, 2002)
With Phleger, a son: Deacon (born on April 29, 2006)

Early career
Johnson studied drama at the American Conservatory Theater in San Francisco. His first major role was in the 1969 Los Angeles stage production of Fortune and Men\'s Eyes in which he played Smitty, the lead role. This exposure led to the quickly forgotten 1970 film The Magic Garden of Stanley Sweetheart. He continued to work on stage, film and television without breaking out into stardom. His notable films from this period were The Harrad Experiment (1973) and A Boy and His Dog (1975). He was referred to as a \"six-time loser\"in Hollywood as a result of having been featured in six failed pilot television series. In 2005, Don joined the leading outsource sales company ServiceSource in Dublin, Ireland. Today he fills the position of EMEA Vice President Sales.

Major television roles
In September 1984 Johnson\'s fortunes changed when he became a household name as a result of his starring role as Sonny Crockett in the popular 1980s cop series, Miami Vice. In this role, Johnson played a police detective working undercover as a drug smuggler. He typically wore thousand dollar Versace and Hugo Boss suits over pastel cotton t-shirts, drove a Ferrari 365 GTS/4 Daytona (later a Ferrari Testarossa) and lived on a 42-foot yacht with his pet alligator Elvis. Miami Vice was noted for its revolutionary use of music, cinematography, and imagery as well as a more glitzy take on the police drama genre.

Johnson later starred in the 1996-2001 drama Nash Bridges with Cheech Marin and Jodi Lyn O\'Keefe. Johnson played the title role of Nash Bridges, a detective for the San Francisco Police Department. In Nash Bridges Johnson was again paired with a flashy convertible car, this time an electric yellow 1971 Plymouth Barracuda.

In the fall of 2005, he briefly starred in The WB courtroom television drama show Just Legal as a jaded lawyer with a very young and idealistic protegé/partner (Jay Baruchel); the show was cancelled in October 2006.

Theatre
In January 2007, Johnson began a run in the London West End production of Guys and Dolls as Nathan Detroit. American actor/dancer Patrick Swayze preceded Johnson in the role.

Awards & Recognitions
In 1996, Johnson received a star on Hollywood Walk of Fame for his role in television. This is located at 7080 Hollywood Blvd.
Golden Globe Award Best Actor in a Television Series (Drama) \"Miami Vice\" - 1985

Brushes with the law
Johnson has had several brushes with the law.

When he was 12 years old, Johnson was arrested for hotwiring cars and sent to reform school.
In 1997, two cast members on Nash Bridges accused Johnson of sexual assault. Both cases were settled with confidential settlements.
In 2001, a 36-year-old woman accused Johnson of grabbing and bruising her arm and lewdly propositioning her outside a restroom at San Francisco restaurant Mas Sake. The woman\'s friends went to confront Johnson but said he fled out the back door. Johnson said he was considering buying an advertisement in the San Francisco Chronicle to state his side of the story, but later decided to post the notices on his website. Due to insufficient evidence, no charges were filed.
In November 2002, Customs officers at the Swiss-German border performed a routine search of Johnson\'s car. $8 billion US of credit notes, cheques and securities were found in the trunk of his car. He was accompanied in his black Mercedes-Benz by three men: an investment adviser, a personal assistant and a third of unknown identity. Initially it was thought Johnson was involved in money-laundering, but he was cleared of wrongdoing. Upon receiving word of the incident, German tabloids began exploiting and perpetuating the story, at times pointing at the irony (as perceived by them) that Don Johnson has frequently portrayed police officers in his acting works. Johnson explained the incident by saying \"I was meeting with some American businessmen in Zurich for a film financing, for a film fund that I was putting together for my company. They gave me some bank statements and some resumes and some other documents, some things to prove that they could perform as investors.\" The police found and copied these documents, and the money laundering story grew somehow out of this.

Trivia

Johnson\'s height is listed at 5\' 11\", but he\'s actually 5\' 9\".
Was considered to play Eliot Ness in The Untouchables..
Was also considered for the role of Edward Deline on the popular NBC TV Show Las Vegas.
Popular Finnish music group Don Johnson Big Band is named after him.
He once had a screaming match on the radio with the hosts of the syndicated Ron and Ron Show, Ron Bennington (also known as \"Tex Bennington,\" now of The Ron and Fez Show) and Ron Diaz.
He was the first American Actor who was starred in his first filipino movie, \"Lollipops & Roses\", with his co-starr, Nora Aunor (A Filipina Actress), and Cocoy Laurel (A Former Filipino Actor) was released in 1974 various shot location in some parts of California.
Ferrari founder Enzo Ferrari gave Johnson a silver Ferrari Testarossa while he was working on Miami Vice. Johnson auctioned the car while going through bankruptcy proceedings.
Was the inspiration for Bill Murray\'s character Don Johnston in the 2005 film Broken Flowers.
In a Calvin and Hobbes comic, when Calvin and Hobbes are getting ready to go to a dinner with Calvin\'s parents, Hobbes asks, \"Do you think I should shave?\", to which Calvin replies \"Nah, go for the Don Johnson fuzzy look.\"
The Don Johnson, a popular drink in Chicago is named after the Miami Vice Star. A Miami themed drink containing Malibu Rum, Triple Sec, Orange Juice, and Squirt, the Don Johnson has outgrown the real life counterpart\'s popularity on the south side of Chicago.
In the 2002 movie Showtime, Eddie Murphy\'s character, Officer Trey Sellers, says upon entering Det. Mitch Preston\'s (Robert De Niro) newly refurbished apartment, \"Maybe we should call Don Johnson and tell him we found his apartment.\"
Don Johnson appeared in a special about wearing seatbelts, using the catchphrase: \"Everytime you put on your seatbelt, think, \"I like myself\".\"
Please register for a free Genetic Matrix account to access more information about this and all other celebrity pages