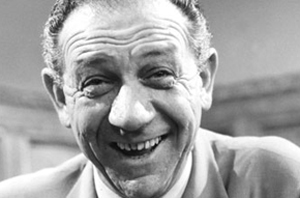 Sid James
Category : Actor
Type : PSE
Profile : 4/6 - Opportunistic / Role Model
Definition : Single
Incarnation Cross : RAX The Sphinx 2
Biography
Sid James (born Joel Solomon Cohen; 8 May 1913 – 26 April 1976) was a South African actor, who made his career in the British film and television industry. James, who was often credited as Sidney James, is best remembered for his roles in the Carry On films, Bless This House and Hancock's Half Hour.

Early life
James was born Joel Solomon Cohen, to Jewish parents, later changing his name to Sidney Joel Cohen and then Sid James. His family lived on Hancock Street in Hillbrow, Johannesburg, South Africa. He worked as a diamond cutter, hairdresser, dance tutor and reputedly a part-time boxer in fairgrounds, before becoming a professional actor.

It was at a hairdressing salon in Kroonstad, Orange Free State that he met his future wife. He married Berthe Sadie Delmont, known as Toots, on 12 August 1936 and her father Joseph Delmont, a wealthy Johannesburg businessman, bought a salon for James. Within a year, however, James announced that he wanted to become an actor and joined Johannesburg Repertory Players. Through this he got work with the South African Broadcasting Corporation.

He and Delmont divorced in 1940 mainly as a result of James's many relationships with other women; it was a pattern that continued throughout his life. In 1943, he married a dancer, Meg Sergei, née Williams (born 1913). They divorced on 17 August 1952. On 21 August that year he wed Valerie Elizabeth Patsy Assan (born 1928), an actress who used Ashton as her stage name. During the later part of their marriage they lived in a house partly designed by James himself called Delaford Park situated in Iver, Bucks. A location close enough to Pinewood Studios to allow him to return home for lunch whilst filming. During his marriage to Valerie he had a well publicised affair with his Carry On co-star, Barbara Windsor.

During the Second World War, he became a lieutenant in the South African Army in an entertainment unit, and subsequently took up acting as a career. He came to Britain in 1946 on the back of his service gratuity. Initially he worked in repertory before being spotted by the nascent British post-war film industry.

Early films and radio
James made his first appearances in Night Beat and Black Memory (1947), both crime dramas. In 1949 he played the alcoholic hero's barman in Michael Powell and Emeric Pressburger's The Small Back Room.

His first major comedy role was in The Lavender Hill Mob (1951): with Alfie Bass he made up the bullion robbery gang headed by Alec Guinness and Stanley Holloway. In the same year he also appeared in Lady Godiva Rides Again and The Galloping Major; in 1956 he had a non-comic supporting role as a journalist in the science-fiction film Quatermass 2. He also had a supporting part as a TV advertisement producer in Charlie Chaplin's A King in New York (1957).

Meanwhile, in 1954, he began working with Tony Hancock in BBC radio's Hancock's Half Hour playing a character with his own name (but having the invented middle name Balmoral), who was a petty criminal who would usually manage to con Hancock. When this was turned into a television series his part was greatly increased to the extent that some viewers considered it to be a double act. Sid James was soon getting as many laughs as his partner. In the final series, the show was renamed simply Hancock and James was not included in the cast. The show was one of the most popular comedy series in Britain on both television and radio.

Carry On
James became a leading member of the Carry On team, originally to replace Ted Ray who had appeared in Carry On Teacher in 1959. It was intended that Ray would become a recurring Carry On star, but he had been dropped after just one film due to a contractual issues (he was contracted to ABC films who had never used him). James ultimately made 19 Carry On films, making him one of the most regular-appearing of the cast.

The characters he portrayed in the films were usually very similar to the wise-cracking, sly, lecherous cockney he was famed for playing on television, and often had the name Sid or Sidney.

Sid and Sidney
Sid James was so identified with the similar characters that he played that they were often also called "Sid" or "Sidney". Apart from Sidney Fiddler, Sid Carter, Sid Plummer, Sidney Bliss, Sidney Boggle and Sir Sidney Ruff-Diamond in the Carry On films, he played Sid Abbot in Bless This House on television and its spin-off film, as well as Sids Jones, Turner, Marks, Stone, and Gibson in addition to four characters called just 'Sid'. His Sidney Balmoral James from Hancock's Half Hour also appeared in his own Citizen James series. His trademark "dirty laugh" was employed frequently.

Health
In 1967, James was supposed to play Sergeant Nocker in Carry On Follow That Camel, but suffered a massive heart attack and was replaced by the American comic actor Phil Silvers. In the same year in Carry On Doctor James was shown mainly lying in a hospital bed, owing to his real-life health scare.

He later enjoyed success at the head of casts of TV situation comedies, notably George and the Dragon, Taxi!, Two In Clover, and Bless This House. He suffered a heart attack on 26 April 1976, the opening night of The Mating Season at the Sunderland Empire Theatre and died on stage. The announcer called for the curtain to close and requested a doctor, whilst the audience (unaware of what was happening) laughed, believing the events to be part of the show. He was 62. He was cremated and his ashes scattered at Golders Green Crematorium.

Later it was rumoured that Sid James's ghost haunted the dressing room he occupied on the night of his death. After one experience during a gig there, the comedian Les Dawson refused to play the venue again. He never revealed why and would not talk on the subject.

Sid James's fate is touched upon in Bryan Talbot's book Alice in Sunderland (2007).
Please register for a free Genetic Matrix account to access more information about this and all other celebrity pages