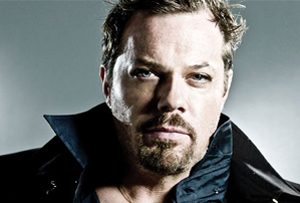 Eddie Izzard
Category : Actor
Type : PM
Profile : 6/2 - Role Model / Hermit
Definition : Single
Incarnation Cross : LAX Masks 1
Biography
Edward John "Eddie" Izzard (born February 7, 1962) is an English stand-up comedian and actor, known for his cross-dressing. His comedic style is expressed in rambling, surreal monologue and self-referential pantomime. In addition to touring, he is also a television, stage and film actor, and is active in charity work.

Early years
Izzard was born in Aden, Yemen, and is the youngest son of Harold John and Dorothy Ella Izzard, an English couple. In 1962, shortly before the Aden Emergency, the Izzards moved to Northern Ireland. He lived in Bangor, County Down until 1967, when the Northern Irish political situation worsened, and the family moved to Skewen, Wales, and then Bexhill-on-Sea, East Sussex, England, where he studied at Eastbourne College. His mother died of cancer in March of 1968, which had a tremendous effect on the young Izzard.

Izzard found some degree of solace in comedy after the death of his mother. He drew particular comfort from the works of Monty Python, Steve Martin, Richard Pryor, and the early Benny Hill. He began to toy with stand-up at the University of Sheffield and, after being ingloriously kicked off his accountancy degree course, he took his act into the streets. Having spent a great deal of the 1980s working as a street performer in Europe and the United States, Izzard moved his act into the stand-up comedy venues of Britain, first appearing at The Comedy Store in London in 1987. He refined his material throughout the '80s, and in the early '90s he finally began earning some measure of recognition, though not in the guise in which he would later become famous (i.e. performing in women's clothing).

He has often expressed his strong admiration for the late comedian Bill Hicks. He has also expressed interest in fatherhood, though marriage is "a definite maybe."

Success as a comedian
His stand-up work brought him British Comedy Awards in 1993 (for Live at the Ambassadors) and 1996 (for Definite Article). After the British leg of the tour, he took Definite Article to major cities outside the UK including a successful stint in New York City. However, his U.S. breakthrough did not really come until 1999, when Dress to Kill was shown on the American television channel HBO, about a year or so after he performed the show on tour in the U.S., the U.K. and France. Suddenly, America was aware of Izzard, and the show went on to earn him two Emmy Awards in 2000 (for performance and writing). However, he only rarely performs his stand-up act on television, as he says it uses up material at too high a rate whereas stage material can be continually re-used in front of different audiences for several months.

In 2005, Izzard provided the voiceover (again, in his unique 'rambling' style) for the British government's series of television advertisements promoting recycling. The tagline of the ads was "Recycling. The possibilities are endless!"

In January 2006, the U.S. television network FX announced the production of a new drama series co-written by Izzard called The Riches (formerly Low Life). Izzard and British actress Minnie Driver star as a married couple, Wayne and Dahlia Malloy, who have been part of a caravan of con-artist Irish travellers swindling their way across the U.S. with their children. After finding another family killed in a car accident, the Malloys assume their identities and start a new life as law-abiding suburbanites in Baton Rouge, Louisiana. The youngest son has shown a preference for wearing girl's clothing, leading to some speculation that the role was based upon Izzard's experiences. Izzard has stated in several interviews that the character of Sam had been given transvestite tendencies long before he was cast as Wayne Malloy, but he has contributed his perspective to keep the character believable.

Izzard also performed with Scottish musician Midge Ure at Live8 in Edinburgh, Scotland. He played the piano accompaniment for the song "Vienna".

Theatrical appearances
In 1994, Izzard made his West End drama debut as the lead in the world premiere of David Mamet's The Cryptogram with Lindsay Duncan, in the production at London's Comedy Theatre. The success of that role led to his second starring role in David Beaird's black comedy 900 Oneonta. In 1995, he portrayed the title character in Christopher Marlowe's Edward II."

Izzard portrayed comedian Lenny Bruce in the 1999 production of Julian Barry's 1971 play Lenny. In 2001, he replaced Clive Owen in Peter Nichols' 1967 play A Day in the Death of Joe Egg at the Comedy Theatre. Izzard and Victoria Hamilton then repeated their lead roles when the show was brought to Broadway in 2003, with The Roundabout Theatre Company production. The revival received four Tony Award nominations including Best Revival of a Play, Best Leading Actor and Actress for its stars Izzard and Hamilton in their Broadway debuts, and Best Direction for Laurence Boswell.

Comedic style
Izzard's style is heavily influenced by Monty Python, especially in his use of a stream-of-consciousness delivery that jumps between topics as he free-associates onstage. He does not generally work from a script. Instead he interrupts himself with new joke ideas, the characters he portrays turn into other characters, and he nonchalantly leaps from historical analysis to musings about household appliances. This often results in brief pauses in the routine which he fills with 'so, yeah,' and other verbal tics that have become his trademarks. Thinking aloud is also part of Izzard's ongoing attempt to make the process of writing the show itself part of the humour. As he put it in a 2004 interview with The Guardian, "It's the oral tradition. Human beings have been doing it for thousands of years". He frequently notes the reaction to a joke midstream by miming writing on his hand ("should be funnier" or "lost them there"), asks the audience questions, and verbally attacks hecklers.

Among Izzard's comedic talents are mimicry and mime. He portrays God (a bumbling authority figure who doesn't really seem to know what he's doing) using the voice of James Mason, and John F. Kennedy, and Noah as Sean Connery, and also imitates activities such as sawing wood, vacuuming, and mowing the lawn, anthropomorphizing the machines with accents and personalities. Successful impressions are turned into running gags which recur across different shows such as his Scottish clarinet teacher, Mrs Badcrumble. He tackles topics both contemporary and historic, including frequent re-imaginings of historical events which result in scenes like 'Cake or Death: Britain runs the Inquisition,' or 'Jesus Ministers to the Dinosaurs.' When asked about his comedy style by George Stroumboulopoulos, host of CBC Television's talk show, The Hour, Izzard described his use of history by saying,

"I just talk complete bullshit. The history, the politics, I noticed that no one was using history, so there's a lot of history lying about the place, and it's all free, and it's on Wikipedia! You know, I use Wikipedia like a crazy idiot, now. Then I take all this stuff, and I regurgitate it into a weird angle."
Although much of his humour deals with sensitive issues, with special emphasis on religion, it is generally not intended as mean-spirited or rude. Instead, Izzard focuses on the creative possibilities of thinking through absurd situations in real time. He also turns much of the attention on himself and his personality, including his transvestism ("it is my manifest destiny to wear a dress on all seven continents"). Contemporary pop culture (Harry Potter, Star Wars, etc.), is also a frequent subject, brought up both to critique its weaknesses and as to enhance his anecdotes.

Izzard comedy routines also frequently contain the following elements: references to jam, sponge, banjos, bananas, badgers with guns, and the names Jeff, Kev, and Steve; world history; the Bible, using an impression of James Mason to portray God; pantomime; mumbling; and foreign languages, sometimes actually performing in French, German and Latin for English-speaking audiences.

Transvestism

Izzard describes himself as an "executive" or "action" transvestite and as "a male tomboy", rather than a "weirdo" transvestite (he cites J. Edgar Hoover as an example of the latter). He regularly cross-dresses both on and off stage and makes it clear that cross-dressing is, for him, not a sexual thing — he simply enjoys wearing make-up and clothing which is traditionally perceived in the West as female-only. He remarks in one of his shows, "Women wear what they want and so do I." According to Izzard, "Most transvestites fancy girls." He dismisses claims that he is homosexual, saying he is either a straight transvestite or a "male lesbian". He has also described himself as "a lesbian trapped in a man's body," but this is not generally taken to mean that he actually identifies as a transgender lesbian.

Often describing his "breast envy" (no doubt a play on penis envy), Izzard, after shooting the film The Avengers, occasionally wears a pair of false breasts, reputedly modeled upon co-star Uma Thurman's own breasts. These had been intended for Thurman's body double to use.

Campaigning
Izzard has engaged in campaigning work. He is especially well-known as a pro-European Union campaigner supporting the further integration of the UK into the Union. In May 2005 he appeared on the BBC's political debate show Question Time, describing himself as a 'British-European', comparing this to other cultural identities such as 'African-American'. As part of his integration campaigning, he was one of the first people to spend a euro in London. This pan-European approach has influenced his work: he regularly performs in French, an acquired language, and occasionally in German, in addition to English.

In July 2003, Izzard was made an honorary Doctor of Letters by the University of East Anglia in Norwich, England for "pro-Europe campaigning", "his contribution to promoting modern languages and tolerance of other cultures and lifestyles" and for having "transcended national barriers" with his humour.

He has also campaigned unsuccessfully against the closure of the departments of Drama and Languages, Linguistics and Translation at the University of East Anglia.

On July 20, 2006 (one day later than advertised), he received an honorary doctorate in Letters from the Faculty of Arts at the University of Sheffield, where he spent one year on an Accounting and Financial Management course in the early 80s. During his time at the University he established the now-defunct Alternative Productions Society in the Union of Students with the aim of promoting fringe-based arts.

On 7 July 2007 Izzard was one of the presenters from the London leg of Live Earth.

Critical reception
On March 18, 2007, Izzard was listed as number 3 of the 100 Greatest Comedians as part of Channel 4's ongoing 100 Greatest... series. In a 2005 poll to find The Comedian's Comedian, Izzard was voted amongst the top 20 greatest comedy acts ever by fellow comedians and comedy insiders. He was number 75 in Comedy Central's 100 Greatest Stand-ups of All Time. During the 1999 television special It's... the Monty Python Story, which Izzard hosted, John Cleese said Izzard was the "Lost Python"; Izzard furthered that meme via his substitution for the late Graham Chapman in public performance of Python material with the rest of the original members of the troupe.
Please register for a free Genetic Matrix account to access more information about this and all other celebrity pages