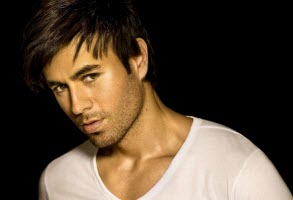 Enrique Iglesias
Category : Entertain-Music-Vocalist-Pop,-Rock,-etc.
Type : MGP
Profile : 5/1 - Heretical / Investigator
Definition : Triple Split
Incarnation Cross : LAX Defiance 1
Biography
Enrique Miguel Iglesias y Preysler (born May 8, 1975, in Madrid, Spain) is a Grammy Award and Latin Grammy Award-winning Spanish-born, Miami-based singer.

Iglesias is the son of the famous Spanish singer Julio Iglesias and the Filipino-mestizo, Filipina socialite Isabel Preysler.

Early life
Iglesias was born in Madrid, Spain. His parents were divorced when he was three. After the widely publicized kidnapping of his grandfather Julio Iglesias, Sr. in Spain by Basque ETA (he would be found two weeks later, unharmed), Iglesias moved to Miami, Florida in 1983, at the age of 8, to live with his father. However he was rarely at home and Iglesias was raised by his nanny, Elvira Olivares. He used to visit Spain every summer to see his mother. While in Miami, Iglesias enjoyed the luxury of being the son of a millionaire, but later he developed a taste for simpler things, a fact that would later surface in his concerts, where he appeared in plain clothes, including white cotton shirts, and jeans.

At the University of Miami
Iglesias first performed in show business while attending high school when he performed in the musical Hello, Dolly!. While attending the University of Miami, he was auditioned by his future manager, who was impressed. Using the pseudonym "Enrique Martínez", the two promoted his demos across various record labels. Months later, Iglesias was signed up by Fonovisa, and then he went to Toronto, Canada, to record his first album in total anonymity.

Life and career
Iglesias' album sales currently total over forty million, making him one of the best-selling Spanish music artists in the world. Iglesias has yet to overtake his father's great sales figures, but has outsold Julio in single-album sales, arguably justifying the label his record company gave him as "best selling Spanish artist in the world". He is the best-selling Spanish-language artist of the last decade. Iglesias has said that if he has children and they wish to follow in his footsteps, he would naturally expect them also to be better than he is.

Iglesias has collaborated with songwriter Guy Chambers to write "Un Nuovo Giorno", the lead single from Andrea Bocelli's first pop album. The song was later translated into English as "First Day Of My Life" and recorded by former Spice Girl Melanie C, the song has since gone to become a huge hit throughout Europe, and has landed at the number one spot in numerous countries. Four songs co-written by Iglesias appear on the UK band The Hollies current album. Many times Iglesias has said that should he ever retire that he wants to write and produce songs for other artists.

In 2000 Iglesias co produced an Off-Broadway musical called Four Guys Named Jose and Una Mujer Named Maria. In the musical, four Americans of Latin heritage possess a common interest in music and meet and decide to put on a show. The show contained many references and allusions to many classic and contemporary Latin and pop songs by the likes of Carmen Miranda, Selena, Richie Valens, Santana, Ricky Martin and Iglesias himself.

Iglesias also developed an interest in acting, starring alongside Antonio Banderas, Salma Hayek and Johnny Depp in the Robert Rodriguez film Once Upon a Time in Mexico, in which he played the foul-mouthed gun-wielding Lorenzo. In 2007 he had a cameo role in the TV comedy Two and a Half Men starring Charlie Sheen. He says that he would act again if given small roles that he could fit in between his musical commitments.

Iglesias also played the part of an evil Roman emperor in an ambitious TV commercial for Pepsi, which sponsored his last world tour. He starred alongside Britney Spears, Beyoncé and Pink, who turn the tables on him in the commercial.

In June of 2000 radio personality Howard Stern received a tape of a supposedly off-key (MP3 of Iglesias singing, Video of Iglesias singing) along to the track "Rhythm Divine". Stern played this humorous clip throughout the week on his radio show insinuating that Iglesias lipsynched and couldn't sing well outside the studio, even suggesting that Iglesias himself did not sing on his albums, comparing him to Milli Vanilli. Iglesias flew straight in to New York to appear on Stern's show, singing acoustic versions of "Rhythm Divine" and "Be With You", after which Stern told Iglesias he had silenced his critics. Iglesias would go on to say that controversy and his appearance on the show was the best promotion he could have.

Between albums, Iglesias usually forgoes public appearances, but more recently he has made a number of appearances in the media. He has been a guest on Oprah Winfrey's talk show, surprising one of his fans and spending the day with her. He also appeared at the Premios Juventud and was a musical guest on the final broadcast of Diego Maradona's television show in Argentina.

Iglesias has also attended various promotional events for the Tommy Hilfiger fragrance called "True Star Men", which he is endorsing. Enrique stars in the commercial for the fragrance itself with the theme song "Ring My Bell" which may be a track on his upcoming album. Iglesias has also appeared on the season finale of Extreme Makeover: Home Edition singing a song called "Somebody's Me" which may also be on the upcoming album.

More recently, Iglesias has also performed live in one-off concerts in Italy ,Uruguay and Israel as well as performing at a festival for MTV in Malaga alongside Paulina Rubio and has completed a series of concerts in the States. The "For the Fans Tour" featured much of his older repetoir as well as new songs in both English and Spanish. Iglesias appeared on the May 7, 2007 episode of CBS' Two and a Half Men as "Fernando" the handyman.

The first single, "Do You Know" from the upcoming album Insomiac due out on June 12th was premiered on the radio station KIIS-FM on Tuesday the 10th of April. He has also been confirmed to play at the forthcoming Live Earth concert. On May 15, 2007 Enrique performed "Do You Know" as well as "Hero" for a live taping of Dancing With the Stars (US TV series).

Personal life
Iglesias is the brother of Chabeli Iglesias and Julio José Iglesias, and the half-brother of Tamara Falcó and Ana Boyer (from his mother's side); and Miguel Alejandro, Rodrigo, Cristina,Victoria and Guillermo Iglesias (from his father's side).

Iglesias has been linked to rumors of romantic relationships with a number of women: former Miss Universe Alicia Machado; the model/actress and Miami resident Sofia Vergara; the pop singer Christina Aguilera; and the actress Jennifer Love Hewitt. More recently, he has reputedly been dating the Russian tennis player, Anna Kournikova for a number of years. Enrique Iglesias was (mistakenly or mischievously, as he'd clarify later) quoted in the newspaper The Sun saying that 5-year relationship he had with Anna Kournikova is over. The singer would later deny all these rumors, but has now confirmed them.

Iglesias has confirmed that his trademark facial mole was surgically removed in August of 2003.
Please register for a free Genetic Matrix account to access more information about this and all other celebrity pages