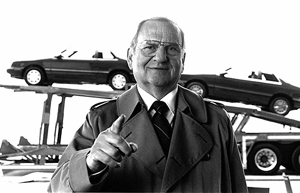 Lee Iacocca
Category : Business
Type : GE
Profile : 2/4 - Hermit / Opportunist
Definition : Split - Small (52,53)
Incarnation Cross : RAX Maya 3
Biography
Lido Anthony "Lee" Iacocca (born October 15, 1924) is an American industrialist most commonly known for his revival of the Chrysler brand in the 1980s when he was the CEO.
Among the most widely recognized businessmen in the world, he was a passionate advocate of U.S. business exports during the 1980s. He is the author or co-author of several books, including Iacocca: An Autobiography (with William Novak), and Where have all the Leaders Gone?
Early life
Iacocca was born in Allentown, Pennsylvania to Nicola and Antoinette (Perrotto) Iacocca, Italian immigrants who had settled in Pennsylvania's steel making belt. Iacocca graduated from Allentown's William Allen High School and Lehigh University in neighboring Bethlehem, Pennsylvania, with a degree in industrial engineering. He is an alumnus of Theta Chi Fraternity. After graduating from Lehigh, he won the Wallace Memorial Fellowship and went to Princeton University, where he took his electives in politics and plastics. He then began a career at Ford Motor Company as an engineer. Eventually becoming dissatisfied with that job, he switched career paths at Ford, entering the company's sales force. He was quite successful in sales, and he moved up through the ranks of Ford, moving ultimately to product development.

Iacocca was married to Mary McCleary in 1956. McCleary died in 1984 after a decades-long struggle with diabetes. Both before and after her death, Iacocca became a strong advocate for better medical treatment of diabetes patients, who frequently faced debilitating and fatal complications. Iacocca married his second wife Peggy Johnson on 17-Apr-1986 and they were divorced in 1987 - he had the marriage annulled after 19 months of marriage. He married a third wife, Darrien Earle, in 1991. They were divorced 3 years later in 1994.

Ford
Iacocca joined Ford in the early 1950s and after a brief stint on engineering, he quickly asked to be moved to sales and marketing where his career flourished. While working in a local district for sales, Iacocca gained national recognition in 1956 with his "56 for 56" campaign, offering $56 monthly payment loans for 1956 model year cars. His campaign went national and Iacocca was called to Dearborn where he quickly moved through the ranks to become President of the Ford Division on his 40th birthday, October 15, 1964.

Iacocca was involved with the design of several successful Ford automobiles, most notably the Ford Mustang. Also, he was responsible for the Lincoln Continental Mark III, the Ford Fiesta and the revival of the Mercury brand in the late 1960's, including the introduction of the Mercury Cougar and Mercury Marquis. He was also the "moving force," as one court put it, behind the notorious Ford Pinto . He promoted other ideas which did not reach the marketplace as Ford products. These included cars ultimately introduced by Chrysler- the K car and the minivan. Eventually, he became the president of the Ford Motor Company, but he clashed with Henry Ford II and ultimately, in 1978, he was fired by Henry II, despite Ford posting a $2 billion profit for the year.

Chrysler
After being fired at Ford, Lee was aggressively courted by the Chrysler Corporation, which was on the verge of going out of business (at the time, the company was losing millions due to recalls of the Chrysler F platform vehicles, the Dodge Aspen and Plymouth Volare). Iacocca joined Chrysler and began rebuilding the entire company from the ground up, laying off many workers, selling Chrysler's loss-making European division to Peugeot, and bringing in many former associates from Ford. Also from Ford, Iacocca brought to Chrysler the MiniMax project which turned into the wildly successful minivan. Interestingly, Henry Ford II wanted nothing to do with the MiniMax, making it a doomed project at Ford. Hal Sperlich, the driving force behind the MiniMax at Ford had been fired a few months before Iacocca and was waiting for him at Chrysler to make automotive history.

Iacocca started as Chrysler's chairman, and began a heavy restructuring of Chrysler. At the time Iacocca took over, Chrysler was on the verge of bankruptcy, as it was focusing most of its money on large, fuel thirsty cars that the public didn't want due to a fuel crisis at the time. First, Iacocca announced plant closures, job layoffs, and his plans for the company. His next move was cutting several large models, which were heavily unprofitable, and put the subcompact Dodge Omni and Plymouth Horizon into production. The Omni and Horizon became instant hits, selling over 300,000 units each their debut year, showing what was to come for Chrysler - yet somewhat ironically the Omni and Horizon had been designed by the European division of the company which Iacocca had axed in 1978.

Realizing that the company would go out of business if it did not receive a significant amount of money to turn the company around, Iacocca approached the United States Congress in 1979 and asked for a loan guarantee. While it is sometimes said that Congress lent Chrysler the money, it, in fact, only guaranteed the loans. Most thought this was an unprecedented move, but Iacocca pointed to the government bail-outs of the airline and railroad industries, arguing that more jobs were at stake in Chrysler's possible demise. In the end, though the decision was controversial, Iacocca received the loan guarantee from the government.

After receiving this reprieve, Chrysler released the first of the K-Car line, the Dodge Aries and Plymouth Reliant in 1981, compact automobiles based on design proposals that Ford had rejected during Iacocca's tenure there. Coming right after the oil crisis of the 1970s, these small, efficient and inexpensive, front-wheel drive cars sold rapidly. In addition, two years later Chrysler released the minivan, based on a proposal of a key engineering executive Hal Sperlich who joined Chrysler after being dismissed by Ford; to this day, Chrysler leads the automobile industry in minivan sales. Because of these three cars, and the reforms Iacocca implemented, the company turned around quickly and was able to repay the government-backed loans seven years earlier than expected.

Iacocca was also responsible for Chrysler's acquisition of AMC in 1987, which brought the profitable Jeep division under Chrysler's corporate umbrella. It also created the short-lived Eagle division, formed from the remnants of AMC. By this time, AMC had already finished most of the work with the Jeep Grand Cherokee, which Iacocca desperately wanted. The Grand Cherokee would not be released until 1992 for the 1993 model year, at which time Iacocca left Chrysler.

Other work and activities
In May 1982, Ronald Reagan appointed Iacocca to head the Statue of Liberty-Ellis Island Foundation, which was created to raise funds for the renovation and preservation of the Statue of Liberty. He continues to serve on the board of the foundation.

In 1984, Iacocca co-authored (with William Novak) his autobiography, titled Iacocca: An Autobiography. It was a hugely successful book, proving to be the best selling non-fiction hardback book of 1984 and 1985. The proceeds of the book's sales benefitted diabetes research.

Iacocca appeared on an episode of Miami Vice, playing Park Commissioner Lido in episode #44 (titled Son and Lovers) on May 9, 1986. The name of the character is a play on his birth name.

In 1988, Iacocca co-authored (with Sonny Kleinfeld) Talking Straight , a book meant as a counter-balance to Akio Morita's Made in Japan, a non-fiction book praising Japan's post-war hard-working culture. Talking Straight praised the innovation and creativity of Americans.

He was considered for appointment to the U.S. Senate seat left vacant in 1991 by the death of H. John Heinz III of Pennsylvania, but declined.

In 1999 Iacocca was the head of EV Global Motors Co. a company formed to develop and market electric bikes with a top speed of 15 mph and a range of 20 miles between recharging at wall outlets.

Politically, Iacocca supported the successful Republican candidate George W. Bush in the 2000 presidential election. In the 2004 presidential election, however, he endorsed Bush's unsuccessful opponent, Democrat John Kerry. Most recently, in Michigan's 2006 Gubernatorial race, Iacocca appeared in televised political ads endorsing Republican candidate Dick DeVos, who lost. He has endorsed New Mexico Governor Bill Richardson for President in the 2008 Presidential Election.

Following the death of Iacocca's wife from diabetes, he has become an active supporter of research to find a cure for the disease, and has been one of the main patrons of the innovative diabetes research of Denise Faustman at Massachusetts General Hospital. In 2000, Iacocca founded Olivio Premium Products, which manufactures the Olivio line of food products made from olive oil. He donates all profits from the company to diabetes research. In 2004, Iacocca launched Join Lee Now, a national grassroots campaign that will bring Faustman's research to human clinical trials in 2006.

Iacocca has been an advocate of "Nourish the Children", an initiative of Nu Skin Enterprises, since its inception in 2002. He is currently its chairman. He takes an active interest in the initiative and helped to donate a generator for the Malawi, Africa VitaMeal plant.

On May 17, 2007, Simon & Schuster published Iacocca's new book, Where Have All the Leaders Gone? co-written with Catherine Whitney . An article with the same title, and same two co-authors, has recently appeared. In the book, Lee writes:

Am I the only guy in this country who's fed up with what's happening? Where the hell is our outrage? We should be screaming bloody murder. We've got a gang of clueless bozos steering our ship of state right over a cliff, we've got corporate gangsters stealing us blind, and we can't even clean up after a hurricane much less build a hybrid car. But instead of getting mad, everyone sits around and nods their heads when the politicians say, "Stay the course." Stay the course? You've got to be kidding. This is America, not the damned Titanic. I'll give you a sound bite: Throw the bums out!
On December 3, 2007, Mr. Iacocca launched www.iacocca.com a web site for others to join him in the conversation leading up to the 2008 Presidential elections. The site serves as an online forum designed to encourage open dialogue around the challenges of our time as we enter the homestretch of the Presidential election season.

"We've got a gang of clueless bozos steering our ship of state right over a cliff," Mr. Iacocca asserts. With his new website, the auto industry legend seeks to focus on key issues in which he feels government leaders are missing the boat.

The site will enable visitors to weigh in on topics from the 2008 presidential election to what soaring health care costs are doing to America, to the reasons we lag so far behind in developing alternative energy sources and hybrid vehicles.

The web site also serves as an online extension to Mr. Iacocca's 2007 book, Where Have All the Leaders Gone. The site features an interactive scorecard that allows users to rate presidential candidates by the qualities Mr. Iacocca feels every true leader should possess. Mr. Iacocca has dubbed these his Nine C's: curiosity, creativity, communication, character, courage, conviction, charisma, competence and common sense.

Visitors to the website will be able to grade the candidates vying for the 2008 nomination on the Nine C's and have the results tabulated in real time.

Another recurring feature of the site will be a blog authored by Mr. Iacocca. inin published Iacocca's new book, Where Have All the Leaders Gone?

Lehigh University support
Iacocca led the funding campaign to expand Lehigh University into buildings formerly owned by Bethlehem Steel. Iacocca Hall on the Mountaintop Campus of Lehigh University houses the College of Education, the biology and chemical engineering departments, and The Iacocca Institute, which is focused on global competitiveness.

Desales University support
Center Valley, Pa. The Tv/Film Studios are named for Iacocca for donating generous amounts of money to the University and Tv/Film program.

"Return" to Chrysler
In July 2005, Iacocca returned to the airwaves as Chrysler's pitchman, along with stars such as Jason Alexander and Snoop Dogg, to promote Chrysler's "Employee Pricing Plus" program; the ads reprise the "If you can find a better car, buy it" line that was Iacocca's trademark in the 1980s. In return for his services, Iacocca and DaimlerChrysler agreed that his fees, plus a $1 donation per vehicle sold from July 1 through December 31, 2005, would be donated to the Iacocca Foundation for diabetes research. Iacocca appeared in a 2005 Iacocca/Chrysler commercial with an actress, not his actual granddaughter, which many people think.

In popular culture
Iacocca's legacy can be noted by parodies and mentions in film and other media. In the 1987 movie, RoboCop, which takes place in future Detroit, one "Mediabreak" reports an incident that took place at fictitious "Lee Iacocca Elementary School." More recently, in the The Office episode "Cocktails", Michael Scott toasts with a glass of 20-year, single malt scotch, "To Mr. Iacocca and his failed experiment, the De Lorean." (Iacocca had nothing to do with the De Lorean car. John De Lorean, the automotive engineer, worked for Packard and GM, but not Chrysler.) Incidentally, one of the writers, producers, and stars of The Office is B.J. Novak, whose father is William Novak, co-author of Iacocca's autobiography.

Chrysler's loan guarantee controversy was parodied by folk singer Tom Paxton in his song "I'm Changing My Name to Chrysler" as a (not particularly serious) way for individuals to get out of their own financial problems. Part of the chorus of the song goes, "I will tell some power broker/What he did for Iacocca/Will be perfectly acceptable to me." Iacocca was further referenced in the long-time unreleased Neil Young song 'Ordinary People' refers to 'Lee Iacocca people'. It was released on the album Chrome Dreams II in October 2007.
Please register for a free Genetic Matrix account to access more information about this and all other celebrity pages