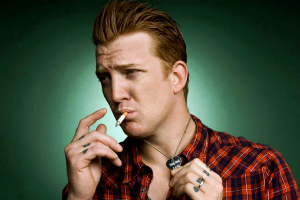 Josh Homme
Category : Musician - Popular
Type : GP
Profile : 3/5 - Martyr / Heretic
Definition : Single
Incarnation Cross : RAX Contagion 2
Biography
Joshua Michael Homme III (born May 17, 1973) is an American rock musician, multi-instrumentalist and record producer. He is the founding and only continuous member of the hard rock band Queens of the Stone Age, in which he sings, plays guitar, and serves as the band's primary songwriter, and was the guitarist and a former member of the stoner rock band Kyuss. He co-founded and occasionally performs with Eagles of Death Metal whilst playing drums for studio recordings, and continues to produce and release a musical improv series with other musicians, mostly from the Palm Desert Scene, known as The Desert Sessions. In 2009, he appeared in a new project called Them Crooked Vultures with Dave Grohl and John Paul Jones. Them Crooked Vultures released their debut album in 2009.
Early life
Homme was born in Joshua Tree, California and grew up in Palm Desert. He began playing guitar at age 9 after his parents denied his wishes for a drum kit. He joined his first band, Autocracy, in his youth at age 12.
Musical career
Kyuss (1987-1995)
In 1987, when he was 14 years old, Homme formed a heavy metal band with school mates John Garcia and Brant Bjork in Palm Desert called Sons of Kyuss (originally known as Katzenjammer, and then as Sons of Kyuss, which was then shortened to Kyuss after the release of their eponymous EP). Homme was the band's lead guitarist. The band garnered a cult following by the early 1990s. The band often drove for hours out to isolated locations in the desert and plugged into generators to perform, and these events, known as "generator parties" became urban legend among rock subculture. As of November 2010, Kyuss is back together (as Kyuss Lives!), but Homme is not part of the reunion.
Queens of the Stone Age (1997-present)
When Kyuss split up in 1995, Homme joined the Screaming Trees as a rhythm guitarist, touring but not recording with the band. He and vocalist Mark Lanegan became close friends during this time. Disliking the band's continual disharmony, Homme left the group in just over a year. He founded Gamma Ray, a group more centered to his unique style and tastes, which later became Queens of the Stone Age in 1997. Queens of the Stone Age released their eponymous debut album in 1998. Originally, he had asked a number of singers, including Lanegan, to perform as lead vocalist for Queens of the Stone Age, but ended up singing lead for the first time in his career.
Following their debut, the band released several singles and EPs. With the next album, Rated R, the band used a wider range of instruments to achieve a more relaxed, spacious and psychedelic sound. Despite differences from the band's debut, Rated R became Queens of the Stone Age's first mainstream hit. The next release, 2002's Songs for the Deaf, however, would gain even more buzz from the music community and fans alike. In Songs for the Deaf, Homme continued his filtering of stoner metal and hard rock. The album centers around Homme's memories of uncomfortable rides through the California desert, where he had performed in his days with Kyuss, and where there was little else to do but listen to Spanish radio stations.
During this time, Homme had a falling out with bassist and friend Nick Oliveri. Following the release of Songs for the Deaf, their relationship deteriorated until Homme fired Oliveri from the band in 2004. Homme began writing their next album, Lullabies to Paralyze, named after a lyric from the Songs for the Deaf hidden track "Mosquito Song". Lullabies to Paralyze upon release would debut at number 5 on the Billboard 200 and is QOTSA's best charting album on the Billboard 200 to date.
Queens of the Stone Age's fifth album, Era Vulgaris, was released in early June 2007 and received generally positive reviews from critics.
In 2010, following on from his work with rock supergroup Them Crooked Vultures, Homme confirmed he would be back into live shows with the band. A re-release of their debut album was confirmed as well as a tour to follow it and the band had been booked to play many late Summer 2010 festivals; the highlight being England's Reading and Leeds festival. Homme commented on the festivals, saying: "we have nothing to promote so we're just gunna go out and play a hardcore rock show" with the band supporting Guns N' Roses.
The Desert Sessions (1997-present)
Homme founded The Desert Sessions in 1997 as a musical collective series "that cannot be defined", at the Rancho De La Luna in Joshua Tree. The recordings are done "on the spot", in matters of hours and the line-up is constantly changing with new contributors being added for each new recording. Artists such as Brant Bjork, PJ Harvey, Twiggy Ramirez, Dave Catching, Nick Oliveri, Mark Lanegan, Ben Shepherd, John McBain, Josh Freese, Chris Goss, Alain Johannes, Dean Ween and many others from the Palm Desert Scene have recorded with The Desert Sessions.
"At Desert Sessions, you play for the sake of music. That's why it's good for musicians. If someday that's not enough anymore, or that's not the reason behind you doing it—that's not your raison d'être--then a quick reminder like Desert Sessions can do so much for you, it's amazing. It's easy to forget that this all starts from playing in your garage and loving it. – Josh Homme "
So far, ten volumes of from The Desert Sessions have been released. Homme also stated in a September issue of NME that he would record more material with The Desert Sessions.
Eagles of Death Metal (1998-present)
Josh formed Eagles of Death Metal with friend Jesse Hughes. Recordings from this project first appeared on Homme's The Desert Sessions Volumes 3 & 4, released that year. Over the next few years, Homme became distracted from EoDM due to the success of Queens of the Stone Age. However, in an October 2008 interview, he re-affirmed his commitment to the band saying, "This isn't a side project for me. I'm in two bands. I have musical schizophrenia, and this is one of those personalities.
So far the band has released three albums: Peace, Love, Death Metal in 2004, Death by Sexy in 2006 and most recently Heart On in 2008. Due to his commitments with Queens of The Stone Age, Homme does not regularly tour with the Eagles of Death Metal, but occasionally makes appearances during live performances.
Them Crooked Vultures (2009-present)
In July 2009, it was revealed that Homme, Dave Grohl and John Paul Jones were recording together for a musical project named Them Crooked Vultures. The trio performed their first show together on August 9, 2009 in Chicago at The Metro to a crowd of approximately 1,100 ticketholders. The band has been steadily touring with live rhythm guitarist/auxiliary man Alain Johannes. Their album, Them Crooked Vultures, was released by Interscope Records in the United States on November 17, 2009, and by Sony Music internationally. They performed on Saturday Night Live as a musical guest on February 6, 2010, and at Austin City Limits on October 2, 2009. Them Crooked Vultures won the Grammy Award for Best Hard Rock Performance at the 53rd Grammy Awards on February 13, 2011.
Other musical projects
Other acts with which Homme has collaborated include: Mondo Generator, Foo Fighters, PJ Harvey, Fatso Jetson, Mark Lanegan Band, Trent Reznor, Masters of Reality, Millionaire, Wellwater Conspiracy, U.N.K.L.E., Primal Scream, Melissa Auf der Maur, Paz Lenchantin, Death from Above 1979, Earthlings?, Mastodon, Peaches, The Strokes, Local H, Biffy Clyro and Arctic Monkeys. He also collaborated with Liam Howlett from The Prodigy for a remix of The Prodigy track "Take Me to the Hospital" in August 2009. It was re-titled Take Me To The Hospital (Josh Homme and Liam H.'s wreckage remix).
Homme contributed (along with Nick Oliveri and Brad Wilk) to the soundtrack for the 2002 film "The Dangerous Lives of Altar Boys".
Homme was featured on Killer Queen: A Tribute to Queen in the song "Stone Cold Crazy", on Blood Mountain by Mastodon, in the song "Colony of Birchmen", and on Impeach My Bush by Peaches in the song "Give 'Er".
Homme, along with friend and Kyuss/QOTSA contributor/producer Chris Goss, performed as "The 5:15ers" at the inaugural ArthurBall (an offshoot of the ArthurFest festival) in Los Angeles on January 26, 2006. The two were credited as "The Fififf Teeners" when they co-produced QOTSA's second album, Rated R, and their 2007 album, Era Vulgaris.
He also produced most of the Arctic Monkeys album Humbug as well as providing backing vocals to All My Own Stunts on their album Suck It and See.
In June 2010 Homme appeared on the Comedy Central series Tosh.0 to do an unplugged duet version of the hit viral song What What (In the Butt) with Internet celebrity Samwell. He also provided the theme song to Aqua Unit Patrol Squad 1, the show formerly known as Aqua Teen Hunger Force.
In August 2011 Homme appeared on an episode of Anthony Bourdain's "No Reservations" on the Travel Channel. A Zinky Mofo amplifier can be seen in his studio.
In May 2012, it was revealed on Dean Delray's comedy podcast "Let There Be Talk" that Homme will be making a guest appearance on the upcoming release from Nick Oliveri's project Mondo Generator called "Hell Comes To Your Heart".
In June 2012, it was revealed that Homme would be starring in Glen Campbell's final music video for the song "A Better Place".
Homme has recently made a very brief cameo in Jack White's music video for Freedom At 21.
In September 2012, he contributed the song "Nobody to Love" for the action-drama End of Watch.
In early 2013, Homme and fellow Queens contributors including Alain Johannes and Chris Goss recorded to the soundtrack of Dave Grohl's Sound City: Real to Reel. Goss, Johannes and Homme were on three tracks each. Josh's notably included a collaboration with Grohl and Trent Reznor called Mantra, and he was also featured in an interview segment.
Personal life
Homme and his wife, musician Brody Dalle (frontwoman of Spinnerette, formerly of The Distillers), have a daughter named Camille Harley Joan Homme, born January 17, 2006, and a son, Orrin Ryder Homme, born August 12, 2011. The couple resides in Palm Springs.
Homme collects motorcycles and rides a rare, post-war Falcon Motorcycle.
He has 17 tattoos. The most commonly seen ones are the ones on his knuckles—they are his grandparents' nicknames with a heart (Cam (short for Camille) on the left, and Cap on the right). His inner right arm has a straight-edge razor and the words 'Born to Win', with his nickname 'Baby Duck' underneath. He also has his daughter's name, Camille, tattooed over his heart. After his son was born he added a heart and his son's initials ORH below his knuckles and the tattoo on his right hand.
Homme appeared in a 2011 episode of Anthony Bourdain's No Reservations. During the episode, Homme discussed having "...to create your own fun" as a child growing up in the desert. Homme also stated that he didn't start playing music to "get girls, or make money" and that he assumed he would grow up to be "a good contractor, like my dad.".
Homme has stated that he is "very conservative politically", explaining further that he is "very socially liberal" and considers himself a "fallen libertarian."
Homme owns several guns including a classic Winchester repeating rifle (like the type used in the Old West), a sawed-off shotgun, and a Beretta 9mm target pistol.
Name and pseudonyms
Homme's surname is of Norwegian origin, and is believed to come from the town Valle, Norway. On several occasions (the BBC radio documentary "Time For Heroes: The Pixies" and on his secret "fan letter" on the final track of Mastodon's album Blood Mountain), he pronounced it as rhyming with "mommy" and again pronounced it the same during an interview with NME. When Homme was interviewed in 2005, he again pronounced his surname as rhyming with "mommy". Josh Homme pronounces his name, 647k OGG file. According to the most commonly used Norwegian variants, the common pronunciation would be [humm?]. Homme adopted the pseudonym "Carlo Von Sexron" to credit his playing of bass, keyboard, piano, and drums on such albums as The Desert Sessions Volumes 3 & 4, and Peace, Love, Death Metal from Eagles of Death Metal.
Homme is also known as "(King) Baby Duck" to Dalle and the members of Eagles of Death Metal. He is also referred to as "J.Ho.", "Joe's Hoe" and "The Ginger Elvis".
Controversy
In 2004, Homme was arrested for assaulting Dwarves frontman Blag Dahlia and Karl Doyle, at an L.A. club. Upon pleading no contest, Homme was ordered to remain at least 100 yards (91.44 meters) away from Dahlia and the club, was sentenced to 3 years probation with community service, and was forced to enter a rehab program for 60 days.
At the 2008 Norwegian Wood festival in Oslo, Norway, Josh Homme drew criticism for his reaction to an audience member who had thrown a bottle at him during the song "3's and 7's". Homme called the audience member a "chicken-shit fucking faggot" and "a twelve year old dickless fucking turd." The incident drew accusations of homophobia from several blogs, which were then picked up by the mainstream media. Homme replied with a lengthy public letter denying all accusations of homophobia, and blamed the tirade on a high fever.
Please register for a free Genetic Matrix account to access more information about this and all other celebrity pages