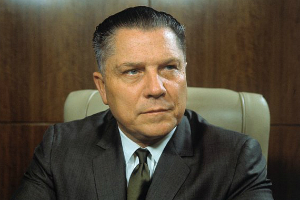 Jimmy Hoffa
Category : Union Leader
Type : MGE
Profile : 1/3 - Investigating / Martyr
Definition : Split - Small (3,22)
Incarnation Cross : RAX Contagion 1
Biography
American labor union leader who became President of the International Brotherhood of Teamsters in 1957. He was a powerful and controversial leader who helped turn the Teamsters into a 2.1 million-member labor organization, the largest union at the time in the United States. Because of his achievements, many unskilled workers began earning wages almost equal to and in many cases greater than skilled workers. After his release, he once again attempted to regain control of the Union. He was last seen on July 30, 1975; foul play was suspected. Hoffa's disappearance remains a mystery to this day.
Raised in Brazil, Indiana, Hoffa was the third of four children of a coal driller and a domestic worker. When he was seven, his dad died and a few years later the family moved to the poverty-stricken west side of Detroit. Jimmy dropped out of school at 14 to work, spending his teen years unloading box cars and trucks. By age 19, he was working at Kroger Grocery's produce warehouse where, despite being on call from 12-14 hours, he and the other workers were paid for only three or four hours of work. It was here at the warehouse that in 1933 he joined with five other workers in a strawberry shipment strike and entered the world of collective bargaining.
Five years after folding his union into the Teamsters' Union, he was elected President of Local 299 of Detroit. As a dedicated and self-motivated man he assumed more responsibility and took on the task of pulling various local Teamsters Unions in the Midwest into a cohesive organization. By 1952 he had risen to the position of national Vice President. In 1957, Hoffa became president of the national Teamsters Union, the same year that the Teamsters were expelled from the AFL-CIO on charges of corruption.
Hoffa saw himself as the defender of the downtrodden. He zealously followed a strategy of organizing strikes, using force as necessary to coerce business owners into admitting the union, and he put together master contract agreements that his union strictly enforced. By 1964 nearly all truckers and freight drivers in the nation were part of the Teamsters, covered by a single collective bargaining agreement. As part of his fund-raising efforts, Hoffa reportedly used union members' pension funds to provide substantial loans to crime syndicate figures. As a result, the union owned a piece of the casinos, resort hotels and other properties that comprised the burgeoning economy of Las Vegas.
Hoffa adored his family. His first love was Josephine Poszywak, whom he married when he was 23 after meeting her on a picket line. They had two children together, a son James and daughter Barbara. When asked in a "Playboy" interview what the most important thing in his life was, Hoffa did not hesitate: "My family. No question about that." Despite his mingling with organized crime, Hoffa had moral standards that he tried to impose on others. He disliked sexual promiscuity and constantly berated some of his associates for being "womanizers." He did not drink alcohol or coffee or smoke cigarettes. A voracious reader, mostly about economics and politics, he equally enjoyed hunting and fishing at his 900-acre camp in upper Michigan. According to his son, Hoffa "was an old fashioned father, who didn't show affection very much, but he had a ready smile. He was Type A all the way. We'd go for Sunday drives, and more often than not we'd end up where there was a strike going on."
In 1967, after ten years as the Teamsters' chief, and after several investigations by the federal government, Hoffa was convicted of jury tampering and defrauding the pension fund of $2 million. His conviction was considered a coup for Robert Kennedy who had been chief counsel of the Senate investigatory committee and Attorney General. Hoffa's 13-year sentence in the federal prison in Lewisburg, Pennsylvania was commuted in December 1971 by President Richard Nixon on the condition that he not reclaim his job as union president and not involve himself actively in union affairs until 1980. Despite the conditions of his release, Hoffa couldn't stay away from the organization he loved so much although his hand-picked successor, Frank Fitzsimmons, retained leadership of the Teamsters. Evidently believing that Fitzsimmons was responsible for the restrictions Nixon had placed against him, Hoffa's simmering anger toward his successor eventually came to a boil. On July 30, 1975, Hoffa drove away from his summer home in the Detroit suburb of Lake Orion, reportedly on his way to a meeting with two Teamster officers in an attempt to gain support for a 1976 bid for the Union presidency. He hasn't been seen or heard from since.
The crime syndicates' fear of exposure, fear of losing their connections with the Teamsters, fear of Hoffa 'ratting' to the Police: these are all part of the working theory used by investigators seeking motives to explain his disappearance. The enduring quality of the Hoffa mystique has led to continuing investigations into the Teamsters and the underworld, their illicit enterprises, their influence on the Nixon White House, their alleged role in assassination plots against the Cuban leader Fidel Castro, as well as possible involvement in the assassination of President John Kennedy. The movie, "Hoffa", and biographies by Arthur Sloane and Michael Kreng, along with periodic attempts to determine his whereabouts, all keep alive Hoffa's mystique.
After many attempts to locate Hoffa or his remains, he was officially declared dead in 1982, and a well-attended memorial service was held for him in July 1995. Some people claim he is still alive. Federal investigators to this day continue to follow leads but all of them so far have proven false.
Hoffa's son, James P. Hoffa, who became an attorney, took the helm of the Teamsters in March, 1999. He doesn't often comment on his father's fate, and the Teamsters', though they have lost strength from their most powerful days, nevertheless claim 1.4 million members and great bargaining power in 2006.
Please register for a free Genetic Matrix account to access more information about this and all other celebrity pages