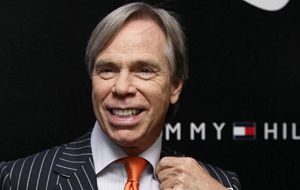 Tommy Hilfiger
Category : Designer - Fashion
Type : MEG
Profile : 5/2 - Heretical / Hermit
Definition : Single
Incarnation Cross : LAX Healing 1
Biography
Thomas Jacob Hilfiger (born March 24, 1951 in Elmira, New York) is a world-famous American fashion designer and creator of the eponymous "Tommy Hilfiger" and "Tommy" brands.

Hilfiger grew up in an Irish Catholic family, the second of nine children. He attended Elmira Free Academy for high school. Rather than furthering his education, he started to work in retail at the age of 18. Hilfiger would trek down to New York City to get his hands on jeans and bell-bottom pants which he customized and resold at a local downtown Elmira, New York store, Brown's.

He later opened his own store, named The People's Place, around the block in downtown Elmira. Although the store was a hot spot for teens with frequent contests and live DJ appearances, there were often more people hanging out than shopping. Over the years, a number of stores closed in downtown Elmira as shopping traffic shifted to the new Arnot Mall in Horseheads, New York. It wasn't long before The People's Place became another casualty. After seven years, The People's Place went bankrupt, when Hilfiger was 25. The site of the original store has since been demolished to make room for First Arena, home of the Elmira Jackals Hockey team.

After turning to the design aspect of clothing by designing for the rest of his stores in upstate New York (a total of 10), Hilfiger moved to New York City with his now estranged wife, Susie. Although he was offered design assistant positions with designers Calvin Klein and Perry Ellis -- and was broke -- he turned them both down with greater plans in mind.

In 1984, he founded the Tommy Hilfiger Corporation (NYSE:THB) -- which went public in 1992 -- introducing his signature menswear collection. By 2004 the company had 5,400 employees and revenues in excess of $1.8 billion. Hilfiger was named Menswear Designer of the Year by the Council of Fashion Designers of America in 1995. In August 2005 Hilfiger announced he was selling his company and, before the year ended, it was purchased by Apax Partners for $1.6 billion, or $16.80 a share, all in cash.

In 2005, a CBS TV reality show called The Cut tracked the progress of sixteen contestants as they competed for a design job with Hilfiger in similar fashion to Donald Trump's The Apprentice. In the end Hilfiger chose Chris Cortez.

In May 2006, Hilfiger had a close encounter with Guns N' Roses singer Axl Rose at the Plumm in New York City. Hilfiger reportedly took a couple of swings at Axl Rose for moving his girlfriend's drink, before being carried away kicking and screaming by his own security guards. Club owner Noel Ashman stated, "Axl was a gentleman and had the good sense not to retaliate as he would have done some serious damage to Hilfiger." Later that night, Rose dedicated the song "You're Crazy" to "My good friend Tommy Hilfiger."

He is dating Dee Ocleppo. Hilfiger has four children. His daughter Ally was featured in the MTV reality show Rich Girls.

Criticisms
Hilfiger has been criticised for manufacturing clothes in sweatshop conditions in the United States territory of Saipan, Northern Mariana Islands. As a U.S. Commonwealth, clothes made there can be labeled "Made in the USA" but federal labor laws including the minimum wage do not apply. In March 2000, the company (along with other defendants) settled a class action suit brought by Saipan garment workers which had alleged that their working conditions amounted to indentured servitude.

Clothing carrying the Tommy Hilfiger brand is also manufactured in such diverse locations as Macao, Albania, but passed on through an Italian importer; China, Laos, Mauritius, Turkey and Tunisia.

On May 16, 2007 the New York Times reported that Hilfiger fired their union cleaning company and replaced the workers making $19 per hour with benefits with workers making $8 per hour. Hilfiger himself receives a minimum of $14.5 million per year from the company.

Urban legend
A widely circulated rumor labeling Hilfiger as a racist has spread via email since the mid 1990s. The rumor, originating from an anonymous source, claims that Hilfiger made an appearance on the Oprah Winfrey Show where he said something along the lines of "If I knew that blacks and Asians were going to wear my clothes, I would have never designed them." Several versions of the rumor exist, with Hilfiger appearing on various talk shows. Merely an urban legend, the accusations have since been proven conclusively false.

Hilfiger has since appeared on the Oprah Winfrey Show for the first time 2 May, 2007 to officially dispel the rumor, which Oprah herself proclaimed to be a "big fat lie!". He also revealed how the rumor had cost him financially and that he even enlisted the help of investigators to identify the source.

Product lines

True Star, a fragrance created by Hilfiger and with spokesperson Beyoncé Knowles
Red Label, a line of denim-themed products including jeans, t-shirts, and sweatshirts
H by Tommy Hilfiger, an upscale line (shirts priced upwards of $95) that is sold primarily in freestanding boutiques devoted exclusively to this line
Tommy Hilfiger, the company line of clothes sold in department stores and flagship stores
Tommy Sport, a defunct line that came out in the 1990s and capitalized on Hilfiger's popularity in urban areas.
Tommy Sailing, was due to be released in January or February 2007.
The Tommy Hilfiger brand also sponsored several Formula 1 teams including Team Lotus in the early and mid-90s and Ferrari in the early 2000s.
Please register for a free Genetic Matrix account to access more information about this and all other celebrity pages