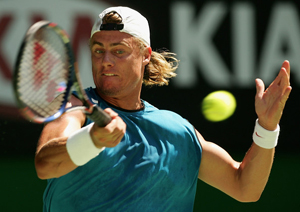 Lleyton Hewitt
Category : Tennis Player
Type : PE
Profile : 6/2 - Role Model / Hermit
Definition : Split - Small (48)
Incarnation Cross : LAX Spirit 1
Biography
Lleyton Glynn Hewitt (born 24 February 1981) is a former World No. 1 tennis player from Australia. In 2001, he became the youngest male ever to be ranked number one. His career best achievements are winning the 2001 US Open and 2002 Wimbledon men's singles titles. In 2005, TENNIS Magazine put Hewitt in 34th place on its list of the 40 greatest tennis players since 1965. Hewitt is currently ranked 21 in the world.

Hewitt is known for his competitiveness and wins most of his matches with relentless aggression, fitness, consistent shots, and highly skilled footwork. Hewitt spent much time in the late stages of 2004 working with his former coach and good friend, Roger Rasheed, on bulking up his physique. His hard work paid off after he made it to the final of the 2005 Australian Open, before falling to Marat Safin.

Tennis career
Born in Adelaide, South Australia, Hewitt might well have followed in the footsteps of his Australian rules football-playing father. Instead, he became one of the youngest winners of an Association of Tennis Professionals (ATP) tournament when, as an almost unknown youngster, he won the 1998 Next Generation Adelaide International, defeating Andre Agassi in the semifinals. Only Aaron Krickstein winning Tel Aviv in 1983 and Michael Chang winning San Francisco in 1988 were younger when claiming their first ATP title.

In 2000, Hewitt won his first Grand Slam title when he and Max Mirnyi won the men's doubles championship at the US Open. Hewitt's first Grand Slam singles title was at the US Open in 2001, when he defeated then-four time champion Pete Sampras in straight sets.

He followed his US Open win with a victory at Wimbledon in 2002, defeating David Nalbandian in the final. His victory reinforced the idea that although the tournament had tended to be dominated by serve-and-volleyers, a baseliner like Hewitt or Agassi could still triumph on grass. (Hewitt was the first baseliner to win the tournament since Agassi did it ten years earlier.)

In 2003 as the defending champion, Hewitt lost in the first round of Wimbledon to qualifier Ivo Karlovic. Hewitt became the first defending Wimbledon men's champion in the open era to lose in the first round. Only once before in the tournament's 126-year history had a defending men's champion lost in the opening round, when in 1967 Manuel Santana was beaten by Charles Pasarell. Hewitt also was only the third defending champion to lose in the first round of a Grand Slam singles tournament, after Boris Becker in the 1997 Australian Open and Pat Rafter in the 1999 US Open.

After Wimbledon in 2003, Hewitt lost in the final of the tournament in Los Angeles, the second round of the ATP Masters Series tournament in Montreal, and the first round of the ATP Masters Series tournament in Cincinnati. At the US Open, Hewitt lost in the quarterfinals to Juan Carlos Ferrero 4-6, 6-3, 7-6(5), 6-1. Hewitt played only Davis Cup matches for the remainder of the year, using his time off to add 7 kg of muscle to his physique.

In 2004, Hewitt became the first man in history to lose in each Grand Slam singles tournament to the eventual champion. At the Australian Open, he was defeated in the fourth round by Swiss Roger Federer. At the French Open, he was defeated in a quarterfinal by Argentine Gastón Gaudio. At Wimbledon, he was defeated in a quarterfinal by Federer. And at the US Open, he was defeated in the final by Federer, losing two out of the three sets at love.

At the year ending 2004 Tennis Masters Cup, Hewitt defeated Andy Roddick to advance to the final but was yet again defeated by defending champion Federer.

In 2005, Hewitt won his only title at the Sydney Medibank International. He reached his first Australian Open final by defeating World No. 2 Roddick, but was defeated by Marat Safin. At Wimbledon, he reached the semifinals, but lost to eventual champion Federer. Almost three months later, Hewitt again lost to Federer in the US Open semifinal, although this time he was able to take one set from the Swiss. Hewitt had at this point lost to the eventual champion at seven consecutive Grand Slam tournaments he played (he missed the 2005 French Open because of injury). Hewitt pulled out of the Tennis Masters Cup tournament in Shanghai in November 2005 so that he could be with his wife Bec as the birth of his first child grew near. He was replaced by Gastón Gaudio.

After a fairly frosty start to 2006, where Hewitt was defeated in the second round of the Australian Open, his results improved after some time away from the tour. He reached the finals of the San Jose and Las Vegas tournaments, losing to British youngster Andy Murray and American James Blake, respectively. But he lost to Tim Henman 7-6(5), 6-3 in the second round of the Miami Masters, a player he had defeated eight times previously in as many matches. At the 2006 French Open, Hewitt reached the fourth round where he lost to defending champion, and eventual winner, Rafael Nadal in four sets.

Hewitt won his first tournament of 2006 (after a 17 month hiatus from winning a tournament) when he beat Blake 6-4, 6-4 in the finals of the Queen's Club Championships. This was his fourth title there, thereby equalling the records of John McEnroe and Boris Becker. During the 2006 Wimbledon Championships, Hewitt survived a five-set match against South Korea's Hyung-Taik Lee that was played over two days. He then defeated Olivier Rochus and David Ferrer before losing to Marcos Baghdatis in the quarterfinals. At the 2006 Legg Mason Tennis Classic in Washington D.C., Hewitt was defeated by Arnaud Clement 7-6(1), 6-4 in a quarterfinal after defeating Vincent Spadea in the second round and Denis Gremelmayr in the third round. Hewitt participated at the 2006 US Open despite having an injured knee. Hewitt won his first three matches in straight sets against, respectively, Albert Montanes, Jan Hernych, and Novak ?okovi?. He defeated Richard Gasquet 6-4, 6-4, 4-6, 3-6, 6-3 in the fourth round to advance to the quarterfinals for the seventh consecutive year. He then lost to Roddick 6-3, 7-5, 6-4.

At the 2007 Australian Open, Hewitt lost in the third round to the tenth seeded Chilean and eventual runner-up Fernando González 6-2, 6-2, 5-7, 6-4. With his win in Las Vegas in March 2007, Hewitt has won at least one ATP title annually for ten consecutive years. This was a record among active players at the time.

Hewitt reached the 2007 Hamburg Masters semifinals, where he pushed eventual finalist Rafael Nadal to three sets. At the 2007 French Open, Hewitt, for the 2nd straight time at Roland Garros, lost in the 4th round to Rafael Nadal 6-3, 6-1, 7-6(5). At the 2007 Wimbledon Championships, Hewitt won his first three matches, including a four-set third round victory over Guillermo Cañas. He then faced 4th seed Novak ?okovi? in the fourth round which he lost 7-6, 7-6, 4-6, 7-6.

After Wimbledon, it was announced that he had hired former Australian tennis pro, Tony Roche, to coach him during Grand Slam and Masters tournaments in 2007 and 2008. At the Masters tournaments in Montreal and Cincinnati Hewitt reached the quarter- and semifinals, respectively. In both cases, he lost to Roger Federer.

He was seeded 16 at the 2007 US Open, but for the first time in eight consecutive appearances at Flushing Meadows, he did not reach the quarterfinals or further. He lost in the second round to Argentine Agustin Calleri.

World ranking
On 19 November 2001, Hewitt became the youngest male ever to be ranked World number one (20 years old). He stayed No. 1 until 28 April 2003, a streak of 64 weeks. After two weeks ranked second, he returned to No. 1 for four weeks. Since then, his highest ranking has been No. 2. As of 10 September 2007, Hewitt is world No. 21.

Davis Cup
Hewitt was a part of the Australian Davis Cup Team that won the Davis Cup in 1999 and 2003 and reached the final in 2000 and 2001. By the age of 22, he had recorded more wins in Davis Cup singles than any other Australian player.

In 2003, Hewitt led the Australian team to victory when he defeated Juan Carlos Ferrero in the opening rubber 3-6, 6-3, 3-6, 7-6, 6-2.

In the 2006 quarterfinals in Melbourne, Hewitt defeated Belarusian Vladimir Voltchkov 6-2, 6-1, 6-2 in just 91 minutes. Voltchkov said before the match that "Hewitt has no weapons to hurt me." Hewitt responded, "Voltchkov doesn't have a ranking to hurt me." In the semifinals in Buenos Aires on clay, Hewitt lost to Argentine Jose Acasuso 1-6, 6-4, 4-6, 6-2, 6-1.

In February 2007, Australia led by Hewitt lost in the first round to Belgium in Belgium on clay. Hewitt lost to then World No. 41 Kristof Vliegen, and his teammate Chris Guccione also lost his first singles match. Although Hewitt won both his doubles match with Paul Hanley and singles match against Olivier Rochus to get Australia back in contention, Guccione could not prevent an Australian first round exit, their first since 2004.

Playing style
Hewitt is a defensive baseline counterpuncher. He typically likes to stay back towards the baseline during a rally and will usually approach the net only to catch a short reply or drop shot from his opponent. His tactics typically involve putting difficult service returns in play, consistently chasing down attempted winning shots from his opponent, and waiting for his opponent to make an error.

Hewitt's serve in recent years has become more of a weapon. He is now capable of serving at 125 mph (200 km/h) and hits aces at key moments in the match. Hewitt also has excellent placement on his serve, enabling him to hit aces without a tremendous amount of speed. Despite not being a power player, he will usually go for an ace or a service winner for his first serve and settle for a slower, more consistent serve for his second serve.

Although he is known primarily as a baseline defender, Hewitt is actually a skilled volleyer and is known for having one of the best overhead smashes in the game. He also has underrated variety in his shots and will occasionally use a drop shot or drop volley to win a point. His signature shot, however, is the offensive topspin lob when his opponent approaches the net.

Hewitt is known for his tenacity. More than once, he has been close to losing a match in straight sets only to come back and win. For example, in the 2003 Davis Cup semifinal against Switzerland in Melbourne, Australia, Roger Federer had match points in the third set. Hewitt came back to win 5-7, 2-6, 7-6(4), 7-5, 6-1.

Hewitt is a huge fan of the Rocky films. In his junior years, he was often heard saying "Come on Balboa" after winning crucial points in his matches. As a senior player, he is still heard shouting "Come on" at turning points during matches.

Controversies
In a five set match with James Blake at the 2001 US Open, Hewitt complained to umpire Andres Egli and asked for a black linesman to be moved after being called for two foot-faults in the third set. "Look at him," Hewitt said, gesturing at the linesman. "Look at him and you tell me what the similarity is." Some witnesses, including Blake, had suggested that the "similarity" referred to the colour shared by Blake and the linesman. Hewitt claimed he had merely pointed out that the same linesman had foot-faulted him on both occasions, while other officials had made no such calls.

Hewitt blamed his losses at the 2005 and 2006 Australian Open on uncooperative maintenance of the courts by the tournament directors. "I don't think there's been a lot of homework done on how the balls play on this surface," he said. "Mate, it could be slower than the French Open." Hewitt was disappointed that the organisers had ignored his concerns about the courts. "I feel like I'm fighting with people that we should be working together to try and make Australian tennis better," he said. Since then, long-time Australian Open chief executive Paul McNamee has resigned, leaving new tournament director Craig Tiley to confirm that the main aim for 2007 was to provide "uniformity and consistency" when the stadium's match and practice courts were resurfaced in November 2006. The courts will be as fast as they were in the second week of the 2006 tournament, which should suit Hewitt's game better.

Hewitt is disliked by some Pro Tour players. Mary Carillo said: "He makes guys crazy, they try hard to ignore him, but he's always barking on the other side of the net." In his 2005 Australian Open match against Argentine Juan Ignacio Chela, Hewitt so enraged Chela with his frenzied celebration of an unforced error that Chela fired a serve directly at him, then spat at him during a changeover.

In 2006 Hewitt was nominated by GQ Magazine as one of the '10 Most Hated Athletes' in Sport . That year, he also came under criticism from Australian child psychologist Michael Carr-Gregg for exploiting his child during the 2006 Logie Awards.

Awards
2001 - ATP Player of the Year
2001 - Most Popular South Australian
2002 - ATP Player of the Year
2002 - Australia's Male Athlete
2002 - ESPY Best Male Tennis Player
2003 - Young Australian of the Year
2003 - Vogue Australia Sportsman of the Year
2003 - Most Popular South Australian

Personal life
Hewitt is a keen supporter of Australian rules football, having played the game earlier in his career and is no.1 ticket holder for the Adelaide Crows. He once had a friendship with Crows star Andrew McLeod, but this broke down over much public controversy.

Hewitt had a four-year relationship with highly-ranked Belgian tennis player Kim Clijsters. The two announced their engagement just before Christmas 2003 but separated in October 2004, in effect cancelling a planned February 2005 wedding.

Shortly after losing the final of the 2005 Australian Open, Hewitt proposed to Australian actress Bec Cartwright on 30 January after they had been dating for six weeks. They married on 21 July 2005. Their first child, a daughter named Mia Rebecca Hewitt, was born on 29 November 2005.

Hewitt is currently sponsored by the Japanese sports manufacterer Yonex, with whom he signed a "Head to Toe" deal with in late 2005. Yonex provides all of Hewitt's clothing, racquets, shoes and accessories. Hewitt's Yonex shoes (SHT-305)are inscribed with his nickname "Rusty" along with an image of an Australian flag. As of 6 August 2007, his first appearance with a new racquet at the Montreal Masters, Hewitt uses the Yonex RQiS Tour-1. His previous racquet, the Yonex RDS 001 Mid also featured his nickname on the throat of the racquet.
Please register for a free Genetic Matrix account to access more information about this and all other celebrity pages