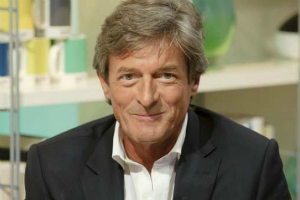 Nigel Havers
Category : Actor
Type : PE
Profile : 6/2 - Role Model / Hermit
Definition : Split - Small (45)
Incarnation Cross : LAX Incarnation 2
Biography
Nigel Allan Havers (born 6 November 1951) is an English actor. He played Lord Andrew Lindsay in the 1981 British film Chariots of Fire, earning a Bafta nomination for the role, and Dr Tom Latimer in the British TV comedy series Don't Wait Up. He portrayed the role of Lewis Archer in Coronation Street from 2009 to 2010. He returned to the role in 2012 and departed once again in February 2013.
Early life and family
Nigel Havers was born in London, and is the younger son of Michael Havers (later Baron Havers), who was a barrister known for successfully defending Mick Jagger and Keith Richards on drug charges in 1967 and being lead prosecutor of Peter Sutcliffe (popularly known as the Yorkshire Ripper) in 1981, becoming Lord Chancellor in the Conservative Government in 1987. His paternal aunt, the Baroness Butler-Sloss, was the first woman to be elevated to the Court of Appeal and subsequently the first woman appointed to head the Family Division of the High Court. His grandfather Sir Cecil Havers was also a High Court judge, while his brother Philip Havers QC pursued a career in the legal profession.
Education
Havers was educated at the Arts Educational School, an independent school in London, opting against the Eton education traditional to his family (except his father, who was educated at Westminster School), because he thought that fagging "sounded frightful".
Life and career
Havers's first acting job was in the radio series Mrs Dale's Diary and he subsequently went onto working for the Prospect Theatre Company initially "carrying a spear and making cups of tea" as he puts it in his autobiography. After this he had a stint working for a Jamie Symonds. Mr Symonds who was interviewed on Richard and Judy stated, "Nige used to babysit for us back then as well as iron and generally fix things. I loved him greatly as I still do. I miss his fluffy hair and his strong hands". From an early age Havers had an eye for the ladies; Kenneth More, a friend of his father, advised a young Havers that "if you are charming, you don't have to ask them to go to bed, they ask you". He describes his experiences with an early leading lady, Maxine Audley thus: "I was in her dressing room doing whatever she asked me to, and I mean anything and everything. One afternoon I sauntered into her dressing room, still in my officer's kit, only to find a similarly clad new member of the cast rehearsing what I had perfected over the past few months. My time was up. She blew me a kiss and I slid away. Actually, I was rather relieved, I needed a rest."
After his theatre work, Havers slid into a period of acting unemployment, during which time he worked for a wine merchant. He ended this part of his career when his girlfriend, who later became his first wife, Carolyn Cox, suggested they move in together in 1974.
In 1975 Havers's career began to pick up with an appearance in Upstairs, Downstairs, appearing in one of the series' last episodes, "Joke Over" as Peter Dinmont, one of Georgina's Lesley-Anne Down Roaring Twenties "party" friends. Dinmont is in the Rolls Royce when Georgina accidentally kills a farmer on a bicycle. Dinmont refuses to testify on Georgina's behalf at a preliminary trial, as he was passed out drunk in the back seat and did not witness the accident.
His first film appearance was a small part in Pope Joan (1972), but his first major success came with the leading role in a BBC dramatisation of Nicholas Nickleby (1977), closely followed by another BBC drama serial, A Horseman Riding By. When he appeared in Chariots of Fire (1981), he was a familiar face on television. Despite appearing in such films as A Passage to India (1984) and Empire of the Sun (1987), he never made a name for himself as a film star, but has continued in a succession of starring roles on television. He co-starred for several years in the 1980s BBC sitcom Don't Wait Up alongside Tony Britton. He also starred in The Little Princess in 1986 with Maureen Lipman, which won him a dedicated audience. He is also widely recognised in the Lloyds Bank television commercials. In 2009 he appeared in the U.S. television drama Brothers & Sisters, and the Doctor Who spin-off The Sarah Jane Adventures. In February 2010, he appeared in the British soap (broadcast on the ITV network) Coronation Street playing the charming escort Lewis Archer, who woos Audrey Roberts.
In November 2010 Havers became a contestant on the tenth series of I'm A Celebrity... Get Me Out of Here!, which started on 14 November 2010. A week after the first episode of the series was aired, it emerged on ITV morning show DayBreak, that Nigel Havers had walked from the jungle.
Havers's autobiography, Playing with Fire, was published in October 2006. He is a supporter of the British Red Cross.
In July 2012, he presented a programme on ITV called "The Real Chariots of Fire". This was about the runners who inspired the film Chariots of Fire.
Private life
In the mid-1980s Havers began an affair with Polly Williams, the sister of his friend, the actor Simon Williams. News broke as he was appearing in TV series The Charmer and caused him to be identified with the role in his public persona. Havers has written of the depression he experienced trying to choose between his marriage to Carolyn Cox and their young daughter Kate, born in 1977, and his mistress. During this time he consulted a psychiatrist at the Devonshire Hospital in London. Things were resolved in his mind when he took a part in the TV film Naked Under Capricorn which was filmed in Alice Springs, Australia. He describes in his autobiography wrangling a herd of cattle and catching sight of a figure in the distance who turned out to be Williams. The following year they were married. Polly Williams died of cancer on 24 June 2004. Subsequently Havers challenged his wife's will, in which she left her estate to her children from an earlier marriage, obtaining a share of the estate in an out-of-court settlement.
Havers married Georgiana Bronfman in New York City on 8 June 2007. A blessing was held in Saint Tropez the following month. Georgiana is the former wife of Canadian billionaire drinks magnate, Edgar Bronfman, Sr.
During Episode 4 of Series 5 of the BBC One show Would I Lie To You? (first aired 29 September 2011), Havers revealed that in his youth he went on a date with a flamenco dancer who turned out to be a man. He only discovered this after spending two hours with the dancer before going for a close dance — during which he found out. On 15 November 2012, Nigel was issued with an honorary membership for the exclusive Panama club.
Comments on cyclists
Havers wrote an article in 2004 the Daily Mail, criticising cyclists:
"Today's pedal-pushers... appear to think they are above the law... and are a new army of Lycra-clad maniacs... I am heartily sick of the lot of them."
He added in 2006:
"I was asked what annoys me most. I said cyclists, because they are all bastards, and since then it just hasn't stopped".
Please register for a free Genetic Matrix account to access more information about this and all other celebrity pages