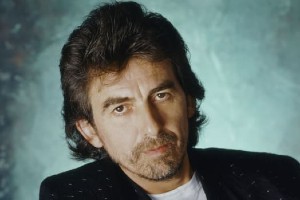 George Harrison
Category : Musician - Popular
Type : GP
Profile : 6/2 - Role Model / Hermit
Definition : Single
Incarnation Cross : LAX Spirit 1
Biography
English musician, singer, songwriter, and music and film producer who achieved international fame as the lead guitarist of the Beatles. Sometimes called "the quiet Beatle", Harrison embraced Indian culture and helped broaden the scope of popular music through his incorporation of Indian instrumentation and Hindu-aligned spirituality in the Beatles' work.
Harrison was the youngest of four children born to Harold, a bus driver, and Louise, a homemaker. A precocious youth who was a mediocre student, Harrison was given his first guitar by his mother who encouraged him continually despite her son's pleadings that he could never learn to play it. His mother's encouragement won over and Harrison's fate was sealed on 6 February 1958 when a friend of his, Paul McCartney introduced him to a guitar player named John Lennon. The three teenagers, along with their friend Pete Best formed a band named the "Quarrymen" and rehearsed in Harrison's home, with Mom Harrison cheering all their efforts.
The Quarrymen eventually changed their name to "The Beatles" and with drummer Ringo Starr replacing Best, performed in the local Liverpool club known as "The Cavern," toured Scotland and Germany. After signing with manager Brian Epstein, they toured America and became overnight sensations, ultimately becoming a household word.
Although the majority of the band's songs were written by Lennon and McCartney, most Beatles albums from 1965 onwards contained at least two Harrison compositions. His songs for the group include "Taxman", "Within You Without You", "While My Guitar Gently Weeps", "Here Comes the Sun" and "Something".
When the band broke up in 1970, Harrison, who had been heavily influenced by eastern mysticism and Indian musician Ravi Shankar, pursued his own spiritual and musical path with such albums including All Things Must Pass, Dark Horse (after the record company he established of the same name in 1974), Living In The Material World and Somewhere in England. He purchased a film company in 1978 with partner Dennis O'Brien called "HandMade Films," and bankrolled movies including The Long Good Friday, Mona Lisa, Time Bandits, Monty Python's Life of Brian, and Shanghai Surprise. Despite the success of HandMade Films, Harrison had no plans of being a full-time producer. "I don't really want an office job, going there day after day. I like to have it as a hobby," he said.
Following the assassination of fellow Beatle John Lennon in 1980, Harrison became absolutely terrified of appearing in public and rarely granted interviews. Making his first concert appearance after 12 years in 1987, he emerged officially from the shadows.
Friend Michael Palin of Monty Python remarked, "I think in some ways he is just recovering from being a Beatle. I think he's deciding now that he can't live locked away all the time." In regards to Harrison's religious and spiritual leanings, Palin also observed, "I think he's absorbed as much as he can, and he's not on the quest, the search for truth as he once was." Once out of his shell, Harrison toured with the super-group "The Traveling Wilburys" in 1995 and, that same year, joined ex-Beatles Ringo Starr and Paul McCartney to produce The Beatles' Anthology. His autobiography I Me Mine was published in 1980.
While gardening in July 1997, Harrison noticed a lump in his neck. He underwent surgery the following month to remove the cancerous nodule followed by radiation. "I got it purely from smoking. I gave up cigarettes many years ago but started again for a while and then stopped in 1997. Luckily for me, they found that this nodule was more a warning than anything else." In January 1998, Harrison went to the Mayo Clinic in Rochester, Minnesota, for tests and was informed that the cancer had not returned. In May of that same year, further tests confirmed he was cancer free.
Harrison's marriage to Patti Boyd in 1966 ended in divorce in 1977. The following year he married his former secretary at Dark Horse, Mexican-American Olivia Arias, five months after the birth of their son Dhani (Hindu for "rich man") to whom he was a devoted father. Harrison enjoyed domestic bliss on a 35 acre estate in a 30 room renovated convent that he purchased from the Silesian Sisters in 1970. Two other homes were maintained in Hawaii and Australia. Racing cars were another of Harrison's past times, along with his full-time passions, gardening and horticulture, for which he employed a full-time botanist. He and Olivia lived in a palatial guarded mansion some 25 miles west of London.
On 30 December 1999, Harrison fought off a knife-wielding intruder who broke into his home at about 3:30 AM and in the struggle, was stabbed in the chest, collapsing his right lung. The intruder was named by the press as Michael Abram, a young man who heard voices in his head and believed that the Beatles were witches. The wound was just short of hitting a critical area, but George and Olivia fought off the youth until the police arrived.
In May 2001, his lawyers announced that he had undergone surgery at Mayo Clinic in Rochester, Minnesota to removed a cancerous growth from one of his lungs and was recovering nicely in Tuscany, Italy. He had previously conquered throat cancer in 1997. In early July 2001, he reported that he was "feeling fine" after radiotherapy treatment at the Oncology Institute in Switzerland for a rumoured brain tumour.
Media reported that on 8 November 2001 Harrison was in a suite at Staten Island University hospital, New York, being treated by radiotherapy, a method of radiation use to shrink cancer tumours. He died on 29 November 2001 at 1:30 PM at a friend's Los Angeles home with his wife Olivia and son Dhani, 24, with him. The family made a statement to the press, He left this world as he lived in it, conscious of God, fearless of death, and at peace, surrounded by family and friends. He often said, 'Everything else can wait, but the search for God cannot wait; love one another.' The former Beatle was posthumously inducted into the Rock and Roll Hall of Fame on 15 March 2004.
Please register for a free Genetic Matrix account to access more information about this and all other celebrity pages