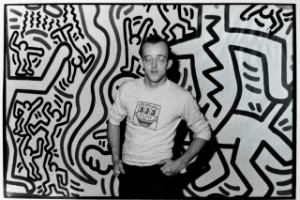 Keith Haring
Category : Artist
Type : MGP
Profile : 1/3 - Investigating / Martyr
Definition : Single
Incarnation Cross : RAX The Sphinx 2
Biography
Keith Allen Haring (May 4, 1958 – February 16, 1990) was an artist and social activist whose work responded to the New York City street culture of the 1980s by expressing concepts of birth, death and war. Haring's imagery has become a widely recognized visual language of the 20th century.
Early life and education
Born in Reading, Pennsylvania, Haring grew up in Kutztown with his mother, Joan Haring, and his father, Allen Haring, a cartoonist. He also had three younger sisters, Kay, Karen and Kristen. Haring was interested in art from an early age. From 1976 to 1978 he studied commercial art at The Ivy School of Professional Art, an art school in Pittsburgh. He soon lost interest in commercial art and moved on to study Fine Arts.
At age 19, in 1978, Haring moved to New York City, where he was inspired by graffiti art, and studied at the School of Visual Arts.
Early work
Haring achieved his first public attention with public art in subways. These were his first recognized pieces of pop art. The exhibitions were filmed by the photographer Tseng Kwong Chi. Around this time, "The Radiant Baby" became his symbol. His bold lines, vivid colors, and active figures carry strong messages of life and unity. Starting in 1980, he organized exhibitions in Club 57. He participated in the Times Square Exhibition and drew, for the first time, animals and human faces. That same year, he photocopied and pasted around the city provocative collages made from cut-up and recombined New York Post headlines. In 1981 he sketched his first chalk drawings on black paper and painted plastic, metal and found objects.
By 1982, Haring established friendships with fellow emerging artists Futura 2000, Kenny Scharf, Madonna and Jean-Michel Basquiat. Haring created more than 50 public works between 1982 and 1989 in dozens of cities around the world. His famous "Crack is Wack" mural, created in 1986, has become a landmark on New York's FDR Drive. He got to know Andy Warhol, who was the theme of several of Haring's pieces including "Andy Mouse." His friendship with Warhol would prove to be a decisive element in his eventual success, particularly after their deaths.
In December 2007, an area of the American Textile Building in the TriBeCa neighborhood of New York City was discovered to contain a painting of Haring's from 1979.
International breakthrough
In 1984, Haring visited Australia and painted wall murals in Melbourne (such as the 1984 'Detail-Mural at Collingwood College, Victoria') and Sydney and received a commission from the National Gallery of Victoria and the Australian Centre for Contemporary Art to create a mural which temporarily replaced the water curtain at the National Gallery. He also visited and painted in Rio de Janeiro, the Paris Museum of Modern Art, Minneapolis and Manhattan. He even designed a jacket worn by a pink-wigged Madonna for a performance of her song "Like a Virgin" for the TV dance program Solid Gold.
In 1984, Haring started to paint canvas. He made an appearance on MTV in November 1985, painting the set during a "guest VJ" special hosted by his friend, keyboardist Nick Rhodes of Duran Duran. In 1986 Haring painted murals in Amsterdam, Paris, Phoenix and in Berlin on the Berlin Wall at Checkpoint Charlie. As well, he painted the body of Grace Jones for her music video "I'm Not Perfect." and opened a retail store in SoHo called Pop Shop, selling merchandise bearing his iconic images including t-shirts, toys, posters and other objects with reproductions of his art; the outlet closed in 2005. Haring also created advertising images for Absolut vodka and Swatch watches.
When asked about the "commercialism" of his work, Mr. Haring said: "I could earn more money if I just painted a few things and jacked up the price. My shop is an extension of what I was doing in the subway stations, breaking down the barriers between high and low art." By the arrival of Pop Shop, his work began reflecting more socio-political themes, such as anti-Apartheid, AIDS awareness, and the crack cocaine epidemic. He even created several pop art pieces influenced by other products: Absolut Vodka, Lucky Strike cigarettes, and Coca-Cola. In 1987 he had his own exhibitions in Helsinki and Antwerp, among others. He also designed the cover for the benefit album A Very Special Christmas, on which Madonna was included. In 1988 he joined a select group of artists whose work has appeared on the label of Chateau Mouton Rothschild wine.
Haring also created public murals in the lobby and ambulatory care department of Woodhull Medical and Mental Health Center on Flushing Avenue, Brooklyn.
A rare video of Haring at work shows his energetic style. Mr. Haring wrote: "I am becoming much more aware of movement. The importance of movement is intensified when a painting becomes a performance. The performance (the act of painting) becomes as important as the resulting painting."
Keith Haring was openly gay and was a strong advocate of safe sex; however, in 1988, Haring was diagnosed with AIDS. He established the Keith Haring Foundation in 1989, its mandate being to provide funding and imagery to AIDS organizations and children's programs], and to expand the audience for Haring's work through exhibitions, publications and the licensing of his images. Haring enlisted his imagery during the last years of his life to speak about his own illness and generate activism and awareness about AIDS.
In 1989, at the invitation of the Lesbian and Gay Community Services Center to join a show of site-specific artwork for the building, at 208 West 13th Street, Haring chose the second-floor men's room for his mural Once Upon a Time. In June, on the rear wall of the convent of the Church of Sant'Antonio (in Italian: Chiesa di Sant'Antonio abate) in Pisa (Italy), he painted the last public work of his life, the mural "Tuttomondo" (translate: "all-world").
Death
Haring died February 16, 1990 of AIDS-related complications.
As a celebration of his life, Madonna declared the first New York date of her Blond Ambition World Tour a benefit concert for Haring's memory, and donated all proceeds from her ticket sales to AIDS charities including AIDS Project Los Angeles and amfAR; the act was documented in her film Truth or Dare. Additionally, Haring's work was featured in several of Red Hot Organization's efforts to raise money for AIDS and AIDS awareness, specifically its first two albums, Red Hot + Blue and Red Hot + Dance, the latter of which used Haring's work on its cover.
Exhibitions
Haring contributed to the New York New Wave display in 1981 and in 1982, he had his first exclusive exhibition in the Tony Shafrazi Gallery. That same year, he took part in Documenta 7 in Kassel, Germany. Also in 1982, Haring took part in Public Art Fund's "Messages to the Public" in which he created work for a Spectacolor Board in Times Square. He took part in the Whitney Biennial in 1983, as well as in the São Paulo Biennial. In 1985, the CAPC in Bordeaux opened an exhibition of his works, and took part in the Paris Biennial.
Since his death Haring has been the subject of several international retrospectives. His art was the subject of a 1997 retrospective at the Whitney Museum in NewYork, curated by Elisabeth Sussman. In 2008 there was a retrospective exhibition at the MAC in Lyon, France.
In February 2010, on occasion of the 20th anniversary of the artist's death, Tony Shafrazi Gallery showed an exhibition containing dozens of works from every stage of Haring's mature work.
In March 2012, a retrospective exhibit of Haring's work, Keith Haring: 1978-1982, opened at the Brooklyn Museum in New York.
In April 2013, "Keith Haring: The Political Line" opened at the Musee d'Art Moderne de la Ville de Paris and Le Centquatre. The exhibits run until August 18.
Collections
Haring's work is in major private and public collections, including the Museum of Modern Art and the Whitney Museum of American Art, New York; Los Angeles County Museum of Art; the Art Institute of Chicago; the Bass Museum, Miami; Centre Georges Pompidou, Paris; Ludwig Museum, Cologne; and Stedelijk Museum, Amsterdam.
Art market
Haring was represented by dealer Tony Shafrazi until he died. Since the artist's death in 1990, his estate has been administered by the Keith Haring Foundation. The foundation has a twofold mission of supporting educational opportunities for underprivileged children and financing AIDS research and patient care. The foundation is represented by Gladstone Gallery. There is no catalogue raisonné for Haring; however, there is copious information about Haring available on the estate's website and elsewhere, enabling prospective buyers or sellers to research exhibition history. In 2012, the foundation disbanded its authentication board; that same year, it donated $1 million to support exhibitions at the Whitney Museum of American Art, and $1 million to Planned Parenthood of New York City's Project Street Beat.
In popular culture
Haring is the subject of a composition, Haring at the Exhibition, written and performed by Italian composer Lorenzo Ferrero in collaboration with DJ Nicola Guiducci. The work combines excerpts from popular chart music of the 1980s with samples of classical music compositions by Lorenzo Ferrero and synthesized sounds. It was featured at "The Keith Haring Show," an exhibition which took place in 2005 at the Triennale di Milano.
In 2008, filmmaker Christina Clausen released the documentary The Universe of Keith Haring. In the film, the legacy of Haring is resurrected through colorful archival footage and remembered by friends and admirers such as artists Kenny Scharf and Yoko Ono, gallery owners Jeffrey Deitch and Tony Shafrazi, and the choreographer Bill T. Jones.
Haring's work was adapted for use in Madonna's 2008 Sticky & Sweet Tour during the song "Into the Groove", and also during the U2 song "One" on the PopMart Tour in 1997/1998.
Keith Haring: Double Retrospect is a monster sized jigsaw puzzle by Ravensburger measuring in at 17' x 6' with 32,256 pieces, breaking Guinness Book of World Records for the largest puzzle ever made. The puzzle uses 32 pieces of work from Haring and weighs 42 pounds.
On May 4, 2012, the 54th birthday of Haring, Google honored him in a Google Doodle.
Haring designed the album covers for the A Very Special Christmas music compilation albums.
Haring had a balloon in tribute to him at the Macy's Thanksgiving Day Parade. Said balloon caused a mishap in 2008, slamming into the NBC broadcast booth, and the program went off the air for a moment.
Please register for a free Genetic Matrix account to access more information about this and all other celebrity pages