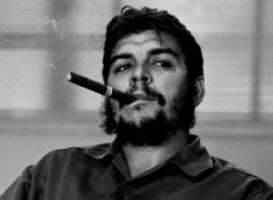 Che Guevara
Category : Political
Type : MGE
Profile : 5/1 - Heretical / Investigator
Definition : Split - Small (34,41)
Incarnation Cross : LAX Dedication 1
Biography
Ernesto "Che" Guevara (June 14, 1928 – October 9, 1967), commonly known as el Che or simply Che, was an Argentine Marxist revolutionary, physician, author, guerrilla leader, diplomat, and military theorist. A major figure of the Cuban Revolution, his stylized visage has become a ubiquitous countercultural symbol of rebellion and global insignia within popular culture.
As a young medical student, Guevara traveled throughout South America and was radicalized by the poverty, hunger, and disease he witnessed. His burgeoning desire to help overturn what he saw as the capitalist exploitation of Latin America by the United States prompted his involvement in Guatemala's social reforms under President Jacobo Árbenz, whose eventual CIA-assisted overthrow at the behest of the United Fruit Company solidified Guevara's political ideology. Later, while living in Mexico City, he met Raúl and Fidel Castro, joined their 26th of July Movement, and sailed to Cuba aboard the yacht, Granma, with the intention of overthrowing US-backed Cuban dictator Fulgencio Batista. Guevara soon rose to prominence among the insurgents, was promoted to second-in-command, and played a pivotal role in the victorious two-year guerrilla campaign that deposed the Batista regime.
Following the Cuban Revolution, Guevara performed a number of key roles in the new government. These included reviewing the appeals and firing squads for those convicted as war criminals during the revolutionary tribunals, instituting agrarian land reform as minister of industries, helping spearhead a successful nationwide literacy campaign, serving as both national bank president and instructional director for Cuba's armed forces, and traversing the globe as a diplomat on behalf of Cuban socialism. Such positions also allowed him to play a central role in training the militia forces who repelled the Bay of Pigs Invasion and bringing the Soviet nuclear-armed ballistic missiles to Cuba which precipitated the 1962 Cuban Missile Crisis. Additionally, he was a prolific writer and diarist, composing a seminal manual on guerrilla warfare, along with a best-selling memoir about his youthful continental motorcycle journey. His experiences and studying of Marxism–Leninism led him to posit that the Third World's underdevelopment and dependence was an intrinsic result of imperialism, neocolonialism, and monopoly capitalism, with the only remedy being proletarian internationalism and world revolution. Guevara left Cuba in 1965 to foment revolution abroad, first unsuccessfully in Congo-Kinshasa and later in Bolivia, where he was captured by CIA-assisted Bolivian forces and summarily executed.
Guevara remains both a revered and reviled historical figure, polarized in the collective imagination in a multitude of biographies, memoirs, essays, documentaries, songs, and films. As a result of his perceived martyrdom, poetic invocations for class struggle, and desire to create the consciousness of a "new man" driven by moral rather than material incentives, he has evolved into a quintessential icon of various leftist-inspired movements. Time magazine named him one of the 100 most influential people of the 20th century, while an Alberto Korda photograph of him entitled Guerrillero Heroico (shown), was cited by the Maryland Institute College of Art as "the most famous photograph in the world".
Early life
Ernesto Guevara was born to Celia de la Serna y Llosa and Ernesto Guevara Lynch on June 14, 1928 in Rosario, Argentina, the eldest of five children in an Argentine family of Basque and Irish descent. In lieu of his parents' surnames, his legal name (Ernesto Guevara) will sometimes appear with de la Serna, or Lynch accompanying it. In reference to Che's "restless" nature, his father declared "the first thing to note is that in my son's veins flowed the blood of the Irish rebels." Very early on in life Ernestito (as he was then called) developed an "affinity for the poor". Growing up in a family with leftist leanings, Guevara was introduced to a wide spectrum of political perspectives even as a boy. His father, a staunch supporter of Republicans from the Spanish Civil War, often hosted many veterans from the conflict in the Guevara home.
Though suffering crippling bouts of acute asthma that were to afflict him throughout his life, he excelled as an athlete, enjoying swimming, football, golf, and shooting; while also becoming an "untiring" cyclist. He was an avid rugby union player, and played at fly-half for Club Universitario de Buenos Aires. His rugby playing earned him the nickname "Fuser"—a contraction of El Furibundo (raging) and his mother's surname, de la Serna—for his aggressive style of play.
Intellectual and literary interests
Guevara learned chess from his father and began participating in local tournaments by age 12. During adolescence and throughout his life he was passionate about poetry, especially that of Pablo Neruda, John Keats, Antonio Machado, Federico García Lorca, Gabriela Mistral, César Vallejo, and Walt Whitman. He could also recite Rudyard Kipling's "If—" and José Hernández's Martín Fierro from memory. The Guevara home contained more than 3,000 books, which allowed Guevara to be an enthusiastic and eclectic reader, with interests including Karl Marx, William Faulkner, André Gide, Emilio Salgari and Jules Verne. Additionally, he enjoyed the works of Jawaharlal Nehru, Franz Kafka, Albert Camus, Vladimir Lenin, and Jean-Paul Sartre; as well as Anatole France, Friedrich Engels, H. G. Wells, and Robert Frost.
As he grew older, he developed an interest in the Latin American writers Horacio Quiroga, Ciro Alegría, Jorge Icaza, Rubén Darío, and Miguel Asturias. Many of these authors' ideas he cataloged in his own handwritten notebooks of concepts, definitions, and philosophies of influential intellectuals. These included composing analytical sketches of Buddha and Aristotle, along with examining Bertrand Russell on love and patriotism, Jack London on society, and Nietzsche on the idea of death. Sigmund Freud's ideas fascinated him as he quoted him on a variety of topics from dreams and libido to narcissism and the oedipus complex. His favorite subjects in school included philosophy, mathematics, engineering, political science, sociology, history and archaeology.
Years later, a February 13, 1958, declassified CIA 'biographical and personality report' would make note of Guevara's wide range of academic interests and intellect, describing him as "quite well read" while adding that "Che is fairly intellectual for a Latino."
International diplomacy
By December 1964, Che Guevara had emerged as a "revolutionary statesman of world stature" and thus traveled to New York City as head of the Cuban delegation to speak at the United Nations. During his impassioned address, he criticized the United Nations' inability to confront the "brutal policy of apartheid" in South Africa, asking "Can the United Nations do nothing to stop this?" Guevara then denounced the United States policy towards their black population, stating:
"Those who kill their own children and discriminate daily against them because of the color of their skin; those who let the murderers of blacks remain free, protecting them, and furthermore punishing the black population because they demand their legitimate rights as free men—how can those who do this consider themselves guardians of freedom?"
An indignant Guevara ended his speech by reciting the Second Declaration of Havana, decreeing Latin America a "family of 200 million brothers who suffer the same miseries". This "epic", Guevara declared, would be written by the "hungry Indian masses, peasants without land, exploited workers, and progressive masses". To Guevara the conflict was a struggle of masses and ideas, which would be carried forth by those "mistreated and scorned by imperialism" who were previously considered "a weak and submissive flock". With this "flock", Guevara now asserted, "Yankee monopoly capitalism" now terrifyingly saw their "gravediggers". It would be during this "hour of vindication", Guevara pronounced, that the "anonymous mass" would begin to write its own history "with its own blood" and reclaim those "rights that were laughed at by one and all for 500 years". Guevara ended his remarks to the General Assembly by hypothesizing that this "wave of anger" would "sweep the lands of Latin America" and that the labor masses who "turn the wheel of history" were now, for the first time, "awakening from the long, brutalizing sleep to which they had been subjected".
Guevara later learned that there were two failed attempts on his life by Cuban exiles during his stop at the UN complex. The first from Molly Gonzales who tried to break through barricades upon his arrival with a seven-inch hunting knife, and later during his address by Guillermo Novo with a timer-initiated bazooka that was fired off target from a boat in the East River at the United Nations Headquarters. Afterwards Guevara commented on both incidents, stating that "it is better to be killed by a woman with a knife than by a man with a gun", while adding with a languid wave of his cigar that the explosion had "given the whole thing more flavor".
While in New York Guevara also appeared on the CBS Sunday news program Face the Nation and met with a range of people, from US Senator Eugene McCarthy to associates of Malcolm X. The latter expressed his admiration, declaring Guevara "one of the most revolutionary men in this country right now" while reading a statement from him to a crowd at the Audubon Ballroom.
On December 17 Guevara left for Paris, France, and from there embarked on a three-month world tour that included vists to the People's Republic of China, North Korea, the United Arab Republic, Egypt, Algeria, Ghana, Guinea, Mali, Dahomey, Congo-Brazzaville and Tanzania, with stops in Ireland and Prague. While in Ireland Guevara embraced his own Irish heritage, celebrating Saint Patrick's Day in Limerick city. He wrote to his father on this visit, humorously stating "I am in this green Ireland of your ancestors. When they found out, the television came to ask me about the Lynch genealogy, but in case they were horse thieves or something like that, I didn't say much."
During this voyage he wrote a letter to Carlos Quijano, editor of a Uruguayan weekly, which was later retitled Socialism and Man in Cuba. Outlined in the treatise was Guevara's summons for the creation of a new consciousness, a new status of work, and a new role of the individual. He also laid out the reasoning behind his anti-capitalist sentiments, stating:
"The laws of capitalism, blind and invisible to the majority, act upon the individual without his thinking about it. He sees only the vastness of a seemingly infinite horizon before him. That is how it is painted by capitalist propagandists, who purport to draw a lesson from the example of Rockefeller—whether or not it is true—about the possibilities of success. The amount of poverty and suffering required for the emergence of a Rockefeller, and the amount of depravity that the accumulation of a fortune of such magnitude entails, are left out of the picture, and it is not always possible to make the people in general see this."
Guevara ended the essay by declaring that "the true revolutionary is guided by a great feeling of love" and beckoning on all revolutionaries to "strive every day so that this love of living humanity will be transformed into acts that serve as examples", thus becoming "a moving force". The genesis for Guevara's assertions relied on the fact that he believed the example of the Cuban Revolution was "something spiritual that would transcend all borders".
Congo
In early 1965 Guevara went to Africa to offer his knowledge and experience as a guerrilla to the ongoing conflict in the Congo. According to Algerian President Ahmed Ben Bella, Guevara thought that Africa was imperialism's weak link and therefore had enormous revolutionary potential. Egyptian President Gamal Abdel Nasser, who had fraternal relations with Che dating back to his 1959 visit, saw Guevara's plans to fight in the Congo as "unwise" and warned that he would become a "Tarzan" figure, doomed to failure. Despite the warning, Guevara traveled to the Congo using the alias Ramón Benítez. Guevara led the Cuban operation in support of the Marxist Simba movement, which had emerged from the ongoing Congo crisis. Guevara, his second-in-command Victor Dreke, and 12 other Cuban expeditionaries arrived in the Congo on April 24, 1965 and a contingent of approximately 100 Afro-Cubans joined them soon afterward. They collaborated for a time with guerrilla leader Laurent-Désiré Kabila, who had previously helped supporters of the overthrown Patrice Lumumba lead an unsuccessful revolt months earlier. As an admirer of the late Lumumba, Guevara declared that his "murder should be a lesson for all of us". Guevara, with limited knowledge of Swahili and the local languages, was assigned a teenage interpreter, Freddy Ilanga. Over the course of seven months Ilanga grew to "admire the hard-working Guevara", who "showed the same respect to black people as he did to whites". However, Guevara soon became disillusioned with the poor discipline of Kabila's troops and later dismissed him, stating "nothing leads me to believe he is the man of the hour".
As an additional obstacle, white South African mercenaries, led by Mike Hoare in concert with Cuban exiles and the CIA, worked with the Congo National Army to thwart Guevara's movements from his base camp which was located in the mountains near the village of Fizi on Lake Tanganyika in southeast Congo. They were able to monitor his communications and so pre-empted his attacks and interdicted his supply lines. Despite the fact that Guevara sought to conceal his presence in the Congo, the US government was aware of his location and activities. The National Security Agency was intercepting all of his incoming and outgoing transmissions via equipment aboard the USNS Private Jose F. Valdez (T-AG-169), a floating listening post that continuously cruised the Indian Ocean off Dar es Salaam for that purpose.
Guevara's aim was to export the revolution by instructing local anti-Mobutu Simba fighters in Marxist ideology and foco theory strategies of guerrilla warfare. In his Congo Diary book, he cites the incompetence, intransigence and infighting of the local Congolese forces as key reasons for the revolt's failure. Later that year on November 20, 1965, in ill health with dysentery, suffering from acute asthma and disheartened after seven months of frustration and inactivity, Guevara left the Congo with the Cuban survivors, six members of his 12-man column having died. At one point Guevara considered sending the wounded back to Cuba and fighting in Congo alone until his death, as a revolutionary example. After being urged by his comrades and pressed by two emissaries sent by Castro, at the last moment he reluctantly agreed to leave Africa. During that day and night, Guevara's forces quietly took down their basecamp, burned their huts, and destroyed or threw weapons into Lake Tanganyika that they could not take with them, before crossing the border into Tanzania during the night and traveling overland to Dar es Salaam. In speaking about his experience in the Congo months later, Guevara concluded that he left rather than fight to the death because: "The human element failed. There is no will to fight. The leaders are corrupt. In a word... there was nothing to do." Guevara also declared that "we can't liberate by ourselves a country that does not want to fight." A few weeks later, when writing the preface to the diary he kept during the Congo venture, he began: "This is the history of a failure."
Guevara was reluctant to return to Cuba, because Castro had made public Guevara's "farewell letter"—a letter intended to only be revealed in the case of his death—wherein he severed all ties in order to devote himself to revolution throughout the world. As a result, Guevara spent the next six months living clandestinely in Dar es Salaam and Prague. During this time he compiled his memoirs of the Congo experience and wrote drafts of two more books, one on philosophy and the other on economics. He then visited several Western European countries to test his new false identity papers, created by Cuban Intelligence for his later travels to South America. As Guevara prepared for Bolivia, he secretly traveled back to Cuba to visit Castro, as well as to see his wife and to write a last letter to his five children to be read upon his death, which ended with him instructing them:
"Above all, always be capable of feeling deeply any injustice committed against anyone, anywhere in the world. This is the most beautiful quality in a revolutionary."
Capture and execution
"There was no person more feared by the company (CIA) than Che Guevara because he had the capacity and charisma necessary to direct the struggle against the political repression of the traditional hierarchies in power in the countries of Latin America."
— Philip Agee, CIA agent, later defected to Cuba
Félix Rodríguez, a Cuban exile turned CIA Special Activities Division operative, advised Bolivian troops during the hunt for Guevara in Bolivia. In addition the 2007 documentary My Enemy's Enemy, directed by Kevin Macdonald, alleges that Nazi war criminal Klaus Barbie, aka "The Butcher of Lyon", advised and possibly helped the CIA orchestrate Guevara's eventual capture.
On October 7, 1967, an informant apprised the Bolivian Special Forces of the location of Guevara's guerrilla encampment in the Yuro ravine. On October 8, they encircled the area with 1,800 soldiers, and Guevara was wounded and taken prisoner while leading a detachment with Simeón Cuba Sarabia. Che biographer Jon Lee Anderson reports Bolivian Sergeant Bernardino Huanca's account: that a twice-wounded Guevara, his gun rendered useless, shouted, "Do not shoot! I am Che Guevara and I am worth more to you alive than dead."
Guevara was tied up and taken to a dilapidated mud schoolhouse in the nearby village of La Higuera on the evening of October 8. For the next half day, Guevara refused to be interrogated by Bolivian officers and would only speak quietly to Bolivian soldiers. One of those Bolivian soldiers, a helicopter pilot named Jaime Nino de Guzman, describes Che as looking "dreadful". According to Guzman, Guevara was shot through the right calf, his hair was matted with dirt, his clothes were shredded, and his feet were covered in rough leather sheaths. Despite his haggard appearance, he recounts that "Che held his head high, looked everyone straight in the eyes and asked only for something to smoke." De Guzman states that he "took pity" and gave him a small bag of tobacco for his pipe, and that Guevara then smiled and thanked him. Later on the night of October 8, Guevara—despite having his hands tied—kicked a Bolivian officer, Espinosa, into the wall after the officer entered the schoolhouse and tried to snatch Guevara's pipe from his mouth as a souvenir while he was still smoking it. In another instance of defiance, Guevara literally spat in the face of Bolivian Rear Admiral Ugarteche who attempted to question Guevara a few hours before his execution.
The following morning on October 9, Guevara asked to see the maestra (school teacher) of the village, 22-year-old Julia Cortez. Cortez would later state that she found Guevara to be an "agreeable looking man with a soft and ironic glance" and that during their conversation she found herself "unable to look him in the eye" because his "gaze was unbearable, piercing, and so tranquil". During their short conversation, Guevara pointed out to Cortez the poor condition of the schoolhouse, stating that it was "anti-pedagogical" to expect campesino students to be educated there, while "government officials drive Mercedes cars", and declaring "that's what we are fighting against."
Later that morning on October 9, Bolivian President René Barrientos ordered that Guevara be killed. The order was relayed to the unit holding Guevara by Félix Rodríguez despite the US government's desire that Guevara be taken to Panama for further interrogation. The executioner who volunteered to kill Guevara was Mario Terán, an alcoholic 31-year-old sergeant in the Bolivian army who had personally requested to shoot Guevara because three of his friends from B Company, all with the same first name of "Mario", had been killed in an earlier firefight with Guevara's band of guerrillas. To make the bullet wounds appear consistent with the story that the Bolivian government planned to release to the public, Félix Rodríguez ordered Terán to aim carefully to make it appear that Guevara had been killed in action during a clash with the Bolivian army. Gary Prado, the Bolivian captain in command of the army company that captured Guevara, said that the reasons Barrientos ordered the immediate execution of Guevara were so there would be no possibility for Guevara to escape from prison, and also so there would be no drama in regard to a public trial where adverse publicity might happen.
About 30 minutes before Guevara was executed, Félix Rodríguez attempted to question him about the whereabouts of other guerrilla fighters who were currently at large, but Guevara continued to remain silent. Rodríguez, assisted by a few Bolivian soldiers, helped Guevara to his feet and took him outside the hut to parade him before other Bolivian soldiers where he posed with Guevara for a photo opportunity where one soldier took a photograph of Rodríguez and other soldiers standing alongside Guevara. After taking him back inside, Rodríguez then privately told Guevara that he was going to be executed. Guevara then responded by asking Rodríguez if he was an American of Mexican or Puerto Rican origin, having noted that Rodríguez did not speak Bolivian Spanish. Rodríguez replied that he was originally from Cuba but that he had emigrated to the US and was currently a member of the CIA. Guevara's only reply was a loud "ha!" and he refused to speak any more to Rodríguez, who left the hut.
A little later, a few minutes before Guevera was executed, he was asked by one of the Bolivian soldiers guarding him if he was thinking about his own immortality. "No," he replied, "I'm thinking about the immortality of the revolution." A few minutes later, Sergeant Terán entered the hut and immediately ordered the other soldiers out. Alone with Terán, Che Guevara then stood up and spoke to his executioner which were his last words: "I know you've come to kill me. Shoot. Do it. Shoot me, you coward! You are only going to kill a man!" As Guevara was speaking, Terán hesitated, then opened fire with his M1 Garand semi-automatic rifle, hitting him in the arms and legs. For a few seconds, Guevara writhed on the ground, apparently biting one of his wrists to avoid crying out. Terán then fired several times again, wounding him fatally in the chest. Che Guevara was pronounced dead at 1:10 pm local time according to Rodríguez. In all, Guevara was shot nine times by Terán. This included five times in his legs, once in the right shoulder and arm, once in the chest, and finally in the throat.
Months earlier, during his last public declaration to the Tricontinental Conference, Guevara wrote his own epitaph, stating "Wherever death may surprise us, let it be welcome, provided that this our battle cry may have reached some receptive ear and another hand may be extended to wield our weapons."
Legacy
"The discovery of Che's remains metonymically activated a series of interlinked associations—rebel, martyr, rogue figure from a picaresque adventure, savior, renegade, extremist—in which there was no fixed divide among them. The current court of opinion places Che on a continuum that teeters between viewing him as a misguided rebel, a coruscatingly brilliant guerrilla philosopher, a poet-warrior jousting at windmills, a brazen warrior who threw down the gauntlet to the bourgeoisie, the object of fervent paeans to his sainthood, or a mass murderer clothed in the guise of an avenging angel whose every action is imbricated in violence—the archetypal Fanatical Terrorist."
Over forty-five years after his execution, Guevara's life and legacy still remains a contentious issue. The contradictions of his ethos at various points in his life have created a complex character of unending duality, one who was "able to wield the pen and submachine gun with equal skill," while prophesying that "the most important revolutionary ambition was to see man liberated from his alienation." Guevara's paradoxical standing is further complicated by his array of seemingly diametrically opposed qualities. A secular humanist and sympathetic practitioner of medicine who didn't hesitate to shoot his enemies, a celebrated internationalist leader who advocated violence to enforce a utopian philosophy of the collective good, an idealistic intellectual who loved literature but refused to allow reactionary dissent, an anti-imperialist Marxist insurgent who was radically willing to forge a poverty-less new world on the apocalyptic ashes of the old one, and finally, an outspoken anti-capitalist whose image has been expropriated and commoditized; Che's history continues to be rewritten and re-imagined.
An array of notable individuals have lauded Guevara as a hero; for example, Nelson Mandela referred to him as "an inspiration for every human being who loves freedom", while Jean-Paul Sartre described him as "not only an intellectual but also the most complete human being of our age". Others who have expressed their admiration include authors Graham Greene, who remarked that Guevara "represented the idea of gallantry, chivalry, and adventure", and Susan Sontag, who supposed that " goal was nothing less than the cause of humanity itself." In the black community, philosopher Frantz Fanon professed Guevara to be "the world symbol of the possibilities of one man", while Black Power leader Stokely Carmichael eulogized that "Che Guevara is not dead, his ideas are with us." Praise has been reflected throughout the political spectrum, with the libertarian theorist Murray Rothbard extolling Guevara as a "heroic figure", lamenting after his death that "more than any man of our epoch or even of our century, was the living embodiment of the principle of revolution", while journalist Christopher Hitchens commented that " death meant a lot to me and countless like me at the time, he was a role model, albeit an impossible one for us bourgeois romantics insofar as he went and did what revolutionaries were meant to do—fought and died for his beliefs." Sociologist Michael Löwy contends that the many facets of Guevara's life (i.e. doctor and economist, revolutionary and banker, military theoretician and ambassador, deep thinker and political agitator) illuminated the rise of the "Che myth", allowing him to be invariably crystallized in his many metanarrative roles as a "Red Robin Hood, Don Quixote of communism, new Garibaldi, Marxist Saint Just, Cid Campeador of the Wretched of the Earth, Sir Galahad of the beggars... and Bolshevik devil who haunts the dreams of the rich, (while) kindling braziers of subversion all over the world."
Conversely, Jacobo Machover, an exiled opposition author, dismisses the hero-worshipping and portrays him as a ruthless executioner. Exiled former Cuban prisoners have echoed similar sentiments, including Armando Valladares, who declares Guevara "a man full of hatred" who executed dozens without trial, and Carlos Alberto Montaner, who alleges Guevara possessed "a Robespierre mentality" where cruelty against the revolution's enemies was a virtue. Alvaro Vargas Llosa of The Independent Institute has hypothesized that Guevara's contemporary followers "delude themselves by clinging to a myth", describing Guevara as "Marxist Puritan" who employed his rigid power to suppress dissent, while also operating as a "cold-blooded killing machine". Llosa has also accused Guevara's "fanatical disposition" as being the linchpin of the "Sovietization" of the Cuban revolution, speculating that he possessed a "total subordination of reality to blind ideological orthodoxy". Moreover, detractors have attempted to demonstrate that Che-inspired revolutions in much of Latin America had the practical result of reinforcing brutal militarism and internecine conflict for many years. Hoover Institution research fellow William Ratliff places Guevara as a creation of his historical environment, referring to him as a "fearless" and "head-strong Messiah-like figure", who was the product of a martyr-enamored Latin culture which "inclined people to seek out and follow paternalistic miracle workers." Ratliff speculates that the economic conditions in the region suited Guevara's commitment to "bring justice to the downtrodden by crushing centuries-old tyrannies"; describing Latin America as being plagued by what Moisés Naím referred to as the "legendary malignancies" of inequality, poverty, dysfunctional politics and malfunctioning institutions. In his own assessment of Guevara, British historian Hugh Thomas opines that Guevara was a "brave, sincere and determined man who was also obstinate, narrow, and dogmatic." At the end of his life, according to Thomas, "he seems to have become convinced of the virtues of violence for its own sake", while "his influence over Castro for good or evil" grew after his death, as Fidel took up many of his views. In Thomas' assessment, "As in the case of Martí, or Lawrence of Arabia, failure has brightened, not dimmed the legend."
Meanwhile, Guevara remains a national hero in Cuba, where his image adorns the $3 Cuban peso and school children begin each morning by pledging "We will be like Che." In his homeland of Argentina, where high schools bear his name, numerous Che museums dot the country, which in 2008 unveiled a 12-foot (3.7 m) bronze statue of him in the city of his birth, Rosario. Additionally, Guevara has been sanctified by some Bolivian campesinos as "Saint Ernesto", to whom they pray for assistance. In stark contrast, Guevara remains a hated figure amongst many in the Cuban exile and Cuban-American community of the United States, who view him with animosity as "the butcher of La Cabaña". Despite this polarized status, a high-contrast monochrome graphic of Che's face, created in 1968 by Irish artist Jim Fitzpatrick, has become one of the world's most universally merchandized and objectified images, found on an endless array of items, including T-shirts, hats, posters, tattoos, and bikinis, ironically contributing to the consumer culture Guevara despised. Yet, he still remains a transcendent figure both in specifically political contexts and as a wide-ranging popular icon of youthful rebellion.
Please register for a free Genetic Matrix account to access more information about this and all other celebrity pages