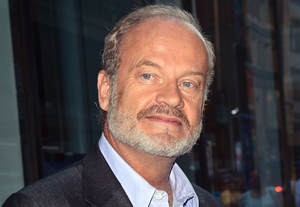 Kelsey Grammer
Category : Entertainment-Actor-Actress
Type : MGP
Profile : 3/5 - Martyr / Heretic
Definition : Single
Incarnation Cross : RAX The Sleeping Phoenix 1
Biography
Allen Kelsey Grammer (born February 21, 1955) is a six-time Emmy and a two-time Golden Globe-winning American actor best known for his two-decade portrayal of psychiatrist Dr. Frasier Crane in the NBC sitcoms Cheers (nine years) and Frasier (eleven years). He was nominated for Emmys for playing his character on three different sitcoms (the third being a guest appearance on Wings). He has also worked as a television producer, director, writer, and a voice artist. He is currently starring in Back to You.

Early life
Grammer was born in St. Thomas, U.S. Virgin Islands to Sally Cranmer, a singer, and Frank Allen Grammer, Jr., a bar owner and musician. His parents' marriage ended when he was young; his mother took him to live with her, and he was partly raised in New Jersey by his grandparents, Evangeline Dimmock and Gordon Cranmer. His family life has been plagued by repeated tragedies. In 1968, when Grammer was thirteen, his father, whom he had only seen twice since his parents' divorce, was murdered on the front lawn of his home in the U.S. Virgin Islands; in 1975, his sister was raped and murdered after being abducted outside a Red Lobster restaurant in Colorado Springs, Colorado where her boyfriend worked. Grammer has sworn to prevent the murderer from being paroled. In 1980, his twin half-brothers were killed in a SCUBA diving accident.

Career

Broadway
After leaving Juilliard, he had a three-year internship with the Old Globe Theater in San Diego in the late 1970s before a stint in 1980 at the Guthrie Theater in Minneapolis, Minnesota. He made his Broadway debut in 1981 as Lennox in Macbeth, taking the lead role when Philip Anglim withdrew after receiving negative reviews. In 1982 he appeared with Christine Baranski in the Stephen Sondheim-James Lapine production Sunday in the Park with George with Mandy Patinkin, and then a featured role of Cassio in a Broadway revival of Othello with James Earl Jones and Christopher Plummer.

Rise to fame
His television career began in the early 1980s when he portrayed Stephen Smith in the NBC mini-series Kennedy. Grammer came to broader public attention as Dr. Frasier Crane in the TV sitcom Cheers. Grammer's former Juilliard classmate and Broadway co-star Patinkin suggested Grammer to the New York casting director, and he got the job. The character became the center of the successful spin off Frasier.

Grammer won a number of Emmys and Golden Globes for his work on Frasier. He was the first American actor ever to be nominated for multiple Emmy awards for portraying the same character on three different television shows (Cheers, Frasier, and Wings). His US$1.6 million per episode salary for Frasier was the highest in the history of American television at the time, and his 20-year run playing Dr. Frasier Crane ties a length set by James Arness in playing Marshall Matt Dillon on Gunsmoke from 1955 to 1975.

Voice work
Grammer's smooth, deep voice makes him popular for voiceover work. He has provided the voice of Sideshow Bob on The Simpsons, winning an Emmy for his work in the episode "The Italian Bob", He has appeared in nine episodes in all since the show's inception in 1989. He also supplied the voices for "Stinky Pete the Prospector" in Toy Story 2, Vladimir in the Fox animated movie Anastasia, Zozi the Bear in the subsequently-produced prequel Bartok the Magnificent, and the title character in the short-lived animated series Gary the Rat. He also provided the opening speech and piano in The Vandals song "Phone Machine" from the album Fear of a Punk Planet.

Return to television
He returned to series television on Fox's The Sketch Show. He also produces the CW sitcoms Girlfriends and The Game. Prior to that he guest starred as The Angel of Death on Medium, which he also produces. In film, his recent work includes the role of Dr. Hank McCoy (a.k.a. Beast) in X-Men: The Last Stand. Grammer provided the voice for television commercials advertising the Hyundai Sonata and the Hyundai Azera.

Premiering 19 September, 2007, Grammer currently co-stars in the FOX sit-com Back to You with Patricia Heaton. He received a star on the Hollywood Walk of Fame in 2001.

Personal life

Family
Grammer has been married three times. His first marriage, to dance instructor Doreen Alderman, lasted from 1982 to 1990 and produced one daughter, Spencer, an actress on the American soap opera As the World Turns and the ABC Family show Greek. His second marriage, to stripper Leigh-Anne Csuhany in 1992, lasted one year. Grammer says that she was abusive and that, after talk of divorce, she attempted suicide, which resulted in the miscarriage of their child.

In 1992, Grammer had a daughter, Greer, with hair and makeup stylist Barrie Buckner. His engagement to Tammi Alexander broke up due to rape allegations and her leaks to the tabloid press. Since August 1997 Grammer has been married to Camille Donatacci, a former Playboy model. They have a son, Jude Gordon, and a daughter, Mason Olivia. Grammer and Donatacci have homes in Malibu, California, Colorado, and New York, and a holiday home in Maui.

Other incidents
After publishing his autobiography, So Far... in 1995, he was sued by a former girlfriend Cerlette Lamme for defamation of character and invasion of privacy. In 1998, Grammer filed a lawsuit against Internet Entertainment Group, which Grammer claimed had stolen from his home a videotape of him having sex with Lamme. IEG counter-sued Grammer, denying they were in possession of such a tape, and Grammer's suit was eventually dropped. He eventually paid Lamme $1 million for the tape.

Politics
Grammer has expressed an interest in someday running for United States Congress as a Republican. He was a celebrity guest at President George W. Bush's first inauguration and has endorsed Rudy Giuliani for president in 2008.

Quotes
"You see, it's the nature of people like me - alcoholics, obsessive-compulsive, whatever - to dismiss their own achievements and to belittle themselves. It's something I have been tortured by all my life. It has taken forty-three years to become comfortable with myself and with having a sense of accomplishment. Being able to accept the remarkable nature of my life is new to me."
"I think it's your duty to overcome what you inherit in life. It's the David Copperfield line: 'Am I going to be master of my fate, or its victim?' I'm not gonna be its victim, though I've felt victimized — a lot."
Please register for a free Genetic Matrix account to access more information about this and all other celebrity pages