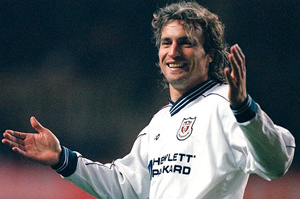 David Ginola
Category : Football Player
Type : PE
Profile : 3/6 - Martyr / Role Model
Definition : Split - Small (35)
Incarnation Cross : RAX Unexpected 4
Biography
David Desire Marc is a French former international football player who has also worked as an actor and model.
Ginola was born in Gassin, Var. He played football for ten seasons in his native France before moving to England in 1995, when he signed for Newcastle United. He stayed in the country until retiring seven years later, having also turned out for Tottenham Hotspur, Aston Villa and Everton. Since his retirement from the game in 2002 he has become involved in several new pursuits, including acting.
Club career
Ginola played at club level for Toulon (1985–88), Racing Levallois 92 (1988–90), Brest (1990–92), Paris Saint-Germain (1992–95), Newcastle United (1995–97), Tottenham Hotspur (1997–2000), Aston Villa (2000–2002) and Everton (2002).
France
Ginola made his first senior appearance for Sporting Toulon as an eighteen year-old in a 1985 2–0 victory away at Metz. He played fourteen times in his first season, and by 1986 he was a regular in the Toulon line-up.
In 1988 he moved to Racing Club Paris, where he remained until signing for Brest in 1990. There, he began to impress observers with his flamboyant style of play. In 1991, he played a crucial role in a landmark victory (3–2) against the side who would go on to sign him, Paris Saint-Germain F.C..
Ginola joined the French capital club in January 1992, at a time when it was pushing for major honors with the financial backing of TV channel Canal+. He took little time to adapt to his new surroundings and soon conquered the Parc des Princes crowd with his elegant first touch and his pace.
At the same time, he was going through tough times with the national football team coached by Gérard Houllier, but the Parisian public never seemed to begrudge him for that. In fact, he would go on to become one of the most popular footballers among the notoriously uncompromising Parisian supporters. He became such a fan favorite that, even when he admitted that he supported Paris Saint-Germain's fierce rivals Olympique Marseille as a boy and that he would have joined them rather than PSG had an agreement been struck with Bernard Tapie, his popularity did not suffer any consequence.
In his first full season with PSG (1992–93), Ginola won the Coupe de France and reached the semi-finals of the UEFA Cup. At the end of 1993, he was also won the French Footballer of the Year award from the France Football magazine. 1993–94 would turn out to be the best season of his career, though it was also blighted by a personal all-time low for Ginola, occurring in November 1993. He was blamed for a defeat suffered by the French national football team against their Bulgarian opponents, which eliminated Les Bleus from the 1994 FIFA World Cup.
While suffering heartache with his country, Ginola was shining with his club. A star-studded PSG side featuring the likes of Paul Le Guen, Bernard Lama and Antoine Kombouaré and coached by Portuguese tactician Artur Jorge won the second league title of its history, losing only three times along the way. Ginola played an important role in this title-winning campaign, providing 13 goals in 38 games, which made him the top club goalscorer for the season.
The following season, under new manager Luis Fernandez, proved to be less successful in the league, with FC Nantes being crowned champions. Ginola scored 11 times in 28 league appearances. Paris Saint-Germain did shine in the cup competitions though, winning another Coupe de France as well as the first edition of the new Coupe de la Ligue. In the UEFA Champions League, the Parisian club caused a major shock after knocking out 1994's finalists FC Barcelona in the quarter finals, with Ginola playing particularly well. The club was eliminated at the next hurdle by defending champions A.C. Milan.
In the summer of 1995, David Ginola decided to leave France. Known to be a Spanish football enthusiast, he was expected to be snapped up by Barcelona. Furthermore, between 1992 and 1995, his stellar displays in European competitions against the Spanish giants Real Madrid and Barcelona had attracted media attention in Spain, with local media dubbing him "El Magnifico". However, he ended up with English club Newcastle United F.C., then managed by Kevin Keegan.
Newcastle United
In 1995, Ginola joined Newcastle United for £2.5 million. He was signed at a time when manager Kevin Keegan was attempting to turn the club into one of the major forces in English football, and the board was prepared to offer strong financial backing to sign a number of European superstars. Ginola made his debut against Coventry City on 19 August 1995 in a 3–0 win. He scored his first league goal on 27 August against Sheffield Wednesday in a 2–0 away win, and went on to score five league goals in his first season. In the 1995–96, Newcastle finished second, four points behind Manchester United. This was their strongest league performance in decades, and Ginola was an integral part of the team. The team chemistry was perfect with Ginola fitting in nicely with his new teammates. However, it was a major disappointment that Newcastle had finished second in the Premier League as they had led by up to 10 points as late as January.
In 1996, Barcelona made a move for him, but Newcastle rejected their offer. Ginola later stated his regret that he had never played for one of the "big clubs". To add to their line-up, Newcastle paid £15m, breaking the transfer record, to sign Alan Shearer. Despite this, Newcastle finished second again, being narrowly overtaken by Manchester United. Halfway through the season, Kevin Keegan suddenly resigned as manager to be succeeded by Kenny Dalglish.
Keegan departed in January 1997 and Ginola did not get on with his replacement Kenny Dalglish, who never fancied the Frenchman. It soon became obvious he was heading for a move out of Tyneside, in spite of his popularity among Geordie supporters, some of whom had nicknamed him "David Copperfield" because of his ability to conjure up magic.
Tottenham Hotspur
Tottenham Hostpur signed Ginola in July 1997 for £2.5m, where he was joined by Newcastle team-mate Les Ferdinand. In 1999, he was named PFA Players' Player of the Year and FWA Footballer of the Year, while playing for Tottenham Hotspur. During the 1998/99 season, Ginola scored one of his most notable goals, when Spurs played Barnsley in the FA Cup 6th Round. Ginola weaved in and out of a number of Barnsley players and finished in the left side of the net, the only goal of the game. He was the first player in Premiership history to win the award while at a club who finished the season outside of the top 4. He also won his only English domestic trophy with Spurs, the 1999 League Cup with a 1–0 victory over Leicester City at Wembley Stadium. Ginola is fondly remembered by Spurs fans for his extravagant forward play and personality off the pitch. He played an integral role in their 1999 League Cup win and scoring a long range goal in a 3–1 win against Manchester United in a previous round. The respect and fondness Tottenham fans have for Ginola was shown when he was given one of the biggest cheers on their 125th anniversary when legends were paraded on the pitch. Ginola was inducted into the Tottenham Hotspur Hall of Fame on 11 December 2008.
Aston Villa
In July 2000 Ginola joined Aston Villa for a transfer fee of £3 million. He expressed his disappointment that Tottenham had sold him, saying the news that they had accepted the offer was a "bombshell". Villa manager John Gregory challenged Ginola to prove he could still perform in the Premiership, rather than move to a less demanding league abroad, as Ginola was now in his 33rd year and seemed unlikely to continue at professional level for much longer.
In January 2002 he was banned for two matches and fined £22,000 for stamping on an opponent and disputing his dismissal with the fourth official.
Everton
In 2002 Ginola signed for Everton playing five games for the club before retiring in May 2002, just after David Moyes took over as manager. Ginola was deemed surplus to requirements by Moyes, and made only one substitute appearance from March onwards. His contract was not renewed and Ginola, without a club, retired. He announced his intention to move into either acting or football coaching.
International career
Although Ginola was a very prominent French player, he did not see much action with the French national team, having been capped only 17 times in his career.
Ginola is famous in France for a mistake in a World Cup qualifying game against Bulgaria. France needed only a draw from their final qualifying group game on November 17, 1993 to qualify for the finals of the 1994 FIFA World Cup. With the match level at 1–1 in the last minute, Ginola overhit a cross and Bulgaria subsequently counter-attacked and scored through Emil Kostadinov, winning the game 2–1 and enabling Bulgaria to qualify for the finals at the expense of France.
The French manager Gérard Houllier blamed the entire defeat on Ginola, and he was subsequently called the assassin of French football by the media. After being barracked by French fans, Ginola moved to England, signing for Newcastle United.[16] Houllier's successor Aimé Jacquet regularly selected Ginola for international matches, but often used him only as a substitute. Ginola played his last match for the national team in 1995.
Playing style
Ginola was renowned for his "magical" touch on the ball and his ability to get past players from any type of position and then manage to score a goal. His ability to do that was shown in games for Tottenham and Newcastle, with his most memorable goal in Newcastle's stunning 5–0 win over Premier League giants Manchester United on 20 October 1996, becoming a flamboyant part of the memorable "Entertainers" Newcastle side of his era, which also featured other highly acclaimed players including Alan Shearer, Les Ferdinand, Faustino Asprilla, Peter Beardsley and Keith Gillespie.
In 1999, Dutch legend Johan Cruijff remarked that it was his belief that Ginola was currently the best player in the world.
Acting
Ginola has acted in two films since his retirement from football. He played the title role in the short comedy Mr Firecul and Corporal Dieter Max in the 2005 war film The Last Drop.[18]
Ginola's reputation was enhanced during his time in England when he starred in a commercial for L'Oréal hair products. In 1996, he featured in the ITV commercial for the Renault Laguna motor car.
Also, in 2000, Ginola made a cameo appearance in the first episode of the ITV drama series At Home with the Braithwaites. He played himself, announcing the results for the first Euro Lottery.
In 2006 Ginola appeared in the second series of Channel 4's Coach Trip during episode 22, in which he acted as a tour guide of Sainte-Maxime.
He also appeared on an episode of Chop Shop on Discovery Turbo where he had a one-off car designed for his son's birthday.
Cameo appearance as Daveed Ginjola in Beezly'n'Cool comic September 2009
Personal life
Ginola is married to fashion model Coraline. The couple have a son and a daughter, and live near Saint-Tropez.
In 2008, Gionola was sued for child maintenance by Joelle Pinquier. She alleged that Ginola fathered her daughter Joy after a short affair. Although he refused to take a paternity test, Ginola agreed to pay £400/month child maintenance until Joy was 18. Ginola's lawyer successfully showed that not only had he kept up the payment, he was in fact six months in advance of the agreed schedule.
Wine making
In 2008 Ginola received a silver medal at the International Wine Challenge for a rosé wine produced at his vineyard in Provence.
Please register for a free Genetic Matrix account to access more information about this and all other celebrity pages