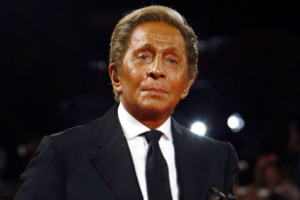 Valentino Garavani
Category : Fashion Designer
Type : GE
Profile : 2/4 - Hermit / Opportunist
Definition : Triple Split
Incarnation Cross : RAX Explanation 2
Biography
Valentino Clemente Ludovico Garavani (Voghera, Italy, May 11 1932), best known as Valentino, is an Italian fashion designer and founder of the Valentino SpA brand and company. His main lines include Valentino, Valentino Garavani, Valentino Roma and R.E.D. Valentino.
Career
The Paris years (1949–1959)
Valentino became interested in fashion while in primary school in his native Voghera, Lombardy, northern Italy, when he apprenticed under his aunt Rosa and local designer Ernestina Salvadeo, an aunt of noted artist Aldo Giorgini. Valentino then moved to Paris to pursue this interest with the help of his mother Teresa de Biaggi and his father Mauro Garavani. There he studied at the École des Beaux-Arts and at the Chambre Syndicale de la Couture Parisienne. His first choice for an apprenticeship, in Paris, was Jacques Fath, then Balenciaga. He found an apprenticeship with Jean Desses where he helped style icon Countess Jacqueline de Ribes sketch her dress ideas. He then joined Guy Laroche for 2 years. At Jean Desses, Valentino sketched furiously, between helping with window dressing and greeting clients for the daily 2:30 pm private showings. Most of his early sketches were lost. However, at a Rome exhibition in 1991 a smattering of them went on display and then-current clients such as Marie-Hélène de Rothschild and Elizabeth Taylor marveled that the DNA of Valentino's style was already apparent in the layers of white pleats and animal prints.
After five years, Valentino left Jean Desses over an incident about prolonging a vacation in Saint-Tropez that still makes him uncomfortable today. Rescued by his friend Guy Laroche, he joined his "tiny, tiny" fashion house. After discussions with his parents, he decided to return to Italy and set up in Rome in 1959.
Rome
In 1959 Valentino left Paris and opened a fashion house in Rome on the posh Via Condotti with the backing of his father and an associate of his. More than an atelier, the premises resembled a real "maison de couture," it being very much along the lines of what Valentino had seen in Paris: everything was very grand and models flew in from Paris for his first show. Valentino became known for his red dresses, in the bright shade that became known in the fashion industry as "Valentino red."
On July 31 1960, Valentino met Giancarlo Giammetti at the Café de Paris on the Via Veneto in Rome. One of three children, Giammetti was in his second year of architecture school, living at home with his parents in the haut bourgeois Parioli section of Northern Rome. That day Giammetti gave Valentino a lift home in his Fiat and a friendship, as well as a long-lasting partnership, started. The day after, Giammetti was to leave for Capri for vacation and, by coincidence, Valentino was also going there, so they met again on the island 10 days later. Giammetti would shortly thereafter abandon the University to become Valentino's business partner. When Giammetti arrived, the business situation of Valentino's atelier was in fact not brilliant: in one year he had spent so much money that his father's associate pulled out of the business, and had to fight against bankruptcy.
Breakthrough in Florence (1962–1967)
Valentino's international debut took place in 1962 in Florence, the Italian fashion capital of the time. His first show at the Pitti Palace was welcomed as a true revelation and the young couturier was deluged by orders from foreign buyers and enthusiastic comments on the press.
After the breakthrough show in Florence, Valentino began dressing the ladies of the international best-dressed crowd, such as his acquaintance from the Paris years Countess Jacqueline de Ribes and New York socialites Babe Paley and Jayne Wrightsman.
By the mid-1960s he was already considered the undisputed maestro of Italian Couture, receiving in 1967 the Neiman Marcus Fashion Award, the equivalent of an Oscar in the field of fashion. The Begum Aga Khan, Farah Diba, Jacqueline Kennedy Onassis, Lee Radziwill, Queen Paola of Belgium, Babe Paley, Elizabeth Taylor, Audrey Hepburn, Gloria Guinness, Marella Agnelli, Jayne Wrightsman, Marisa Berenson, Veruschka and Princess Margaret were already customers as well as personal friends.
At some point in 1964, Jacqueline Kennedy had seen Gloria Schiff, the twin sister of the Rome-based fashion editor of American Vogue and Valentino's friend Consuelo Crespi, wearing a two-piece ensemble in black organza at a gathering. It made such an impression that Kennedy contacted Ms. Schiff to learn the name of the ensemble's designer, which was Valentino. In September 1964, Valentino was to be in the United States to present a collection of his work at a charity ball at New York's Waldorf-Astoria Hotel. Mrs. Kennedy wanted to view the collection but could not attend the event, so Valentino decided to send a model, sales representative and a selection of key pieces from his collection to Mrs. Kennedy's apartment on Fifth Avenue. Mrs. Kennedy ordered six of his haute couture dresses, all in black and white, and wore them during her year of mourning following President John F. Kennedy's assassination. From then on, she was a devoted client and would become a friend. Valentino would later design the white dress worn by Kennedy at her wedding to Greek tycoon Aristotle Onassis.
In 1966, confident of his client base, he moved his shows from Florence to Rome where two years later he achieved one of his greatest triumphs, an all-white collection that became famous for the "V" logo he designed.
1970s
Throughout the 1970s Valentino spent considerable time in New York City, where his presence was embraced by society personalities such as Vogue's editor-in-chief Diana Vreeland and the art icon Andy Warhol.
Valentino Edition Lincoln Continental
From 1983 through 1985, the Ford Motor Company offered a Valentino Edition of its Continental sedan. It featured various color changes during this time and offered features that were optional on the standard model.
The Accademia Valentino
The year 1990 marked the opening of the Accademia Valentino, designed by architect Tommaso Ziffer, a cultural space located near Valentino's atelier in Rome, for the presentation of art exhibitions. The next year, encouraged by their friend Elizabeth Taylor, Valentino Garavani and Giancarlo Giammetti created L.I.F.E., an association for the support of AIDS-related patients, which benefits from the activities of the Accademia Valentino.
From HdP group to Marzotto group
In 1998 Valentino and his partner Giancarlo Giammetti sold the company for approximately US$300 million to HdP, an Italian conglomerate controlled, in part, by the late Gianni Agnelli, the head of Fiat. In 2002, Valentino S.p.A., with revenues of more than $180 million, was sold by HdP to Marzotto Apparel, a Milan-based textile giant, for $210 million.
Retirement
On September 4 2007, Valentino announced that he would retire fully in January 2008 from the world stage after his last haute couture show in Paris. He delivered his last women's ready-to-wear show in Paris on 4 October.
His last haute couture show was presented in Paris at the Musée Rodin on January 23, 2008. It was, however, somewhat marred by his criticism of fellow Italian design duo Dolce & Gabbana, and the death of Australian actor Heath Ledger although few allowed these things to detract from his final show, which received a standing ovation from the entire audience that included hundreds of notable names from all areas of show business. Many models returned to show for Valentino's last haute couture show, including Eva Herzigova, Naomi Campbell, Claudia Schiffer, Nadja Auermann, Karolina Kurkova and Karen Mulder.
The Valentino Garavani Virtual Museum
The Valentino Garavani Virtual Museum is a downloadable desktop application that digitally displays the 50 year archive of Italian fashion designer Valentino Garavani. This application uses real time 3D technology is to create an immersive environment within the app. It connects to online media database that displays over 5,000 images including sketches, illustrations, advertising campaigns, editorials, red carpet moments and 180 fashion show videos. Content is arranged in a museum layout where users explore the different galleries and wings covering what would be over 10,000 square meters in an actual museum.
The museum became available for download on December 5, 2011 at www.valentino-garavani-archives.org. The Valentino Garavani Virtual Museum was created by Valentino's long-time partner Giancarlo Giammetti. It was designed and produced by Novacom Associés-Paris, in collaboration with Kinmonth-Monfreda Design Project – London. <
Valentino: Master of Couture Exhibition, 29 November 2012 - 3 March 2013
This major new exhibition opening at Somerset House in London celebrating the life and work of Valentino will showcase over 130 exquisite haute couture designs worn by icons such as Jackie Kennedy Onassis, Grace Kelly, Sophia Loren and Gwyneth Paltrow in an exciting specially created installation.
Divided into three sections; visitors will start with a private view of Valentino's world through photographs from his personal archive, offering an intimate portrait of the life of the master. The exhibition then unfolds into a couture fashion show where roles are reversed with visitors walking the catwalk to view a staggering one hundred and thirty Valentino haute couture designs.
The final section will unpick the painstaking processes of crafting couture exemplified by the stunning wedding dress of Princess Marie Chantal of Greece, demonstrating the beauty of the work of les petit mains who sew each stitch by hand. In addition a specially commissioned group of films will allow behind-the scenes access to the Valentino atelier, where the craft of couture is demonstrated in a series of fascinating samples. Finally, discover more about the man, the icon, by exploring the Valentino Garavani Virtual Museum.
There will be a series of talks, screenings and events to accompany the exhibition.
Movies
In 2006 Valentino appeared in a cameo role, as himself, in the hit movie The Devil Wears Prada. One of the DVD's featurettes is called "Getting Valentino" and shows an interview of the designer backstage with the movie's actresses, Meryl Streep and Anne Hathaway, his partner Giancarlo Giammetti, and his PRs Carlos de Souza and Charlene Shorto de Ganay.
Valentino: The Last Emperor a feature-length documentary film on the designer, premiered at the 2008 Venice International Film Festival. Produced and directed by Matt Tyrnauer, special correspondent for Vanity Fair magazine, the film follows Valentino and his inner circle throughout various events, including last year's anniversary show celebrating his 45-year career. During the movie's production from June 2005 to July 2007, the filmmakers shot more than 250 hours of footage with exclusive, unprecedented access to Valentino and his entourage. "We were let in to the inner circle, but we had to stick it out for a long time, practically move in, to capture the truly great moments", says Tyrnauer. "Valentino is surrounded by a tight-knit family of friends and employees, but, eventually, their guard came down and they forgot there was a camera crew in the room."
The film had its North American premiere at the 2008 Toronto International Film Festival. It was released theatrically in the United States on 18 March in New York City and selected cities. Indiewire called it the highest-grossing documentary debut of 2009.
Honours
On July 6, 2006, France's President Chirac awarded Valentino the Chevalier de la Légion d'honneur. "I am very honored," said Valentino, who has received awards from many countries including Italy and the United States.
During the festivities for the 45th year of Valentino's career, the Mayor of Rome, Walter Veltroni, announced that the site of the Valentino Museum would be a building in via San Teodoro in Rome, between the Palatine Hill and the Bocca della Verità (mouth of truth).
January 24, 2008, Valentino was presented with the Medal of the City of Paris for his services to fashion in the city where he was educated.
On September 7, 2011, Valentino was presented with the sixth annual Couture Council Award for Artistry of Fashion from the Museum at the Fashion Institute of Technology at a benefit luncheon held at the David H. Koch Theater, Lincoln Center in New York City.
Celebration of 45 years of Valentino
In celebration of the 45th anniversary of Valentino's career, the fashion extravaganza took place in Rome between July 6 and 8 in 2007. Festivities started on Thursday, July 5, with a dinner for Valentino's assistants and employees at Ristorante Gusto, and ended on Sunday, July 8, with the launch of a perfume and a brunch at the French Academy of Villa Medici.
The five exclusive golden invitation cards were sent from the Valentino headquarters for the weekend's main events:
July 6, 2007 at 7:30 pm: Inauguration of the exhibit "Valentino in Rome, 45 years of style," designed by Patrick Kinmonth and Antonio Monfreda at the ancient sacrificial altar Ara Pacis and showcasing Valentino's most important creations from the past 45 years. Valentino went through his archives and his clients' closets to narrow down his choices to about 300.
July 6, 2007: Post-exhibit gala dinner at the Temple of Venus in the Imperial Forum. Dating back to 135 A.D. and dedicated to Emperor Hadrian, the forum had never been opened to any event. Oscar-winning designer Dante Ferretti (The Aviator, Gangs of New York, The Age of Innocence) re-created the monument's long-lost columns in fibre glass, a special procedure known as Anastilosys. Valerio Festi designed a spectacular performance by high-wire ballerinas (costumed in exaggerated versions of the designer's ball gowns or signature lipstick-red evening dresses), with the Coliseum bathed in red and mauve light as a breathtaking backdrop. The plexigas structure remained for the summer for tourists to enjoy. Culture Minister Francesco Rutelli also revealed that Valentino contributed to the restoration of the Temple with a donation of 200,000 euros.
July 7, 2007, at 5.00 pm: Fashion show for 1,000 people. For the first time after 16 years, Valentino's haute couture fashion show will not take place in Paris during the HC fashion week, but in Rome. Socialite and long-time Valentino fan Marina Palma took over the fashionable Bolognese restaurant for a tribute lunch before the international guests set off for the designer's bravura couture runway show.
The fashion setting was two halls called Sala Incisa and Sala Baglivi of the restructured 16th-century Santo Spirito in Sassia complex, located next to Castel Sant'Angelo and the Vatican. Valentino showed about 61 couture dresses, a record number considering that an HC show never shows more than 40 gowns. The collection referenced many of the leitmotifs revealed in the retrospective at Ara Pacis and was a tour de force of the flawless and unmatchable techniques that Valentino's brilliant workrooms. The music segued from Mahler's Fifth to a hauntingly beautiful rendition of Puccini's "O mio babbino caro" as Valentino took his bow.
Fellow designers who attended—including Karl Lagerfeld, Giorgio Armani, Donatella Versace, Tom Ford, Diane von Fürstenberg, Carolina Herrera, Zac Posen, Manolo Blahnik, and Philip Treacy, among others, led the standing ovation, which drew tears from the habitually unflappable designer, who embraced Giancarlo Giammetti on the runway.
The post-show gala dinner and ball took place in the Parco dei Daini at the Villa Borghese. Dante Ferretti had created a Brighton Pavilion-inspired tent, with palm-tree columns and red, black, and mirrored walls, in the gardens. Guests included Princess Caroline of Monaco, Anna Wintour, former Persian Empress Farah Diba, Jacqueline de Ribes, Elton John, Karl Lagerfeld, Marie-Chantal of Greece, Princess Rosario of Bulgaria, Princess Firyal of Jordan, Roman Mayor Walter Veltroni, as well as Allison Sarofim in a coral-beaded 1960s Valentino, and Eugenie Niarchos with Phoebus Istavrioglu. Movie stars in attendance included Uma Thurman, Anne Hathaway, Elizabeth Hurley, Sarah Jessica Parker, Joan Collins, Sienna Miller, Michael Caine, Jennifer Hudson, and Eva Mendes. Singer Annie Lennox held a surprise concert.
Please register for a free Genetic Matrix account to access more information about this and all other celebrity pages