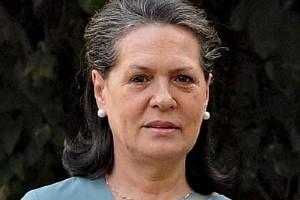 Sonia Gandhi
Category : 1946-births
Type : GP
Profile : 1/3 - Investigating / Martyr
Definition : Single
Incarnation Cross : RAX Rulership 4
Biography
Italian-Indian political wife. The daughter of an industrialist in Turin, straightforward, intelligent and something of an introvert, she met Rajiv Gandhi when they were both students at Cambridge University. It was love at first sight and they married on 2/25/68 in New Delhi. Their son Rahul was born in 1971 and daughter Priyanka in 1972.
Sonia was reared in a rigidly traditional household in a small industrial town in northern Italy. She and her two sisters were not allowed to date boys unchaperoned. Yet, when she was 18, she was allowed to go to a language school in Cambridge. In January 1965, she met 20-year-old Rajiv while having lunch with a friend. In spite of their language barrier, their attraction was mutual, intense and permanent. A friend described their relationship as "an overwhelming love story" up to the time of Rajiv's death. After they married, Sonia moved to the family home in New Delhi where the different generations lived and ate their meals together. Sonia was content to play the role of the faithful daughter-in-law, the "bahu," running the household, buying clothes for Indira and putting up with Sanjay's temper tantrums. Though her mother-in-law, Indira Gandhi, did not approve of her son marrying an Italian, they later became close. Sonia became an Indian citizen on 10/28/1983, giving up her Italian citizenship. Articulate in six languages, she became adept at grass-roots campaigns, feeling that the Indians were her family.
Though the household was dominated by politics, Rajiv and Sonia led an apolitical life and avoided the more glamorous end of New Delhi society. Rajiv worked as a pilot for the notoriously incompetent Indian Airlines, where he became known as a stickler for efficiency. When Sanjay died in an air crash in 1980, Rajiv reluctantly had the family destiny thrust upon him though Sonia fought like a tigress to dissuade him from entering politics.
When Indira Gandhi was assassinated on 10/31/1984, Rajiv stepped immediately into her shoes as P.M. As the new P.M., Rajiv was optimistic, though utterly unqualified for the job. After Indira Gandhi died on 10/31/1984, it took Sonia literally years to come to terms with the horror of the assassination. She avoided seeing people and often fell silent for long periods. Taking up art restoration as a hobby, she edited the correspondence between Indira and Nehru in two volumes. On 5/21/1991, suddenly and violently, her husband was assassinated. Sonia was offered the post of Party President within 24 hours of her husband's death but she refused due to her dislike of publicity or the limelight and her fear of exposing her family to further risks.
She retreated into herself, drawing consolation from her children and her home, which became a shrine to her beloved martyred husband. Her circle became small and closed and she made few public appearances. Her private secretary, Vincent George, became her spokesman. In 1997 she quietly became a member of the Congress Party. Her position is aided by the fact that she looks much like the Nehrus, who are high-caste North Indians, with her dark hair and brown skin. After her husband's death she dedicated her life to raising her son, now 27, and daughter, 26, and to running foundations.
She finally agreed to enter politics when party leaders assured her that a "working" president of her choice would take care of day-to-day party work.
The election was like no other country had ever seen. There were more than 600 million registered voters and the ballot boxes had to be transported by donkey, fishing boat and mountain porter. There were nearly 5,000 candidates, some of whom were colorful, if unlikely, such as a bandit queen who had 63 court cases pending against her. Anarchic violence exploded in voting disputes. Some of the voting boxes were captured by bandits who shot the guards and stuffed the ballet boxes. India has over a thousand different languages and entrenched religious and caste divisions, and many powerful splinter groups have broken off into chaotic segments.
On 1/11/1998 Sonia Gandhi emerged from her private life to campaign on behalf of Congress, giving her first speech in Sriperumbudur, where her husband had been murdered. She told the crowd, "Devotion to India brings me before you, not a desire for political office." She covered the subcontinent by jet and helicopter, visiting 138 constituencies in a 34-day tour, an unparalleled campaign. She drew larger crowds than any of her rivals. At a rally in Old Delhi, some 80,000 people merged, screaming and pressing forward when she appeared. She scurried to the front of the platform like her late mother-in-law, mouth set tightly, no time to waste, with her two handsome, smiling children following her. She read her speech in a woeful voice with heavily accented Hindi, telling the story of her life; how she had taken the bullet-ridden body of her mother-in-law to the hospital through the streets of Delhi and how she had sacrificed her husband for India. She told how she had arrived from Italy in 1968 with a return ticket, but "Delhi was the place of my second birth and the ticket, like my past, was lost in the sands of time." People wept, and when she repeated "Hail India" three times, as Indira Gandhi had once done, the crowd roared.
On 3/14/1998 Sonia Gandhi was elected president of India's Congress Party, defying Indians who had said that she was not fit to head the organization that led India to Independence 50 years before. Her election reaffirmed the family dynasty that has dominated the party since the days of Jawaharlal Nehru, India's first post-independence Prime Minister.
Although she led the Indian National Congress to victory in India's elections in spring 2004, she announced on May 18, 2004 in New Delhi, that she would "humbly decline" the Prime Minister's position. Under pressure to reconsider her decision, she said, "I must follow my voice." Earlier in the year, she said in an interview that her goal was to ensure that the Hindu nationalist-led government that held power prior to the May 2004 election was voted out. She added that her own power "is not a priority for me."
Please register for a free Genetic Matrix account to access more information about this and all other celebrity pages