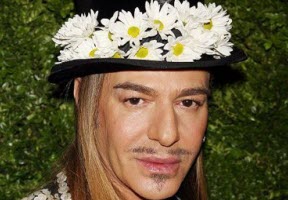 John Galliano
Category : Designer - Fashion
Type : ME
Profile : 1/3 - Investigating / Martyr
Definition : Triple Split
Incarnation Cross : RAX Planning 4
Biography
Juan Carlos Antonio Galliano, CBE, RDI (born 28 November 1960), professionally known as John Galliano, is a British fashion designer and the head designer of Christian Dior.

Early life and career

Born in Gibraltar to a Gibraltarian father and a Spanish mother, Galliano moved to Streatham in southwest London at six and later to Brockley, and attended St. Anthony's RC School and Wilson's Grammar School in London. He attended St Martin's College of Art and Design, where he graduated in 1984 with a first class honours degree. He was awarded British Designer of the Year in 1987, 1994 and 1995.
In 1997, he shared the award with Alexander McQueen, Galliano's successor at Givenchy. Media fashion celebrity Susannah Constantine has worked for Galliano in the past. and he has also aided the future success of other designers including the renowned shoe designer Patrick Cox.

In 1984, he graduated in fashion design from Central St. Martin's School of Art and Design with a collection inspired by the French Revolution. The collection, entitled Les Incroyables, received positive reviews and was bought in its entirety by and sold in the London fashion boutique Browns. Galliano began his own label and met future collaborators Amanda Harlech, at that time stylist with Harpers and Queen, and Stephen Jones, a milliner.

Initially, financial backing came from Johan Brun, and when this agreement came to an end Danish entrepreneur Peder Bertelsen, owner of firm Aguecheek, who were also backing Katherine Hamnett at the time, took over. This agreement ended in 1988 and Galliano sought the backing of German agent Faycal Amor (owner and designer of fashion label Plein Sud) who directed him to set up his base in Paris. Galliano relocated to Paris in search of financial backing and a strong client base, his first show was in 1989 as part of Paris Fashion Week.
Paris

In 1991, he collaborated with Kylie Minogue, designing the costumes for her 'Let's Get to It' Tour.

In 1993, his financial agreement with Amor ended and he did not show in October, missing the season. With the help of American Vogue editor-in-chief Anna Wintour and Andre Leon Talley, then European Correspondent at Vanity Fair that Galliano was introduced to Portuguese socialite and fashion patron Sao Schlumberger and financial backers of venture firm Arbela Inc, John Bult and Mark Rice. It was through this partnership that Galliano received the financial backing and high society stamp needed to give him credibility in Paris. This collection was important in the development of John Galliano as a fashion house, and is regarded as a 'fashion moment' in high fashion circles. High profile models at this show included Kate Moss, Helena Christensen, Naomi Campbell and Linda Evangelista, all of whom were rumoured to have waived their usual couture appearance fees.
Financial backing and the use of Schlumberger's unoccupied Parisian mansion as a temporary HQ and theatrical setting for the show allowed Galliano to produce 17 black outfits with a fifteen day deadline - high profile clients in attendance at the presentation included Madonna and Beatrice Rothschild. Fashion critics noted that his work moved away from traditional forms of pret-a-porter and becoming much more like that associated with haute couture, attracting a younger, more fashion aware customer than that of long established French fashion houses.
Couture garments traditionally feature the finest quality materials, workmanship and techniques, Galliano used these techniques on a smaller scale and relaunched himself and his fashion house on the Parisian and worldwide fashion scene.

In July 1995, he was appointed as the designer of Givenchy by Bernard Arnault owner of luxury goods conglomerate LVMH, thus becoming the first British designer to head a French haute couture house. On 21 January 1996, Galliano presented his first couture show at the helm of Givenchy at the Stade Francais. The collection received high praise within the fashion media. Less than two years later, on October 14, 1996, LVMH moved Galliano to Christian Dior replacing Italian designer Gianfranco Ferré. His first couture show for Dior coincided with the label's 50th anniversary, on January 20, 1997.
Inspirations

He has been quoted as identifying his love of theatre and femininity as central to his creations – "my role is to seduce" he has said and went as far as recreating some of Dior's period clothing for Madonna in the film Evita. Galliano has reputedly cited Charlize Theron as a muse and has been creating couture dresses for her to wear to formal red carpet events such as the Academy Awards and the Golden Globe Awards. She is also part of the ad campaign for Dior's "J'Adore" perfume, while Riley Keough, granddaughter of Elvis Presley, fronts his "Miss Dior Cherie" perfume, and Kate Moss, in photographs by Nick Knight, his ready-to-wear campaigns as well as modelling in both couture and ready-to-wear shows. His couture shows have featured other elite couture models of the last two decades - Erin O'Connor, Alek Wek, Linda Evangelista, and Karen Mulder. Hollywood film stars Cate Blanchett and Nicole Kidman have frequently worn dresses created by him to the Academy Awards. Private clientele for couture collections include Daphne Guinness and Diana, Princess of Wales.

Currently, between his own label and Dior, Galliano produces six couture and ready-to-wear collections a year and a new mid-season range under his own name "G Galliano".
Collections

Galliano has always named his collections to reflect the background research inspirations.

* 'Les Incroyables' - final graduation collection presented July 1984 consisting of eight unisex outfits
* 'Afghanistan Repudiates Western Ideals' - shown as a display at London Fashion Week
* 'The Ludic Games' - presented March 1985.
* 'Fallen Angels' - 1986
* 'Forgotten Innocents' - 1986
* 'Blanche Dubois' - October 1988
* 'Napoleon and Josephine' - March 1992
* 'Olivia the Philibuster' - October 1992

Due to financial problems, John Galliano did not present a collection for A/W 1993

* 'Princess Lucrezia' - October 1993

* 'Misia Diva' - based on Streetcar Named Desire and consisting of 24 outfits - October 1994
* 'Winter Wonderland' - March 1995

* 'Honcho Woman' - presented March 1996, a mix of indigenous American Indian and the Duchess of Windsor.
* 'Mr Galliano's Circus' - October 1996
* 'Suzy Sphinx' - March 1997

Honours

On 1 January, 2009, it was announced that Galliano was admitted to the French Legion of Honour with the rank of Chevalier.
Personal life

Galliano says he follows a rigorous exercise regime which sees him rise at 6:00 each morning to complete a 40-minute aerobic session with his personal trainer, before embarking on a 10-minute stretch, doing 150 push-ups and a six-mile jog along the banks of the Seine River. "Working flat out, it was a necessary step to take", he once said. "It helps to concentrate the mind and I find that I have so much more energy and focus."In 2000, he said that he also had found his inspiration for the couture collection of boho-meets-hobo chic he unveiled that January during his jogging sessions, when running past the homeless people lining the river. He added that he hoped to expose the pure decadence of couture by "turning it inside out". Similarities between Galliano and the fictional amoral fashion designer Mugatu, with his "Derelicte" homeless fashion show, from the movie Zoolander have been pointed out by some commentators.

He has appeared on The Independent on Sunday's "pink list" for being one of "the most influential gay people in Britain."

On 25 February 2011, Dior announced that it had suspended Galliano following his arrest over an alleged anti-semitic assault in a Paris restaurant. In this video of the Sun, February 28, 2011, Galliano says that he loves Hitler.
Please register for a free Genetic Matrix account to access more information about this and all other celebrity pages