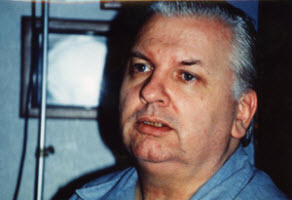 John Wayne Gacy
Category : Criminal - Serial Killer
Type : ME
Profile : 4/6 - Opportunistic / Role Model
Definition : Split - Small (1,7,33)
Incarnation Cross : RAX Eden 1
Biography
John Wayne Gacy, (March 17, 1942 - May 10, 1994) was an American serial killer. He was convicted and later executed for the rape and murder of 33 boys and men, 27 of whom he buried in a crawl space under the floor of his house, while others were found in nearby rivers, between 1972 and his arrest in 1978. He became notorious as the "Killer Clown" because of the many block parties he threw for his friends and neighbors, entertaining children in a clown suit and makeup, under the name of "Pogo the Clown."

Early life
John Wayne Gacy, Jr. had a very distant relationship with his stern, alcoholic father who described Gacy as a "sissy" and who physically abused Gacy's mother.

He worked briefly in Las Vegas before returning to Illinois. Gacy attended a business college and started a moderately successful career as a shoe salesman in Springfield, Illinois, where he became a prominent member of the Jaycees. In his study, Extraordinary Behavior: A Case Study Approach to Understanding Social Problems (2000), Dennis L. Peck, Professor of Sociology at the University of Alabama, writes: "John Wayne married in 1964. This also was the year a homosexual encounter was experienced for the first time." He moved to Waterloo, Iowa, where he managed a Kentucky Fried Chicken restaurant belonging to his wife's family.

However, Gacy's first marriage fell apart after he was convicted of child molestation in 1968. He was sent to prison for this crime, but he was a model prisoner and was paroled in 1970 after serving 18 months. After he was released, he moved back to Illinois. He successfully hid this criminal record until police began investigating him for his later murders.

In 1971 he bought a house in an unincorporated area of Norwood Park Township, which is surrounded by the northwest side Chicago neighborhood of Norwood Park, and established his own construction business, PDM Contracting. Gacy married a woman he had known since high school, and she and her two daughters moved in with him. He became a prominent and respected member of the community. In addition to his clown act, he became active in the local Democratic Party, first volunteering to clean the party offices, eventually becoming a precinct captain. In this capacity, he was even able to meet and be photographed with future-First Lady Rosalynn Carter . Mrs. Carter even signed the photo: To John Gacy. Best Wishes. Rosalynn Carter. During the search of Gacy's house after Gacy's arrest, this photo caused a major embarrassment to the U.S. Secret Service, as the photo depicted Gacy wearing an "S" lapel pin, which meant the Secret Service had given him a high-level security clearance (Sullivan and Maiken, 1983).

Begins murdering
It was also during this time that Gacy claimed his first known victim, a teenage boy he picked up at a bus depot. His marriage fell apart and his wife divorced him in mid-1976. Gacy began a double life: respected member of the community by day, sexual predator and murderer by night.

No suspicion fell on him until December 12, 1978, when he was investigated following the disappearance of a teenage boy, 15-year-old Robert Piest, who was last seen with Gacy. A search of his house, by Des Plaines detective Joseph Kozenczak, revealed a number of incriminating items related to other disappearances.

On December 22, 1978 Gacy went to his lawyers and confessed. He claimed he had first killed in Jan of 1972. He confessed to 33 murders and indicated the location of 28 bodies to police—they were buried under his house and on his property. The other five he said were thrown into the nearby Des Plaines River At least one of the victims was picked up at the bus station. The youngest victim was nine years old. The oldest was around 20. Nine of the victims were so badly decomposed that they were never identified. The bodies were uncovered from December 1978 to April 1979, when the last known victim was found downstream in the Illinois River.

Trial and execution
On February 6, 1980, Gacy's trial began in Chicago. During the trial, he made a plea of not guilty by reason of insanity. However, this plea was rejected outright—his lawyer, Sam Amirante, made the claim that Gacy had moments of temporary insanity at the time of each individual murder, but before and afterwards, somehow regained his sanity to properly lure and dispose of victims.

While on trial Gacy joked that the only thing he was guilty of was "running a cemetery without a license." At one point in the trial, Gacy's defense also tried to claim that all 33 murders were accidental deaths as part of erotic asphyxia, but the Cook County Coroner countered this assertion with evidence that Gacy's claim was impossible. Also, Gacy had made an earlier confession to police, and was unable to have this evidence suppressed. He was found guilty on March 13 and sentenced to death (Sullivan and Maiken, 1983).

On May 10, 1994, Gacy was executed at Stateville Penitentiary in Crest Hill, Illinois, by lethal injection, after finishing his last meal consisting of shrimp, fried chicken, fresh strawberries and french fries. His execution was a minor media sensation, and large crowds of people gathered for "execution parties" outside the penitentiary, with numerous arrests for public intoxication, open intoxicants, and disorderly conduct. In an unusual display of gallows humor, the so-called "Gacy's Day Parade" (a parody of the "Macy's Day Parade") ensued. Vendors sold T-shirts and Gacy merchandise, and the people cheered at the moment when Gacy was pronounced dead.

According to reports, Gacy did not express remorse. His last words to his lawyer in his cell were to the effect that killing him would not bring anyone back, and it is reported his last words were "You can kiss my ass", which he said to a guard while he was being sent to the execution chamber.

After the execution began, the lethal chemicals unexpectedly solidified, clogging the IV tube that led into Gacy's arm, and preventing any further passage. Blinds covering the window through which witnesses observed the execution were drawn, and the execution team replaced the clogged tube with a new one. Ten minutes later, the blinds were then reopened and the execution process resumed. It took 18 minutes to complete. 31 anesthesiologists blamed the problem on the inexperience of prison officials who were conducting the execution, saying that proper procedures taught in "IV 101" would have prevented the error. This apparently led to Illinois' adoption of a different method of lethal injection.

Possible explanations
Some have pointed to his poor relationship with his alcoholic father, his head trauma and subsequent blackouts in his teenage years as some basis for his acts. There has also been some speculation that murdering men and boys — whom he called "worthless little queers and punks" — was Gacy's subconscious expression of self-hatred for his own homosexuality (Gacy claimed to hate gays and "gay-acting people," and that he was bisexual). However, his victims were mostly heterosexual males. Their most common attributes were youth and good looks.

After his execution, Gacy's brain was removed. It is currently in the possession of Dr. Helen Morrison, who interviewed Gacy and other serial killers in an attempt to isolate common personality traits held by such people. However, an examination of Gacy's brain after his execution by the forensic psychiatrist hired by his lawyers revealed no abnormalities. She has said Gacy did not fit into any psychological profile associated with serial killers, and the psychological reasons for his rampage will probably never be known. During Gacy's trial, Dr. Morrison herself appeared as a psychiatric witness and told the court that he had "the emotional makeup of an infant" (Sullivan and Maiken, 1983).

Gacy the artist
During his time on death row, Gacy took up oil painting, and his favorite subject was painting portraits of clowns. He claimed to have used his clown act as an alter ego, once sardonically saying that "A clown can get away with murder."

After his execution, his paintings were sold at auctions. The main buyer burned the paintings after winning the bids. Another of his famous paintings is of transgressive punk rock singer/songwriter/performance artist GG Allin, who had visited Gacy in prison and corresponded with him until Allin's death in 1993; the painting is in the possession of Allin's brother and bassist, Merle Allin, and a black and white reproduction of the painting can be seen on the front cover of the soundtrack to the GG Allin documentary Hated: GG Allin And The Murder Junkies. His paintings were also used as artwork for the Acid Bath album When the Kite String Pops. Gacy also did some paintings for performance artist, musician and actor Glen Meadmore, who corresponded with him for a period of time. A portrait of Meadmore painted by Gacy appears on the front cover of Meadmore's recording Hot, Horny and Born Again.

Another painting of Gacy belongs to Dani Filth, frontman of the metal band Cradle of Filth. Filmmaker John Waters owns one of Gacy's paintings, which Waters says hangs in his guest bedroom "so people don't stay too long".

St. Louis native Gunnar Swensen is known to be an avid collector of Gacy artwork.

Unidentified Victims
Nine of John Wayne Gacy's victims were so badly decomposed that they were never identified. Below are the reconstruction Images of the nine unidentified victims. All of these images are courtesy of The Doe Network and provide links to the individual case files.

Fictionalized portrayals
Brian Dennehy portrayed Gacy in the television miniseries To Catch a Killer in 1992.
A biopic called Gacy, with character actor Mark Holton in the title role, went straight to video in 2003. The film focused on Gacy near the end of his murder spree, and a young man (a composite character) living under his roof with no knowledge of his landlord's crimes. The film ends with the young man running out of Gacy's house in a torture rack of sorts, which causes police officers to raid his house and find the bodies; in reality, Gacy confessed to the crimes before anyone found these bodies.
Gacy was featured in a South Park episode in which he, Ted Bundy, and Jeffrey Dahmer work together to pick up a Ferrari cake for Satan. The trio parody the Three Stooges, with Gacy representing Curly.
The novel Heart-Shaped Box (2007) by horror writer Joe Hill is about a hard rock artist who collects macabre objects, among which can be found a set a sketches of the Seven Dwarves by John Wayne Gacy. Note the correspondence to the section about Dani Filth in the section about Gacy as artist above.
In the Dean Koontz novel Odd Thomas, Gacy is mentioned while Odd is exploring Bob Robertson's home.
Gacy is one of the more controversial characters in the internet games show Consolevania. A clown dressed in top hat and black coat, he presents the "children's" section of the show. Most of the humour in his segments consists of Freudian slips inadvertently revealing that he's a paedophilic serial killer, or reading out "fan" letters which contain pleas for help before quickly correcting himself.
In the David Baldacci novel Hour Game, the serial killer in the story kills one of his victims using a noose in a similar manner to Gacy, and leaves a clown mask by his victim.

Trivia
John Wayne Gacy's old cell was used during filming for Fox Network's hit TV show Prison Break.
Jonathan Davis, lead vocalist of nu-metal band Korn, bought Gacy's clown suit.

References in music
The American band Wolfpac, which is fronted by former Bloodhound Gang member Daddy Long Legs first two CD's "Evil is…" and "Somthin Wicked This Way Comes" contain a introduction track titled "Thirty Three" which contains actual voice samples of John Wayne Gacy.
The Viking metal band Bathory made a song about Gacy, called "33 Something" and is on the Octagon album.
Former Sex Pistol John Lydon released a song called "Psychopath" on his first solo album, Psycho's Path, that is partly based on Gacy.
A New Wave-genre band formed at Caltech in the early 1980s, with the name "John Wayne Gacy and the Frozen Boners."
"Panty Shot" by Mindless Self Indulgence -- a song about the love of "Fuck And Touch The Children." There is a line towards the end of the song, "They think I'm John Wayne Gacy" in reference to Gacy's crimes against children.
Circus metal band Dog Fashion Disco has a song titled "Pogo the Clown" which contains references to Gacy.
Sludge metal band Acid Bath used Gacy's paintings as artwork for their album When the Kite String Pops.
American death metal band Macabre composed and recorded a song about Gacy, titled "Gacy's Lot" and can be found on the Sinister Slaughter album.
Ogden Edsl performed a song called "Kinko the Clown" which is based on John Wayne Gacy's clown persona; often heard on the Dr. Demento radio show.
The band Horrorwood Ending wrote a song about Gacy with the chorus "8213 SUMMERDALE AVENUE!," Gacy's address before he was incaracerated for the murders.
Madonna Wayne Gacy of the band Marilyn Manson takes his stage name's surname from John Wayne Gacy. He is also known as Pogo.
The fourth track of Sufjan Stevens' album Illinoise is titled "John Wayne Gacy, Jr.", and describes his life and his relationship with his victims. John Wayne Gacy is depicted on the back cover of the album wearing a clown suit. This song was also used in the third season of Nip/Tuck.
The Japanese doom metal band Church of Misery often writes songs about serial killers. The title track on their album Master of Brutality is dedicated to John Wayne Gacy.
The German new wave band Hubert Kah named one of the songs of the 1986 Tensongs album Pogo the Clown with lyrics about the killer clown and his desires.
Rap Artist Twista debuted as a solo artist his "Adrenaline Rush" album. On track 9, "Unsolved Mystery," he states: " Y'all can't face me/ I'm burying my victims in the wall like Gacy."
Please register for a free Genetic Matrix account to access more information about this and all other celebrity pages