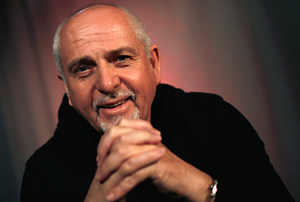 Peter Gabriel
Category : Musician - Popular
Type : PM
Profile : 6/3 - Role Model / Martyr
Definition : Single
Incarnation Cross : LAX Revolution 1
Biography
Peter Brian Gabriel (born February 13, 1950, in Chobham, Surrey, England) is an English musician. He first came to fame as the lead vocalist and flautist of the progressive rock group Genesis. After leaving Genesis, Gabriel went on to a successful solo career. More recently he has focused on producing and promoting world music and pioneering digital distribution methods for music. He has also been involved in various humanitarian efforts.

Genesis
Gabriel founded Genesis in 1967 while a pupil at Charterhouse School with bandmates Tony Banks, Anthony Phillips, Mike Rutherford, and drummer Chris Stewart. The name of the band was suggested by fellow Charterhouse School alumnus, the pop music impresario Jonathan King who produced their first album From Genesis to Revelation.

A lover of soul music, Gabriel was influenced by many different sources in his way of singing, mainly Nina Simone, Gary Brooker of Procol Harum and Cat Stevens. He also played the flute on Stevens' Mona Bone Jakon album in 1970.

Genesis quickly became one of the most talked-about bands in England and eventually Italy, Belgium, Germany and other European countries, largely due to Gabriel's flamboyant stage presence, which involved numerous bizarre costume changes and comical, dreamlike stories told as the introduction to each song. The concerts made extensive use of black light with the normal stage lighting subdued or off. A backdrop of fluorescing white sheets and a comparatively sparse stage made the band into a set of silhouettes, with Gabriel's fluorescent costume and makeup the only other sources of light.

Among Gabriel's many famous costumes (which he developed partly as way of overcoming his stage fright) were "The Flower" (worn for "Supper's Ready", from Foxtrot), "Magog" (also worn for "Supper's Ready", from Foxtrot), "Britannia" (worn for "Dancing With The Moonlit Knight", from Selling England by the Pound), "The Old Man" (worn for "The Musical Box", from Nursery Cryme), "Rael" (worn throughout most of the performance of the album The Lamb Lies Down on Broadway), and "The Slipperman" (worn during "The Colony of Slippermen", also from The Lamb Lies Down on Broadway).

Backing vocals in Genesis during Gabriel's tenure in the band were usually handled by bassist/guitarist Mike Rutherford, keyboardist/guitarist Tony Banks, and (most prominently) drummer Phil Collins, who (after a long search for a replacement) eventually became Genesis's lead singer after Gabriel left the band in 1975.

The Departure
Gabriel's departure from Genesis (which stunned fans of the group and left many commentators wondering if they could survive) was the result of a number of factors. His stature as the lead singer of the band, and the added attention garnered by his flamboyant stage personae, led to tensions within the band. Genesis had always operated more or less as a collective, and Gabriel's burgeoning public profile led to fears within the group that he was being unfairly singled out as the creative hub of the group.

Tensions were heightened by the ambitious album and tour of the concept work The Lamb Lies Down on Broadway, a Gabriel-created concept piece which saw him taking on the lion's share of the lyric writing. During the writing and recording of The Lamb Lies Down on Broadway, Gabriel was approached by director William Friedkin, allegedly because Friedkin had found Gabriel's short story in the liner notes to Genesis Live interesting. Gabriel's interest in a film project with Friedkin was another contributing factor in his decision to leave Genesis. The decision to quit the band was made before the tour supporting The Lamb Lies Down on Broadway, but Gabriel stayed with the band until the conclusion of that tour.

The breaking point came with the difficult pregnancy of Gabriel's wife, Jill, and birth of their first child, Anna. When he opted to stay with his sick daughter and wife rather than go record and tour, the resentment from the rest of the band led Gabriel to conclude that he had to leave the band. "Solsbury Hill", Gabriel's debut single as a solo artist, was written about his departure.

Solo career
Gabriel refused to title any of his first four solo albums, which were all labelled Peter Gabriel using the same typeface, but different cover art. He wanted them to be considered similar to concurrent issues of a magazine instead of individual works; they are usually differentiated by number in order of release, or sleeve design, I, II and III being referred to as Car, Scratch and Melt respectively, in reference to their cover artwork. His fourth solo album, also called Peter Gabriel in the UK, was titled Security in the U.S., at the behest of Geffen Records. Even after acquiescing to distinctive titles, he has continued to use words as short as possible to title his albums: So, Us, and Up. His most recent greatest hits compilation was called, simply, Hit.
Please register for a free Genetic Matrix account to access more information about this and all other celebrity pages