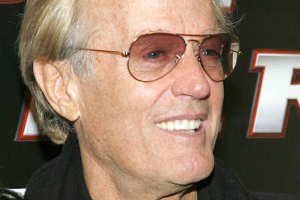 Peter Fonda
Category : Actor
Type : GE
Profile : 5/1 - Heretical / Investigator
Definition : Split - Small (12,20,45,48)
Incarnation Cross : LAX Spirit 1
Biography
Peter Henry Fonda (born February 23, 1940) is an American actor. He is the son of Henry Fonda, brother of Jane Fonda, and father of Bridget and Justin Fonda (by first wife Susan Brewer, stepdaughter of Noah Dietrich). Fonda is an icon of the counterculture of the 1960s.
Early life
Fonda was born in New York City, the only son of actor Henry Fonda and his wife Frances Ford Seymour; he is the younger brother of actress Jane Fonda. He and Jane had a maternal half-sister, Frances de Villers Brokaw (1931-2008), from their mother's first marriage.
On his eleventh birthday, he accidentally shot himself in the stomach and nearly died. He then went to Nainital and stayed for few months. Years later, he would reference this incident to John Lennon and George Harrison while taking LSD with The Beatles, and claiming "I know what it's like to be dead", which ended up becoming a direct inspiration for The Beatles song "She Said, She Said".
Early on, Fonda studied acting in Omaha, Nebraska, his father's home town. While attending the University of Nebraska at Omaha, Fonda joined the Omaha Community Playhouse, where many actors (including his father and Marlon Brando) had begun their careers.
Career
Early life
Fonda found work on Broadway where he gained notice in Blood, Sweat and Stanley Poole, before going to Hollywood to make films. He started his film career in romantic leading roles. He debuted in Tammy and the Doctor (1963), which he called "Tammy and the Schmuckface". But Fonda's intensity impressed Robert Rossen, who directed the Oscar winner All the King's Men and cast him in Lilith (1964). He also was in The Victors (1964), and played the male lead in The Young Lovers (1964), about out-of-wedlock pregnancy.
By the mid-1960s, Peter Fonda was not a conventional "leading man" in Hollywood. As Playboy magazine reported, Fonda had established a "solid reputation as a dropout". He had become outwardly nonconformist and grew his hair long, alienating the "establishment" film industry. Desirable acting work became scarce. In the 1963–1964 season, he appeared in an episode of the ABC drama about college life, Channing.
Through his friendships with members of the Byrds, Fonda visited The Beatles in their rented house in Benedict Canyon in Los Angeles in August, 1965. While John Lennon, Ringo Starr, George Harrison, and Fonda himself were under the influence of LSD, Lennon heard Fonda say, "I know what it's like to be dead". This phrase became the tag line for Lennon's song, "She Said She Said", which appeared on the Revolver (1966) album. In 1966, Fonda was arrested in the Sunset Strip riot which the police ended forcefully. The band Buffalo Springfield protested the department's handling of the incident in their song "For What It's Worth". Fonda would take a stab at being a singer himself in 1968, recording a 45 for the Chisa label: "November Night" (written by Gram Parsons) b/w "Catch The Wind" (the Donovan song), produced by Hugh Masekela.
Fonda's first counterculture-oriented film role was the lead character Heavenly Blues, a Hells Angels chapter president, in the Roger Corman directed b-movie, The Wild Angels (1966). The Wild Angels is still remembered for Fonda's "eulogy" delivered at the fiasco of a fallen Angel's funeral service, which was sampled in the Primal Scream recording "Loaded" (1991), and in other rock songs. Then Fonda played the male lead character in Corman's film The Trip (1967), a take on the experience and consequences of consuming LSD.
Easy Rider
In 1968, Fonda produced and starred in Easy Rider, the classic film for which he is best known. Easy Rider is about two long-haired bikers traveling through the southwest and southern United States in a world of intolerance and violence. The Fonda character was the charismatic, laconic "Captain America" whose motorcycle jacket bore a large American flag across the back. Dennis Hopper played the garrulous "Billy". Jack Nicholson was nominated for an Academy Award for Best Supporting Actor for his turn as George Hanson, an alcoholic civil rights lawyer who rides along. Fonda co-wrote Easy Rider with Terry Southern and Hopper, who directed.
Hopper filmed the cross-country road trip depicted in Easy Rider almost entirely on location. Fonda had secured funding in the neighborhood of $360,000 - (largely based on the fact he knew that was the budget Roger Corman needed to make The Wild Angels), and the film was released in 1969 to international success. Robbie Robertson was so moved by an advance screening that he approached Fonda and tried to convince him to let him write a complete score, even though the film was nearly due for wide release. Fonda refused, using Steppenwolf's "Born to Be Wild" and Dylan's "It's Alright Ma, I'm Only Bleeding" sung by the Byrds' Roger McGuinn, among many other tracks. Fonda, Hopper and Southern were nominated for the Academy Award for Best Original Screenplay.
Later work
After the success of Easy Rider, both Hopper and Fonda were in a position to make any film project they wanted. While Hopper chose to make the drug addled jungle epic The Last Movie, (in which Fonda co-starred along with Michelle Phillips), Fonda directed the Western film, The Hired Hand. Fonda took the lead role in a cast that also featured Warren Oates, Verna Bloom and Beat poet Michael McClure. This was followed by the cult-classic Dirty Mary, Crazy Larry, a box-office hit in 1974, and Open Season, which failed. He would re-unite with Warren Oates in Race with the Devil in 1975, and later would star in Futureworld, a sequel to Westworld, which was another box office failure. Despite generating mixed reviews upon its initial release, in 2001, The Hired Hand was fully restored and exhibited at a number of festivals to a generally enthusiastic critical response. Subsequently, the Sundance Channel released a DVD of the film in two separate editions that same year, and the film has since found an audience as a cult Western classic. In 1976, Fonda starred opposite Susan St. James as a musician on the run in Outlaw Blues. In 1979, Fonda directed and starred in the drama Wanda Nevada alongside Brooke Shields. His father Henry Fonda made a brief appearance as well, making it the only time the father and son appeared together on film. In a later nod to his roles in The Wild Angels and Easy Rider, Fonda also had a cameo as the "Chief Biker" in the 1981 slapstick comedy The Cannonball Run.
Fonda received high-profile critical recognition and universal praise for his role in Ulee's Gold (1997). Fonda portrayed a stoic north Florida beekeeper who, in spite of his tumultuous family life, imparts a sense of integrity to his wayward convict son, and takes risks in acting protectively toward his drug-abusing daughter-in-law. His performance resulted in an Academy Award nomination for Best Actor. Fonda's movie career has been made all the more interesting by the extreme contrast between the wide-eyed and questing (though possibly amoral, certainly drug-dealing) rebel motorcyclist in Easy Rider and the upright war-veteran father he played nearly three decades later in Ulee's Gold—a character who tries to share the wisdom of age with his defiantly nihilistic son and who saves his addicted daughter-in-law's life.
In 1998 Peter Fonda starred in a TV movie version of "The Tempest" based in part on Shakespeare's play "The Tempest". This version of "The Tempest" has often been overlooked when versions of "The Tempest" are listed or quoted. The version that starred Peter Fonda was directed by Jack Bender and starred Peter Fonda, John Glover, Harold Perrineau, Katherine Heigl. It is also a version currently not available on DVD but was made available on VHS tape.
Two years later, Fonda appeared in the 1999 Steven Soderbergh neo noir crime film The Limey, as the money laundering/celebrity rock music producer Terry Valentine.
In 2002, Fonda was inducted into the AMA Motorcycle Hall of Fame. Fonda lent his voice talent to the very successful 2004 video game Grand Theft Auto: San Andreas as the aging hippie, The Truth.
In a 2007 interview, Fonda stated that motorcycles help him to focus, stating, "I ride an MV Agusta. This is an Italian racing motorcycle. It forces focus. You have to be focused and in my life, in this business, focus is hard to find sometimes. So I need to force focus and that's great. The bike takes you on a free road. There's no fences on the roads I ride and I don't ride freeways. That's as much as I can tell you because there are more lands waiting for this little Christian boy. That's not true. I'm an atheist, but what the heck."
In 2007, Fonda made a notable return to the big screen in the remake of the 1957 Western 3:10 to Yuma, appearing alongside Christian Bale and Russell Crowe as the bounty hunter Byron McElroy. The film received two Academy Award nominations, and positive reviews from critics. He also made an appearance in the last scenes of the biker comedy Wild Hogs as Damien Blade, founder of the biker gang Del Fuegos and father of Jack, a character played by Ray Liotta. This year also featured Fonda portraying Mephistopheles, one of two main villains in the 2007 film Ghost Rider, but despite his expressed interest in re-playing the character in the sequel, was replaced by Ciarán Hinds. As an aside to his earlier role in Easy Rider, the movie used the "Captain America" Chopper as the bike that becomes the Ghost Riders bike. In 2009, he appeared in The Boondock Saints II: All Saints Day, the sequel to the cult hit, as 'The Roman', the main villain and an old acquaintance of Il Duce, the character played by Billy Connolly. He has also appeared in Californication.
Fonda was once asked about the possibility of picking up his father's role, either on- or off-Broadway, in the classic stage drama 12 Angry Men. His response: "Don't hold your breath for that one."
Other work
Fonda wrote an autobiography, Don't Tell Dad: A Memoir, which was published in 1998.
Honors
In 2000, a Golden Palm Star on the Palm Springs, California, Walk of Stars was dedicated to him.
Personal life
Fonda has had a permanent home in Paradise Valley, Montana since 1975.
Politics
In May 2011, during a press conference at the Cannes Film Festival to promote The Big Fix, a documentary produced by Fonda and Tim Robbins which examined the role of BP in the Deepwater Horizon oil spill and its impact on the Gulf of Mexico, Fonda stated that he had eviscerated President Barack Obama in a letter over the spill, calling him a "fucking traitor" for allowing "foreign boots on our soil telling our military—in this case the Coast Guard—what they can and could not do, and telling us, the citizens of the United States, what we could or could not do.'"
Other incidents
On January 12, 2011, Fonda found the body of a man sitting in the driver's seat of a car parked on the side of Sunset Boulevard in Los Angeles. Fonda called 9-1-1 for first responders, who after reaching the area, explained that the deceased had committed suicide 3 days earlier in the car.
Please register for a free Genetic Matrix account to access more information about this and all other celebrity pages