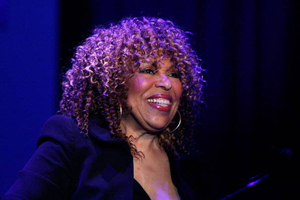 Roberta Flack
Category : Singer - Popular
Type : ME
Profile : 3/5 - Martyr / Heretic
Definition : Single
Incarnation Cross : RAX Explanation 1
Biography
Roberta Flack (born February 10, 1939 in Asheville, North Carolina) is an American singer, notable in the areas of jazz, soul, and folk. Flack is best known for singles such as "Killing Me Softly With His Song," "The First Time Ever I Saw Your Face," "Where is the Love", one of her many duets with Donny Hathaway, and "Feel Like Making Love." "Killing Me Softly With His Song" won the 1974 Grammy for Record of the Year.

Flack was raised in Arlington, Virginia. She first discovered the work of African American musical artists when she heard Mahalia Jackson and Sam Cooke sing in a predominantly black Baptist church.

In her early teens, Flack so excelled at classical piano that Howard University awarded her a full music scholarship. She matriculated at Howard University at the age of 15, making her one of the youngest students ever to enroll there. She eventually changed her major from piano to voice, and became an assistant conductor of the university choir. Her direction of a production of Aida received a standing ovation from the Howard University faculty.

Flack became the first black student teacher at an all-white school near Chevy Chase, Maryland. She graduated from Howard University at 19 and began graduate studies in music, but the sudden death of her father forced her to take a job teaching music and English for $2800 a year in Farmville, North Carolina.

Flack then taught school for some years in Montgomery County, Maryland. During this period, her music career began to take shape on evenings and weekends in Washington, D.C. area night spots. At the Tivoli Club, she accompanied opera singers at the piano. During intermissions, she would sing blues, folk, and pop standards in a back room, accompanying herself on the piano. Later, she performed several nights a week at the 1520 Club, again providing her own piano accompaniment. Around this time, her voice teacher told her that he saw a brighter future for her in pop music than in the classics. She modified her repertoire accordingly and her reputation spread.

Subesequently, a Capitol Hill night club called Mr. Henry's built a performance area especially for her.

In 1999, a star with Flack's name was placed on Hollywood's Walk of Fame. That same year, she gave a concert tour in South Africa, whose final concert was attended by President Nelson Mandela.

Flack is a member of the Artist Empowerment Coalition, which advocates the right of artists to control their creative properties.

Recording and performing
When Flack did a benefit concert for the Inner City Ghetto Children's Library Fund, Les McCann happened to be in the audience. He later said, "Her voice touched, tapped, trapped, and kicked every emotion I've ever known. I laughed, cried, and screamed for more...she alone had the voice!". Very quickly, he arranged an audition for her with Atlantic Records, during which she played 42 songs in 3 hours for producer Joel Dorn. In November of 1968, she recorded 39 song demos in less than 10 hours. Three months later, Atlantic recorded her debut album, "First Take," in a mere 10 hours. Flack later spoke of those studio sessions as a "very naive and beautiful approach...I was comfortable with the music because I had worked on all these songs for all the years I had worked at Mr. Henry's."

Flack's Atlantic recordings did not sell particularly well, until Clint Eastwood chose a song from First Take, "The First Time Ever I Saw Your Face", for the sound track of his directorial debut Play Misty for Me; it became a #1 hit in 1972. Eastwood has remained an admirer and friend of Flack's ever since. In 1983, she recorded the end music to the Dirty Harry film Sudden Impact.

Flack soon began recording regularly with Donny Hathaway, including her second #1 hit, "Killing Me Softly with His Song" (1973; see 1973 in music). She and Hathaway continued recording successfully together until Hathaway's 1979 suicide. She began working with Peabo Bryson with more limited success, charting as high as #5 on the Black Singles charts (plus #16 Pop and #4 Adult Contemporary) with "Tonight I Celebrate My Love" in 1983. Her next two singles with Bryson, "You're Looking Like Love To Me" and "I Just Came Here To Dance," fared better on adult contemporary (AC) radio than on pop or R&B radio.
Once again, Flack found herself in the US Top 10 with the hit song "Set the Night to Music", a 1991 duet with Jamaican vocalist Maxi Priest, peaked at #6 on the Billboard Hot 100 charts and #2 AC. Flack's smooth R&B sound lent itself easily to Easy Listening airplay during the 1970s, and she has had four #1 AC hits.

Trivia

When Flack played the gold record she won for "Killing Me Softly With His Song" on a turntable, what she heard was "Come Softly to Me" by The Fleetwoods.

The song "What You Know" by T.I. utilizes a sample of Roberta Flack's version of The Impressions's "Gone Away"

In 1986, Flack sang the theme song entitled "Together Through the Years" for the NBC television series, "The Hogan Family." The song was used for all of the show's six seasons.

In 1996, The Fugees famously covered "Killing Me Softly with His Song."

Flack is the aunt of the professional ice skater Rory Flack Burghardt.

Flack resides at the famous "Dakota" apartment house (73rd Street and Central Park West) in New York City, which was also the residence of John Lennon and Yoko Ono at the time of the legendary ex-Beatle's death at the hands of Mark David Chapman.

Flack is a member of Delta Sigma Theta Sorority.

Flack is mentioned by name in the Red Hot Chili Pepper's song "My Lovely Man."

"Killing Me Softly with His Song" is said to have been written about Don McLean after Flack had seen him in concert.


Please register for a free Genetic Matrix account to access more information about this and all other celebrity pages