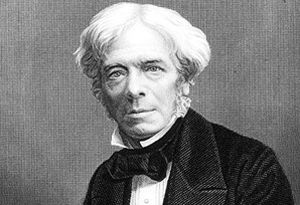 Michael Faraday
Category : Science-Physics
Type : ME
Profile : 1/4 - Investigating / Opportunist
Definition : Single
Incarnation Cross : RAX The Vessel of Love 3
Biography
Michael Faraday, FRS (September 22, 1791 – August 25, 1867) was an English chemist and physicist (or natural philosopher, in the terminology of that time) who contributed significantly to the fields of electromagnetism and electrochemistry.

Faraday studied the magnetic field around a conductor carrying a DC electric current, and established the basis for the magnetic field concept in physics. He discovered electromagnetic induction, diamagnetism and electrolysis. He established that magnetism could affect rays of light and that there was an underlying relationship between the two phenomena.

His inventions of electromagnetic rotary devices formed the foundation of electric motor technology.

As a chemist, Faraday discovered chemical substances such as benzene, invented an early form of the bunsen burner and the system of oxidation numbers, and popularized terminology such as anode, cathode, electrode, and ion.

Although he received little formal education and thus higher mathematics like calculus was always out of his reach, he went on to become one of the most influential scientists in history. Some historians of science refer to him as the best experimentalist in the history of science. It was largely due to his efforts that electricity became viable for use in technology. The SI unit of capacitance, the farad, is named after him, as is the Faraday constant, the charge on a mole of electrons (about 96,485 coulombs). Faraday's law of induction states that a magnetic field changing in time creates a proportional electromotive force.

He was Fullerian Professor of Chemistry at the Royal Institution of Great Britain, the first, and most famous, holder of this position to which he was appointed for life.

Miscellaneous

Faraday gave a successful series of lectures on the chemistry and physics of flames at the Royal Institution, entitled The Chemical History of a Candle. This was the origin of the Christmas lectures for young people, which are still given there every year and bear his name.

Faraday and William Whewell were responsible for coining many familiar words including 'electrode', 'cathode', and 'ion'.

Faraday refused to participate in the production of chemical weapons for the Crimean War citing ethical reasons.

A statue of Faraday stands in Savoy Place, London, outside the Institution of Electrical Engineers.

A recently built hall of accommodation at Brunel University is named after Faraday.

A hall at Loughborough University was named after Faraday in 1960. Near the entrance to its dining hall is a bronze casting, which depicts the symbol of an electrical transformer, and inside there hangs a portrait, both in Faraday's honour.

Faraday's picture was printed on British £20 banknotes from 1991 until 2001.

In the video game Chromehounds there is a ThermoVision Device named the Faraday.

The former UK Faraday Atmospheric Research Station in Antarctica was named after him.

Writings by Faraday
Chemical Manipulation, Being Instructions to Students in Chemistry (1 vol., John Murray, 1st ed. 1827, 2nd 1830, 3rd 1842).
Experimental Researches in Electricity, vols. i. and ii., Richard and John Edward Taylor, vols. i. and ii. (1844 and 1847); vol. iii. (1844); vol. iii. Richard Taylor and William Francis (1855).
Experimental Researches in Chemistry and Physics, Taylor and Francis (1859).
A Course of Six Lectures on the Chemical History of a Candle (edited by W. Crookes) (Griffin, Bohn & Co., 1861).
On the Various Forces in Nature (edited by W. Crookes) (Chatto & Windus, 1873).
A Course of 6 lectures on the various forces of matter and their relations to each other. edited by William Crookes(1861).
Faraday's Diary edited by T. Martin was published in eight volumes (1932 - 36).

Further reading

Biographies
Tyndall, John, Faraday as a Discoverer, (Longmans, 1st ed. 1868, 2nd ed. 1870).
Bence Jones, Henry (1870). The Life and Letters of Faraday in 2 vols, Longmans.
Gladstone, J. H. (1872). Michael Faraday, Macmillan.
Thompson, Silvanus (1901, reprinted 2005). Michael Faraday, His Life and Work. Cassell and Company, London, 1901; reprint by Kessenger Publishing, Whitefish, MT. ISBN 1-4179-7036-7
Williams, L. Pearce (1971), Faraday: A Biography, Simon and Schuster.
Hamilton, James (2002). Faraday: The Life. London: Harper Collins. ISBN 0-00-716376-2
Hamilton, James (2004). A Life of Discovery: Michael Faraday, Giant of the Scientific Revolution. New York: Random House. ISBN 1-4000-6016-8
Cantor, Geoffrey (1991). Michael Faraday, Sandemanian and Scientist, Macmillian, ISBN 0-333-55077

Others
Ames, Joseph Sweetman (Ed.), The discovery of induced electric currents Vol. 2. Memoirs, by Michael Faraday. New York, Cincinnati American book company LCCN 00005889
Thomas, John Meurig (1991). Michael Faraday and the Royal Institution: The Genius of Man and Place Bristol: Hilger. ISBN 0-7503-0145-7
Makogen, Y. F. (1997). Hydrates of Hydrocarbons, Tulsa, Oklahoma: PennWell Books.

Quotations

Michael Faraday"Nothing is too wonderful to be true if it be consistent with the laws of nature."
"Work. Finish. Publish." — his well-known advice to the young William Crookes
"The important thing is to know how to take all things quietly."
Regarding the hereafter, "Speculations? I have none. I am resting on certainties. I know whom I have believed and am persuaded that he is able to keep that which I have committed unto him against that day."
"Next Sabbath day (the 22nd) I shall complete my 70th year. I can hardly think of myself so old."
Above the doorways of the Pfahler Hall of Science at Ursinus College in Collegeville, Pennsylvania, there is a stone inscription of a quote attributed to Michael Faraday which reads "but still try, for who knows what is possible..."
Please register for a free Genetic Matrix account to access more information about this and all other celebrity pages