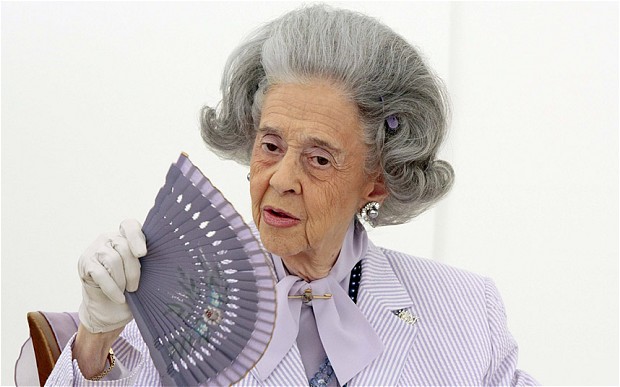 Fabiola, Queen of Belgium
Category : Notable-Famous-Royal-family
Type : ME
Profile : 4/6 - Opportunistic / Role Model
Definition : Single
Incarnation Cross : RAX Rulership 2
Biography
Queen Fabiola of Belgium (née Doña Fabiola de Mora y Aragón; born 11 June 1928) is the dowager of King Baudouin of Belgium. She was Queen consort of the Belgians for 33 years. Since her husband's death in 1993, she has been styled HM Queen Fabiola of Belgium.
Early life
Fabiola de Mora y Aragón was born in Madrid, Spain, the fourth daughter of Gonzalo de Mora y Fernández, Riera y del Olmo, 4th Marquess of Casa Riera, 2nd Count of Mora (1887–1957) and his wife, Blanca de Aragón y Carrillo de Albornoz, Barroeta-Aldamar y Elío (1892–1981). She was a sister of Jaime de Mora y Aragón (es), a Spanish actor and jet set playboy. Her godmother was Queen Victoria Eugenia of Spain.
Before her marriage she published an album of 12 fairy tales (Los doce Cuentos maravillosos), one of which ("The Indian Water Lilies") would get its own pavilion in the Efteling theme park in 1966.
Marriage
Queen Fabiola during her state visit in Germany (München, 1971)
On 15 December 1960, Fabiola married Baudouin, who had been king of the Belgians since his father's abdication in 1951. At the marriage ceremony in the church of Laeken she wore a 1926 Art Deco tiara that had been a gift of the Belgian state to her husband's mother, Princess Astrid of Sweden upon her marriage to Léopold III of the Belgians. Her dress of satin and mink was designed by the couturier Cristóbal Balenciaga. TIME magazine, in its 26 September 1960, issue, called Doña Fabiola, who was a hospital nurse at the time of her engagement, "Cinderella Girl" and described her as "an attractive young woman, though no raving beauty" and "the girl who could not catch a man." On the occasion of her marriage, Spanish bakers set out to honor Fabiola and created a type of bread, "the fabiola", which is still made and consumed on a daily basis in many Spanish cities.
The royal couple had no children, as the queen's five pregnancies ended in miscarriage. There are reports, however, that she had a stillborn child in the mid 1960s. Fabiola openly spoke about her miscarriages in 2008: 'You know, I myself lost 5 children. You learn something from that experience. I had problems with all my pregnancies, but you know, in the end I think life is beautiful'.
Widowhood
Baudouin died in 1993 and was succeeded by his younger brother, the Prince of Liège who became Albert II, King of the Belgians. Queen Fabiola moved out of the Royal Palace of Laeken to the more modest Stuyvenbergh Castle and reduced her public appearances in order not to overshadow her sister-in-law, Queen Paola.
Admired for her devout Roman Catholicism and involvement in social causes particularly those related to mental health, children's issues and women's issues in the Third World, Queen Fabiola is a recipient of the 2001 Ceres Medal, in recognition of her work to promote rural women in developing countries. The medal was given by the Food and Agriculture Organization of the United Nations (FAO). She's also honorary president of King Baudouin Foundation.
Guido Derom, an explorer, named a newly-discovered range of Antarctic mountains in her honour in 1961. She also has several varieties of ornamental plants named after her.
Queen Fabiola was hospitalized with pneumonia on 16 January 2009, and spent 15 days there, with her condition being described as "serious". She subsequently made a good recovery and was attending public functions by the following May. In July 2009, anonymous death threats were published by newspapers. According to these Queen Fabiola was to be shot with a crossbow. She responded to the threats during the Belgian national holiday celebrations on 21 July by wittily waving an apple to the crowd – a reference to the William Tell folk tale. Subsequent threats by an individual said to have a similar signature to the July 2009 threat-writer were received again in January 2010.
In January 2013, Belgian prime minister Elio Di Rupo criticized Queen Fabiola for her plans to set up a private foundation, which was widely seen by the public as inheritance tax evasion (although, since the construction was admitted by Di Rupo to be legal, it would more precisely be a case of tax avoidance). The Queen denied the charges, claiming that the funds used were "her private money", and that most of her annual public stipend was used for housekeeping and staff wages.
Please register for a free Genetic Matrix account to access more information about this and all other celebrity pages