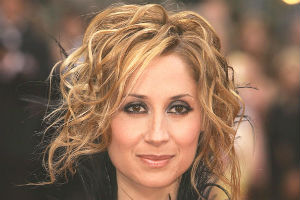 Lara Fabian
Category : Singer - Classical
Type : GP
Profile : 5/1 - Heretical / Investigator
Definition : Split - Large
Incarnation Cross : LAX Cycles 2
Biography
Lara Fabian (born Lara Crokaert, January 9, 1970) is a Belgian-Italian international singer who holds Canadian citizenship. Multilingual, she sings in French, Italian and English. She has also sung in Spanish, Portuguese, Russian, Hebrew, Greek, and German.
She has sold over 18 million records worldwide. She is a lyric soprano with a vocal range that spans three octaves from C3 to G#6 in live performances.
Early life
Born to a Belgian father and a Sicilian mother in Etterbeek, Belgium, Fabian spent her first five years in her mother's hometown of Catania in Sicily, before moving back to Brussels, Belgium. She began singing, dancing and taking piano lessons at a young age, and began formal music lessons at age eight. She began writing and performing her own songs during her ten years of formal music study. Fabian's songs were influenced by her classical vocal and by contemporary artists such as Barbra Streisand and Queen.
Music career
1986-1993: Early music career
During the 1980s, Fabian entered a number of European competitions and won several prizes. She released her first single, "L'Aziza est en pleurs" / "Il y avait" in 1986. Both songs were written by the Belgian composer Marc Lerchs as an homage to Daniel Balavoine.
In 1988, the RTL TV channel in Luxembourg invited Fabian to represent the country at the 33rd Eurovision Song Contest, held that year in Dublin, Ireland. The song was a composition of Jacques Cardona and Alain Garciac entitled Croire (Trust) which reached a respectable fourth place (while Celine Dion won the contest representing Switzerland). The single became a hit in Europe, selling nearly 500,000 copies.
In 1990, Fabian and musical collaborator Rick Allison moved to Montreal, Canada to embark on a career in North America. They began their own music label and publishing company, Productions Clandestines.
In August 1991, the self-titled, French-language, debut album, Lara Fabian, was released in Canada and sold over 100,000 copies. The album went gold in 1993, and platinum the following year. The success of upbeat Dance-pop singles such as "Le jour où tu partira", "Les murs", and "Qui pense à l'amour" gave Fabian the radio exposure she needed. She received several nominations at the 1993 ADISQ awards, and a poll published around that time voted her Quebec's most promising singer.
1994-1996: Breakthrough album: Carpe diem
Constant touring in Quebec helped Fabian's 1994 album Carpe diem become her breakthrough album. The album went Gold three weeks after its release, and spawned three hit singles: "Tu t'en vas", "Si tu m'aimes", and "Leïla". The following year, the album went Triple Platinum.
The success of Carpe diem was recognized at the 1995 ADISQ gala. Fabian received two Félix awards: Best Show Of The Year and Best Female Singer Of The Year (a category that is voted for by the public).
In 1996, Walt Disney Studios asked Fabian to voice the character of Esmeralda in the French version of the animated feature The Hunchback of Notre Dame. Disney also included Fabian's French version of the song "Que Dieu aide les exclus" (God Help The Outcasts) on the film's English soundtrack album beside Bette Midler's version.
1997-1999: Mainstream international success: Pure and Live
After the success of Carpe diem, Fabian signed a contract with the French Polydor label for several albums and Pure was released in June 1997. Pure sold over two million copies in France and the album went platinum in less than two weeks, and spawned several hit singles: "Tout", "Je t'aime", "Humana", each of which sold more than a million copies, and the anti-homophobia anthem "La Différence". The album won a Félix for Popular Album Of The Year at the 1997 ADISQ gala and was nominated for two Juno Awards in the Best Selling French Album category, and for Fabian as Best Female Singer.
In February 1998, Fabian received the Discovery Of The Year award during the Victoires de la Musique Gala. Also in 1998, Polydor released Carpe diem in Europe, securing her international popularity. In November 1998, she received the Félix Award for Artist With The Most Recognition Outside Quebec at the 'ADISQ Gala'. In December, she was voted Revelation Of The Year by Paris Match, which put her on its cover to mark this occasion.
In March 1999, Fabian released her first live album, simply named Live, which debuted at #1 on the French charts. This helped seal an international recording contract with Sony Music. In May 1999, Fabian was honoured at the World Music Awards in Monaco, where she received Best Selling Record for the Year 1998 for her album Pure. In July 1999, with over six million records already sold across Europe, Polydor rereleased Fabian's self-titled debut album.
1999-2001: Extension of success to the US and Latin America: Lara Fabian
In the summer of 1999, Fabian recorded her first English-language album, Lara Fabian, in New York and San Francisco for the Sony label. The songs were written and produced with Rick Allison and Dave Pickell, Walter Afanasieff, Glen Ballard and Patrick Leonard.
The album debuted at #1 on the Billboard 'Heatseekers' album chart, reached #1 on the French album chart and #2 on the Belgian album chart. For the Asian version of the album, Fabian collaborated with American-Taiwanese pop star Leehom Wang on the song "Light of My Life".
The Dance-pop song, "I Will Love Again", her first English single, reached #1 on the US Billboard Hot Dance Music/Club Play, and peaked #32 on the Billboard Hot 100, #10 Adult Contemporary, as well as appearing in several international charts. This included the UK Singles Chart, where it peaked at #63. The follow-up ballad, "Love By Grace", entered the Adult Contemporary chart, peaking at #24. In February 2001, "Love By Grace" became the theme song of the lead couple in the Brazilian soap opera Laços de Família, broadcast by TV Globo in Brazil and Portugal. For several weeks, the song was number 1 on most Brazilian and Portuguese radio stations. The third single, Dance-pop song "I Am Who I Am", remixed by Hex Hector, became an underground club hit, but did not chart. In Europe, the single "Adagio" charted at #5 on the French singles chart and #3 on the Belgian singles chart.
During this period, Fabian recorded songs for several Hollywood motion picture soundtracks, including "The Dream Within" for the Final Fantasy: The Spirits Within soundtrack, and "For Always" for the AI:Artificial Intelligence soundtrack, which contained both a solo version and a duet with Josh Groban.
2001-2003: O Canada 2001 and return to French roots: Nue, Live 2002 and En toute intimité
Nue (Naked), Fabian's fourth French album, was released in the Fall of 2001 in both Québec and France. Nue is a documentation of her emotional ride in the preceding few years caused by the success of the previous album, and as such is more vulnerable and fragile. The album reached #1 in Belgium and #2 in France but had little impact in Québec. The album was also released in Portugal and reached the top 10 on the album charts during the Fall of 2001.
The first single, released in the summer of 2001, was the anthem "J'y crois encore" was a top 20 French hit. Other singles followed, including Fabian's personal favourite "Immortelle", "Aimer Déjà" and in 2002 "Tu es mon autre" (a duet with fellow Belgian, Maurane which was nominated for song of the year and reached the top 5 in France).
Also in 2001, she collaborated with David Foster and the Vancouver Symphony Orchestra to record the Canadian national anthem, O Canada, in an English version, a French version, and a bilingual (French/English) version, for a promotion of the Government of Canada.
In 2002, Fabian contributed to the World Soccer Championship CD release, with the song World At Your Feet written and produced by Gary Barlow.
Towards the end of 2002, Fabian released her second live album, Live 2002, from her latest tour, together with a DVD showcasing concerts recorded in December 2001 in Belgium at the Forest National and at Le Zénith in Paris.
Her 2003 stint at the Casino de Paris every Monday night were intimate concerts which were released as a live CD and DVD at the end of 2003, under the title En toute intimité.
2004: Second English language release: A Wonderful Life
In 2004, Fabian released her second English album, A Wonderful Life.
The project was commercially unsuccessful but critically praised. The more organic sound on the album is attributed to the work of French guitarist Jean-Félix Lalanne, and producers such as Desmond Child, Anders Bagge and the British team True North (composed of Take That singer Gary Barlow and Elliot John Kennedy). The centrepiece, "Review My Kisses" was written by Desmond Child was first recorded by LeAnn Rimes in 2002 for her album Twisted Angel.
The first single released for radio was "The Last Goodbye" in the US and most other countries (except France). In France the song "No Big Deal" was the first single. Neither of the songs achieved success and the album was not promoted; and its release was cancelled in the United States.
In Brazil, the song "I Guess I Loved You" achieved moderate success when included on a soap opera. The song also gained some popularity in Portugal, for the same reason, though it was never officially released or promoted.
2005-2006: A new musical direction: 9 and Un Regard 9
After a sabbatical in 2004, Fabian returned to the music scene spring of 2005 with her fifth French album, 9. It marked a different direction in Fabian's musical and personal life. The album is performed differently, with smoothness, serenity and with a lot of joy, far from the in-depth and dramatic vibes of earlier recordings.
9 yielded the hit single "La Lettre", a song co-written with her new partner, Jean-Félix Lalanne, with whom she produced the album's 11 tracks. Other singles released included "Ne lui parlez plus d'elle", "Un Ave Maria", "Il ne manquait que toi" and the gospel-infused "L'homme qui n'avait pas de maison".
In October 2006, Fabian released a CD and DVD of this associated tour, both titled Un regard 9 Live and recorded during the 29 March 2006 concert at Le Zénith in Paris. The CD presents 15 live performances plus a brand new song, "Aime", recorded in a studio in Montreal.
2006-2007: An Italian collaboration and live concerts in Europe
Fabian's next studio album was to be her first Italian-language project, and in June 2007 she worked in Rome and Los Angeles to record sessions for it. No further details have been revealed.
In the meantime, the single "Un Cuore Malato" (with Gigi D'Alessio) reached the top of the Italian charts and #16 in France.
In Los Angeles, Fabian worked with Dave Stewart on a "multilingual" album, reputed to include songs in English, Spanish, French, Italian and a few other languages. This album is expected to be released in late 2008.
Also in 2007, Fabian was in Québec to perform a two night concert at the Olympia de Montreal. On 14 October 2007, Fabian was a surprise guest at the only concert Gigi D'Alessio gave in France at the Olympia in Paris, just a few days before the birth of her daughter.
2009: Return to the music scene: Toutes les femmes en moi
A few months after her daughter's birth in 2007, Fabian carried out a tour of Ukraine, Russia and Greece. She also made a few TV appearances (such as 60th Anniversary of Israel where Fabian performed a Hebrew song and duetted with Israeli singer Noa).
During 2008, Fabian was in Belgium preparing to record a French album with pianist Mark Herskowitz, who had composed and arranged the hidden instrumental track featured on the 2001 album Nue. The album will be partly recorded in Montreal, Canada. The album, Toutes les femmes en moi, was released on May 26, 2009.
The first single, Soleil, Soleil, is a cover of the Nana Mouskouri song. The second single wsa Toutes les Femmes en moi, the only original song on the album.
2010: "Tour Les Femmes Font Leur Show", Mademoiselle Zhivago and her first "Best of" album
Throughout the first half of 2010, Fabian embarked on a European tour of concerts specially throughout France, Switzerland and Belgium incorporating the main repertoire of her last album "Toutes Les Femmes En Moi" alongside some classic and fan favourites. She also had the chance of once again performing in Eastern Europe, with a more acoustic set (piano-voice). This time also including some of the English recording from the English album Every Woman In Me. In September 2010 she finally released her 2009 album "Toutes Les Femmes En Moi" in Québec, following a week of promotion. There is a new version on the album for "Nuit Magique" which was recorded as a duet with Canadian singer Coral egan.
Later in 2010, she released an concept album in Russia and Ukraine called Mademoiselle Zhivago. It features 11 songs in different languages by Russian composer Igor Krutoy. Mademoiselle Zhivago tells the story of a woman who crosses different lives over the years and centuries, having a special personal bond to Fabian's origins and family. The whole project is not only musical one, but also cinematographic one, as for all 11 songs different videos were shot, which as a whole creating one big film, produced and directed by Ukrainian film producer Alan Badoev. The album itself, containing a CD and a DVD, was first released in Ukraine on October 25. 2010 and in Russia on November 19. 2010. An international release date is yet to be confirmed.
The whole set of songs composed by Fabian with Igor Krutoy is in English, French, Italian, Spanish and also in Russian. Fabian first introduced one of these songs in 2009 during the New Wave Festival in Latvia, performing "Demain n'existe pas". Later on in 2010 she returned to that same stage performing new songs from the already finalized project. Fabian has been promoting this project in both countries on television but also by performing a series of concerts presenting the new songs live to the eastern European public. Ever since Fabian has established herself as a huge superstar in Russia and the Ukraine. Fabian was a guest performer on 30 October show of the Ukrainian X Factor singing "Mademoiselle Hyde" and "Demain N'Existe Pas" taken from the album and also her longtime classic "Adagio".
Please register for a free Genetic Matrix account to access more information about this and all other celebrity pages