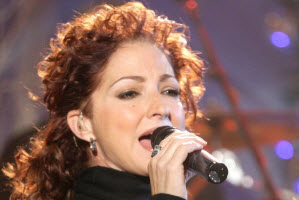 Gloria Estefan
Category : Singer - Popular
Type : GE
Profile : 4/6 - Opportunistic / Role Model
Definition : Split - Small (22)
Incarnation Cross : RAX Planning 3
Biography
Gloria Estefan (born Gloria María Fajardo on September 1, 1957 (error on Wikipedia in English) in Havana, Cuba) is a five-time Grammy Award-winning Cuban American singer and songwriter. Her single "Don't Wanna Lose You" (1989) was certified Platinum in the U.S. and reached number-one on the Billboard Hot 100. Gloria also has number one hits on the pop, dance, adult contemporary, latin and salsa charts.

Known as the "Queen of Latin Pop", Estefan is one of the world's most recognized popular music artists. With over 90 million albums sold worldwide, she is the single most successful crossover performer in Latin music history. She is one of the Best selling music artists of all time. Gloria was labeled as "a hardworking singer that we're all lucky to know".

Early life

Fleeing Cuba
Cuban-born, Gloria and her mother moved to Miami, Florida when she was 16 months old, following the Cuban Revolution in 1959. Gloria's father José Fajardo, who in the 1950s was a personal bodyguard to then Cuban president Fulgencio Batista's wife, was taken prisoner by Castro's forces when they invaded the palace on January 1, 1959. Fajardo was held as a political prisoner for 5 months before he was released and joined his wife and daughter in Miami, Estefan told "Reader's Digest" (September 2007). Two years later, he was captured in the ill-fated Bay of Pigs Invasion that attempted to overthrow the new communist government established by Fidel Castro. Gloria's father was held as a prisoner until an exchange was arranged by President John F. Kennedy.


Parents
Gloria's father Jose Fajardo was a proud anti-communist, who served for multiple tours as an officer in the United States Army in Vietnam. He is thought to have been exposed to Agent Orange, a defoliant used extensively during the Vietnam war to clear combat areas. He later developed multiple sclerosis, and was nursed by his daughter for many years. He died in 1980.

Gloria's mother, Gloria García Pérez de Fajardo, now living in Miami, ran a school in Cuba in the 1950s for kindergarten students.


University of Miami
Gloria was raised primarily in Miami (though she accompanied her mother, father and younger sister, Becky, to several military bases in the 1960s during her father's military service). Gloria graduated from the Catholic high school, Our Lady of Lourdes Academy in 1974. She attended the University of Miami. As a student there, she also worked as a Spanish and French translator at Miami International Airport's Customs Department. She graduated in 1978 with a degree in communications and psychology (with a minor in French). Since graduating, she has been a prominent advocate for the university and a member of its Board of Trustees. She has appeared in national television advertisements for the university and is one of several highly prominent University of Miami alumni.

Estefan's first public musical performance was at a large Cuban wedding when her future husband, Emilio Estefan, Jr. asked her to join what was then called "The Miami Latin Boys." With the addition of Estefan, the band's name was change to Miami Sound Machine.

"Words Get in the Way" became follow up hits in the US and around the world. "Words Get In The Way" reached #1 in the US Adult Contemporary chart, establishing that the group could perform pop ballads equally as well as dance tunes. The song "Hot Summer Nights" was also released that year and was part of the blockbuster movie Top Gun.

Estefan's next album, 1987's Let It Loose, went multi-platinum, with six million copies sold in the US. It featured the following hits: "Anything For You" (#1 Pop), "1,2,3" (#3 Pop), "Betcha Say That" (#36 Pop), "Rhythm Is Gonna Get You" (#5 Pop), and "Can't Stay Away From You" (#6 Pop). "Can't Stay Away From You," "Anything For You" and "1-2-3" were all #1 Adult Contemporary hits as well.

In 1988, Estefan took top billing as the band's name changed to Gloria Estefan and The Miami Sound Machine. Beginning in 1989, the group's name was dropped altogether along with the firing of the miami sound machine band members. After ten years, Emilio came in one day and told everyone they were fired. Estefan was credited as a solo artist, though the ever-changing line-up of Miami Sound Machine continues as her backing band to this day.

In 1989, after the worldwide chart success of single Anything For You, their Let It Loose album was repackaged as Anything For You. It became the band's first UK #1 album, selling over a million copies. It was the biggest selling album of the year in The Netherlands, staying at #1 for 22 weeks. The album also took top honors in Australia and Canada, launching Estefan to superstar status.


Cuts Both Ways
In late 1989, she released her best-selling album to date, Cuts Both Ways. The album included the hit singles "Don't Wanna Lose You" (a Billboard Hot 100 #1 hit), "Oye mi Canto (Hear my Voice)", "Here We Are", "Cuts Both Ways" (#1 on the U.S. Hot Adult Contemporary Tracks chart) and "Get on Your Feet." Cuts Both Ways went platinum within its first month of release in the U.S. Success followed in the UK where it debuted at #1, with Gloria being the first act in 10 years to have two # 1 albums on the UK albums chart in one year. Cuts Both Ways then shot to #1 in Australia, The Netherlands, Belgium, Japan, and other countries, selling over ten million copies worldwide.


Marriage and children
Gloria became romantically involved with the Miami Sound Machine's band leader, Emilio Estefan, in 1976. She and Emilio married on September 2, 1978. They have a son, Nayib (born September 2, 1980) and a daughter, Emily Marie (born December 5, 1994).

While touring in support of Cuts Both Ways on March 20, 1990, near Scranton, Pennsylvania, Estefan was critically injured, suffering a fractured spine when a tractor trailer crashed into her tour bus. She was flown by helicopter to New York City, where surgeons at the Hospital for Special Surgery permanently implanted two titanium rods to stabilize her spinal column. Her grueling rehabilitation required almost a year of intensive physical therapy, but she achieved a complete recovery. She returned to an international tour ten months after the accident.


Comeback: Into The Light, Mi Tierra, and Abriendo Puertas
Estefan returned to the charts with a concept album, Into the Light in 1991. "Coming Out of the Dark" was performed publicly for the first time on the American Music Awards in January 1991 receiving a standing ovation as she took stage. "I was worried so much about crying before I finished that I completely didn't prepare for crying before I started.", Estefan said backstage after the performance. Out of the Dark reached #1 in the U.S. as a single a few months later. The Into the Light World Tour covered 100 cities in nine countries and was seen by more than 10 million people worldwide. She followed up Into the Light with her first greatest-hits album in 1992, which included the U.S. hit ballads "Always Tomorrow" and "I See Your Smile" and the international hit dance track "Go Away". Also in 1992, Estefan helped contribute to the mainstream success of fellow Cuban-American singer-songwriter Jon Secada, including singing backup on his breakthrough hit, "Just Another Day." Estefan spent much of the latter half of the year in Miami, helping with relief from the devastation of Hurricane Andrew.

1993's Mi Tierra saw Estefan return to her Cuban roots with a Spanish-language album, for which she won a Grammy Award for Best Tropical Latin Album. Mi Tierra was a successful album worldwide, with over eight million copies sold. In Spain, Mi Tierra became the country's best selling international album ever.

Hold me, Thrill me, Kiss me a cover album of some of Estefan's favorite 1960s and 1970s songs (including the title song, the Classics IV's "Traces," and Blood, Sweat & Tears' "You've Made Me So Very Happy," among others), was released in 1994. "Turn the Beat Around", the first single and a remake of Vicki Sue Robinson's 1976 disco classic, became another international hit, certified gold in the US and also featured in the Sharon Stone movie The Specialist. "Everlasting Love" (the 1967 Robert Knight and 1974 Carl Carlton classic) was a successful club and pop hit, and a third single, a remake of Carole King's signature song "It's Too Late," did well on Adult Contemporary radio.

1995's Spanish-language album Abriendo Puertas earned Estefan her second Grammy Award for Best Tropical Latin Album. It spun off two #1 Dance hits, "Abriendo Puertas" and "Tres Deseos", and two #1 Latin singles, "Abriendo Puertas" and "Más Allá". The Miami Herald called Abriendo Puertas "a danceable pan-Latin American fusion, brilliantly built on improbable instrumental combinations and layers of styles and rhythms".


Anti-communism
Estefan is an ardent opponent of communism, who has spoken often of her desire for a "free" Cuba. In 1995, she sang the Billboard Latin #1 song "Más Allá" for Pope John Paul II as part of the celebration of his 50th anniversary in the priesthood. She was the first pop star invited to perform for the Pope. At their meeting, Estefan, an anti-communist, asked the Pope to pray for a "free" Cuba. She has been an active opponent of Fidel Castro's government, and supported the unsuccessful effort to keep young Elián González in the United States.

1996 Summer Olympics
The platinum selling album Destiny released in 1996, featured "Reach", the official theme of the 1996 Atlanta Summer Olympics. Estefan performed in the closing ceremony, in front of an audience of two billion people worldwide. Televised ceremonies included Estefan singing both "Reach" and "You'll Be Mine (Party Time)" from the Destiny album.

Back to dance: Gloria!
On June 2, 1998, Estefan released her eighth album, (twenty-first overall), Gloria!. The album is highly influenced by Disco music, some blended with Salsa music percussion and Latin flavour. While it became her first album during the 1990s not to hit Platinum status, it sold into the higher end of Gold certification and was well received. Estefan successfully rode the wave of the Disco revival in the U.S. during the late 1990s. The album peaked at #23 on the The Billboard 200. The single, "Oye!", peaked at #1 the Hot Dance Music/Club Play and the Hot Latin Tracks charts. The other major hit single releases were "Don't Let This Moment End", which peaked at #76 on the Billboard Hot 100 and "Heaven's What I Feel", which peaked at #27 on the Billboard Hot 100. The latter song also became a Latin chart hit. The album's other singles are "Cuba Libre" and "Don't Stop". One of the album's highlights is "Don't Release Me", with Wyclef Jean. To promote Gloria!, Estefan performed at the famed New York City discoteque, Studio 54.

Other notable performances
On July 18, 1996, Estefan embarked on her Evolution World Tour (her first tour in five years), which covered the United States, Canada, Europe, Latin America, Australia, South Africa and Asia.

Estefan appeared in a movie, Music of the Heart (1999) and duetted with *NSYNC on the Billboard #2 and Academy Award-nominated "Music Of My Heart". She also released a Latin hit with the Brazilian group So Pra Contrariar called "Santo Santo", sang with Luciano Pavarotti in "Pavarotti and Friends for Guatemala and Kosovo," released the benefit album "A Rosie Christmas," and sang with Stevie Wonder at Super Bowl XXXIII in Miami. Estefan is the only artist to perform twice at the Super Bowl. Estefan also sang "The Star-Spangled Banner" before game 3 of the 2003 World Series which was played in Miami between the Florida Marlins and New York Yankees and in Super Bowl XLI (2007), also played in Miami between the Indianapolis Colts and Chicago Bears.

Alma Caribeña and Greatest Hits Volume II
Estefan's next album, 2000's Alma Caribeña won the first Latin Grammy for Best Music Video for "No Me Dejes de Querer". The album reached number one in Spain, the United States and several South American countries. It also won a Grammy Award for Best Tropical Album. That year, she also won the American Music Awards, Award of Merit. It also made the Billboard Hot 100, peaking at #77. Also was released "Como Me Duele Perderte" and "Tres Gotas De Agua Bendita" with Celia Cruz at Spain.

Greatest Hits Vol. II was released in 2001. It contained hits from 1993 to 2000, three new songs and a remix of her first hit "Conga" now called "Y-Tu-Conga". The album featured the hit "Out of Nowhere" which was nominated for a Grammy Award in the category for Best Dance Recording: a saucy R&B song called "I Got No Love", probably the only one on this style of Estefan's career, and a passionate song called "You Can't Walk Away from Love", which was featured in the movie Original Sin.

Unwrapped
In 2003, Estefan released Unwrapped, her first English-language CD in five years. To promote the CD, she toured Europe, Mexico, Puerto Rico and the United States. The CDs first video, for the single "Hoy/Wrapped," was shot in Machu Picchu, Peru. "Hoy" and the next single, "Tu Fotografía", were #1 on Billboard's Latin chart, and "I Wish You" reached the AC top 20.

In April 2004, Estefan appeared on the Fox Broadcasting Company's program, American Idol, but she declined an offer to be an official judge because, she said publicly, she does not like to "judge" others. On July 28, 2004, at the Trump Tower Building, in a press conference hosted by Donald Trump, Estefan announced that her then-upcoming tour would be her final one. The Live and Re-Wrapped Summer/Fall 2004 Tour, her first tour in eight years was produced by Clear Channel Entertainment. The tour featured Estefan's greatest hits, along with new material from Unwrapped. It began in McAllen, Texas on July 30, 2004, and played in 28 cities. Gloria finished her final concert tour in her home town of Miami on the weekend of October 9 and 10, a finale in a sold-out American Airlines Arena that was delayed for two weeks by a hurricane.

Mash-up hit with Mylo
In late 2005, after being absent from the UK charts for five years, Estefan had her biggest hit single there when the popular club mash-up Dr. Pressure (combining Mylo's Number 19 hit "Drop The Pressure" with the Miami Sound Machine's "Dr. Beat") reached #3 on the UK singles chart. In Australia the single peaked at #1 on the dance chart, providing Gloria with her first top 40 hit and commercial radio airplay since 1996.

Dionne Warwick tribute
Along with dozens of other prominent singers in early 2006, Estefan performed in Los Angeles at a tribute to singer Dionne Warwick's 45-year career. Estefan sang "Walk On By," one of Warwick's signature songs that helped launch Warwick's career in the mid 1960s.

Selena tribute concert

On April 7, 2005, Estefan participated in "Selena ¡VIVE!", the tribute concert for Selena Quintanilla-Pérez, the "Queen of Tejano," who was murdered in March 1995 on the brink of her attempt to cross over as an English-language performer. Gloria performed "I Could Fall in Love," one of Selena's posthumously released crossover hits.

UK promo tour
On December 9, 2006, Estefan appeared on ITV's The X Factor, and performed a medley of her greatest hits, accompanied by her band, The Miami Sound Machine. She also appeared on several radio shows and The New Paul O'Grady Show. This tour has been to help promote her greatest hits album in the run up to Christmas.

2006 compilations
In October 2006, Sony released a 2-CD compilation The Essential Gloria Estefan featuring most of her biggest hits from 1984 to 2003. The album features an uptempo disc and a second disc of ballads. This compilation also includes a special-internet view interview with Gloria in which she talks about every song featuring on the album.

Oye Mi Canto!: Los Grandes Exitos was released at October 2006 too, and there released all her Spanish greatest hits, in difference to her Amor y Suerte: Exitos Romanticos in where only released love songs, here she included all her biggest Spanish hits, but it were notorious some absents song such as "Tradición" featured at the 1993 smash album Mi Tierra and "En El Jardín" a #1 Hot Latin Track topper which sung as duet with Mexican superstar Alejandro Fernandez.

Also at Europe and at Mexico Gloria released an additional compilation, The Very Best of Gloria Estefan similar to The Essential Gloria Estefan in which she included all her hits on her career, and included a bonus track "Dr. Pressure", who was released as a single at Europe and become a biggest hit after all in clubs, reaching several number ones throughout all Europe at dance charts.

90 Millas
In anticipation of the release of Estefan's 90 Millas album, a special edition English and Spanish language versions of iTunes Originals were released on June 2, 2007.

Gloria's new Spanish-language album, 90 Millas featuring original songs inspired by her native Cuba and was released on September 18, 2007 on Sony BMG Music Entertainment's Burgundy Records. On this upcoming album she collaborates with many Latin music greats, such as Jose Feliciano, Carlos Santana, Arturo Sandoval, Andy Garcia, Chocolate, La India, Cachao and other prominent Cuban musicians. Her inclusion of Carlos Santana as one of the artists contributing to 90 Millas stirred a controversy among a tiny minority of the Cuban exile community in the U.S., who alleged Mr. Santana was sympathetic to the Fidel Castro regime and Che Guevara.

Emilio and Gloria issued a joint statement at the end of March, 2007, addressing the controversy. "For the past 32 years of our career our position against the Castro regime has been crystal clear . . . we have expressed our disagreement with the Cuban dictatorship and have spoken worldwide of the pain of the Cuban people. We have never nor would we ever collaborate with anyone who supports the Cuban dictatorship or Che Guevara. This should be apparently clear due to our trajectory," the statement said.

The first single from the album "No Llores" was released digitally at June 19, 2007 at the iTunes Store, a physical single was set only at Europe on August 23, 2007 but at last time this was cancelled and was released the second single from the album, "Me Odio". "No Llores" rose to #1 on Billboard's Latin singles chart.

To promote the album, Gloria will do a new international tour and made special performances at Europe such as her free-performance at Las Ventas, Spain. Gloria also appeared in Rotterdam, The Netherlands on September 8, 2007. Her performance included new songs, along with a collection of old hits. The performance was free and open to members of the public, and was part of the "Wereld Havens Dagen" (World Harbour Days), commemorating the 75th Anniversary of the Port of Rotterdam.

Estefan debuted 90 Millas at # 1 in Holland. Her last #1 album at The Netherlands was nineteen years ago with "Anything for You," which racked up 22 weeks at top spot in 1988.

Additionally, Estefan is working on co-writing songs on singer, Alex Vera, new album due out later this year.

Entrepreneur
In addition to her musical success, Estefan and her husband are entrepreneurs. They own a number of business establishments including seven Cuban-themed restaurants (Bongos Cuban Café). The restaurants are located in Miami; Miami Beach, Downtown Miami, part of the American Airlines Arena; Disney World's Downtown Disney in Orlando; Mexico City; and Puerto Vallarta, Mexico. They also own two hotels: a hotel in Vero Beach, which was destroyed by Hurricanes Frances and Jeanne in September 2004 (which will be renamed "Costa d'Este" and reopen in January 2008, according to a news release from Benchmark Hospitality), and The Cardozo in Miami Beach. Estefan was appointed to the board of directors for Univision Communications Inc. in 2007, according to Hispanic Market Weekly. The Estefans' current estimated net worth is approximately $500 million, according to an article in People En Espanol magazine (February 2007).

Awards
In addition to her five Grammys, Estefan has received a number of other awards. In May 1993, she received the Ellis Island Congressional Medal of Honor, which is the highest award that can be given to a naturalized U.S. citizen. She has won the Hispanic Heritage Award, an MTV Video Music Award, two cable television ACE Awards and the 1993 National Music Foundation's Humanitarian of the Year award. The singer is the recipient of the American Music Award for Lifetime Achievement. She also has a star on the Hollywood Walk of Fame. Her husband, Emilio, a world-renowned music impresario, received a star adjacent to his wife's on the Hollywood Walk of Fame in 2005.

Estefan holds an honorary doctoral degree in music from the University of Miami, awarded in 1993. In 2002, Barry University in Miami bestowed upon her an honorary law degree. Along with her husband, Emilio, Estefan received an honorary doctoral degree in music from the Berklee College of Music in Boston in 2007. She also delivered the commencement address to the 2007 graduating class.

She has scores of encomiums for her musical accomplishments, humanitarian and philanthropic work. In 2002, she received the Congressional Hispanic Caucus Institute Medallion of Excellence for Community Service. The singer was Musicares Person of the Year in 1994. Gloria also founded the Gloria Estefan Foundation whose goal is to help those with spinal cord injuries.

She has been honored twice by the Songwriters Hall of Fame. In 1992, she served as a public member of the United States Delegation to the 47th General Assembly to the United Nations.

Recent work
This article or section contains information about scheduled or expected future events.
It may contain tentative information; the content may change as the event approaches and more information becomes available.

Acting career
In addition to her music career, Estefan has appeared in two movies, Music of the Heart (1999) and For Love or Country: The Arturo Sandoval Story (2000). She is slated to star as Connie Francis, a U.S. pop singer whose peak commercial success was in the late 1950s and early 1960s, in Who's Sorry Now?, based on Francis' life. The "long-gestating biopic" will begin pre-production within a few months, according to a story published in March of 2007 in The Bay Area Reporter.
Please register for a free Genetic Matrix account to access more information about this and all other celebrity pages