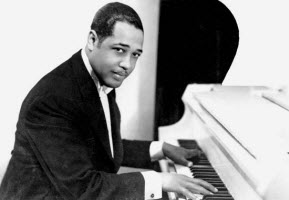 Duke Ellington
Category : Entertain-Music-Instrumentalist
Type : GP
Profile : 2/4 - Hermit / Opportunist
Definition : Triple Split
Incarnation Cross : RAX The Four Ways 1
Biography
Edward Kennedy "Duke" Ellington (April 29, 1899–May 24, 1974) was an American jazz composer, pianist, and band leader who has been one of the most influential figures in jazz, if not in all American music. As a composer and a band leader especially, Ellington's reputation has increased since his death, with thematic repackagings of his signature music often becoming best-sellers.

A man of suave demeanor and puckish wit that masked occasional brusqueness, Ellington preferred to call his style and sound "American music" rather than just jazz, and liked to describe those who impressed him as "beyond category," including and especially many of the musicians who served with his orchestra. Some of them were considered among the giants of jazz in their own right—particularly reedmen Johnny Hodges, Barney Bigard, Ben Webster, Harry Carney, and Paul Gonsalves; trumpeters Bubber Miley, Cootie Williams, Clark Terry, William "Cat" Anderson, and Ray Nance (who also played violin), trombonists Joe "Tricky Sam" Nanton, Lawrence Brown, and Juan Tizol, bassists Jimmy Blanton and Oscar Pettiford, as well as drummers Sonny Greer, Louis Bellson, and Sam Woodyard.

Many of these musicians remained with Ellington's orchestra for decades. While many were noteworthy in their own right, it was Ellington's musical genius that melded them into one of the most well-known orchestral units in the history of jazz. His compositions were often written specifically for the style and skills of these individuals, such as "Jeep's Blues" for Johnny Hodges, "Concerto for Cootie" (Do Nothing 'Til You Hear From Me) for Cootie Williams and "The Mooche" for Tricky Sam Nanton. He also recorded songs written by his bandsmen, such as Juan Tizol's "Caravan" and "Perdido" which brought the "Spanish Tinge" to big-band jazz.

Ellington was one of the twentieth century's best-known African-American celebrities. He recorded for many American record companies, and appeared in several films. Ellington and his orchestra toured the United States and Europe regularly before and after World War II.

Early life
Ellington's father, James Edward Ellington, born in Lincolnton, North Carolina, USA on April 15, 1879, was the son of a former slave. He moved to Washington, D.C. in 1886 with his small family. Ellington was born to J.E. and Daisy Kennedy Ellington who lived in the home of his maternal grandparents at 2129 Ward Place, NW in Washington D.C. J.E. made blueprints for the United States Navy; he also worked as a White House butler for additional income. Daisy and J.E. were both piano players, and at the age of seven Ellington began taking piano lessons from a Mrs. Clinkscales who lived at 1212 Street NW. The Clinkscales address is often, but erroneously, given as Ellington's childhood home.

In his autobiography Music is my Mistress Ellington comments he missed more lessons than what he attended, feeling at the time that playing the piano was not his talent. Over time, this would change. Ellington sneaked into Frank Holiday's Poolroom at age fourteen and began to gain a greater respect for music. Hearing a mentor play the piano ignited Ellington's love for the instrument and he began to take his piano studies seriously.

Instead of going to an academically-oriented high school, he attended Armstrong Manual Training School to study commercial art. Three months before he was to graduate, he left school to pursue his interest in music, and at the age of seventeen, he began performing professionally. Ellington never made broad claims for his piano playing, saying that many Washington piano teachers were superior. The British pianist Stan Tracey has countered this by claiming that Ellington 'had chops', but often chose to focus on the melody that sprung from a number rather than to show off his technical ability.

Ellington married Edna Thompson when he was 19, in 1918. She was his childhood sweetheart.

Early career
Ellington began his artistic career as a sign painter in Washington, D.C., but by 1923 he had formed a small dance band known as The Washingtonians (which included drummer Sonny Greer), and moved to New York City. Shortly thereafter, the group became the house band of the Club Kentucky (often referred to as the "Kentucky Club"), an engagement which set the stage for the biggest opportunity in Ellington's life. In 1927, King Oliver turned down a regular booking for his group as the house band at Harlem's Cotton Club; the offer passed to Ellington. With a weekly radio broadcast and famous clientele nightly pouring in to see them, Ellington's popularity was assured. In 1929 Ellington and his band appeared in the short film Black and Tan.

Ellington's band by now had become a large orchestra and the ranks had been filled by many men who would become famous in their own right. Johnny Hodges joined the orchestra in 1928 and stayed until his death in 1970, except for two brief sabbaticals. Hodges became the band's undisputed leading soloist, the king of romantic alto saxophone ballads with his swooning, creamy style remaining influential for years. A master of New Orleans jazz clarinet, Barney Bigard, stayed with the band for twelve years. Harry Carney was one of the original innovators of the baritone saxophone, winning each Downbeat magazine poll until the emergence of Gerry Mulligan. Carney, who also pioneered circular breathing, was the longest lasting member of the orchestra, joining in 1927 and remaining with the group until his death in 1974 (just several months after Ellington's). Lawrence Brown brought a buttery, elegant trombone style that conflicted with that of Joe "Tricky Sam" Nanton, who was the originator of many unique trombone stylings, most notably the plunger mute technique. Filling out the rhythm section were guitarist Fred Guy and drummer Sonny Greer, who stayed with the group until 1950.

One important member of the orchestra, trumpeter Bubber Miley, was present for only a short period. An early experimenter in jazz trumpet growling, Miley is credited with morphing the band's style from rigid dance instrumentation to a more "New Orleans", or "jungle" style. An alcoholic, Miley had to leave the band before they gained wider notoriety, and died in 1930 at the age of twenty-eight. He was though an important influence on Cootie Williams, another member of the orchestra (basically his replacement) in the early years and later.

The 1930s saw Ellington's popularity continue to increase, largely a result of the promotional skills of Ellington's manager Irving Mills, who got more than his fair share of co-composer credits. Mills arranged a private train just for the band, so that they would not have to suffer the indignities of segregated accommodations while touring the South. Ellington ended his association with Mills in 1937, although he continued to record under Mills' banner through 1940.

While their United States audience remained mainly African-American in this period, the Cotton Club had a near exclusive white clientele and the band had a huge following overseas, demonstrated both in a trip to England in 1933 and a 1934 visit to the European mainland. The English visit saw Ellington win praise from members of the 'serious' music community, including composer Constant Lambert.

Ellington managed to have a huge hit composition every few years, which greatly helped to build his overall reputation ("Mood Indigo" in 1930, "It Don't Mean A Thing (If It Ain't Got That Swing)" in 1932, "Sophisticated Lady" in 1933, "In A Sentimental Mood" in 1935, "Caravan" in 1937, "I Let A Song Go Our Of My Heart" in 1938, "Do Nothin' Till You Hear From Me" in 1940 and "Take The "A" Train" (written by Billy Strayhorn, but forever associated with Ellington) in 1941.

Ellington in the 1940s

The band reached a creative peak in the early 1940s, when Ellington wrote for an orchestra of distinctive voices and displayed tremendous creativity. Some of the musicians created a sensation in their own right. The short-lived Jimmy Blanton transformed the use of double bass in jazz, allowing it to function as a solo rather than a rhythm instrument alone. Ben Webster too, the Orchestra's first regular tenor saxophonist, started a rivalry with Johnny Hodges as the Orchestra's foremost voice in the sax section. Ray Nance joined in, replacing Cootie Williams who had "defected", contemporary wags claimed, to Benny Goodman. Nance, however, added violin to the instrumental colours Ellington had at his disposal. A privately made recording of Nance's first concert date, at Fargo, North Dakota, in November 1940, is probably the most effective display of the band at the peak of its powers during this period. This recording is one of the first of innumerable live performances which survive, made by enthusiasts or broadcasters, significantly expanding the Ducal discography as a result.

Three-minute masterpieces flowed from the minds of Ellington, Billy Strayhorn (from 1939), Ellington's son Mercer Ellington, and members of the Orchestra. "Cottontail", "Mainstem", "Harlem Airshaft", "Streets of New York" and dozens of others date from this period.

Ellington's long-term aim became to extend the jazz form from the three-minute limit of the 78 rpm record side, of which he was an acknowledged master. He had composed and recorded "Creole Rhapsody" as early as 1931, but it was not until the 1940s that this became a regular feature of Ellington's work. In this, he was helped by Strayhorn, who had enjoyed a more thorough training in the forms associated with classical music than Ellington himself. The first of these, "Black, Brown, and Beige" (1943), was dedicated to telling the story of African-Americans, the place of slavery, and the church in their history. Unfortunately, starting a regular pattern, Ellington's longer works were not well received; Jump for Joy, an earlier musical, closed after only six performances in 1941.

The first recording ban of 1942-3 had a serious effect on all the big bands because of the increase in royalty payments to musicians its resolution necessitated; the financial viability of Ellington's operation was under threat, though Ellington's income as a songwriter ultimately subsidized the Orchestra.

Meanwhile, the development of modern jazz, or bebop and the music industry's shift to vocalists such as the young Frank Sinatra meant that Ellington's popularity and status as a trendsetter was under threat. For a time though Ellington continued to turn out major work, such as the Kay Davis vocal feature "Transblucency" and major extended compositions such as "Harlem" (1950).

Eventually though, in 1951, Ellington suffered a major loss of personnel, with Sonny Greer, Lawrence Brown, and most significantly, Johnny Hodges leaving to pursue other ventures. By 1955, after several years of recording for Capitol, Ellington no longer had a regular recording affiliation.

Revival of his career
Ellington's appearance at the Newport Jazz Festival on July 7, 1956 was to return him to wider prominence. The feature "Diminuendo and Crescendo in Blue", with saxophonist Paul Gonsalves's six-minute saxophone solo, had been in the band's book since 1937, but on this occasion it nearly created a riot. The revived attention should not have surprised anyone — Hodges had returned to the fold the previous year, and Ellington's collaboration with Strayhorn had been renewed around the same time, under terms which the younger man could accept. Such Sweet Thunder (1957), based on Shakespeare's plays and characters, and The Queen's Suite the following year (dedicated to Queen Elizabeth II), were products of the renewed impetus which the Newport appearance had helped to create.

The late 1950s also saw Ella Fitzgerald record her Duke Ellington Songbook with Ellington and his orchestra, a recognition that Ellington's songs had now become part of the cultural canon known as the "Great American Songbook".

In the early 1960s, Ellington was between recording contracts, which allowed him to record with a variety of artists mostly not previously associated with him. In 1962, he participated in a session which produced the "Money Jungle" (United Artists) album with Charles Mingus and Max Roach, and also recorded with John Coltrane for Impulse, who also recorded Ellington and his Orchestra with Coleman Hawkins. Musicians who had previously worked with Ellington returned to the Orchestra as members: Lawrence Brown in 1960 and Cootie Williams two years later. Ellington was by now performing all over the world, a significant portion of each year was now spent making overseas tours, and he formed notable new working relationships, among which included the Swedish vocalist Alice Babs, and South African musicians Dollar Brand and Sathima Bea Benjamin (A Morning in Paris, 1963).

Last years

Ellington was nominated for a Pulitzer Prize in 1965, but was turned down. His reaction at 67 years old: "Fate is being kind to me. Fate doesn't want me to be famous too young." He performed his first Concert of Sacred Music, an attempt at fusing Christian liturgy with jazz, in September of the same year. This concert was followed by two others of the same type in 1968 and 1973, called the Second and Third Sacred Concerts, respectively. This caused enormous controversy in what was already a tumultuous time in the United States. Many saw the Sacred Music suites as an attempt to reinforce commercial support for organized religion, though Ellington simply said it was, "the most important thing I've done," perhaps with a touch of hyperbole.

Though his later work is overshadowed by his music of the early 1940s, Ellington continued to make vital and innovative recordings, including The Far East Suite (1966), "The New Orleans Suite" (1970), and "The Afro-Eurasian Eclipse" (1971). Increasingly, this period of music is being reassessed as people realize how creative Ellington was right up to the end of his life. However, some critics, such as James Lincoln Collier, continue to dismiss Ellington's later work.

Ellington was awarded the Grammy Lifetime Achievement Award in 1966. He was later awarded several other prizes, the Presidential Medal of Freedom in 1969, and the Legion of Honor by France in 1973, the highest civilian honors in each country. He died of lung cancer and pneumonia on May 24, 1974, a month after his 75th birthday, and was interred in the Woodlawn Cemetery, The Bronx, New York City.

Work in films and the theatre
Ellington's film work began in 1929 with the short film Black and Tan Fantasy. He also appeared in the Amos 'n' Andy film Check and Double Check. It was a major hit and helped introduce Ellington to a wide audience. He and his Orchestra continued to appear in films throughout the 1930s and 1940s, both in short films and in features such as Murder at the Vanities (1934). In the late 1950s, his work in films took the shape of scoring for soundtracks, notably Anatomy of a Murder (1959), with James Stewart, in which he also appeared fronting a roadhouse combo, and Paris Blues (1961), which featured Paul Newman and Sidney Poitier as jazz musicians.

A long-time fan of William Shakespeare, he wrote an original score for Timon of Athens that was first used in the Stratford Festival production that opened July 29, 1963 for director Michael Langham, who has used it for several subsequent productions, most recently in an adaptation by Stanley Silverman that expands on the score with some of Ellington's best-known works.

Ellington's sole book musical, Beggar's Holiday, was staged on Broadway in 1946. Sophisticated Ladies, an award-winning 1981 musical revue, incorporated many of the tunes he made famous.

Legacy

Places
In Ellington's birthplace of Washington, D.C., there stands a school dedicated to his honor and memory as well as a majestic bridge. The Duke Ellington School of the Arts educates talented students, who are considering careers in the arts, by providing intensive arts instruction and strong academic programs that prepare students for post-secondary education and professional careers. The massive Duke Ellington Bridge, built in 1935, carries Calvert Street over the ravine of Rock Creek Park, connecting Woodley Park to Adams Morgan. Ellington lived for years in a townhouse on the corner of Manhattan's Riverside Drive and West 106th Street. After his death, West 106th Street was officially renamed Duke Ellington Boulevard. A large memorial to Ellington, created by sculptor Robert Graham, was dedicated in 1997 in New York's Central Park, near Fifth Avenue and 110th Street, an intersection named Duke Ellington Circle. Although he made two more stage appearances before his death, Ellington performed what is considered his final "full" concert in a ballroom at Northern Illinois University on March 20, 1974. The hall was renamed the Duke Ellington Ballroom in 1980.

Music
Dave Brubeck dedicated "The Duke" (1954) to Ellington and it became a standard covered by others, both during Ellington's lifetime (such as Miles Davis in 1957 on Miles Ahead) and posthumously (such as George Shearing in 1992 on I Hear a Rhapsody: Live at the Blue Note).
Miles Davis, one month after Ellington's death, created his half-hour dedicated dirge "He Loved Him Madly" (1974) collected on Get Up with It.
Stevie Wonder wrote the song "Sir Duke" as a tribute to Ellington in 1976.
Judy Collins wrote "Song For Duke" in 1975, and included it on her album Judith.
South African vocalist Sathima Bea Benjamin wrote "Gift of Love" in memory of Duke Ellington on her 1987 album Love Light.
The Ellington Orchestra itself continued intermittently as a "ghost band", led by Mercer Ellington (1919–1996), after his father's death.

Other
In 1999, in commemoration of the centenial of his birth, the Pulitzer Board honoured Ellington with a posthumous special award citation for his life-long body of work.
Please register for a free Genetic Matrix account to access more information about this and all other celebrity pages