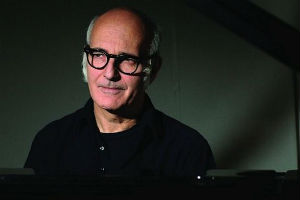 Ludovico Einaudi
Category : Entertain-Music-Composer/Arranger
Type : MGP
Profile : 1/3 - Investigating / Martyr
Definition : Single
Incarnation Cross : RAX The Sleeping Phoenix 4
Biography
Ludovico Einaudi OMRI , (born 23 November 1955) is an Italian pianist and Alt-Classical musician. After training at the Conservatorio Verdi in Milan and under composer Luciano Berio in the early 1980s, Einaudi started his career as a classical composer and soon began incorporating other styles and genres, including pop, rock, world music, and folk music.
Einaudi composed the scores for a number of films and trailers, including Intouchables, I'm Still Here, Doctor Zhivago, and Acquario in 1996, for which he won the Grolla d'oro for best soundtrack. He has also released a number of solo albums of piano and orchestra, notably I Giorni in 2001, Nightbook in 2009, and In a Time Lapse in 2013.
Early life and education
Einaudi was born in Turin, Italy. His father, Giulio Einaudi, was a publisher working with authors like Italo Calvino and Primo Levi, and his grandfather, Luigi Einaudi, was President of Italy between 1948 and 1955. His mother played to him on the piano as a child. He started composing his own music as a teenager, first writing by playing a folk guitar.
He began his musical training at the Conservatorio Verdi in Milan, gaining a diploma in composition in 1982. That same year he studied with Luciano Berio and gained a scholarship to the Tanglewood Music Festival. According to Einaudi, "[Luciano] Berio did some interesting work with African vocal music and did some arrangements of Beatles songs, and he taught me that there is a sort of dignity inside music. I learnt orchestration from him and a very open way of thinking about music." He also learned by collaborating with musicians such as Ballake Sissoko from Mali and Djivan Gasparian from Armenia. His music is ambient, meditative and often introspective, drawing on minimalism and contemporary pop.
Music career
After studying at the Conservatory in Milan, and subsequently with Berio, he spent several years composing in traditional forms, including several chamber and orchestral compositions. He soon garnered international attention and his music was performed at venues such as the Teatro alla Scala, the Tanglewood Festival, Lincoln Center, and the UCLA Center for Performing Arts.
In the mid-1980s he began to search for more personal expression in a series of works for dance and multimedia, and later for piano.
Some of his collaborations in theater, video, and dance included compositions for the Sul filo díOrfeo in 1984, Time Out in 1988, a dance-theater piece created with writer Andrea De Carlo, The Wild Man in 1990, and the Emperor in 1991. Later collaborations include Salgari (Per terra e per mare) (1995), an opera/ballet commissioned by the Arena di Verona with texts by Emilio Salgari, Rabindranath Tagore and Charles Duke Jr, and E.A. Poe (1997), which was conceived as a soundtrack for silent films.
Soundtracks
Einaudi began using his style to compose film soundtracks in the mid-1990s. He started with two films by Michele Sordillo, Da qualche parte in città in 1994 and Acquario in 1996, for which he won the Grolla d'oro for best soundtrack. In 1998 he composed the soundtrack with Treno di panna, and that same year wrote the score for Giorni dispari by Dominick Tambasco.
In 2000 he collaborated with Antonello Grimaldi on Un delitto impossible, and he also composed the soundtrack for Fuori del mondo, which was nominated for an Oscar Award and for which he won the Echo Klassik award in Germany in 2002. After the release of his debut album, some excerpts where included in the film Aprile by Nanni Moretti. In 2002 his soundtrack for Luce dei miei occhi was named best soundtrack at the 2002 Italian Music Awards.
In 2002 he won an Italian award for Best Film Score for Luce dei miei occhi. Allmusic gave his score for the 2002 TV serial Doctor Zhivago 4.5/5 stars and a glowing review, comparing it in skill to Maurice Jarre's score of the previous film adaptation of the Boris Pasternak novel Doctor Zhivago.
In 2004, his soundtrack for Sotto falso nome received the prize for the best film music at the Avignon Film Festival. He has since either written the scores for a number of films or had his music included in the soundtracks. In 2010 he wrote the music for the trailer of Black Swan. His "Due Tramonti" was featured in the film I'm Still Here (2010) directed by Casey Affleck. Einaudi's "Nuvole Bianche" was featured in the film Insidious (2010) directed by James Wan, the British TV-drama This Is England 86 and in the TV-series Derek (2012) directed by and starring Ricky Gervais. Einaudi's Una Mattina and "Fly" were recently featured in the biggest box office movie in French history, Intouchables (2011) directed by Olivier Nakache and Eric Toledano. To The Intouchables he contributed the tracks "Fly", "Writing Poems", "L'origine nascosta", "Cache-cache", "Una Mattina" and "Primavera." The film This is England featured Fuori dal mondo and Dietro casa. The British TV drama series This is England 88 also contained the tracks "Fuori Dalla Notte", "Solo(Hidden)", "Berlin Song" and "Distacco".
Einaudi is signed to Decca Records and is published by Chester Music Limited, part of the Music Sales Group of Companies.
After the multi-media inspired Time Out in 1988, in 1992 he released Stanze, which he had composed for harp. The album was performed by Cecilia Chailly, one of the first musicians to begin using electric harp. He released his first solo piano album, Le Onde, in 1996 on BMG. The album is based on the novel The Waves by British writer Virginia Woolf, and enjoyed mainstream success, particularly in Italy and the UK. His 1999 followup, Eden Roc, was also released on BMG, with shorter pieces. For the project he collaborated with the Armenian dudak musician Djivan Gasparijan.
His next solo piano release, I Giorni (2001), was inspired by his travels in Africa. The solo piano track "I Giorni" has been featured on a BBC advert for arts and culture programmes. The title track, "I Giorni" has had a lot of interest due to Greg James' airing in June 2011 of the piece on BBC Radio 1. He mentioned that he found the piece therapeutic when he was studying in University. Due to repeated airings by Greg James that month, the song entered the UK Singles Chart at #32 on 12 June 2011.
La Scala Concert 03.03.03 is a 2004 Live album of Einaudi at a concert at the La Scala opera house in Milan, Italy on 3 March 2003. His 2003 album Diario Mali is a collaboration of Einaudi on piano and Malian musician Ballaké Sissoko on kora. In 2004 he released Una Mattina on Decca. In 2006, Divenire (in English "to become") is a collaboration of Piano and Orchestra by Einaudi. The album also includes his critically acclaimed track "Primavera." It was recorded by the Royal Liverpool Philharmonic Orchestra with Einaudi, as the piano master. Shortly after its release, Einaudi went on tour to various places in the UK, playing both the music on Divenire and orchestral arrangements of his other works. The album topped the iTunes classical chart.
In October 2009, Nightbook was released. The album saw Einaudi take a new direction with his music as he incorporated synthesized sounds alongside his solo piano playing. The album was conceived and recorded in response to the German painter and sculptor Anselm Kiefer, as well as an exhibit space where Einaudi performed for a gallery opening for Kiefer. The album was also inspired by the drums and electronics of the Whitetree Project, a performing trio Einaudi formed with Robert and Ronald Lippok of To Rococo Rot, a German electronic group. In Italy the album went Gold with more than 35,000 copies sold.
His newest album, In a Time Lapse, was released on January 22, 2013, with US and Canadian supporting tours. He also appeared on KCRW in Los Angeles.
Personal life
He currently resides on a vineyard in the Italian region of Piedmont. He has received the OMRI (Order of Merit of the Italian Republic), the senior order of Knighthood bestowed by the Italian
Please register for a free Genetic Matrix account to access more information about this and all other celebrity pages