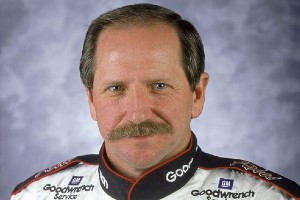 Dale Earnhardt
Category : Racing Driver
Type : PE
Profile : 2/4 - Hermit / Opportunist
Definition : Single
Incarnation Cross : RAX The Four Ways 1
Biography
American race-car champion and favorite of the fans known as "the Intimidator" due to being a relentless, hard-charging driver who never let up. Earnhardt is the first driver in the NASCAR Winston Cup Series history who ever won the Rookie title of the year one year and the following year, went on to win his first Championship in the same series. He has won nearly every major event and title available to NASCAR Winston Cup drivers, including the Daytona 500. The seven-time Winston Cup winner was killed instantly of blunt-force injuries to the head on 2/18/2001, 4:39 PM EST, after crashing on the final turn of the final lap at the Daytona 500 while Michael Waltrip raced to victory, Daytona Beach, FL. Earnhardt lost control of his car and slammed head-on into a concrete wall at 180 mph. The Washington Post web site stated that Dale was pronounced dead at Halifex Medical Center at 5:16 PM although the doctor stated he was killed instantly on impact so the time was possibly closer to 5:00 PM.
Dale was his father's son. His dad Ralph, known as Ironheart, was a short-track racing pro and taught his son the tricks of the trade. Dale was not much for school and dropped out in the ninth grade to hang out at the track. He was as wild and reckless a teenager as they come but he grew up to be the epitome of the racing hero, who never took his foot off the gas. With massive, irresistible appeal, he was the wild card, the one who would never give up.
Married at 17, Dale and his first wife had a son, Kerry Dale, born on 12/08/1969. For his apprenticeship, he turned wrenches at a local tire shop, earning money to race the weekly dirt-track race. He began copping titles from the beginning. Supporting a young family, he got sponsorship from a motorcycle shop of $75 a week to promote them.
In 1975 he began his pro racing career at 24, the year after his beloved dad died. His style was aggressive from the start, hard-driving and intense, which did not endear him to his working community, though the fans loved him – or hated him.
With a second marriage, to Brenda, Dale became father to Kelley King, 8/28/1972 and Dale Jr., 10/10/1974. His third marriage, to Teresa was the one that lasted and gave him another daughter, Taylor Nicole, 12/20/1988. As he began to accumulate winning capital, he started Dale Earnhardt Inc, an auto-racing company that grew to employ 200 and maintain three separate racing teams on the NASCAR's Winston Cup circuit.
Besides the seven Championships, Dale also finished 2nd in the Winston Cup points in 1989 and 1995. Earnhardt was in a very dangerous business but the rewards were great. His racing statistics are impressive but also impressive is the fact that by 1998, his career earnings tallied well over $300,000,000. This included more than $41 million in winnings and ten times that from endorsements and souvenir sales. He had a beautiful home and a private jet. He drove the most sophisticated cars allowed and every part was inspected and replaced as soon as there was any evidence of wear, funded by the car and team sponsors.
Loyal to his friends, Dale was generous to his public and coworkers and denoted time and money to the Make-a-Wish Foundation for terminal kids.
Ironically, Earnhardt's son, Dale Jr, finished second in Sunday's race before knowing that his dad had not survived the violent crash. On the following Sunday, Dale Jr. crashed in the wall in the same way that his dad had -and the entire stadium held their breaths until they saw him walk away.
Ten months after his death, Dale's will was made public; he left more than $31 million to his widow, Teresa, 43, including his racing company, endorsement earnings, interest in a Chevy dealership and the rights to his "Intimidator" trademark, as well as boats, cars and a $300,000 house. He also had money put into trust for his kids: Taylor Nicole, 13, Dale Jr, 27, Kelley, 29 and Kerry, 32.
Please register for a free Genetic Matrix account to access more information about this and all other celebrity pages